My introduction to angling began young, following in the footsteps of my father, who laid the foundation of a lifelong passion. Angling was the mask of countless life lessons, including the concepts of appreciation, patience and observation. As a young angler, and the daughter of a tackle shop owner, I was exposed to a variety of methods and offered the opportunity to chase many of British Columbia's sportfish species. My father loved the sport and embraced all facets of it, from saltwater salmon mooching to dry-fly trout fishing. He believed in being a well-rounded angler and one that loved each fishery for its unique challenges. Angling was never depicted as a dichotomy between two styles and never a choice I was forced to make. Both gear fishing and fly fishing were portrayed as equal aspects of the sport, the techniques of which simply vary by their tools and presentation. I learned to love and appreciate both, which in turn allowed me to enjoy angling year-round.
These days, I spend half my time with a gear rod and the other half casting a fly. I do not identify as simply one type of angler or another. From float fishing for winter-run steelhead to roll-casting elk hair caddis to tossing spoons for coho, my focus changes depending on the time of year. Some of my earliest memories include float fishing for chinook in the Fraser Valley or casting spoons to rolling coho in back eddies north of Squamish with my Dad.
As a part-time fly angler, I am often asked why I bother or continue to gear fish and my answer is simple – I love it. Whether for food or for sport, the salmon fisheries available to us along the coast are endless. Conventional or gear fishing can be defined simply as any style that is not fly fishing; however, it is much more complex than just that. Gear fishing encompasses several rod and reel types, techniques and variations on presentation.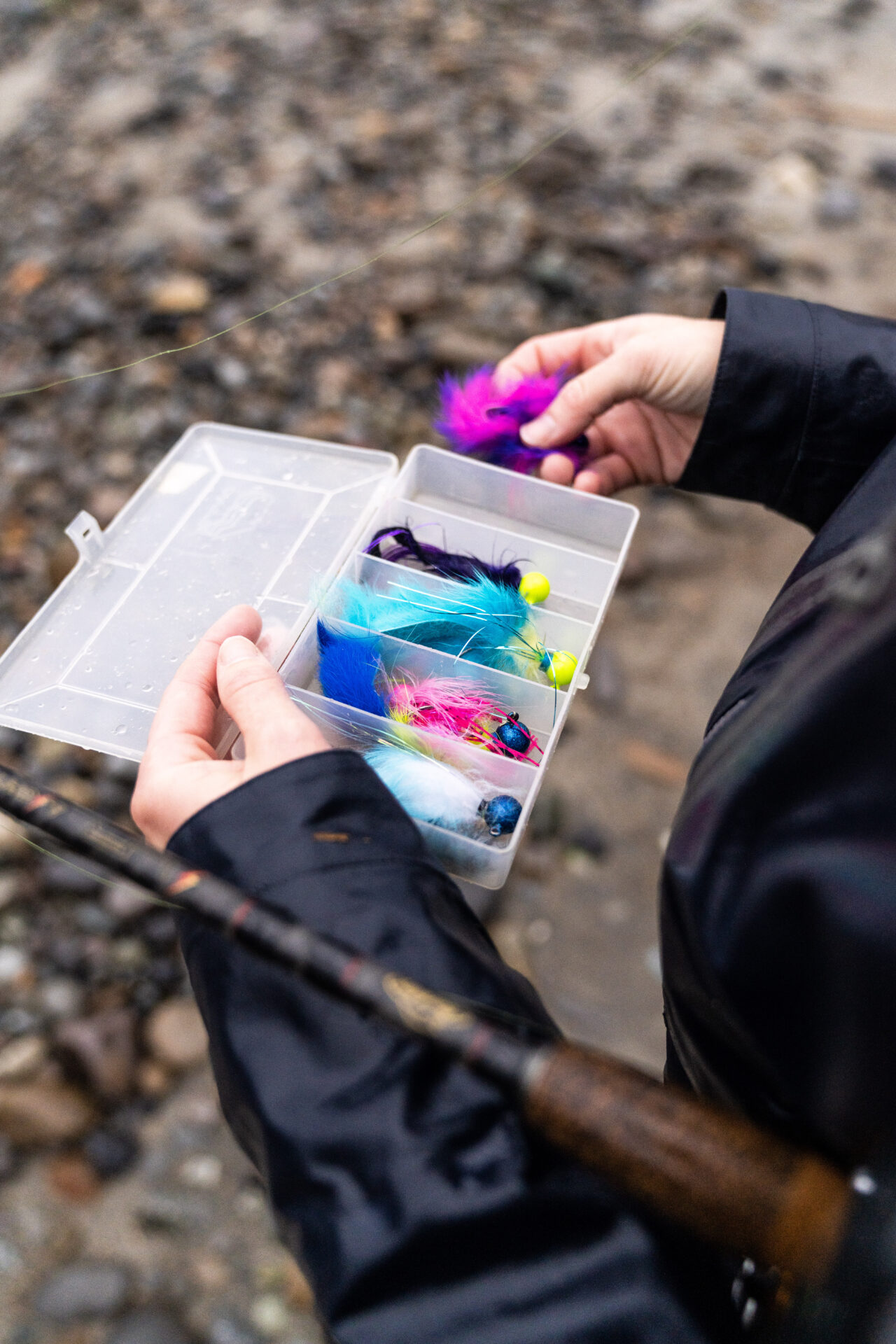 All five species of Pacific salmon in BC can and are targeted with gear techniques. The aggressive nature of salmon makes them a major focal point for any angler; however, paired with BC's high-gradient, swift streams, gear fishing becomes the dominant approach. For species such as coho, multiple gear options are effective, whereas other salmonids, like sockeye, require more specialized techniques. Chinook, chum and pink salmon can all be angled for with various gear methods depending on the waterbody. Honing in on attributes of a specific species can help identify which gear fishing techniques and presentations will provide the most success. In river systems that allow the use of bait, including roe or shrimp, float fishing with a dead-drifted presentation is best for chinook and coho. Pink and chum salmon can also be caught float fishing with coloured wool or small jigs. In streams with bait-ban regulations or larger, slower rivers, covering water might be accomplished more successfully with casted spinners or spoons. Understanding the particulars of gear techniques comes with both time and consistency, but the results are plentiful.
Anglers are blessed with a wealth of opportunity when it comes to salmon fishing in BC, and it continues to be one of the largest drivers of tourism. Salmon can be found in rivers from early spring right through until late December or January. Run timing is specific to location, and even systems within the same watershed can see variation on salmonid returns. The largest artery of the province, the Fraser River, supports all species of Pacific salmon and fuels the marine nutrient pump as millions of fish migrate each year. Salmon at the farthest reaches of the Fraser begin their migration early, entering the estuary in early spring before attempting the gauntlet of obstacles to reach spawning grounds in late summer or early fall. River systems closer to the coast and in the southern corner of the province typically see peak salmon returns in fall, from September through October, although there are numerous exceptions.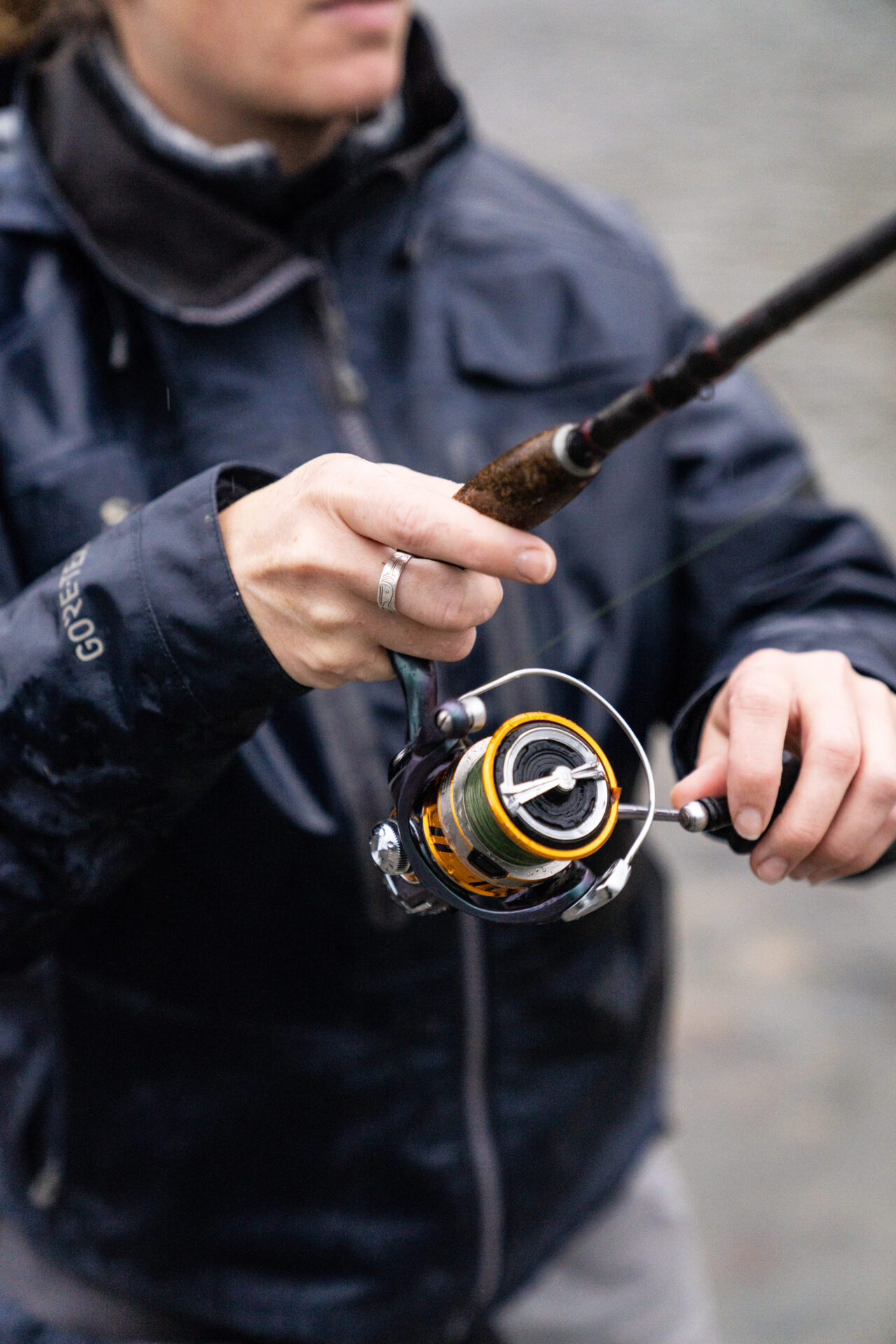 In the Lower Mainland, gear anglers can target hatchery coho in coastal streams as early as April and continue to pursue runs in rivers throughout the summer, fall and early winter. Pink salmon, which return yearly or every other year, depending on location, can be an easy and plentiful sport species. These little turbos return in the thousands starting in July and are the perfect starter salmon for new anglers. Chinook fisheries begin in early spring and continue through the late summer. Summer-run chinook are respected as the top calibre in salmon river fisheries, although they can prove to be challenging even for the most experienced angler. Chum salmon present themselves in mid to late fall and are commonly found alongside coho runs of similar timing. Sockeye were once a plentiful and popular summer fishery along the Fraser, however, significant decline in recent years have closed most of these opportunities to recreational anglers. BC salmon regulations are constantly changing, and it is crucial for anglers to check regulations before heading out. Area closures, bait limitations and harvest changes frequently occur in-season, thus the responsibility to be up-to-date rests on the user.
There is no limit on the options, quality and selection when it comes to putting together a gear setup. Depending on the pursuit, a lot goes into finding the appropriate outfit for the species application, fishery and water an angler intends to cover. Three main reel styles can be found on the water during salmon season: spinning, levelwind or baitcaster and centerpin. Application is as important as effectiveness when considering water type and presentation. Understanding the benefits or challenges of a gear type can aid in deciding which will work best.
Young anglers may start out with small, light spinning kits for trout or ground fish off docks or along ocean shorelines. Spinning reels continue to be inspiring anglers' first introduction to gear fishing, however, they are certainly not reserved for just beginners. The emergence and rapidly growing popularity of twitching jigs for coho salmon has created significant demand in shorter, heavier spinning rods as casting distance and action control is crucial to successful hookups. Casting spoons or spinners is also easily (and comfortably) achieved with spinning gear no matter what the focus species. Other benefits of spinning reels include casting distance, as well as high retrieve ratio and fast pickup.
Float fishing for any salmon species has been popularized with BC's most iconic reel, the centerpin. Giving the truest drift and direct single action handling of the fish, it provides intimate control of an angler's float presentation. Dead-drifted roe or artificial offerings can be made effortlessly in the slowest, clearest water. Fish handling is optimized, as centerpins lack gears, allowing an angler to predict breaks and ease a fish to shore. Casting requires more rod load than spinning or levelwind types; however, centerpins can be extremely accurate.
When it comes to versatility, the levelwind or baitcast gear style is top dog. Providing accurate castability, as well as direct line control on float drifts, this gear type covers all water. High gear ratio reels allow for quick retrieves and ball bearings give smooth line payout. In river systems with varying types of water, a levelwind allows an angler to effectively switch between float or casting rigs. Despite their adaptability, levelwind reels do come with one slight caveat: they have the largest learning curve. Anglers recounting their negative experiences with levelwinds are often a result of the frustrating rat's nest of line; however, once practiced and properly adjusted, levelwinds can be a salmon anglers' best friend.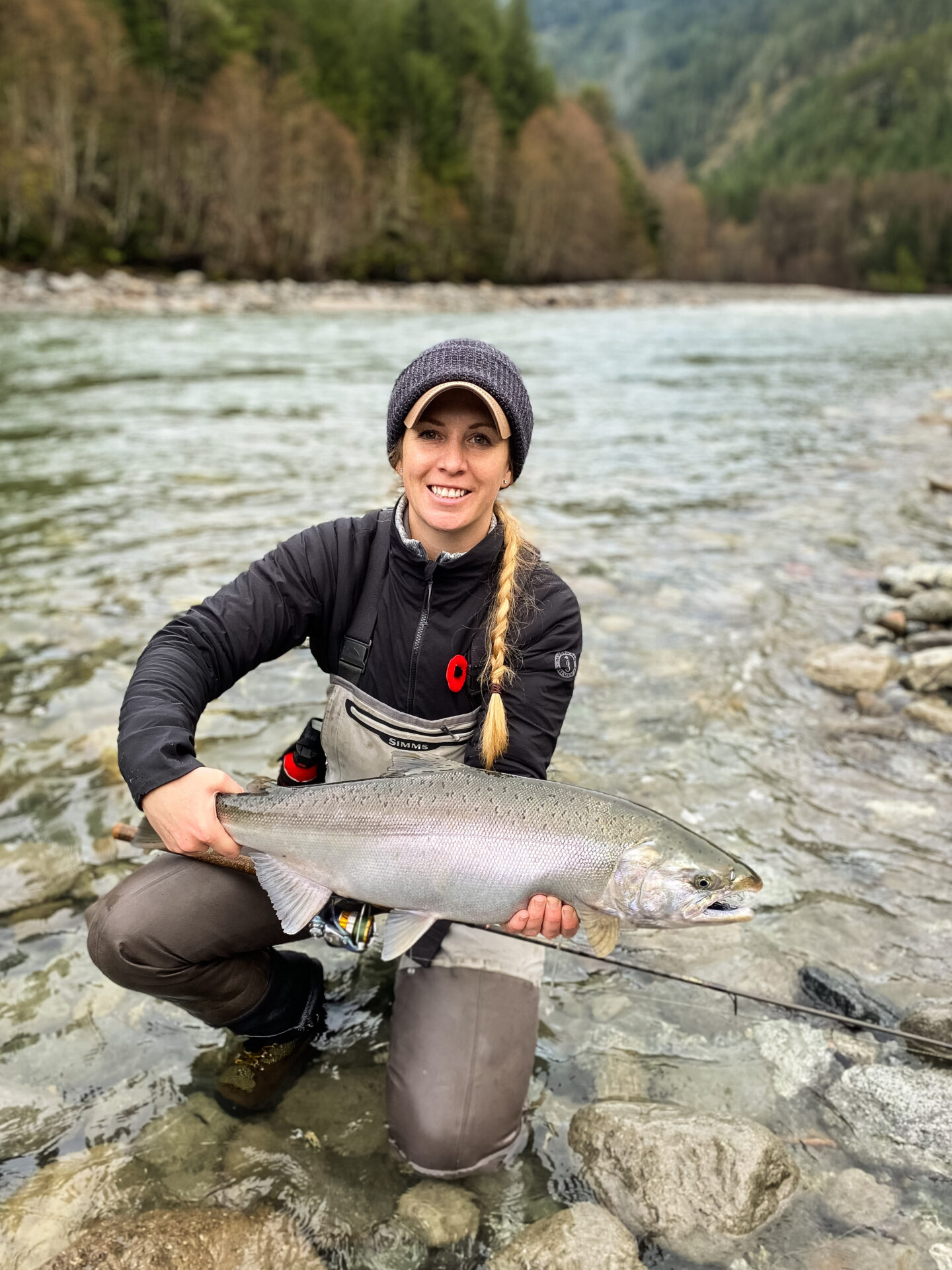 The most important acquired skill for salmon angling is accurately reading water, learning where the fish will be and determining depth or subsurface flow. An angler can own all the nicest gear, from boots to leader, and not catch a thing because they are not casting in the correct water. Each salmon species has their preferred water type, with some variation depending on the system. Chinook and chum salmon are the brutes of the BC coast and can sit in much faster or heavier current than other species. Coho are known for liking slower 'frog water' present in back eddies or side channels. Pinks, being the smallest, use the edges of rivers to move upstream and aren't typically found in the deeper, heavier currents. Understanding where salmon will be in a water body will narrow down the necessary tactics and gear selection.
A few points of note when river fishing for salmon: Keep it tight – do not allow for slack in the line. This does not mean cranking a fish in with no give and the drag fully tightened, but it does mean always keeping direct pressure on the fish. A good bend in the rod will allow for control of the head and prevent the fish from coming off. Using the rod and the current to keep tension will put more fish on the beach. Next, use the appropriate rods and leader for the fishery, as well as the species. An angler will need a heavier rod for chinook than they would require when casting spinners for pinks. Low, clearwater fisheries for spooky coho can be tricky if the leader is too heavy or the presentation is too big. Always consider what is being targeted and if the gear or rigging matches the application.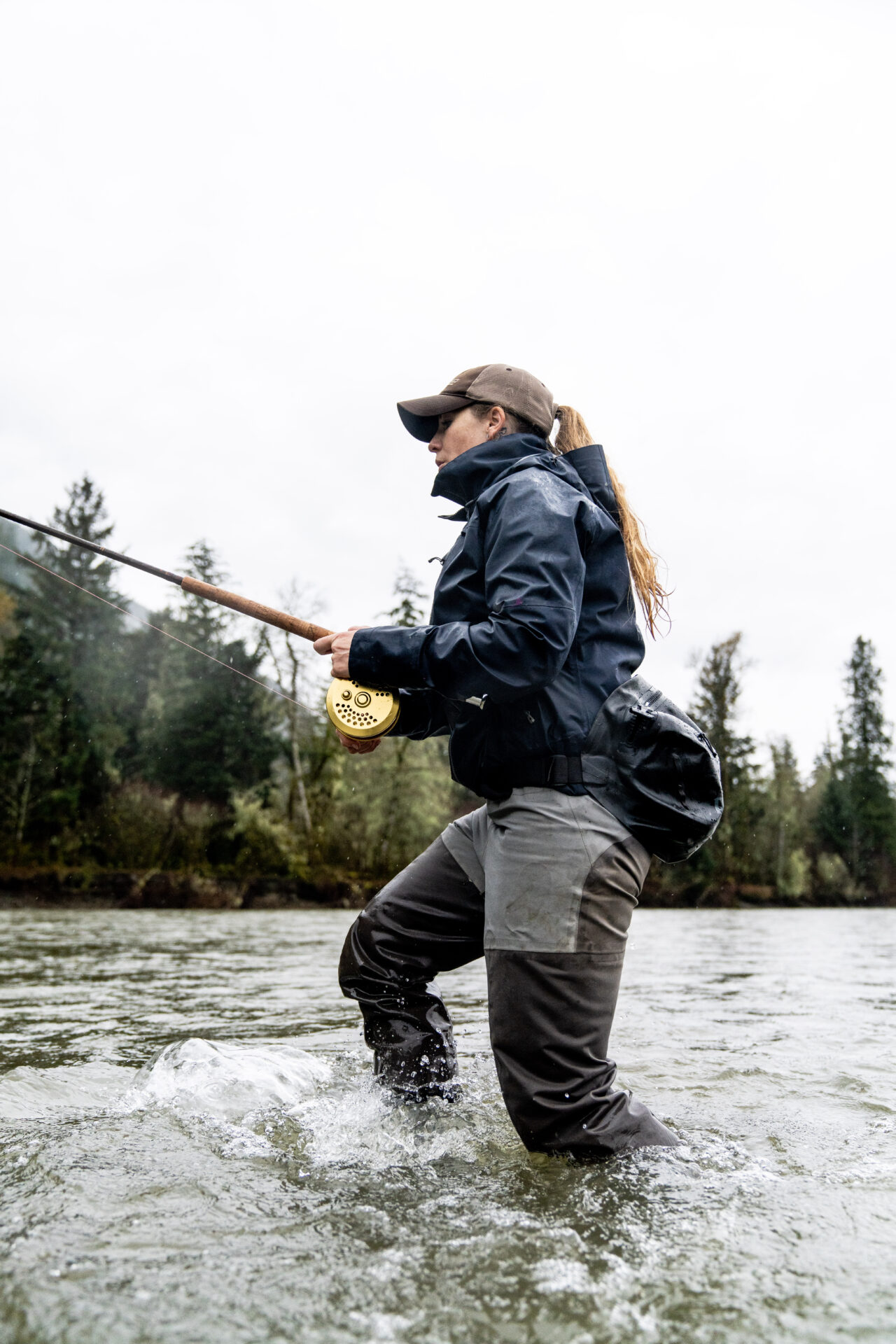 Gear angling in BC is the backbone for one of the world's most prolific salmon-fishing destinations. Several of the Pacific Northwest's most iconic anglers sprouted from a foundation of gear fishing in BC, and it continues to produce the highest quality of angler. Even many renowned fly anglers began their on-the-water legacy with a gear rod in hand. Being a successful salmon angler requires proficiency in reading water, adaptability to change and a willingness to try new things. Gear fishing strengthens the necessity of these skills and challenges the angler to be prepared for anything. BC's recreational salmon fishery owes much of its popularity to the accessibility through gear angling and the success as well as joy so many have found in this precious resource.