We still haven't fully processed the adventure. I can see us back in the tent now, listening in disbelief as an Arctic storm bellows across the tundra. This is a true hunting story.
Brought together by EatWild, our crew went to the Cassiar Range to explore what a sheep and caribou hunt meant for conservationists most interested in food. We asked questions like: When does subsistence hunting become trophy hunting? Is a pure wilderness experience still possible? Could a film or article capture some of that complexity as part of a broader effort to reclaim the hunting narrative?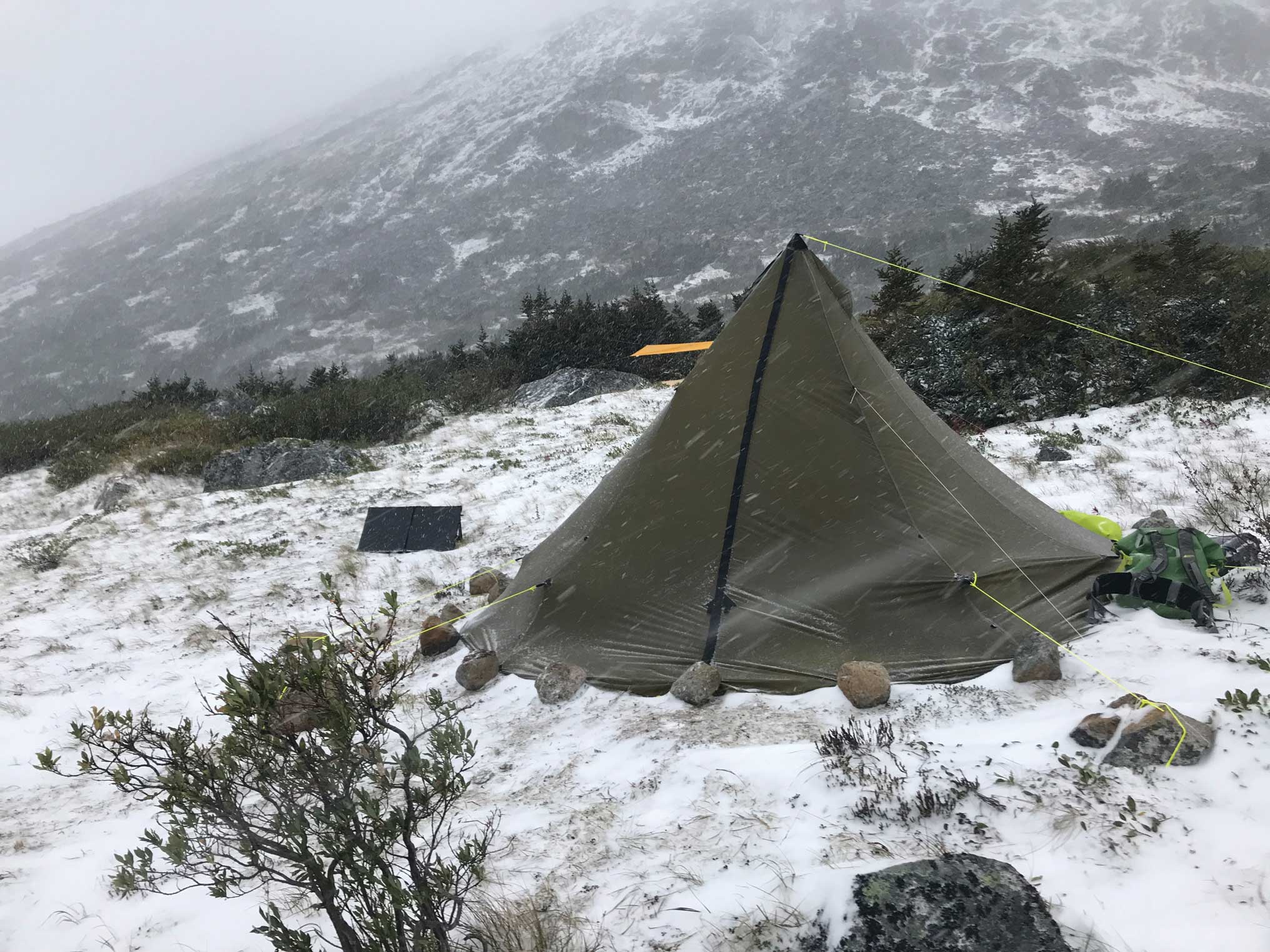 Maybe it should have occurred to us sooner that a story about feeling small in nature and not bringing any meat home represents a core truth in hunting. I never even chambered a round.
Many details precede our decent into the alpine lake where we camped for nine days, but let's fade-in to Aug. 12. We're into the mountains a day early, so we recon the area and make basecamp in harmony with the land features around us. Our tent is a teepee with a small stove. Food rations are counted down to the ounce, both for flight and spiking out, so we test the lake in those last hours of the sunlit evening. The boys start to catch lake trout after a few casts.
At daybreak, Ryan and I head south. We make an arduous climb out of the lake basin though Jurassic boulder fields that will later become impassable. Dylan and Alex explore another pass to the north, ultimately dropping back down into lush green flats teeming with moose sign.
We're on goats before gaining much elevation, but carry on to high country plateaus we think will hold sheep along the lower ridges. While contouring towards our line, we see the first caribou. The lone bull meanders across the tundra like a flea on an old, stained carpet.
As we climb on, the enormity of the landscape leaves us breathless. Rocks of all sizes, like gravel trucks and stone houses, make travel difficult. We settle into the afternoon skyline and watch a herd of goats in a bowl to the southeast. Several billies edge the terrain closer to our perch, including one that creeps along directly below, but we're completely cliffed out. There's no ethical way of moving on these goats without a parallel plan to recover them. We explore several routes into the bowl and decide none are workable in the light we have left.
Backtracking across the boulder fields, we check one last vantage point to find movement across a distant valley. We watch a huge, mature bull caribou violently stripping velvet on a rub. The animal is probably 3,000 metres away, down the mountain and across the moonscape, but we're sure he's legal. In our wildest imaginations, access to this monster is still almost possible.
The next day begins with a closer look at a goat near camp. Range is about 500 yards, so we make a clumsy effort to close distance and succeed only in clearing the area. Our failure marks a pattern of approach challenges typical of this country. We're into ptarmigan, though, and quickly find more goats on the north side pass before getting knocked down scree by the first rain. We talk safety as we pick our lines and question how much impact rainfall could have on our movement. Fishing is good this evening and we end the day by recording a podcast, mostly working though our same questions.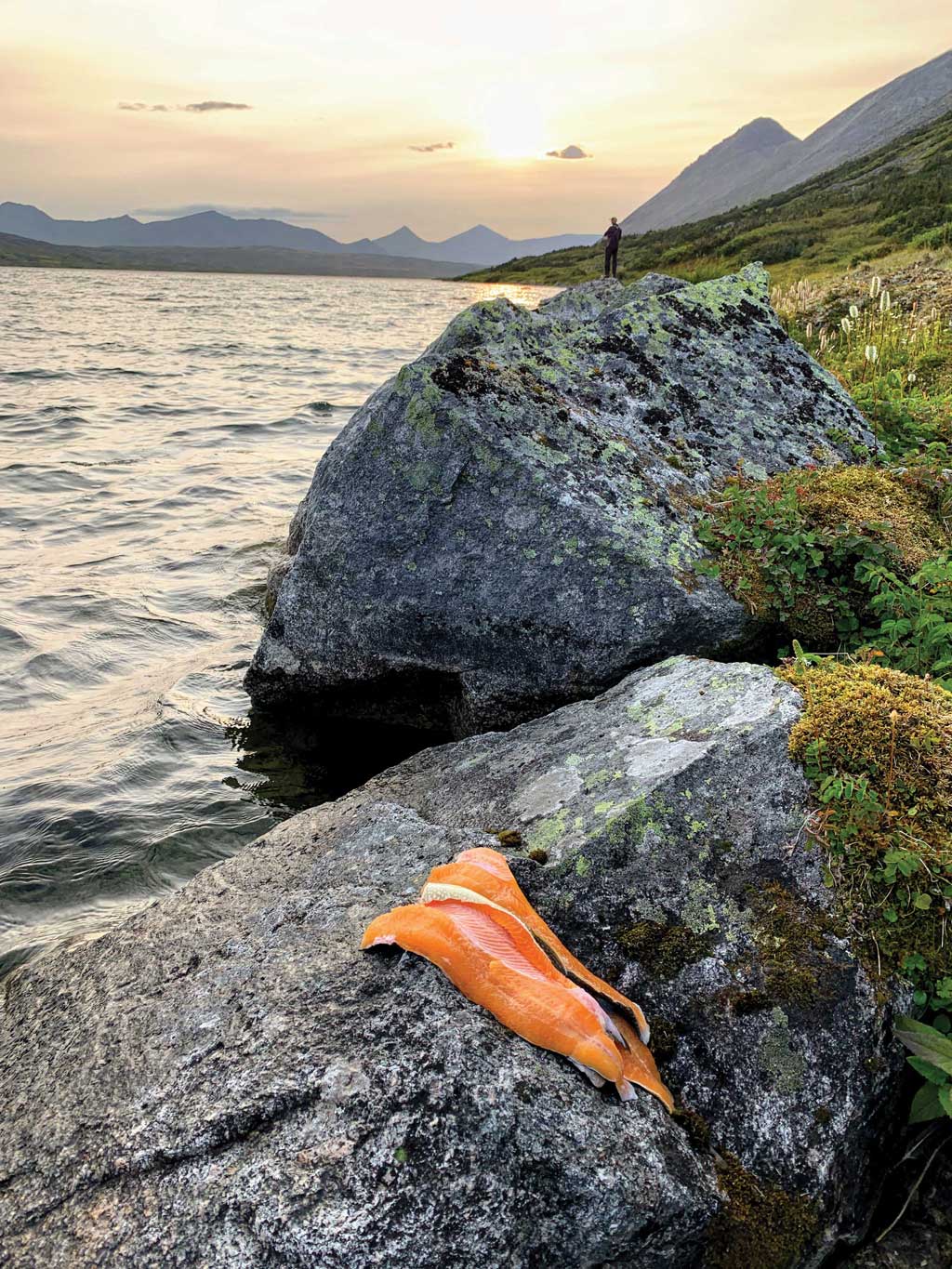 On the third day, we all head west into the tundra. Our hike along the lakeside flats seems tame and we soon see caribou silhouettes to the west. We're not thick into the Little Rancheria group, but some of the herd is around. Conditions are perfect as we cross more tundra into paradisal south-facing heights. Crossing back, we happen upon an immature bull. He's as interested in us as we are in him and responds well to Dylan's game bag flying in the wind. But those winds are telling us something, too, and the skies open. These next few kilometres of heavy rain aptly foreshadow the next six days, rainbow notwithstanding.
Friday, Aug. 16. We decide to push north and try some different passes, with an evening backtrack planned along the north side of the lake. We find a spot looking deep into green valley flats as the winds begin to grow. The house-sized boulders offer little shelter, so we continue and thread the next pass on a westward course. There should be sheep and caribou everywhere, but sensible creatures know what's coming. All we see besides active grizzly digs is a cow moose browsing the lowlands. We bump more caribou up a densely vegetated drainage towards camp, more tense than usual from the heavy rains and gusty winds that reduce visibility and eclipse sound alarms.
By the time we reach the lake, the rainfall is relentless. Winds continue to gain strength. It's clear that a significant weather event has arrived. Inside the warm teepee, we talk about the dangers of not being able to get dry and the poetics of boot grease. We play what-if storm scenarios. We think about the small yellow tent across the tundra that we saw earlier today, and the hunters we hope are in it. Winds howl as we crawl into our bags, utterly exhausted, but we'll have no rest.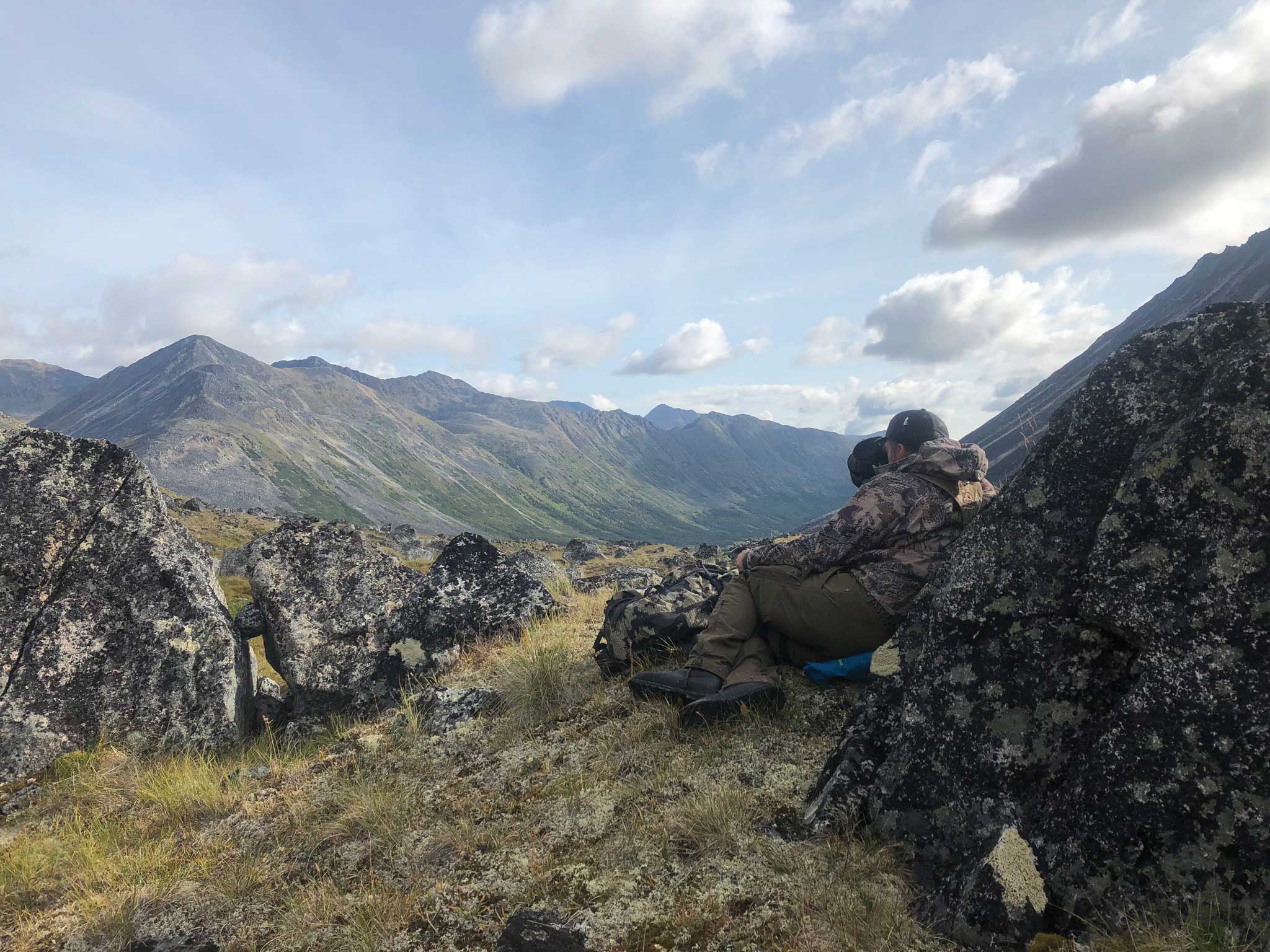 A sudden blow fixed our attention in the early evening. It was harder than the others, harder than the gust that lifted our woodstove clean off the ground and set the burning pipe onto Ryan's bed. Our lamp-lit faces showed consensus on starting safety checks, so we all got dressed. First priority was to reinforce our shelter and to start more carefully planning for if it failed. The teepee was so challenged by the storm that the single upright support bent like a bow with every major wind strike.
We're in what has become an Artic blizzard. In coming days, we'll learn from our pilots at Yukon Air that this is the most severe August storm in northern BC in 30 years. As we pile boulders around the edge of the tent outside and thread every last guyline with every last piece of cord, we think a bit more about that yellow tent on the distant hillside. Snow accumulation is hard and fast, winds make it impossible to deploy lower profile shelters, and moving into more naturally protected spaces is not viable.
Back inside, woodstove paused, we rotate shifts minding icy vertical guylines that we're using to keep the tent on the ground, much like flying a kite you're inside. We pack up loose gear to ensure no loss of equipment if the teepee sails away. We're unable to physically check our food cache, but we take stock.
As waves of the storm pound us into humility, we activate the next stage of our safety plan and deploy spike tents inside the teepee while trying to hold it through the night. Morning brings light, but the storm persists almost without pause. A daytime size-up of the basin we're in reveals waist-deep snow in places, making the boulder fields, scree slopes and valley bottoms impassible. Days pass.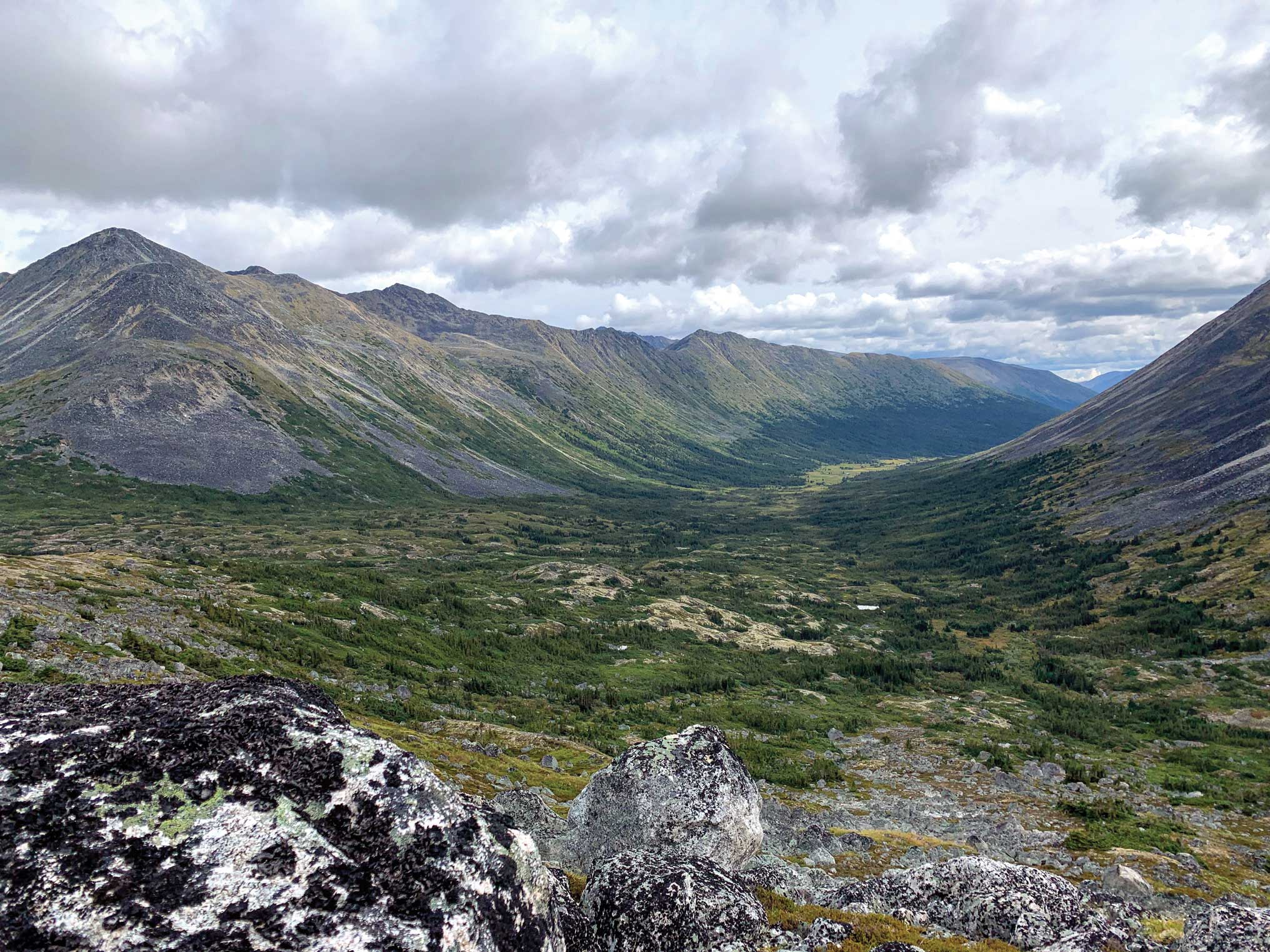 Message to Yukon Air, 0823 hours on Aug. 19: "We're riding out the storm at basecamp. We'll take first safe fly window." Their reply is loud and clear: "No safe flight, priority extraction for other groups." Our Safety back home also reaches out to the pilots and confirms that we should stay put and be ready to move on short notice. The hunting trip had ended.
Over the next 60 hours, we continue to anchor and hold in the teepee, breaking down the spike tents between storm cells to make space for the stove. We do firewood missions and fish, inventory food and clean guns. We nap in the mornings and sleep in the afternoons. We look at our photographs and film footage, laughing at ourselves for assuming tomorrow. We talk about who we should eat first if things get bad. And in one of the few moments that we could see anything, we watch in awe as a train of packhorses trudge across the far side of the valley.
On Aug. 21, the storm paused just enough for our New Zealand pilot to surprise us by flying in to get us out. Earlier that morning, we had surfaced from the tents to check our skyline and again reported poor visibility. During that final survey, one last caribou appeared on the slopes behind camp – it was a mature bull. We saw each other, both half-rested if still slightly on edge, and quietly tipped our hats before it dropped down into the north pass. Within a few hours, we were gone.
As for the questions that had framed our adventure, we're still exploring. But it seems clear that getting kicked around in tough country and being small in nature is at least part of the true hunting narrative.
I never even chambered a round.