With the coming of spring, many of our customers engage in the fun sport of bowfishing. As carp move into the shallows to spawn, this is a good opportunity to harvest them. Imagine a 10-pound fish on the end of your bow line – such a different feeling from shooting your bow at a conventional target. The Okanagan is a great place to take up this sport, as a lot of our waterways have this invasive species.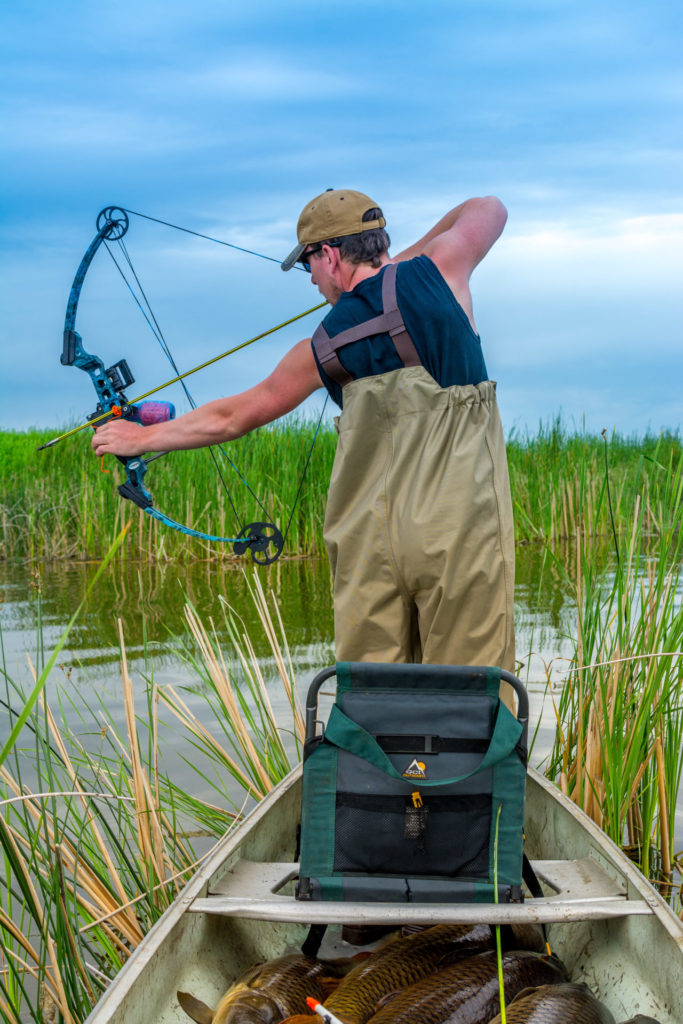 You would also be doing our lakes a service by reducing the amount of undesirable species so the naturally desired fish would flourish. Carp and other species are not native to our waters and having a little fun and helping the environment at the same time seems like a good thing for us bowhunters.
One must still purchase a fishing licence in order to bowfish, something I learned from talking to Eric Hegerat, a fish biologist from Penticton.
Under the federal Fisheries regulations, there is a grey area regarding unconsumable fish to catch and release; however, bowfishing does not offer any catch-and-release practice, as an arrow will deem the fish cannot be released.
Everyone planning to bowfish should go with an experienced bowfisherman, or at least read the regulations, especially page 9, "Fish with a spear or an arrow is propelled by a spring, an elastic band, compressed air, a bow or by hand. Only non-game fish (such as carp) may be speared, except burbot which may also be speared in regions 3, 5, 6, 7 and 8. No spearfishing of any game fish as defined on page 96. Pacific salmon or protected species (page 10) is permitted in BC no spearfishing of any kind is permitted in region 1, 2 and 4." The odds of harvesting a burbot with a bow are very slim.
Some of the most common places to bowfish in the Okanagan are Swan Lake in Vernon and all its tributaries; Wood Lake near the airport in Kelowna, in the spring the water floods into the trees at the south end. There is plenty of parking along the highway heading north. Pay attention to the private property at the south end, however. The canal from Penticton south through the Oliver area is also popular; the Suswap Lakes and tributaries; Lake Okanagan along the shores, especially in the spring, to name a few.
Knowing where one can shoot a bow, in regard to municipal laws, is also important, as all municipalities have different rules for the discharge of a bow. Kelowna allows the discharge of bows in city limits on private property, using safety common sense. Vernon, Coldstream, Summerland and Penticton I know have stricter rules regarding the use of bows.
Most of our customers that bowfish will use one of their older compounds and set it up specifically for bowfishing by simply buying the proper accessories, or some will purchase a recurve and set it up for bowfishing, a few will swap their hunting set ups and swap back and forth. You can find lots of bow packages already set up in either compound or recurve platforms, ready to go. With the carp invasion in the US, it has made bowfishing popular and there are lots of bowfishing setups available. In our shop, we carry accessories and bows set up at all times, because we are a hotbed for bowfishing in our area.
In our eyes, anything with a bow in your hand is a fun experience, so we encourage people to try it because it is still archery and learning to aim below the target due to the refraction caused by the water and learning how low to aim at different depths and the relation to the speed of your bow, the extra weight of the arrows, is all fun. One bit of advice is to always look what's past your fish, because if you miss you do not want to wreck the arrow tip on rocks; try to shoot so there is only sand in the background. Always remember to have the string slider behind the rest, so when the arrow is shot the arrow will not kick back and hit the shooter.
Here's a link to the provincial regulations and the paragraph on bowfishing: https://www2.gov.bc.ca/assets/gov/sports-recreation-arts-and-culture/outdoor-recreation/fishing-and-hunting/freshwater-fishing/pw_regulations_guide.pdf.