Anglers rejoice, hardwater fishing season is here! If you are already planning some trips for this winter, make sure that the Lakes District is on your list of places to check out. The region boasts over 300 lakes, is approximately two hours west of Prince George, and has a wide variety of species for winter anglers to target.
Some of the smaller lakes in the region start to freeze up in December, while the larger ones freeze in late January or early February. As always, when heading out on the water, be sure to check ice conditions and pack appropriate gear in your vehicle when travelling on back roads during the winter. Stay safe and have fun.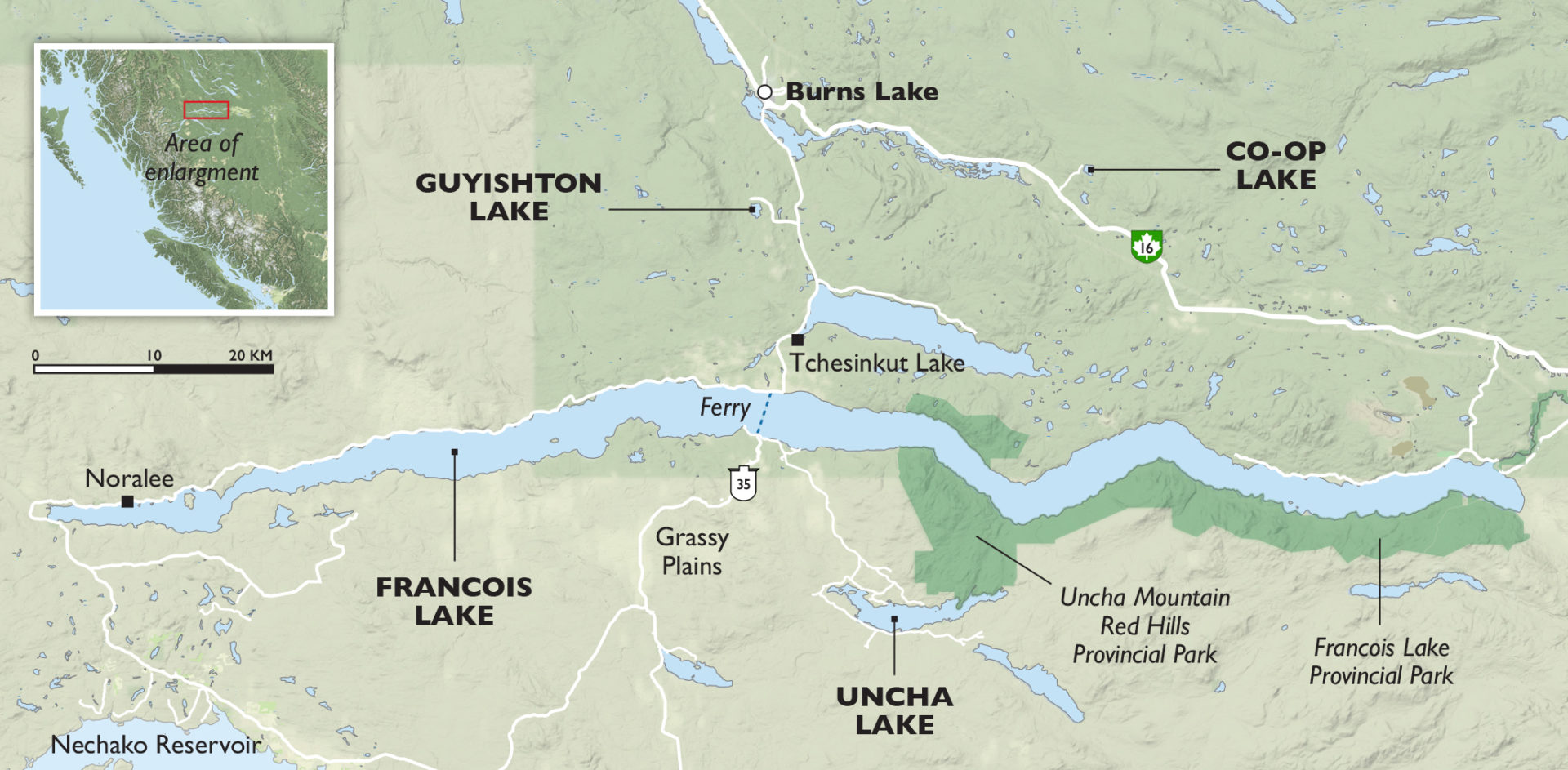 Co-op Lake
Located a 22-minute drive east of Burns Lake, Co-op Lake is a popular fishing spot for families. There is parking at the Co-op Lake recreation site, which is right along the lakeshore. The lake is typically stocked with eastern brook trout and, in more recent years, kokanee.
To access Co-op Lake, drive east on Highway 16 from Burns Lake for 22 kilometres. Turn left onto the Augier Main Forest Service Road and proceed for 4.5 kilometres, where the road to the lake will be on the right side of road.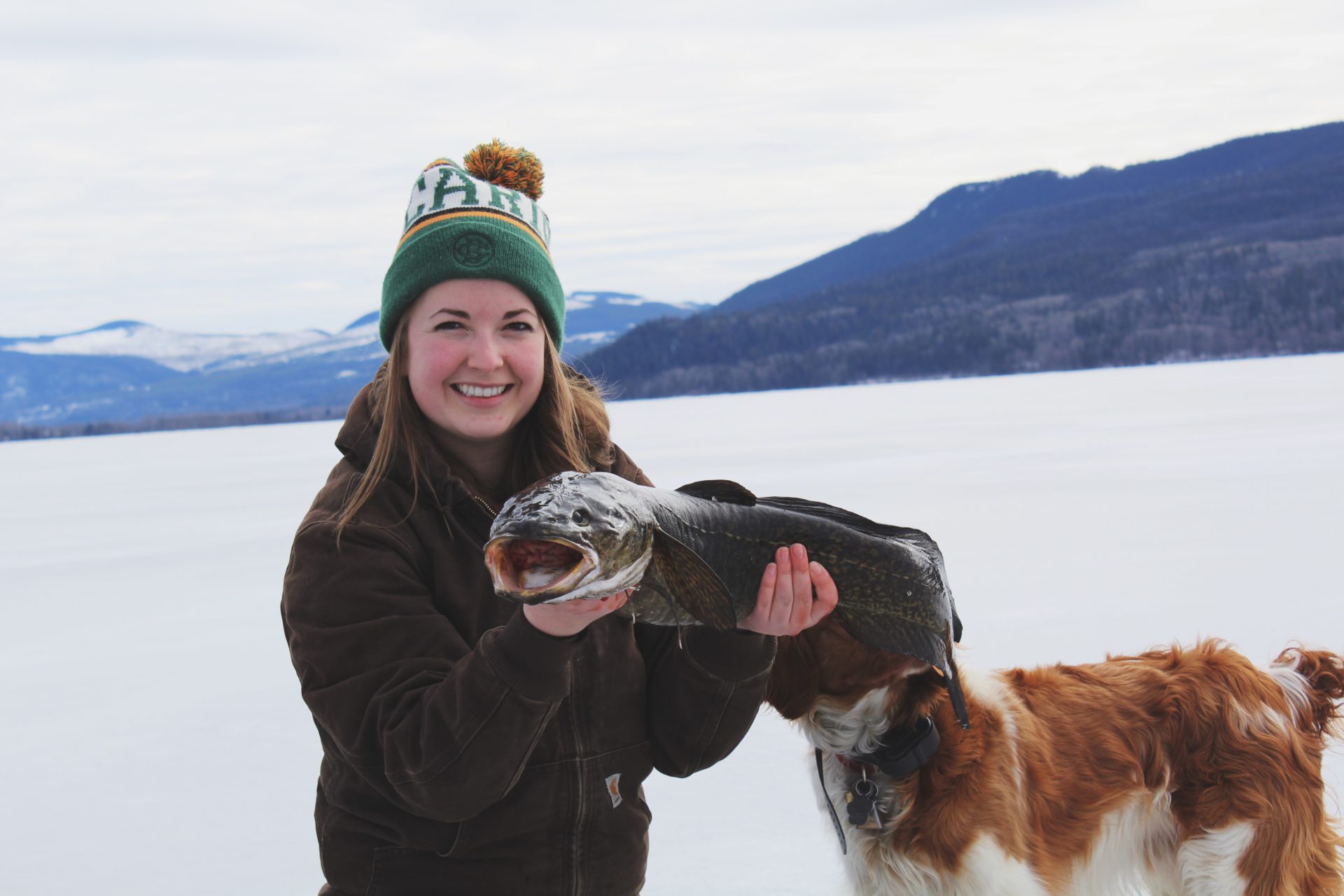 Francois Lake
One of the longest natural lakes in northcentral British Columbia at 110 kilometres, Francois Lake has ample ice fishing opportunities for anglers of all ages. There are plenty of public access points that can be reached from the communities of Burns Lake or Fraser Lake. Recreation sites offer easy access to the lake in multiple locations along the north shore or take the free ferry to the south side of the lake. Rainbow trout, burbot and lake trout are all commonly targeted during the winter.
To reach the west end of Francois Lake from Burns Lake, head south on Highway 35 for 24 kilometres. From here, there are multiple recreation sites further west on Colleymount Road that provide great fishing opportunities or hop on the ferry for more fishing prospects.
To reach the east end of Francois Lake from Fraser Lake, head west on Highway 16 for 3.5 kilometres and turn left onto Francois Lake Road. Drive for seven kilometres and then take a left onto Nithi Road. After two kilometres, turn right onto Dahlgren Road. Dahlgren Road will lead you to the south east side of Francois Lake, where there are a couple recreation sites that provide public access to the lake.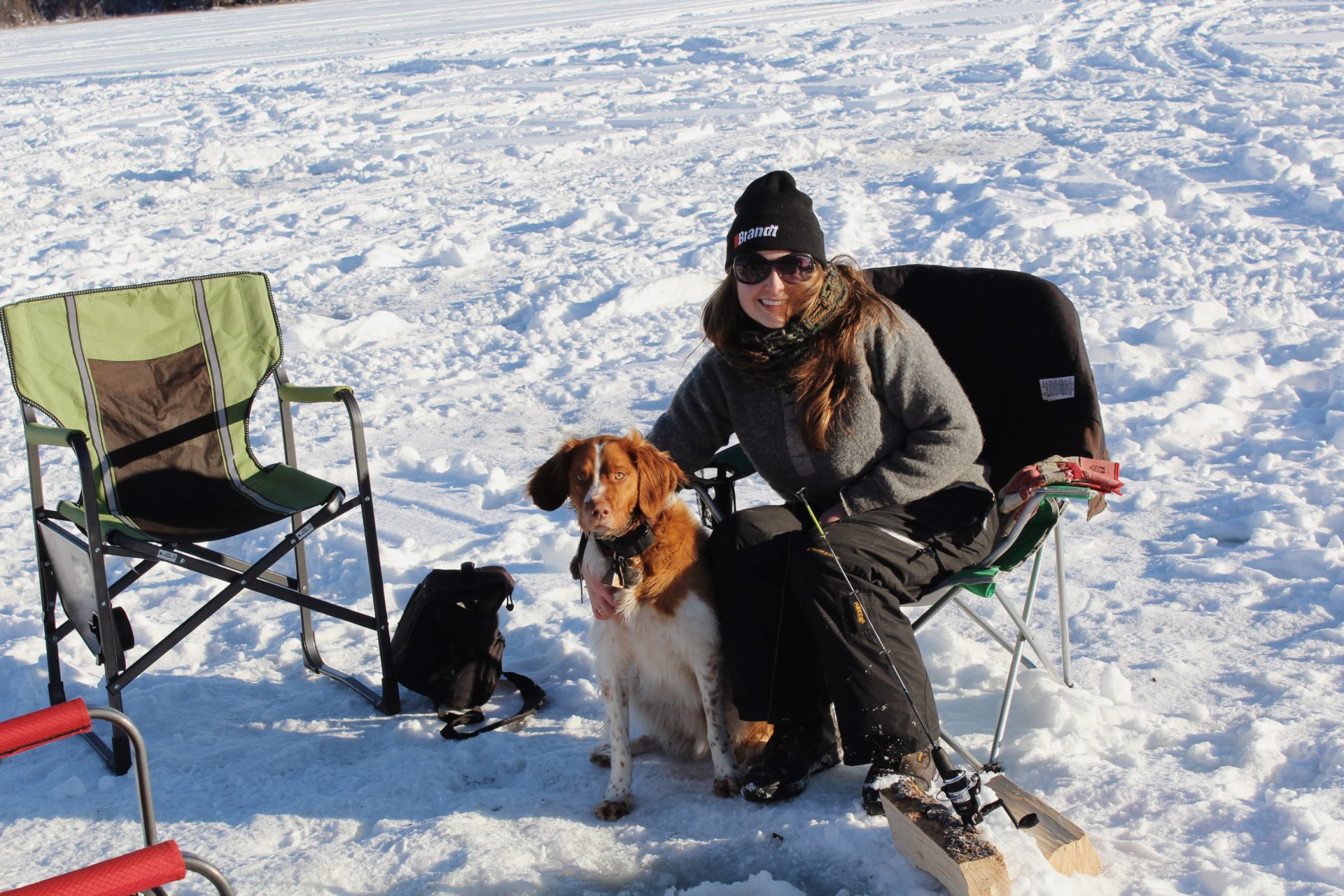 Guyishton (Mackenzie) Lake
Another popular ice fishing lake for families, Guyishton Lake is about a 15-minute drive south of Burns Lake. Most people access the lake on snowmobile, but if the road is plowed you can access the lake near the recreation site. Cutthroat and rainbow trout can be caught throughout the season.
To access Guyishton Lake, take Highway 35 south of Burns Lake for nine kilometres. Turn right onto Guyishton Forest Service Road. The lake is about four kilometres down the forest service road. Depending on road conditions, anglers should be able to get close to the lake by vehicle.
Uncha Lake
A little over an hour south of Burns Lake, Uncha Lake is known for rainbow trout and lake trout. There is a recreation site on the south side of the lake that provides public access.
To get to Uncha Lake, head south on Highway 35 from Burns Lake for 24 kilometres. Take the free ferry across Francois Lake. Once on the south side of the lake, head east on Uncha Lake Road for 12 kilometres. Take a right onto Campbell Road, drive for 4.5 kilometres and take a left onto Binta Forest Service Road. Stay on the road for eight kilometres; the recreation site and lake will be on the left.