What's the first thing you think of when you see "Made in Canada" on a label? In my mind, it's a quality-made product. In the world of fishing, products made within our borders are often the answer to a unique problem – the brainchild of an avid angler who faced a fishing challenge head-on, creating a solution for the fishing community. Other businesses started with a hand-crafted, custom product, heirloom pieces superior to mass-produced gear.
Even closer to home are the made-in-BC fishing products. These businesses depend on the ebb and flow of the tides, flowing streams and placid lakes. They make products for the fish who live in these waters and the anglers who pursue them. Many conservation-minded businesses give back to fisheries conservation because their livelihoods depend on a healthy ecosystem.
These are a few of the made-in-BC stories.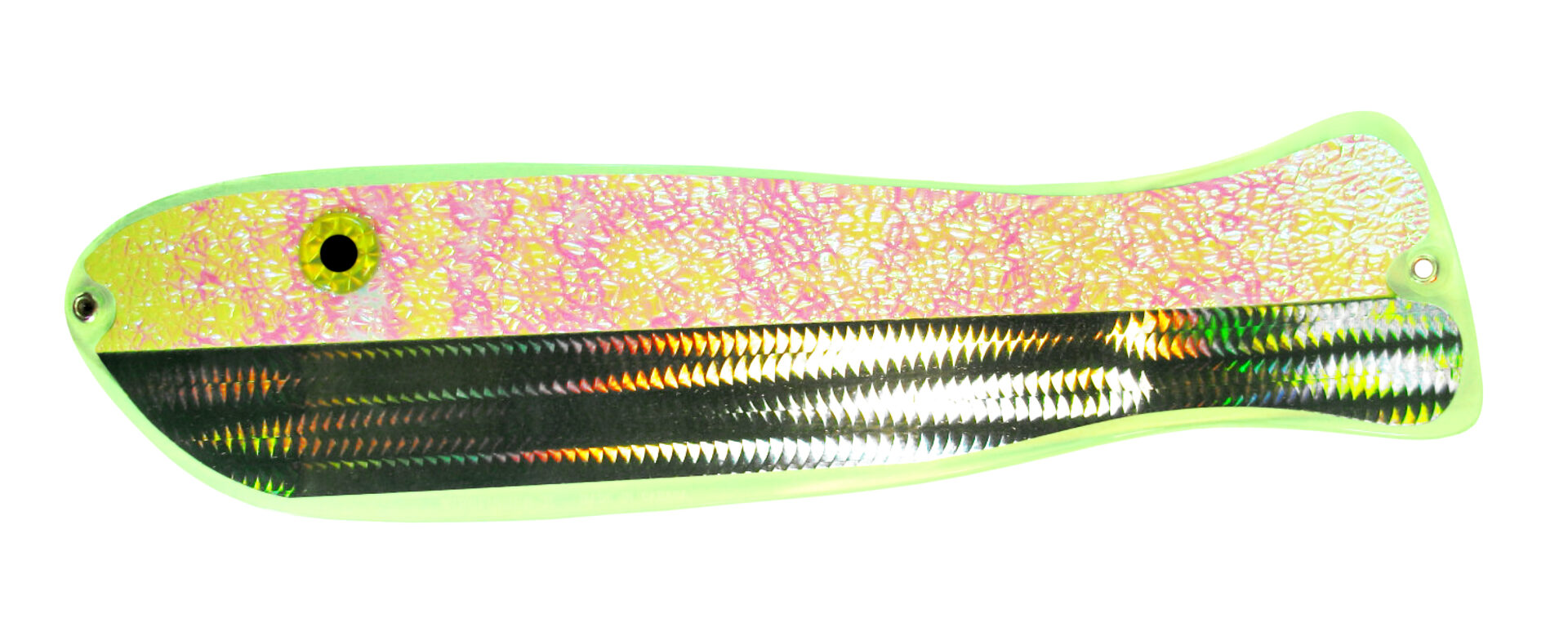 Gibbs Delta began in 1908 when Rufus Gibbs started a fishing tackle company. At 114 years old, there's a lot of water under the bridge for Canada's largest and oldest sport fishing tackle brand. Along the way, there have been mergers (hence the "Delta" in the name) and acquisitions. Today, Gibbs Delta honours those family-run businesses and their humble beginnings.
At Gibbs Delta, they're passionate about creating high-quality fishing tackle. The BC-based company also understands the value of natural resources, giving back to the fisheries that have sustained their business for more than a century. On their website, you'll find the catchphrase "… we will continue to honour and help cultivate new traditions by filling your tackle box with stories."
Gibbs Delta and its trusted brands make a wide variety of tackle, including jigs, flashers, hoochies, spoons, teaser heads, nets and much more. Their products are available at tackle shops across Canada or online at gibbsdelta.com.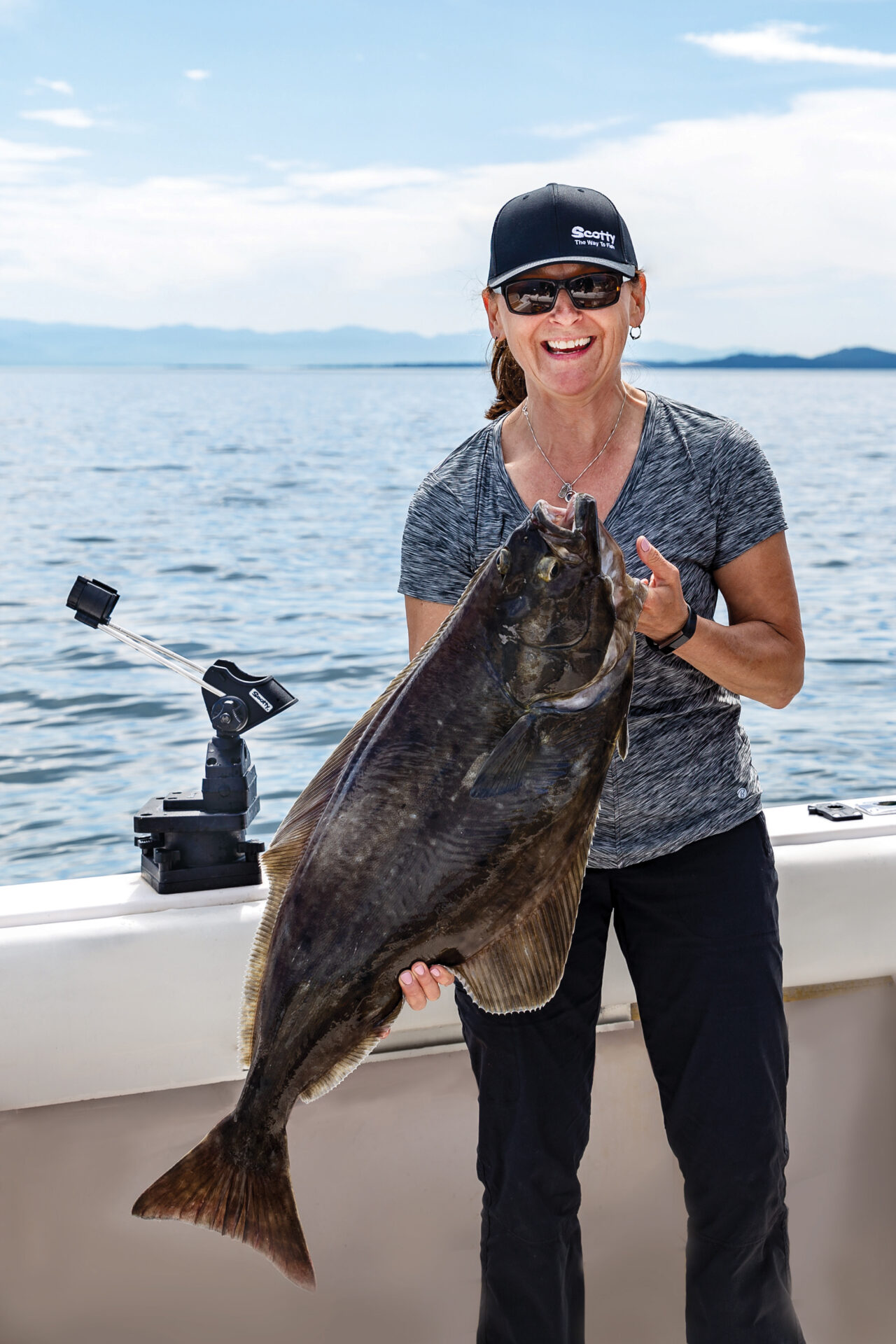 In 1952, Blayney Scott and his wife, Almeda, started a small company in Victoria that pioneered the use of plastics in the manufacturing of salmon fishing lures and other marine products. From humble beginnings, Scotty Manufacturing has evolved to produce thousands of products under the Scotty trademark, selling to the fishing, marine, outdoor and firefighting industries worldwide.
The Scotty trademark stands for product excellence. They are committed to quality, fair pricing and unmatched service. Scotty makes a wide range of fishing and boating products, including downriggers, rod holders, electronics mounts, kayak accessories, line pullers, safety equipment and more. For more information or to find a Scotty dealer, visit scotty.com.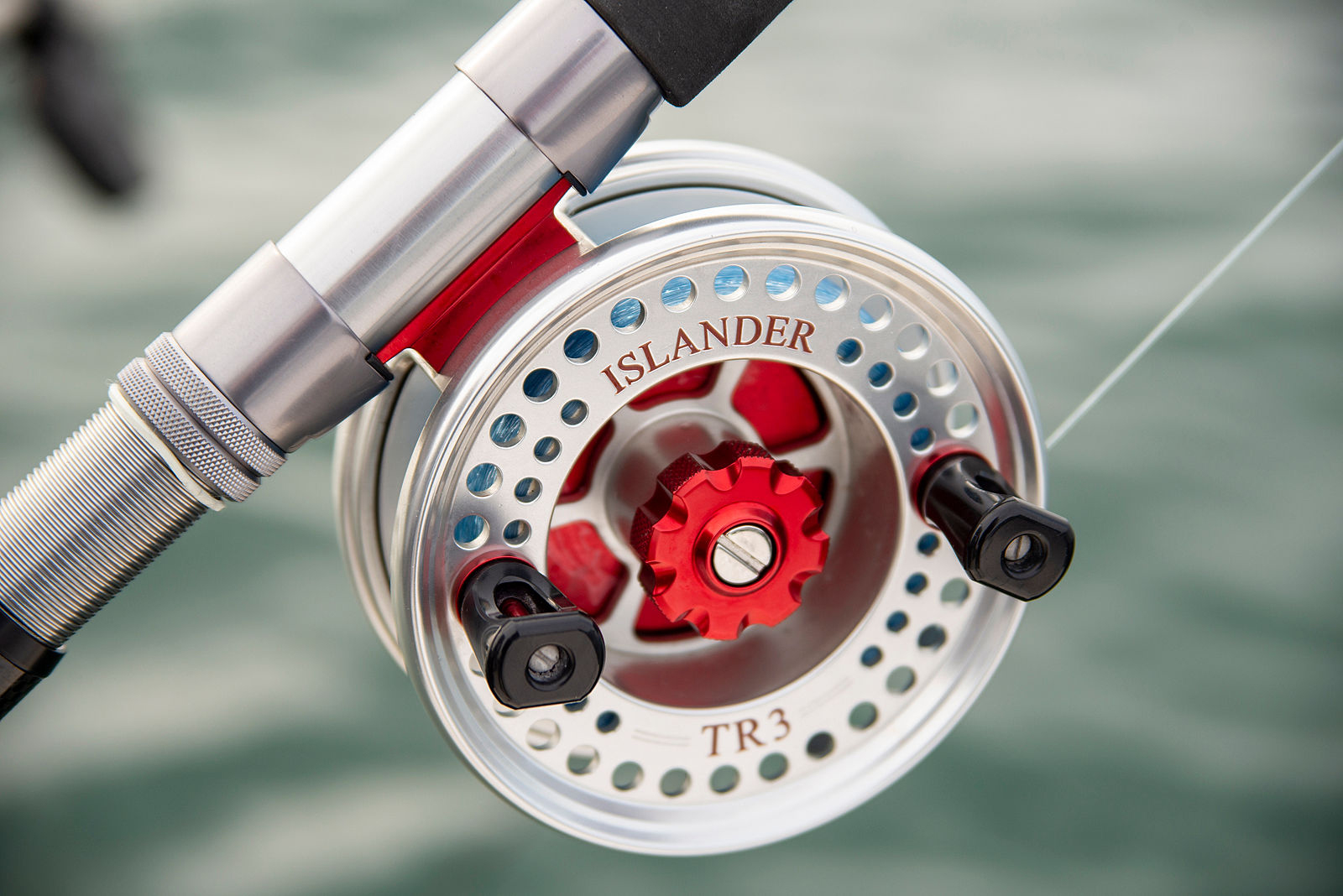 Islander Precision Reels have been built in-house on Vancouver Island since 1990. Islander Reels believes fishing is a journey, and they want their equipment to stand up to the adventure. They seek precision and quality in every reel they design. Islander's staff are directly involved in each phase of production, from conceptual design to finishing touches, a process that has been improved at every level through comments and suggestions from pro and amateur anglers alike.
Islander is a division of JS Foster Corporation, a production machine shop located in Victoria, BC, which uses modern CNC lathes and machining centres. Islander makes a fly and a float reel and several models of troll reels. Their reels are customizable by colour, handle and even laser engraving. To learn more about Islander Precision Reels or to build you own custom reel, visit islander.com.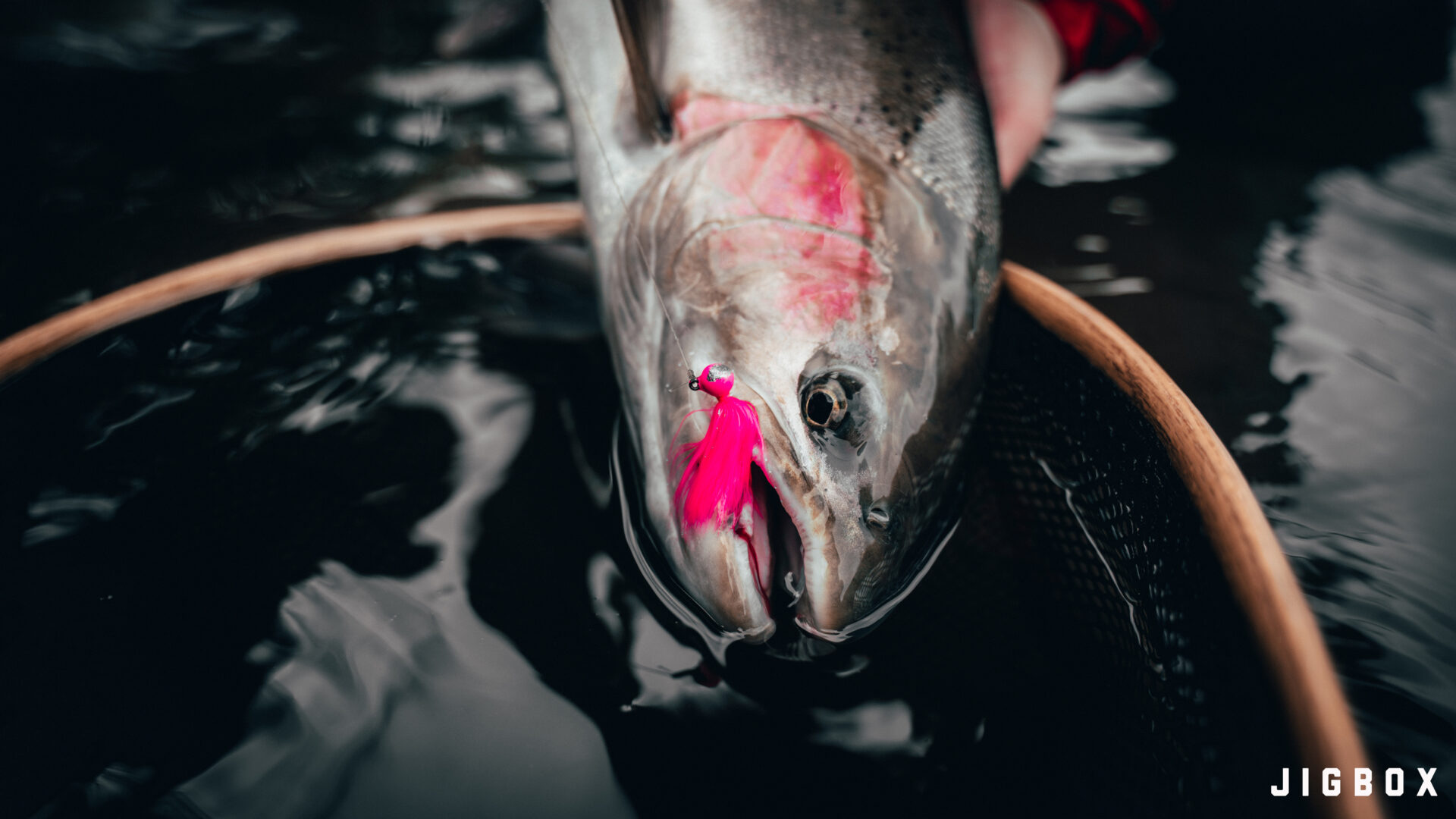 JigBox is a made-in-BC conservation story. Phillip and Francis dos Santos founded the BC-based jig company with the idea of doing something more than selling tackle – they decided to pick up 10 pieces of garbage for every JigBox sold. The company has disposed of over 7,000 pieces of riverbank junk from British Columbia rivers. JigBox has focused on the Kitimat, Vedder, Skeena, Birkenhead, Squamish, Chehalis and Cowichan rivers, with more in the works. JigBox's ambitious mission is to dispose of 10 million pieces of junk.
JigBox sells various-sized jig packs ranging in size from five to 100. They also have a build-your-own JigBox for custom colour/weight combinations. Finally, they have a 10-for-10 donation for people who want to contribute financially to their conservation mission. The most popular jigs are the Purple Banger, Blue Steel and Black Mamba – all have been highly productive for chinook, coho, chum and pink salmon. For more information or to buy JigBox jigs, visit jigbox10.com.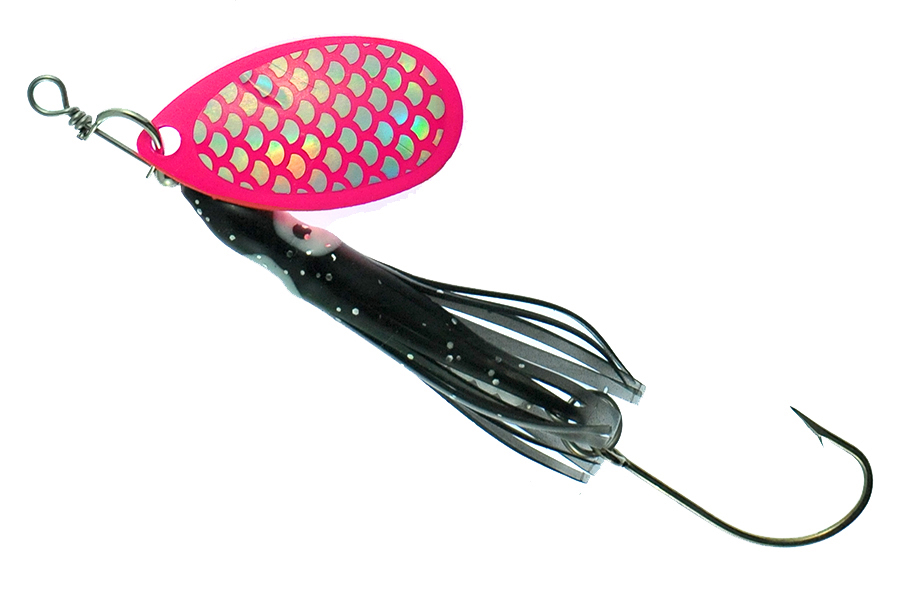 Spitfire Fishing Products started in 2016 with the idea of creating unique, quality lures to compliment BC's fisheries. All their lures are handmade in Merritt, BC, using materials sourced from Canada. The company name comes from the founder's grandfather, Lewis Ellis, both a talented artist and Second World War aircraftman from Winnipeg. He is credited with perfecting what had been an inaccurate and unreliable machine gun in the RCAF Supermarine Spitfire. Ellis achieved many other great things in his life (read more at spitfirefishing.com/about-us) and Richard Wilby, owner and grandson of Ellis, made a lure in honour of his beloved grandfather.
Spitfire Fishing Products makes a wide range of tackle, with some of the most popular being their Hawker Spoon, Vickers Jig, Tomahawk Spinner and Foster Rig for kokanee. They specialize in making gear for trout, kokanee, steelhead and salmon. Find and buy Spitfire Fishing Products at spitfirefishing.com.
Proudly handmade in BC by Don Chatwin, all Mobynets are built from the same design – a single piece of solid oak, the strongest and most durable hardwood. Mobynets believes this construction is superior to laminated nets that can delaminate over time.
Mobynets became an industry leader in steam bending oak for their landing nets. Mobynets adds attractive inlays using the finest of hardwoods: walnut, maple and padauk; each adds durability and strength to the Mobynet. All Mobynets come with a soft, non-abrasive fish-friendly mesh. The net's flat-bottom design allows the fish to be held securely and comfortably. The three coats of marine-grade penetrating varnish with a UV blocker will provide years of protection from the elements.
Mobynets offer a great variety of quality-built nets in a range of sizes that meet the needs of the most discriminating fisherman. There isn't a stronger or more durable wooden landing net anywhere. For more information, visit mobynets.com. To purchase, contact select tackle shops in BC.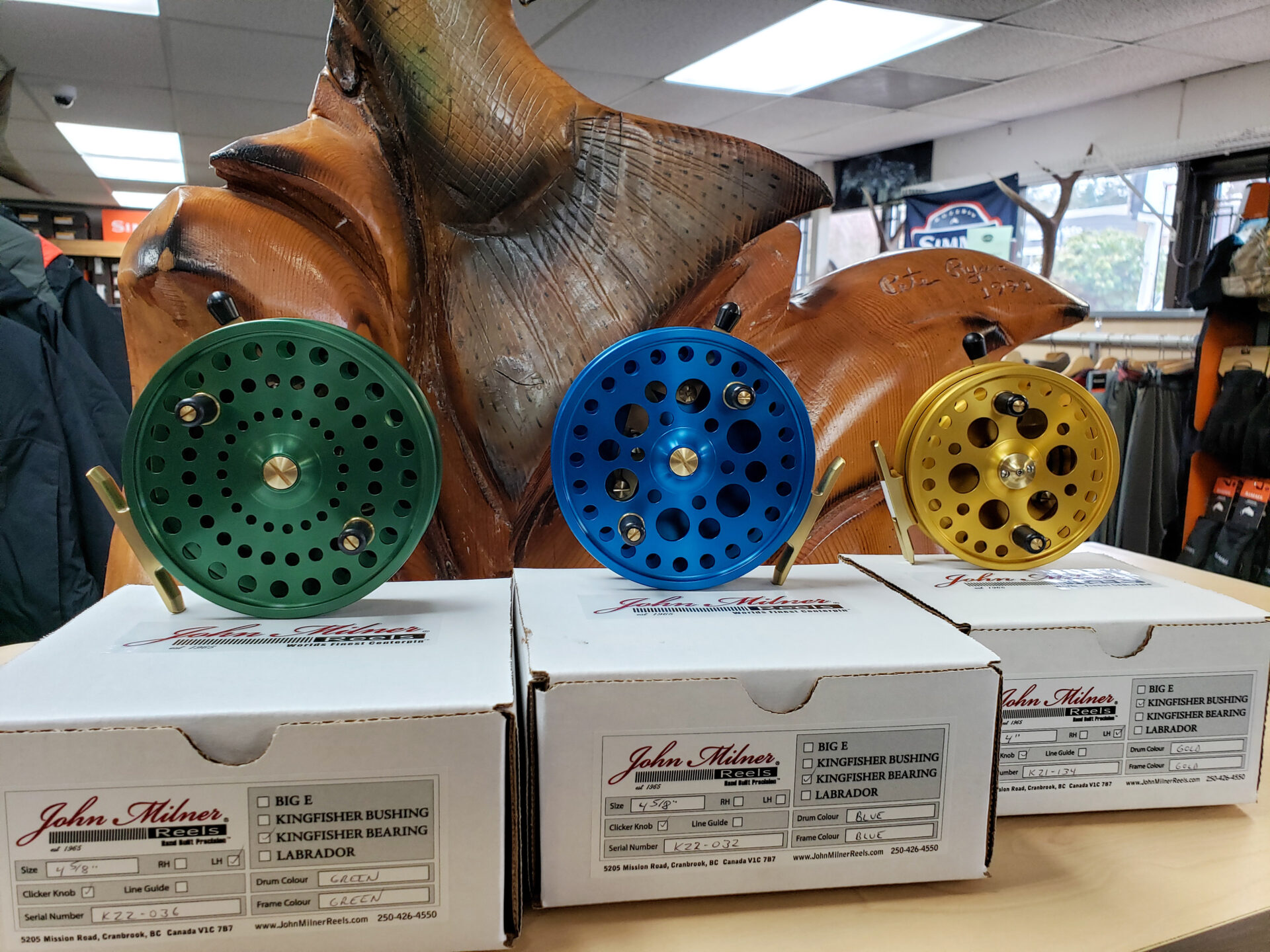 John Milner is a master machinist from Birmingham, England, who designs and makes centerpin fishing reels in Cranbrook, BC, known as John Milner Reels.
John's made-in-BC story began after immigrating to Canada. He started repairing centerpin fishing reels for his friends that fished the Vedder River and Fraser River. John created his first float fishing reel in 1964, and by 1975 he designed his first bushing centerpin reel that would withstand the demands of steelhead fishing. The word about John's reels spread. In 1977, he manufactured a batch of reels, and by 1979 a second batch. He called this design of reel the Talisman. After his retirement in 1995, he once again began making the Talisman and later the Kingfisher open-faced float reel. Since then, John has added new models and features to his reels. To see John's complete history, learn more about his reels or to order a John Milner reel with the "world's finest centrepin," visit johnmilnerreels.com.