This personal-sized pizza packs a wild punch. You might have to fight off your friends if you don't make extras! Homemade thin crust and simple flavours allow the wild food to be the star of the show. Keep it basic for a light lunch or add some smoked salmon to the toppings for a delicious dinner.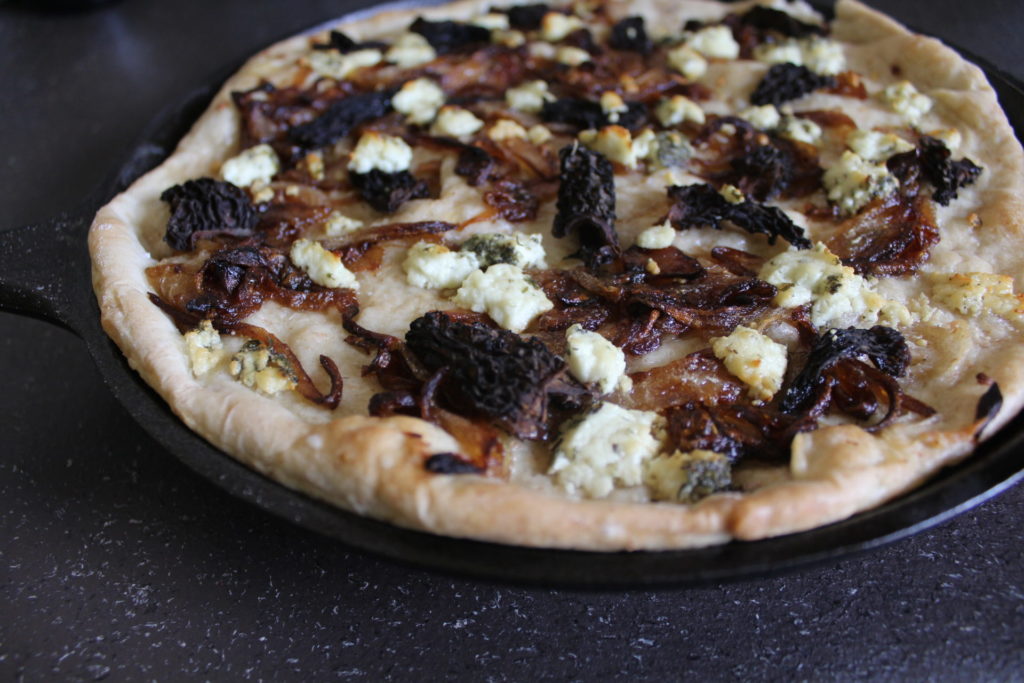 Ingredients
10-inch store bought pizza crust
OR
Quick homemade dough (enough for one 10-inch crust)
1/2 cup warm water
3/4 tsp yeast
3/4 tsp coarse salt
1 cup all-purpose flour
1/4 cup whole grain flour
Toppings
4 tbsp tallow (or extra virgin olive oil)
1 large onion, finely sliced
Pinch of salt
Splash of balsamic vinegar
1/4 ounce dried morels
50 grams fine herb soft goat cheese
OPTIONAL: smoked salmon
Method
Preheat oven to 400 degrees Fahrenheit. Place a 10-inch cast iron skillet in the oven on the middle rack so that it heats up during this time as well.
Prepare onions. In a small cast iron pan, melt tallow over medium-low heat. Finely slice one onion and place into pan. Over the course of the next 45 minutes or so, stir every five minutes to prevent onions from burning. When onions are caramelized, you can deglaze the pan with a splash of balsamic vinegar.
In a small bowl, pour enough hot water over dried morels to fully submerge. They should be completely reconstituted within 15 minutes.
For the crust, you can either use thin, store-bought crusts or make a quick homemade dough. Dissolve yeast in warm water and set aside for five minutes. In a bowl, combine both flours, salt, and yeast mixture and stir until combined. Knead the dough for several minutes on a lightly floured surface, then cover and let rest for 20 minutes.
Drain water from morels and squeeze to get rid of any excess liquid. Remove preheated skillet from the oven and melt a tiny amount of tallow on its surface. Roll out the dough and place on oiled skillet. Spread caramelized onions over crust and add morels, crumbled goat cheese and smoked salmon (if using).
Place pizza into the oven and cook for 18 to 20 minutes or until crust has browned. Let sit for five minutes before serving.