Jam jams were a childhood favourite cookie in our family – my granny always had a healthy supply of them stashed away in the freezer. They are the perfect snack for late-season hunting – they freeze well, so they can be made ahead of time and pulled out as needed, and they are not overly sweet so they can be enjoyed mid-morning. Bonus points for using huckleberry jam, or any other wild berry jam that you might have on hand.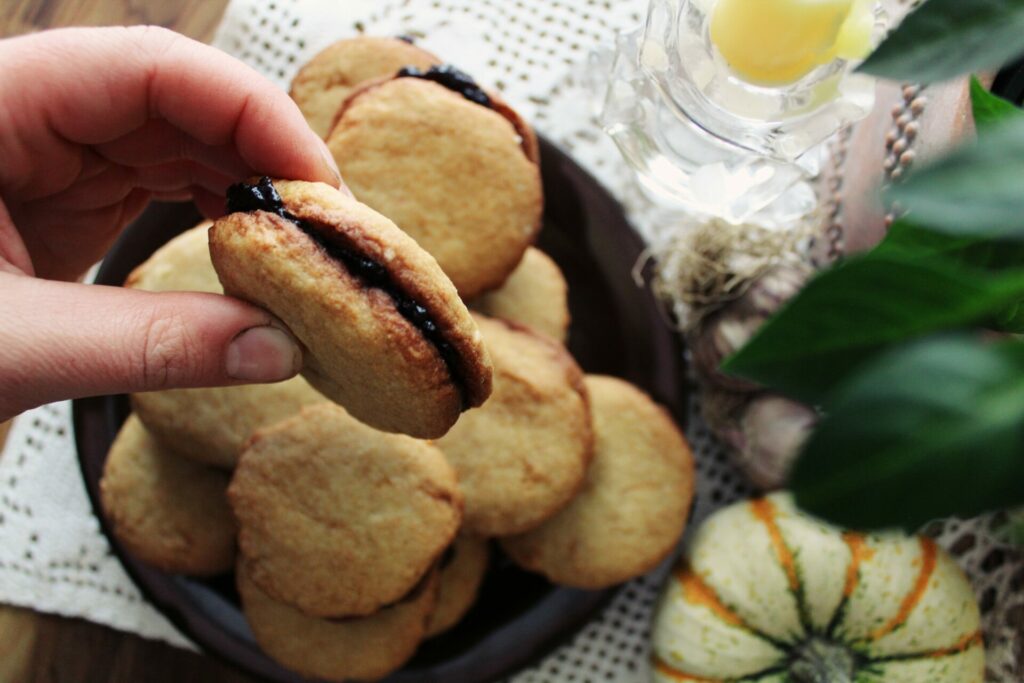 Ingredients
3/4 cup unsalted butter
1 1/4 cup brown sugar
2 eggs
2 cups flour
1/2 tsp baking soda
1/2 tsp baking powder
1 pinch salt
1 tsp vanilla
125 ml jar of huckleberry jam*
How To Make Huckleberry Jam Jams
Preheat oven to 350 degrees Fahrenheit. In a large bowl, cream together butter and sugar. Add eggs and beat until creamy. Stir in all the remaining ingredients, except for the jam. Roll the dough into small balls and place on a parchment paper-lined cookie sheet. Using something with a flat bottom (a large cup, Tupperware, etc.) flatten the cookies. Dip the bottom of whatever you use in flour to keep the dough from sticking.
Place into the oven and bake until the cookies are golden brown in colour, around 10 minutes. While the cookies are still warm, spread the huckleberry jam over the flat side and then press another cookie on top.
One 125 ml jar of jam paired with this recipe should make approximately a baker's dozen cookies, depending on how large you make them.
*Any sort of wild berry jam would be awesome for this recipe – find the honey sweetened huckleberry jam recipe here: https://www.bcoutdoorsmagazine.com/handmade-gifts-from-the-wild/