Mack's Paddle ScentFlash UV Paddle Flasher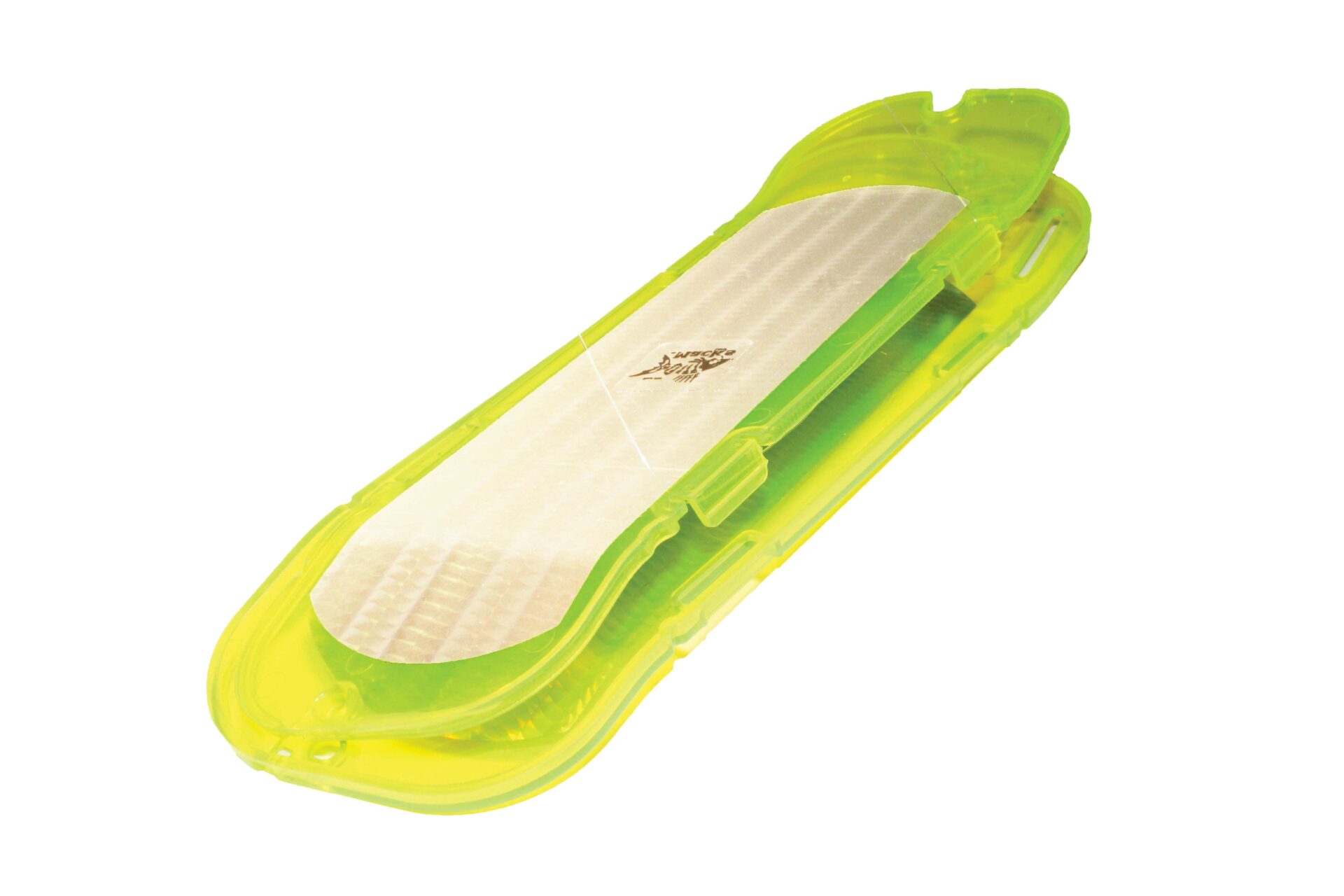 Mack's Lure ScentFlash UV Paddle Flasher is a revolutionary salmon flasher, unlike anything else! It features all the fish-attracting benefits of a traditional flasher, with the added advantage of a patented scent release system. To use, simply unsnap the ScentFlash, apply your favourite scent into the cavity and snap back into place. The ScentFlash releases scent as it rotates through the water, attracting fish with an irresistible scent trail and eye-catching UV flash and incredible movement. Use either Mack's Premium ScentFlash pads or your own natural scents like herring, tuna, anchovies, smelt, shad or corn. The ScentFlash includes a detachable tail fin, allowing you to manipulate the action of the flasher or to replace a broken fin. The ScentFlasher is available in chartreuse UV or clear UV.
ScentFlash: $15.99 USD; ScentFlash pads: $2.99 USD for a four-pack
Simms SolarFlex UltraCool Armor Shirt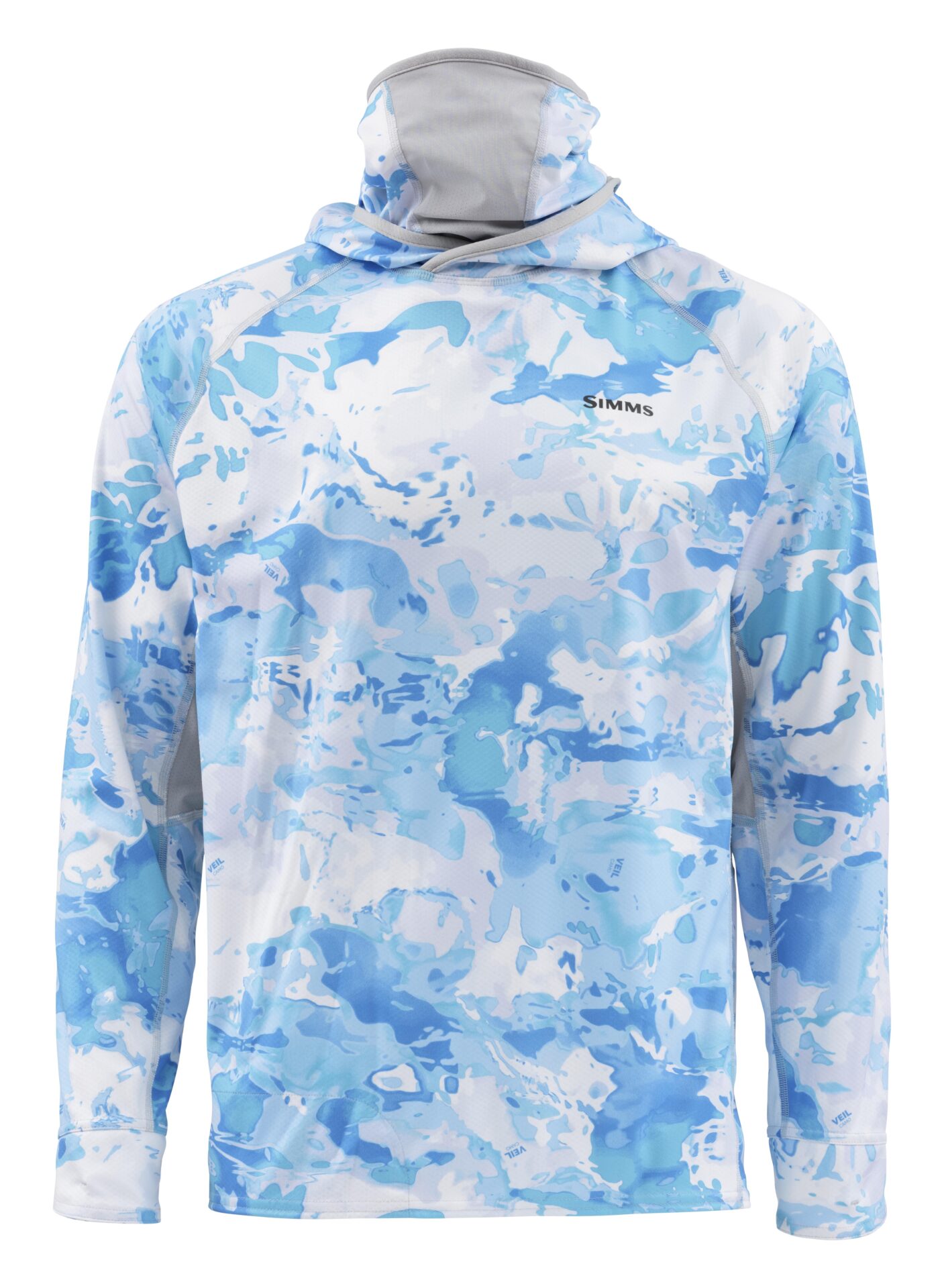 When you need protection from the summer's sun, check out Simms SolarFlex UltraCool Armor shirt. It combines a full-coverage hood and gaiter design. The shirt features Avra performance fabrics, which are quick-drying and UPF 50 rated, making it the ultimate shirt for hot days on the water. An Ultraviolet Protection Factor of 50 means only 1/50th of the sun's UV rays to pass through the garment, dramatically reducing UV exposure. A hood envelope secures hat bills, while the built-in neck gaiter provides full sun coverage. Made using 100 per cent post-consumer recycled PET, Avra fibres are more flexible than standard polyester due to their size and unique shape. Avra blended fabrics have a distinctly silky feel that keeps you drier and more comfortable than other synthetics. SolarFlex UltraCool Armor shirts come in sterling or veil camo's grey or blue cloud camo patterns to effectively conceal the angler.
MSRP: $140 USD
Plano Guide Series Tackle Bags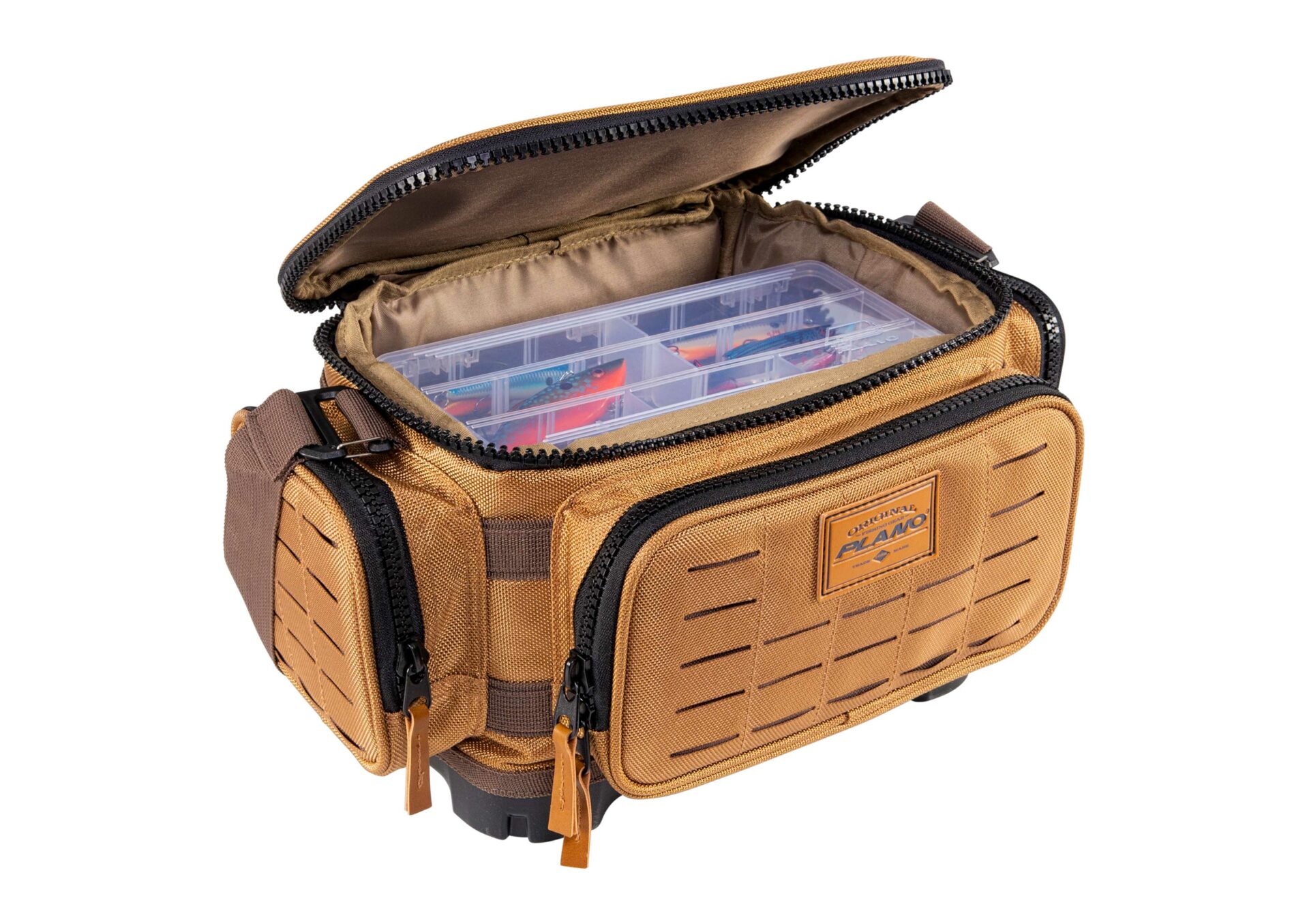 Keep your tackle secure in the tough Guide Series tackle bags by Plano. The new line features hard-backed construction of rugged 1680 Denier fabric – a sturdy material designed to hold its colour and shape for years of heavy use on the water. Upgrades include MOLLE attachment points to add smaller storage pouches and redesigned pockets for improved access. Heavy-duty, oversized zippers eliminate binding and make getting in and out of the bag effortless, while a patent pending magnetic Dropzone on the top of the lid is designed to keep favourite baits and tools within quick reach. A TPR (thermoplastic rubber) moulded base is rigid and grippy, to keep the bag secure. Guide Series tackle bags are available in four sizes: standard 3500, 3600 and 3700 bags and the 3700 XL. The 3700 XL has additional features that its little brothers don't, like integrated rod holders and stowable backpack straps.
MSRP: $70 to $150 USD
Scotty Kayak Fishing Starter Pack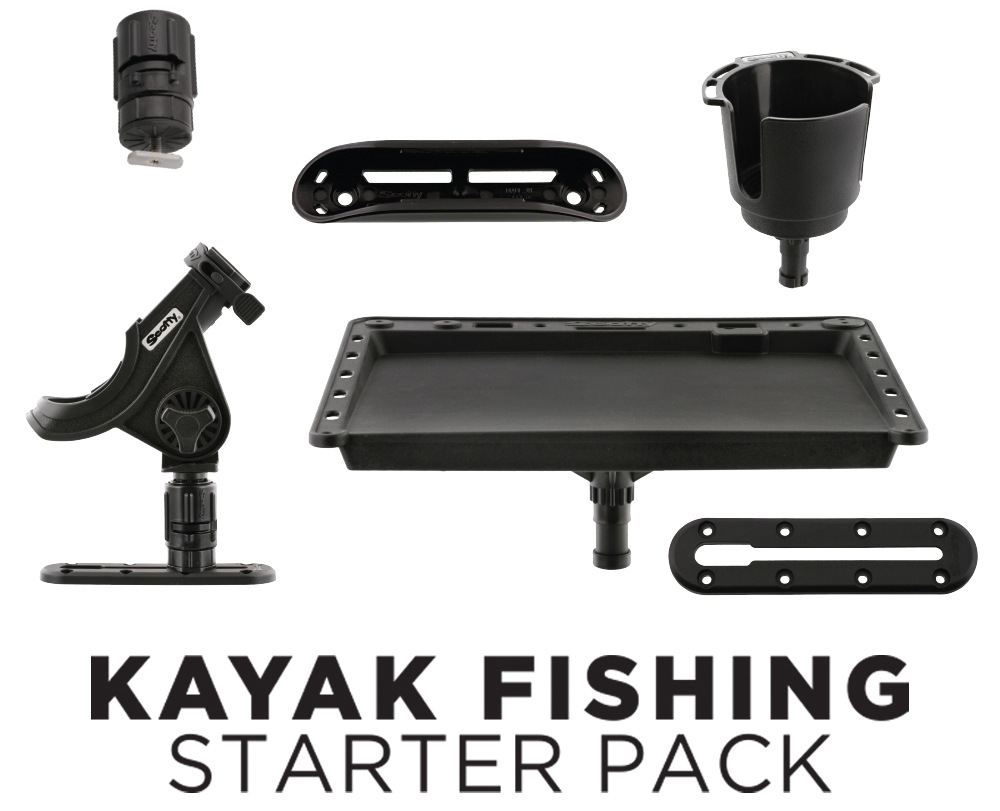 Scotty's Kayak Fishing Starter Pack includes six must-have fishing essentials bundled in one convenient package, as well as the necessary stainless-steel ftaseners. The pack consists of:
A baitcaster spinning rod holder with gear head and track (282) for mounting low-profile baitcasting or spinning reels.
A gear head track adapter (438) allows you to reposition or remove a post-mount rod holder or other accessories with just a twist.
A four-inch low-profile track (440-4) is made from high strength composite material. Its top-load design allows quick and easy setup of accessories. Use this track with the track adapter to position and hold your favourite accessories.
A drink holder (311) – it's a cup holder with a post-mount designed to fit cans, mugs and more. The holder includes an accessory rack to hang lures and tools
A paddle clip (136) – a place to clip a paddle, net, gaff or anything else you don't want to lose.
Bait board and accessory tray (455) – a convenient platform to cut bait, prep lures and keep your fishing favourites close at hand.
MRSP: $119.99
Buck Abyss Series Fillet Knife

Buck Knives' popular Abyss Series fillet knives were designed with the input of pro anglers and now include Cerakote ridgeway blue premium coating on the 420HC steel blade. The sic-and-a-half or nine-and-a-half-inch blades are coated with a polymer-ceramic composite coating that protects against abrasion and corrosion. During development, Abyss knives underwent rigorous testing in saltwater conditions to check the blades and handles for any signs of oxidation. The upgraded knives include the same flexible trailing point blade as the original Abyss fillet knives for clean, efficient cuts. The textured handle is shaped for control and comfort. These made-in-the-US knives use a strong, full tang construction and are covered by Buck's famous Forever Warranty. Knives include an injection-moulded nylon sheath
MSRP: $70 USD