Ingredients
4-5 elk marrow bones
16 thin slices of slow roasted brisket (beef or elk)
1 litre elk or beef stock
2 sticks cinnamon
3 star anise, whole
10 cloves
2 tsp coriander seeds
3 tablespoons fish sauce
5 slices fresh ginger, skin on
1 tablespoon sugar
Kosher salt to taste
1 onion quartered
1 portabella mushroom
2 carrots skinned and cut 1/4-inch thick on an angle
1 bushel of fresh basil leaves
1 cup chopped cilantro
Limes quartered
1 cup fresh sprouts
1 package flat rice noodles
1 cup chopped scallions
Method
Place elk marrow bones in water and boil for 10 minutes, scraping off any foam or impurities off the top of the water. Rinse off bones in the sink and place back in a clean, deep pot. Add elk or beef stock and the rest water until the bones are covered. Bring to a boil once again. Once you've reached a boil, turn down the heat until you achieve a nice, light, rolling action in the liquid.
Quarter the onion and break apart on a cookie sheet lined with parchment paper. Add the slices of ginger root. I will sometimes add six whole garlic cloves, flattened, as well. Place on broil in your oven, highest rack, until the onion starts to lightly char. Keep a close eye on it, flipping the onion, ginger and garlic if you choose, with some rubber coated tongs.
Add the onion, garlic and ginger to the gently rolling broth. I take a small pan and toast the star anise and cloves dry before putting it into the pot. Add cinnamon sticks, cloves, star anise, coriander seeds, kosher salt (about two tablespoons), fish sauce and sugar. Rock sugar is preferred, but regular sugar will do. Allow to gently boil for about an hour and a half, adding water as needed to keep the bones immersed in liquid. Taste your broth occasionally, adding salt or sugar as needed.
Strain the broth over a fine mesh, or something like a tammy sieve to catch all the spices and impurities for the cleanest broth. You may also choose to use a cheese cloth. Add back to a clean pot, and gently simmer. Add the juice of one lime to the broth and stir gently. Allow to simmer for at least an hour.
At this point, I arrange my pho ingredients in separate bowls, so I am ready to design the soup in an artistic way that is tantalizing to the eyes.
In a separate pot, lightly boil the carrot segments until they are al dente. Strain and set aside in a bowl.
Slice whole rings of one onion, very thin with a mandolin or by hand. Set aside in a bowl.
Chop cilantro and scallions and place in separate bowls. Add your sprouts to a bowl as well.
Heat up a pot of water and boil your rice noodles as per directions on the bag. Do not overcook, as they will become slimy. Rinse in cold water and leave in the water until you are ready to put your pho together.
Slice the portabella mushroom and pan fry with kosher salt and olive oil until the edges are a light, golden brown. Gently lay them on a plate.
Prepare four bowls, by first adding the noodles. Place your onion rings, about six to eight per bowl. Create a fan placement of your carrots, about five, and three or four of your portabella mushrooms. I then add my slices of brisket to the bowl. Sprinkle scallions and cilantro around the bowl. Gently add your broth to each bowl, immersing the noodles and toppings. Add a heaping handful of sprouts and top with fresh basil leaves and lime wedges.
The most common sauce to use for a pho is sriracha or hoisin sauce. I personally like to enjoy the hard-earned broth on its own!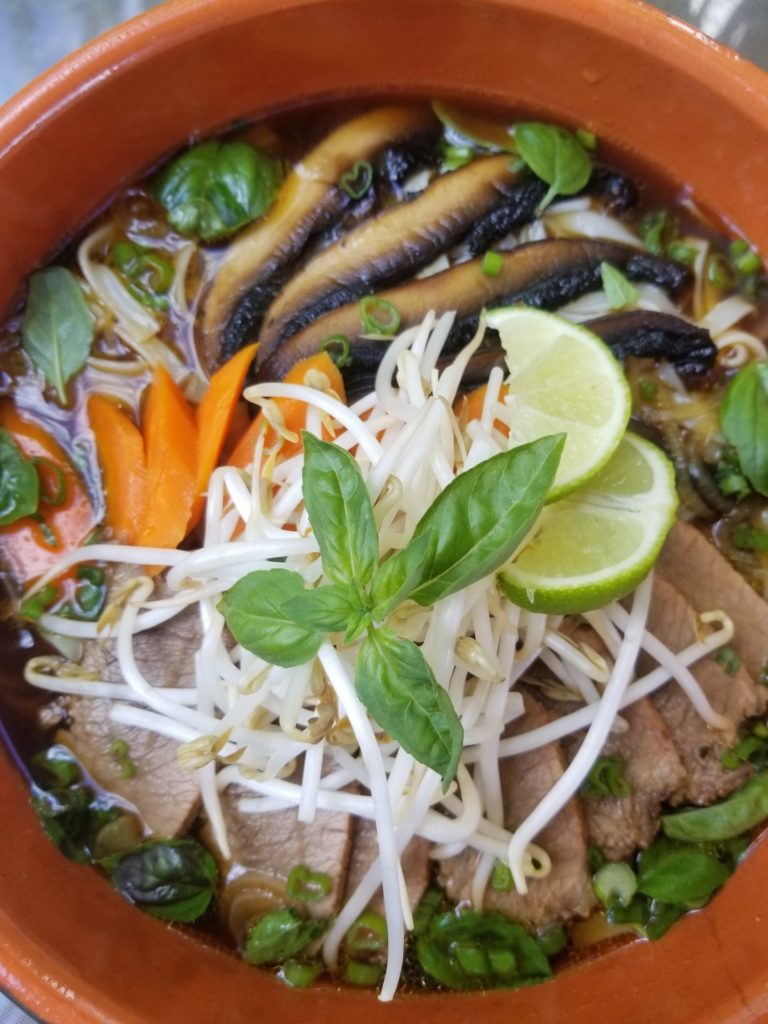 Brisket
For my brisket, I coated it with fresh garlic, ginger, kosher salt and smoked it in my Bradley Smoker for two hours on 220 degrees. I then transferred it to my oven at 300 degrees for an hour and a half, with half a litre of elk or beef stock until it was tender and falling apart. My piece was about five pounds.