There is something about picking flowers for a wildflower bouquet that appeals to everyone, young and old. As a kid, I remember running around to collect flowers to put in a tin can vase on the picnic table or grabbing a small handful of plants to hand off to my parents or grandparents.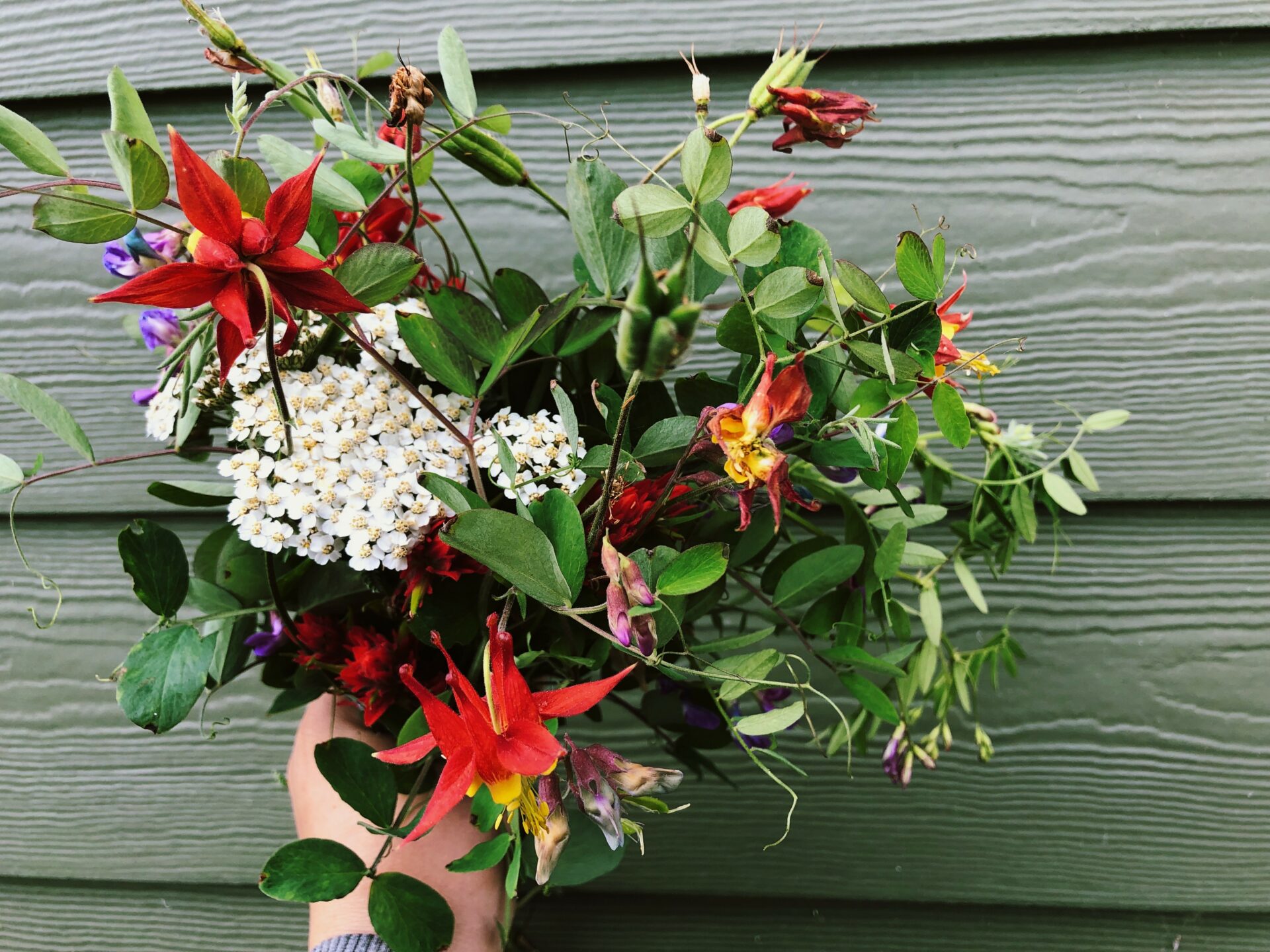 The habit has stuck with me throughout my life. Collecting a small posy on an early morning walk just as the sun rises is a sweet way to bring a bit of the wild indoors, and it is interesting to watch how the flowers change throughout the summer season.
While collecting wildflowers for bouquets can be a fun pastime, it is important to make sure that you are not picking (and therefor potentially spreading) noxious weeds or invasive plants. Here are some quick tips so that you can enjoy your wildflower bouquets!
What Are Noxious Weeds & Invasive Plants?
Invasive plants are non-native plants to an area that may have been introduced on purpose or accidentally and that have negative impacts on their new environment. When introduced to a new area lacking in predators and pathogens that would typically keep them in check, they can displace native plants due to their vigorous and unchecked growth.
These plants can be broken down further into the category of noxious weeds, which fall under the British Columbia Weed Control Act.
How Do I Know What Is A Noxious Weed Or Invasive Plant?
As always, having a good plant identification book for your region is a great resource to have with you whenever you are planning on picking plants in the outdoors. But if you are looking for specific information on noxious weeds and invasive plants, the province of British Columbia, in partnership with the Invasive Species Council of BC, has an excellent resource called Field Guide to Noxious Weeds and Other Selected Invasive Plants of British Columbia.
Within that field guide, the plants are divided into several categories: provincially noxious, regionally noxious (which corresponds with different regional districts throughout the province) and then additional invasive plants of concern.
What Should I Do If I Think I Have Found A Noxious Weed Or Invasive Plant?
There are multiple ways that you can report a noxious weed or invasive plant. There are a couple of apps for your mobile devices, the iNaturalist and Report Invasives apps. Online, you can report plants through www.bcinvasives.ca.
Why Should I Care?
Whether we are in the outdoors hunting, fishing, foraging or adventuring, we are all stewards of our environment. Noxious weeds and invasive species are a serious threat to diversity and our landscapes throughout the province and we can all do our part to limit their spread.