At 110 kilometres long, Francois Lake is the second longest, naturally occurring lake entirely within British Columbia. With depths plummeting to just over 800 feet, this lake is nothing to shake your head at. I was lucky enough to grow up on the shores of Francois Lake, and those days spent out on the water blossomed into a full-blown love affair with fishing as an adult. Holding rainbow and lake trout, kokanee, Dolly Varden and burbot, it is by far the lake trout that have me counting down the days until we can launch the boat and get out on the water.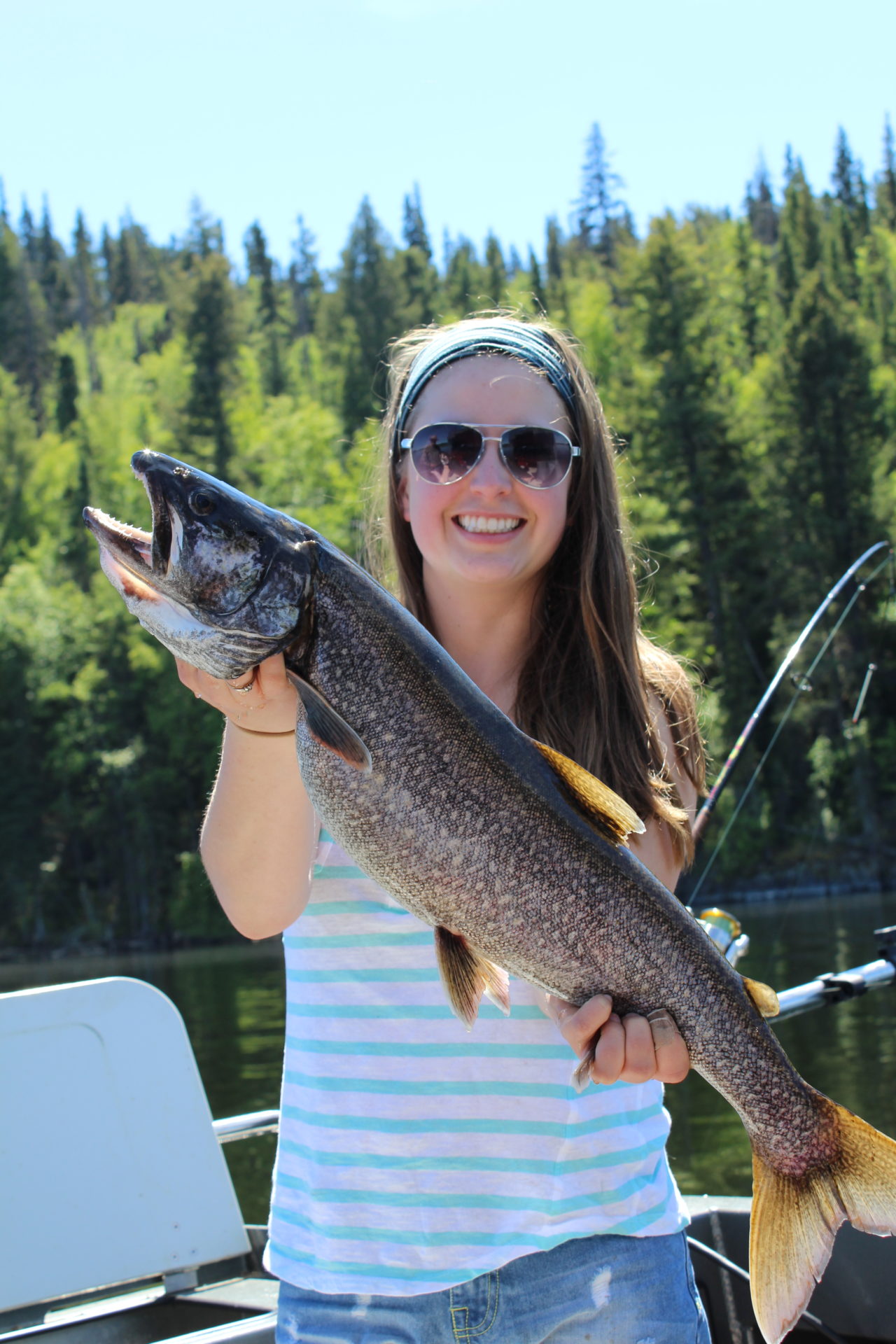 'Tis The Season
As soon as the ice clears off Francois Lake, the itchin' for fishin' begins. In fact, if you want to put your woollies on and brave the cold, the lake always stays open near the ferry launch (a 20-minute drive south of Burns Lake) due to the ferry keeping a channel open daily. While the die-hards troll for hours in mid to late April, hoping for that first catch on open water, the fishing really picks up at the start of May, and stays hot all the way through to the end of June.
As the temperatures heat up, the fishing cools off – but that's not to say you won't catch a lake trout in the later summer months. We are often putting in longer hours for a single fish during July and August, and at deeper depths, but when the sun is shining it is easy to spend an entire day trolling on the lake.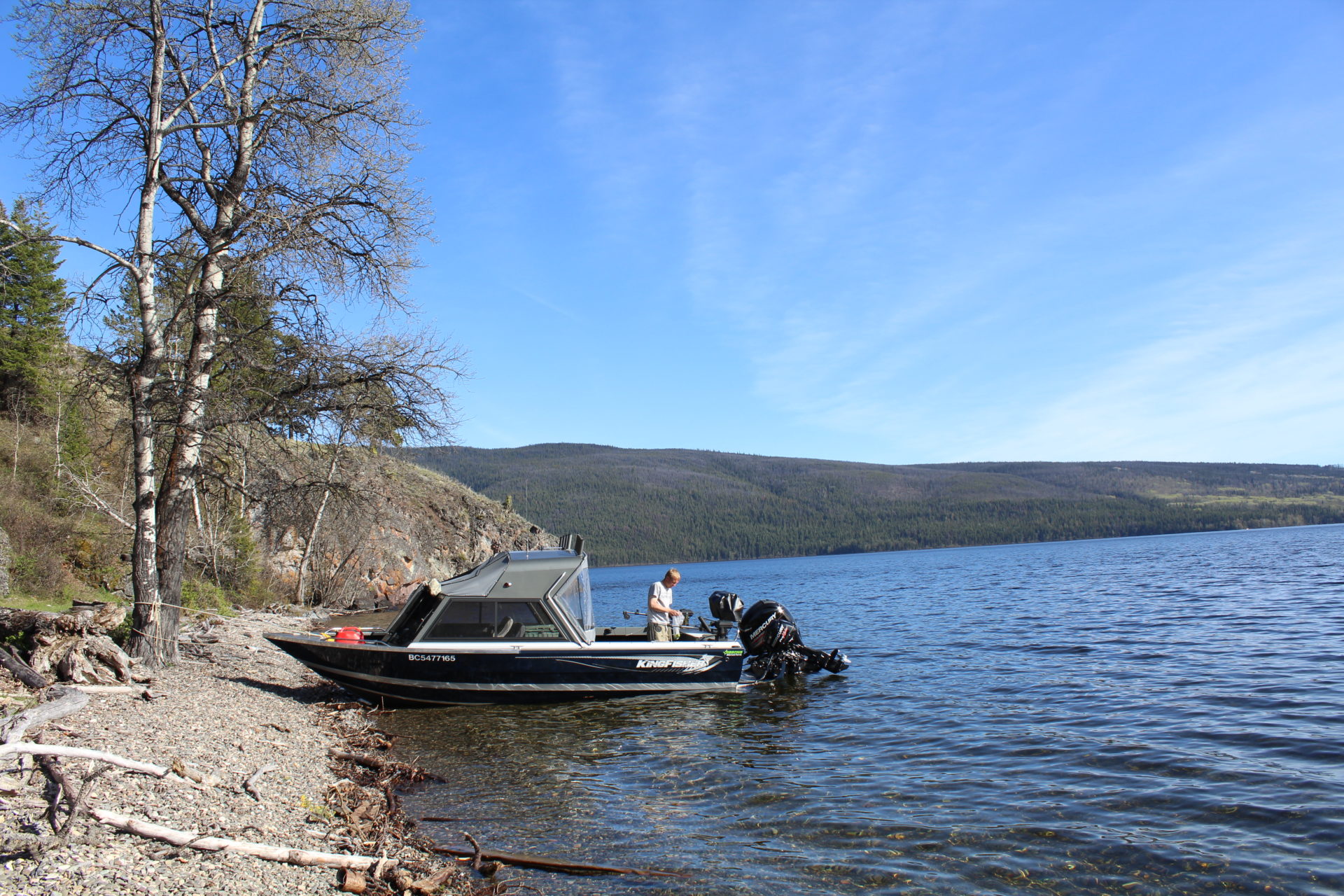 Go Deep Or Go Home
Speaking of deeper depths, if you are in search of the big one, find your weights and send that lure down. If you aren't set up with downriggers, attaching a pound weight to your line and bottom bouncing can prove to be lucrative. On our boat, we've got a system dialed in to fish the contour of the lakebed. It requires someone to be on their toes at all times, manning the downriggers at the back of the boat while the captain calls out the depths that sometimes rapidly change along the steep, rocky bottom. An average fishing day sees us troll in anywhere from 70 to 100 feet of water, with the downriggers set from 45 feet to 65 feet deep.
On the sandy bottoms, it's not as big of a concern to bounce bottom with the downriggers, but anyone who has had to replace their downrigger balls knows that those things get pricey in a hurry and you don't want to just be leaving your money behind on some rocky outcrop on the bottom of the lake.
With this all being said, the first couple of lake trout I caught as a child were while dragging an old Ford Fender lure on the surface, in pursuit of rainbows. These weren't big fish, by any means, but as a little kid I remember being absolutely devasted when we lost them at the boat because we didn't have a net – so depending on the time of year you are fishing, you might have to experiment a bit.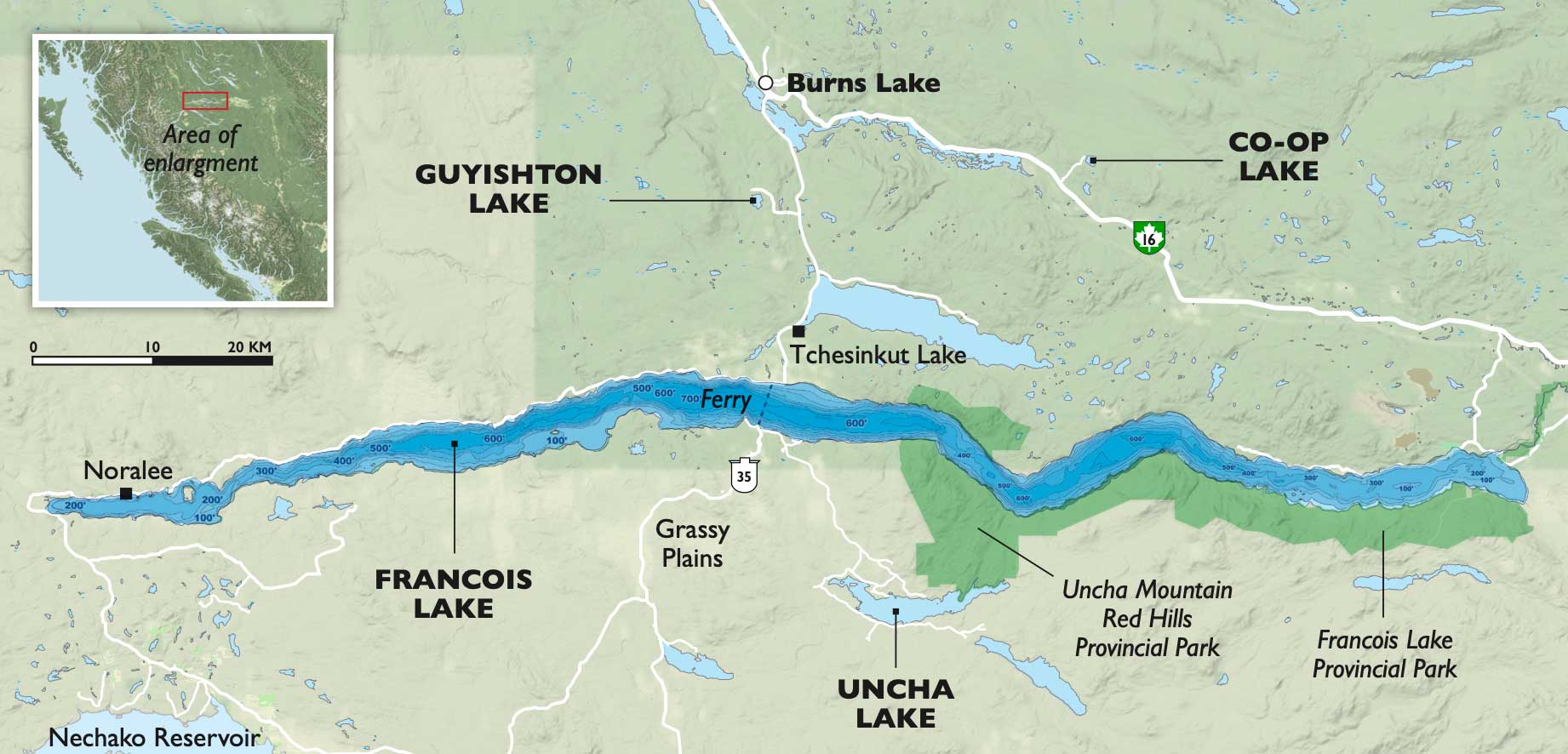 The Secret Spot
Every lake has its so-called secret fishing holes, but on Francois Lake, you basically just need to get your hook in the water and spend some time trolling. One of the many reasons it is at the top of my "favourite lakes to fish" list is that its sheer length, coupled with a multitude of access points scattered along both its north and south shores, means you could be out on the lake with 50 other boats and hardly ever see any of them. For the fisherman that enjoys peace and solitude, this makes Francois Lake an absolute paradise.
I might be biased, and this certainly isn't scientific data, but after fishing both the west end and middle of Francois Lake as a child, and now spending most of my time east of Uncha Creek, if you're looking for big fish, head west (this might incite some head shaking from my fishing partner when he reads this – sorry in advance!) Every summer, there are those classic, big-bellied lakers pulled up from the depths of the lake at the west end, weighing in anywhere from 20 to 30 pounds. The east end, while seemingly lacking those bigger fish (or maybe they are just elusive) still holds plenty of lake trout to keep the action going and make a perfect fresh-caught dinner.
If you were to fish from one end of the lake to the other (which is a hypothetical situation, as it's too much distance to cover in one day), it would look something like this: let's start from the east end, where the lake flows into both the Stellako and Nithi rivers. This might be one of the busier spots on the lake, because as you cruise along the north shore, there are three popular resorts that are typically packed with boats from May long weekend through to September long weekend. As you continue up the lake, you'll find boats scattered on both sides of the lake, each trolling a different rocky ledge. Again, the nice thing about a lake this big is that even when it's "busy," it sure doesn't feel crowded. Further up the lake, Uncha Point is a popular fishing hole, where you'll find fishermen who have launched at one of the east-end resorts and ones who have made the run down from the ferry landing launch.
The approximately 25-kilometre stretch of lake from Uncha Point, past the ferry landing (and free public boat launch), and up to John's Island marks the widest section of the lake. This is the area that I spent a lot of time in as a child, our family packed into a little 12-foot Lund that my parents still use to this day. The west end of Francois Lake, from John's Island to the outflow of the Nadina River, is quite narrow compared to the rest of the lake, and there are plenty of little steep, rocky cliffs to troll along and have good success.
Heads Up
Big water means big weather – and while there are many perfect, calm-as-glass days on the lake, you can almost always count on the wind to pick up by 3 in the afternoon. While the wind will often die down again in the evening, leaving a window of opportunity for a couple hours of fishing after dinner, sometimes the lake will erupt with big rollers and whitecaps. Of particular note are the wicked east winds that blow in on occasion, which often bring the nastiest of conditions with them.
A general rule, that really can be applied to any lake, is to keep your head up while fishing on Francois Lake. Don't push the weather, but if you do find yourself in a hairy situation all it takes is a quick look at a map to see there are plenty of secluded bays along the length of the lake to tuck into if you need to hunker down somewhere and ride out the storm.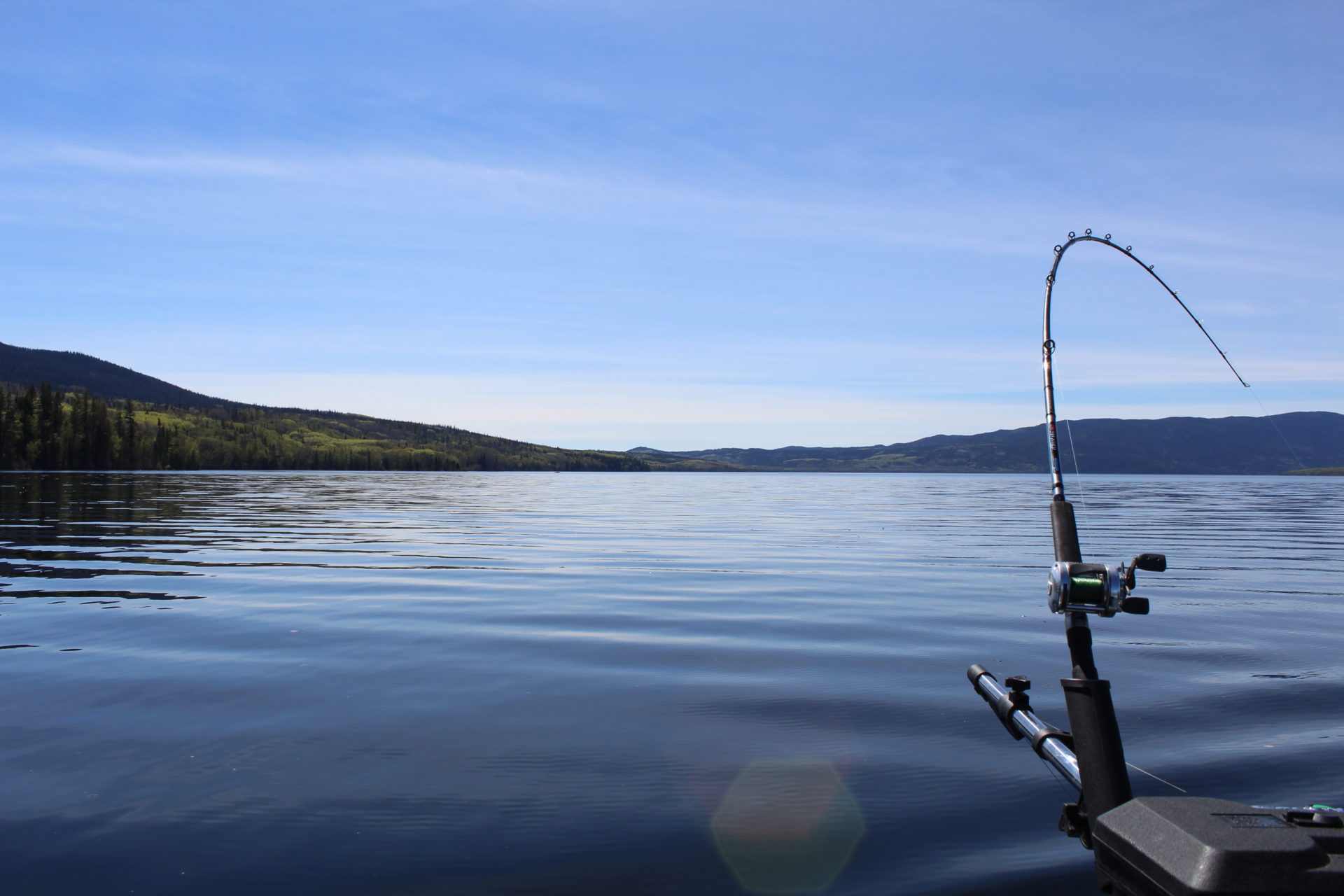 Lures
With a lake this big, it goes without saying that there are a variety of lures to try and catch the big one. With a family history of fishing on Francois Lake, there has been plenty of trial and error over many years to narrow down the most reliable lures to use for lake trout. Here are five lures that always have a place in my tackle box while out on Francois Lake:
Metallic blue/silver scale T-50 Yakima Flatfish: the lure that hooked my first big char on the lake, this is one that fishermen and fisherwomen in my family have used for years.

#3 Firetiger Gibbs Ruby Eye Wiggler: another go to that is my fishing partner's top choice for Francois Lake – there have been many fish brought in on this lure.

#5 50/50 nickel/brass Gibbs FST: by imitating a swimming minnow, this lure has produced a lot of lake trout over the years.

Metallic silver/red dot T-50 Yakima Flatfish: another T-50 that gets used every summer. On our boat, we find the T-50s to be more successful than the larger T-60s on Francois Lake.

#5 blue scale Gibbs FST: another colour variant of the successful FST that has consistently caught fish over the years.

Getting There
Francois Lake is located just shy of three hours west of Prince George. Burns Lake is the closest town, which offers restaurants, hotels and other amenities in case you forgot something at home, and you'll want to turn south at Burns Lake, taking Highway 35, to reach Francois Lake.