Planning a hearty yet versatile camp menu is a challenging task, not to mention a little pricey, especially if you're loading up with boxes of store-bought, ready-made food mixes – a common staple in many camps, but, in my opinion, nowhere near as tasty (or thrifty) as those made from scratch, which is why I created my own no-name look-alikes.
These mouth-watering seasoning mixes are made at home, which makes preparation in camp fast and easy. I like dehydrating various foods to use in my mixes, so I've included a few tips should you wish to give it a try. You can have fun tweaking the recipes by adding or omitting anything you wish to suit your own tastes.
Be sure to store the mixes in airtight containers and don't forget to tuck other needed fixings for the recipes into the food box.
Below are a few of my favourite creations that score big in camp.
Mac & Cheese Sauce Mix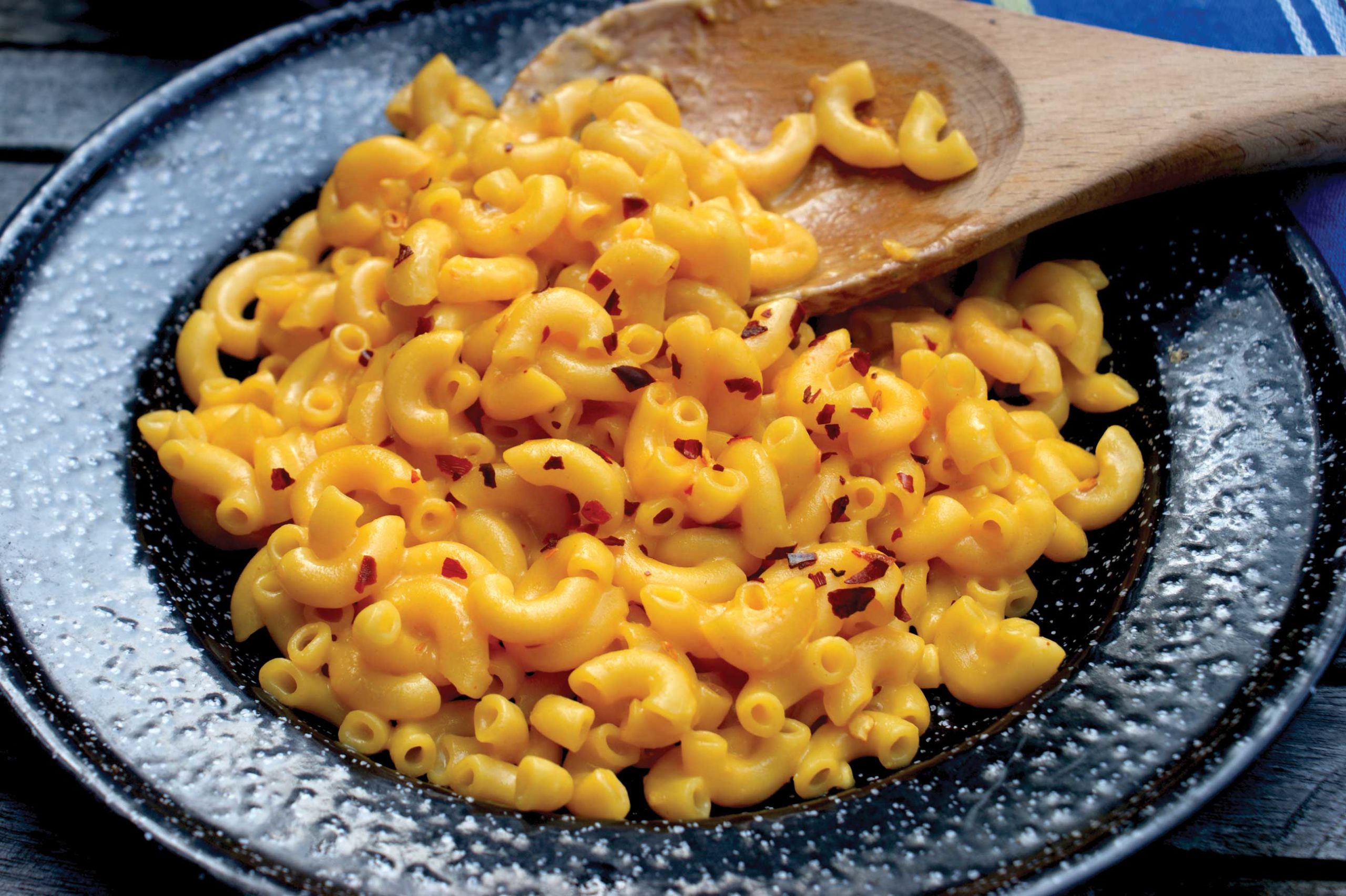 This is way cheesier than boxed macaroni and cheese dinners. You can use store-bought or homemade dehydrated cheese, as I often use. To dehydrate cheese, line trays with parchment paper or silicone sheets, spread grated cheese over top (my choice is aged cheddar for this recipe) and dry at 120 degrees Fahrenheit for eight to 12 hours (times may vary depending on model of dehydrator) or until hard. Process into powder using a food processor.
In a bowl, combine 1 1/2 cups cheddar cheese powder, 1/2 cup grated parmesan (shaker-style), 1/2 cup milk powder, 2 tablespoons cornstarch, 1 teaspoon garlic powder, 1 teaspoon each of white pepper, ground celery seed (or salt) and hot chili flakes. Mix well. Makes about 2 1/2 cups of mix (ratio 1/4 cup mix per 2 cups uncooked pasta).
To prepare, cook 2 cups of elbow macaroni in lightly salted water until al dente or tender to liking. Drain, reserving 1/2 cup liquid. Stir in 1/4 cup of sauce mix (more or less for desired creaminess) and 2 tablespoons butter, heat through. Serves 4.
Rice-A-Roni Mix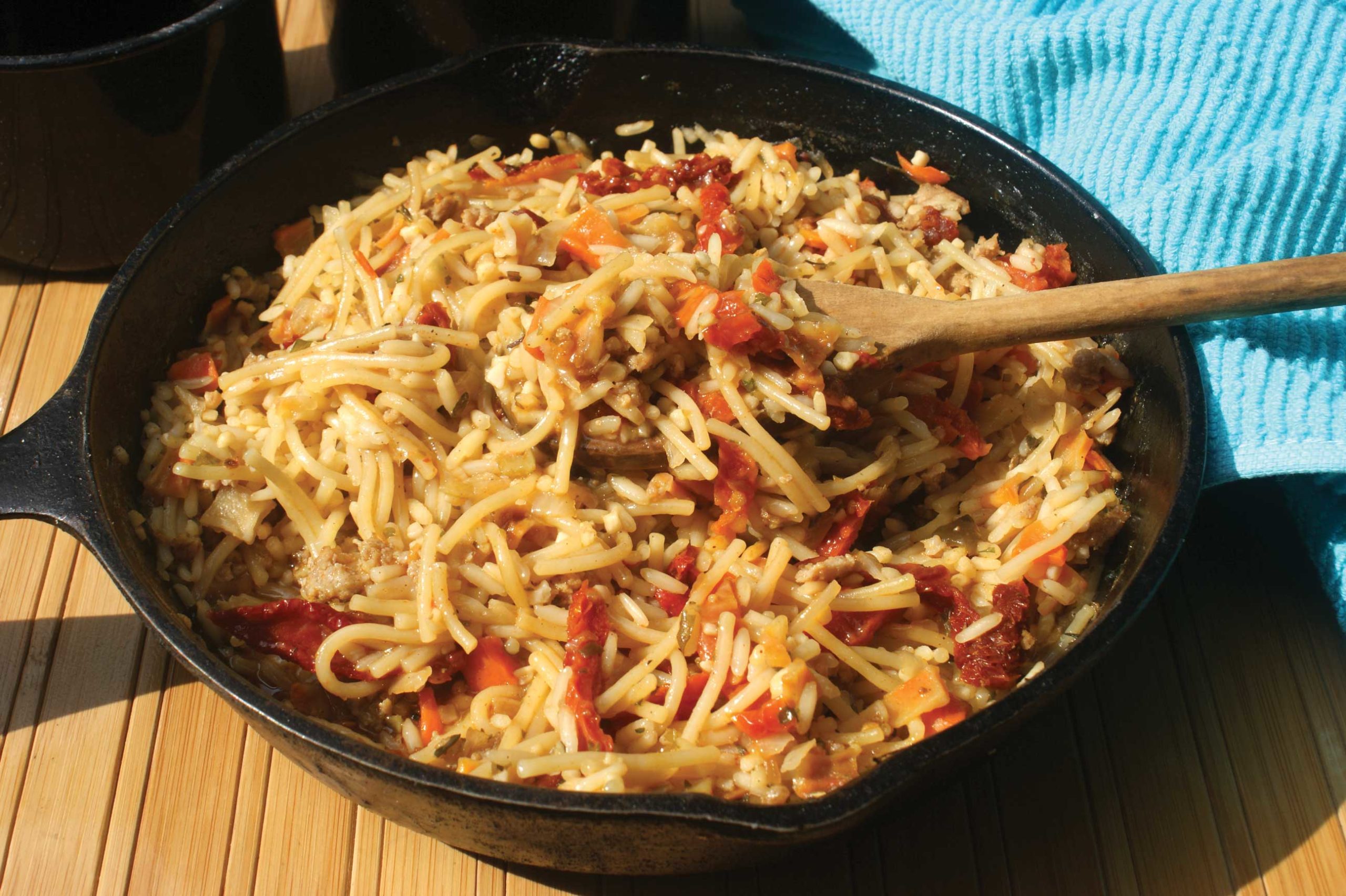 Who doesn't love that old San Francisco treat! Break enough spaghetti, vermicelli or other thin noodles into small pieces to measure 5 cups. Combine with 6 cups long grain brown or white rice, 3/4 cup chicken or beef (depending on desired flavour) bouillon powder, 1/4 (more or less) cup mixed dehydrated vegetables (I make mine by spreading diced carrots, peppers, celery and shredded cabbage on racks and dehydrating until moisture is gone), 3 tablespoons dried onion flakes (slice and dehydrate until crispy), 2 tablespoons diced sun-dried tomatoes, 1 tablespoon black pepper, 2 tablespoons dried parsley and 1 teaspoon dried basil. (To dry herbs, string and hang in the sun until crispy). Mix well. Makes about 12 cups.
To prepare, heat 2 tablespoons vegetable oil in a Dutch oven and fry 2 cups of mix until rice and noodles are lightly toasted, stirring constantly. Add 3 cups of boiling water and simmer covered until rice and vegetables are tender, adding more boiling water as needed to keep from going dry. Makes 4 servings, and it's a tasty side dish to go with fried venison liver for a celebration feast after a successful day in the deer woods.
Meaty Rice-A-Roni
Brown 1 pound ground venison (or beef) in the oil along with the mix and continue.
Grouse Rice-a-roni
If fresh grouse is brought into camp, dice the breast meat, sauté in the oil until tender and continue.
Trophy Hamburger Helper Mix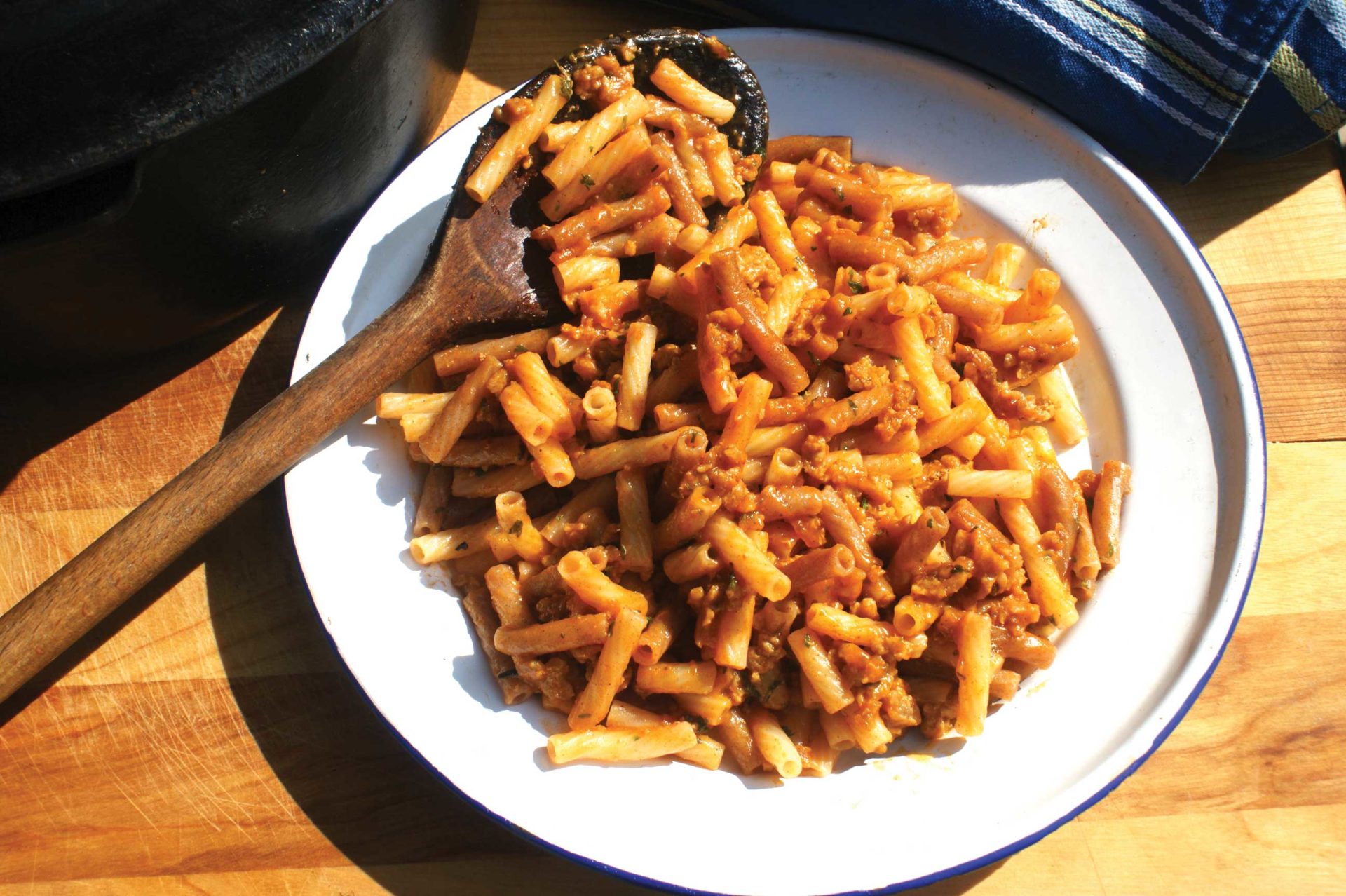 Combine 2 cups non-fat dry milk powder, 1 cup cornstarch, 1 1/4 cups beef bouillon powder, 3/4 cup dehydrated onion flakes, 2 tablespoons dehydrated garlic (dried the same way as onions) or garlic granules, 1 teaspoon each of dried basil and thyme, 1 tablespoon paprika, 1 tablespoon black pepper, 1 teaspoon each of celery and seasoning salt. Mix well. Makes about 5 cups.
To prepare, brown 1 pound of ground venison (or beef) in 2 tablespoons of oil in Dutch oven. Stir in 1/4 cup seasoning mix, 2 1/2 cups boiling water and 2 cups pasta (quinoa is very tender in this dish, but if you like a firmer pasta try casarecce or other sturdy wheat pasta.) Simmer for 15 to 20 minutes or until pasta is tender and sauce is thick. Serves 4.
Spicy Chili Seasoning Mix
(Specially made for chili-con-carne or sloppy Joes)
This handy mix is great for making two different popular camp meals – chili-con-carne and good, old fashioned sloppy Joes.
In a bowl, combine:
1 cup chili powder
1/2 cup ground cumin
1/4 cup ground coriander
5 tablespoons paprika
2 tablespoons crushed oregano
3 tablespoons dried garlic (or granulated garlic)
1/4 cup onion powder
1 tablespoon black pepper
Mix well. Makes about 2 1/2 cups.
Quickie Camp Black Bean Chili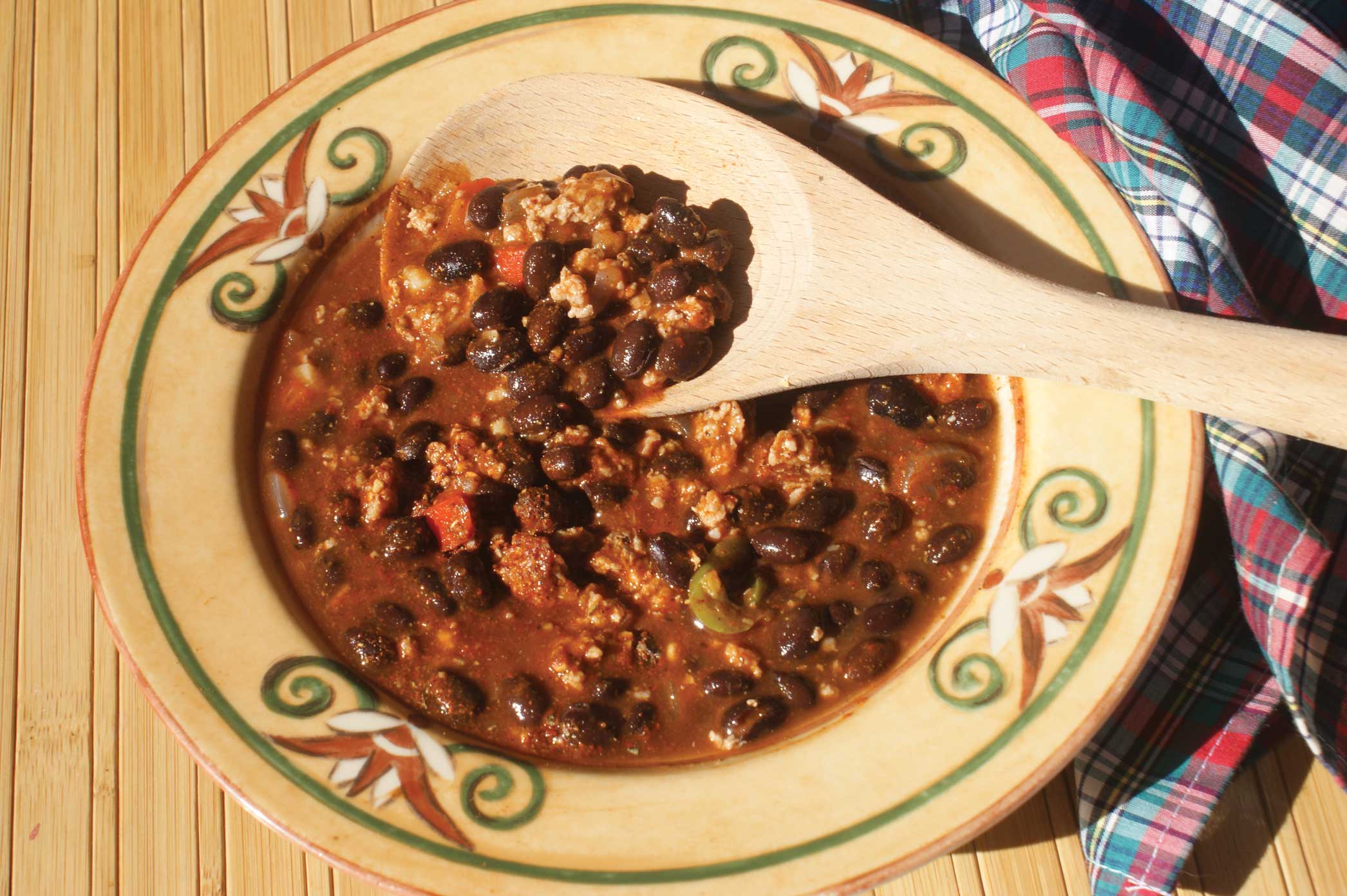 Brown 1 pound ground venison (or beef) in 2 tablespoons oil in Dutch oven. Add 1 chopped onion and 1 chopped sweet pepper, cook until soft. Sprinkle in 2 (more or less to suit taste) tablespoons chili seasoning mix and sauté until absorbed. Add 1 can (15 ounces) tomato sauce and 1 large can (19 ounces) of black beans. Cook for 15 minutes. Serve with crusty bread. Serves 4 to 6.
Sloppy Joes
Follow the recipe above, omitting canned tomatoes and beans. Stir in 2/3 cup ketchup, 1/3 cup water, 2 tablespoons brown sugar and 1 teaspoon Worcestershire sauce. Cook for 15 minutes or until very thick. Spoon onto buttered buns and serve. Makes 4 servings.
Instant Mocha Mix
I often double the batch so I don't run out! 1 cup unsweetened cocoa powder, 1/2 cup instant coffee granules, 2 cups dry milk powder, 2 cups non-dairy coffee creamer, 2 cups white sugar and 1 teaspoon ground nutmeg (optional) into a container, shake well.
To prepare, stir 2 (more or less) tablespoons of mixture into a mug of boiling water. For a gourmet cuppa, top each mug with a dollop of the magic topping below.
Magic Instant Whipped Coffee Topping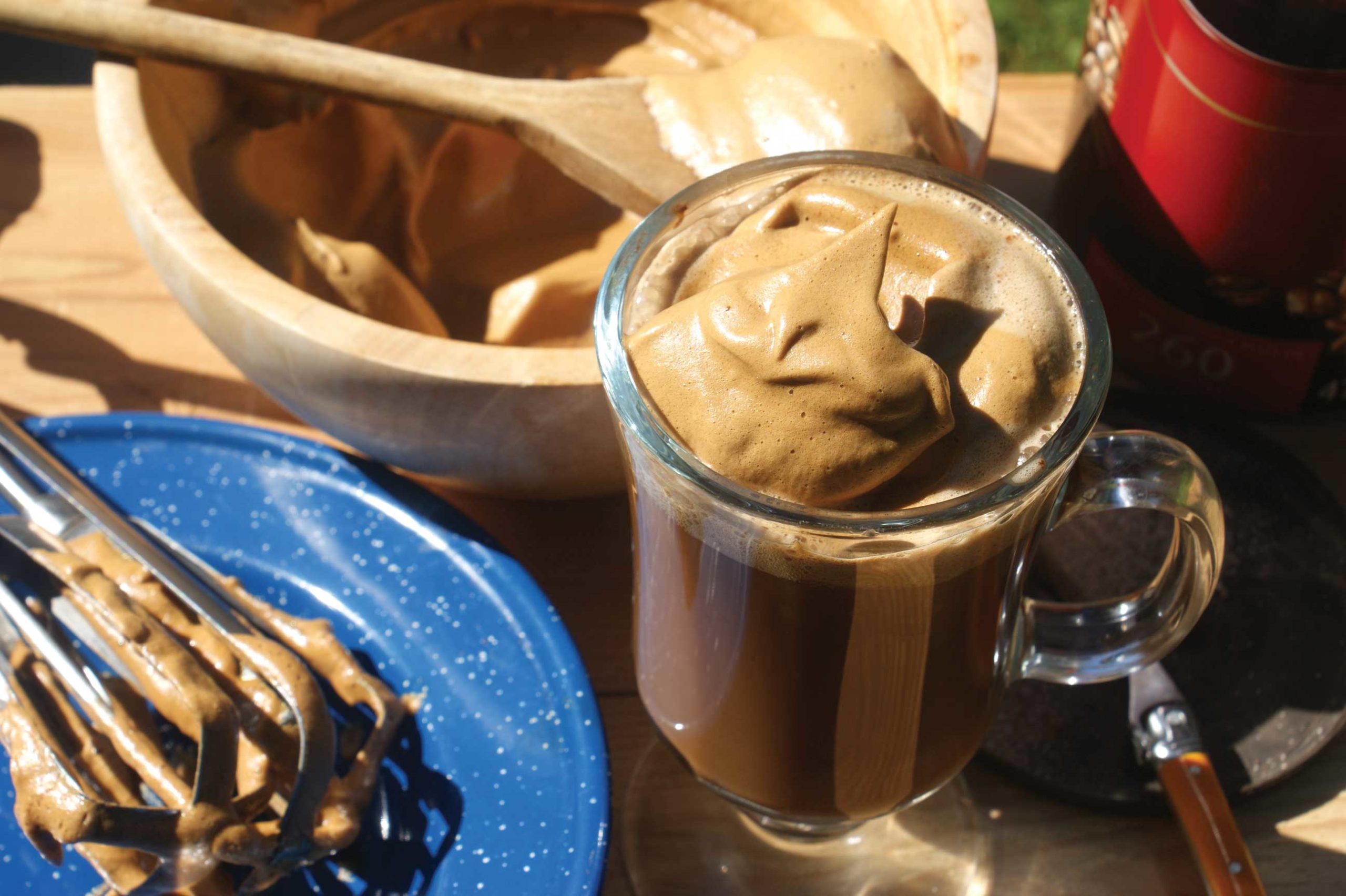 This whipped topping doesn't call for any dairy product, thus it's a great substitute for whipped cream in camp, especially for making special mochas and coffees. Put 2 tablespoons each of instant coffee, white sugar and boiling water into a small, deep bowl. Using a rotary eggbeater, beat vigorously until colour turns light brown and is the consistency of whipped cream.