There are over 110 lakes in British Columbia that kokanee salmon call home. Some lakes can be classified as a family fishery, where fish are easier to catch; other lakes are considered trophy lakes, where kokanee are larger, but harder to find. Angler effort, environmental factors and new kokanee fisheries will always affect which lakes are most productive. Many kokanee lakes in BC can be fished all year long. Some lakes will be cyclical in nature and become productive again due to the stocking efforts of the Freshwater Fisheries Society of BC. There are also a few naturally reproductive kokanee lakes in BC that are home to great fisheries. These lakes are productive due to being rich in nutrients and lower-than-average angler pressures.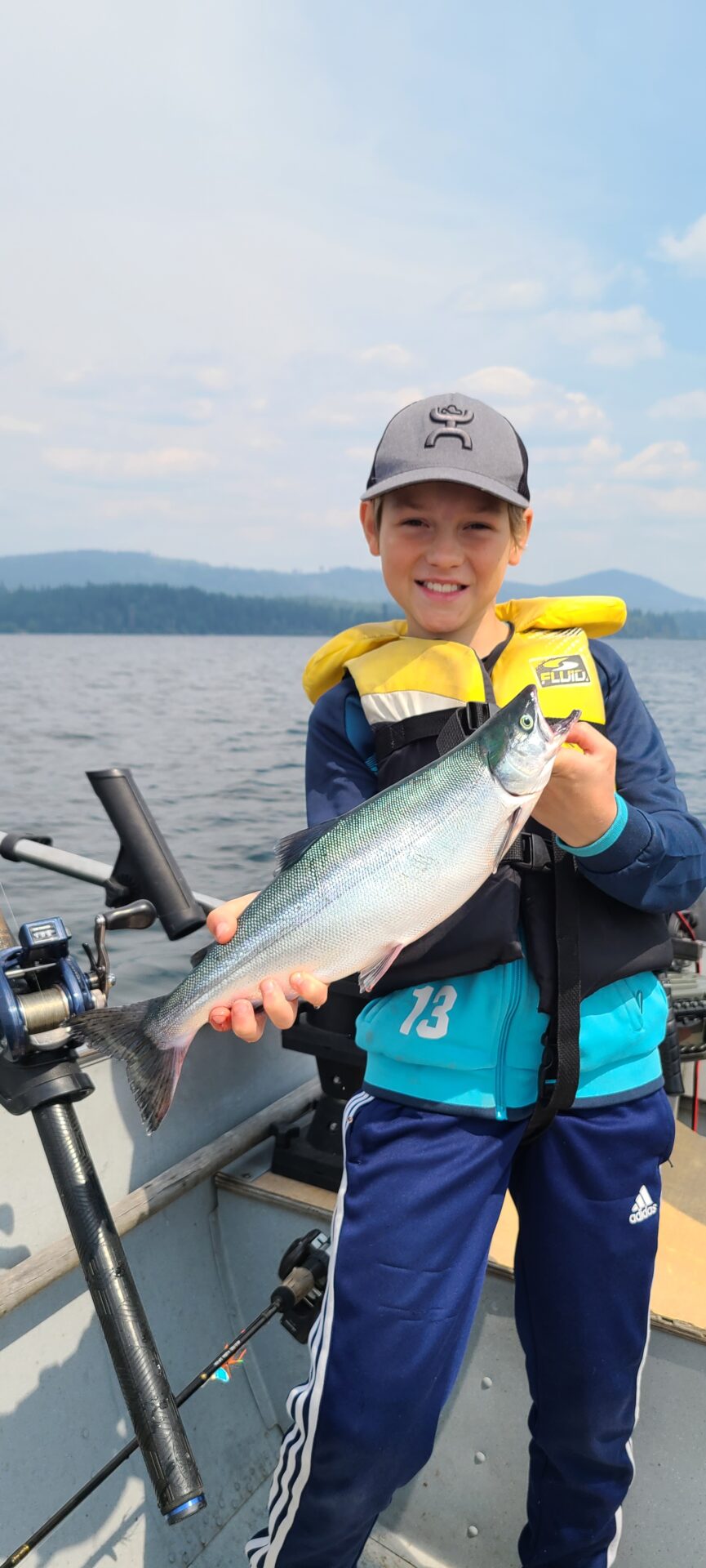 The two most common methods of success on open water are downrigger fishing and long lining a heavier dodger by itself or with added weight. Kokanee anglers target speeds between 1.2 to 1.4 miles per hour on average. There are many different fishing lure companies available to choose from. Lures that work in most lakes are Gibbs Bling Blades, hoochie lures with either a spinner blade or Mack's Lure Wiggle Bill, Wedding Bands and Apex lures. Pink is the most popular lure colour. Productive dodgers available in Canada are Gibbs Dog Tail Dodgers, Luhr Jensen 4/0 and #00 Dodgers, and Mack's Lure Sling Blade Dodgers. Ice fishing methods include using a flasher with a short leader to an ice jig. Bait is also an essential item when fishing for kokanee. Scented corn in garlic, anise and krill are some popular choices and are used throughout the year. Ice fishing baits include mealworms, live pink maggots and synthetic maggots.
When choosing a lake, a person must consider which lake fits their fishing preference. It is recommended to retain your catch of kokanee as they do not generally survive catch and release methods well. The lakes that have made the top 10 ranking this year are listed below in no special order.
Ten Mile Lake – Region 5
Ten Mile Lake is a 600-acre lake stocked with 25,000 kokanee each year. This lake receives high angler pressure year-round, which helps maintain larger kokanee sizes. The provincial park has a great boat launch. The best fishing during open water season is from June to August. Dodgers of all shapes and sizes can be used, due to the lack of predator species in the lake. Pink UV hoochies with spinner blades or a Mack's Lure Wiggle Bill continue to be consistent producers. The deeper section of this lake usually fishes well later in the season as the water warms up.
Tyee Lake – Region 5
This 761-acre lake has aggressive, naturally reproductive kokanee that were stocked many years ago and they have recently become brood stock for other lakes in the province. There is a great boat launch at the Forest Rec Site that can accommodate most boat sizes. Ice fishing is popular here, but anglers should be careful as the lake has many freshwater springs that can create thin spots in the ice. Small dodgers and lures seem to excel in this lake. Most fish average 10 to 12 inches due to their abundance in the lake and low angler pressure in the summer months. While normal kokanee baits work, try garden worms in May and June for increased action.
Bridge Lake – Region 5
There are many islands to explore on this 3,088-acre lake, which is stocked with an average of 132,300 kokanee per year. Anglers target this lake hoping to catch a trophy-sized kokanee. Due to cooler lake temperatures, kokanee can be found in the top 10 feet of the water column well into August. Downrigger fishing with a long set back from the clip of 125 feet can help when targeting fish in the top 10 to 15 feet of the water column. When the bite is slow, downsize your dodgers and lures. Small hoochies fished by themselves can be productive. Finding active fish is not always easy and the boat traffic can make navigation difficult. There are also a few underwater sunken islands that can be dangerous for anglers using downriggers, so check your depth often.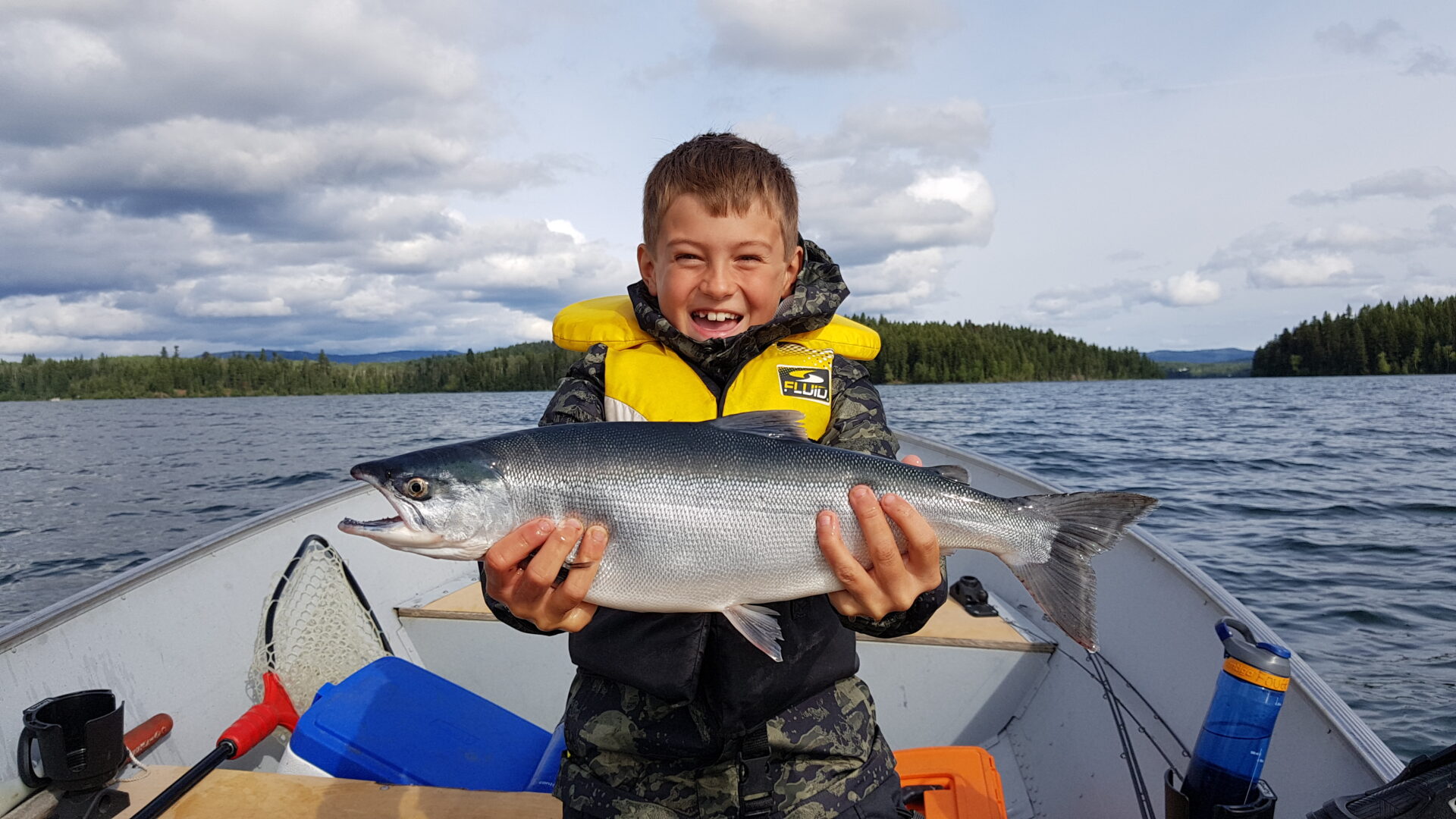 Sulphurous Lake – Region 5
You will find some colourful water in this 939-acre lake, which is stocked with an average of 38,000 kokanee per year. The fish can be tough to find due to high angler effort. Faster trolling speeds, even as high as two miles per hour, can yield good results when slower speeds are not working. Large dodgers with red scaled tape can help attract kokanee from a distance in the water. There is a large ice fishing community on Sulphurous Lake. Mealworms and pink maggots are popular choices when targeting kokanee through the ice.
Purden Lake – Region 7
Great family fishing with high catch rates can be found on this 2,067-acre lake. The first stocking occurred in 2017 and the average number of fish stocked per year is 56,000 kokanee. The provincial campground has a busy boat launch, so be prepared to launch your boat quickly. The day use area is perfect for a shore lunch and a quick swim before returning to catch a limit of kokanee. Purden Lake kokanee tend to have softer mouths than kokanee in other lakes. Loosen your drag, consider using a rubber snubber and a soft action kokanee-specific rod to help increase your catch rates. This fishery remains strong because of the limited access for anglers in the winter.
Puntzi Lake – Region 5
After a stunning drive through Chilcotin country, you will find this productive 4,215-acre lake. The fish here are naturally reproductive kokanee salmon, related to the Fraser River sockeye salmon. There are a few great resorts, as well as a rustic forestry campsite available on this lake. Watch for feral horses, grizzly bears and pelicans in the area. You will need to keep a safe distance so the feeding pelicans can return to their nests and attend to their young. The kokanee here prefer depths of 30 to 60 feet. Use smaller dodgers and spinner type lures. Krill-scented corn is a good bait choice. 
Deka Lake – Region 5
This 2,849-acre lake is stocked with an average of 160,000 kokanee per year. There are cabins for rent through online booking websites and many access points to be found. The lake is classified into two sections, Big Deka and Little Deka. The fish here are well known for their consistent trophy sizes, especially on Big Deka. If traveling to Big Deka, use caution and follow the buoys that mark the deepest part of the channel. Smaller boats should be aware that wind can pick up quickly on Big Deka and there are not many places to take refuge. Pink and orange hoochies are great producers. Sling blade dodgers or Gibbs Dog Tail dodgers are a good choice. Popular baits include garlic or anise corn.
Kalamalka Lake – Region 8
This 6,400-acre lake is home to naturally reproductive and trophy-sized kokanee. Bigger fish can be found at depths between 30 to 100 feet. Anglers are encouraged to retain their kokanee, especially in the warm summer months this region experiences. The daily limit was recently raised from two to five kokanee per day, but make sure you check the regulations before your trip for any in-season changes. Local anglers are hoping this increased limit might help reduce high grading, which will support the future of this fishery. Larger dodgers can help attract big kokanee to your offering. Lures with a lot of action, like an apex or wiggle hoochie, can be productive most days. Scented garlic bloody tuna corn and scented synthetic maggots are some good bait choices.
Monte Lake – Region 3
This 436-acre lake is stocked with 15,000 kokanee per year. Ice fishing is popular when weather permits, because of easy access from the highway. Years with a predominance of unsafe ice conditions can limit winter angling pressure, often leading to an amazing spring fishery. Winter bait choices include krill and live pink maggots. There is a public launch available.
Stump Lake – Region 3
This 780-acre lake is stocked with approximately 99,500 kokanee per year. There are trophy-sized kokanee in this lake, but anglers should be cautious as wind can be an issue for smaller boats. The lake has an algae bloom in early July and some anglers say the kokanee here are not suitable table fare until the bloom is gone. Pink hoochies with silver sling blade-style dodgers produce consistently. Garlic corn works well.
Additional Lakes To Explore & What Lake Is Best For You?
Chimney – Region 5
Ness – Region 7
Paul – Region 3
Dutch – Region 5
Wood – Region 8
Co-op – Region 6
There are many options available when choosing to go kokanee fishing. Some anglers are looking for a trophy of a lifetime, while others are simply looking for a hard-fighting fish to take home for a meal. Those looking to introduce new anglers or children to this fishery might benefit by targeting a lake that produces higher catch rates, rather than trophy sizes. Either way, choosing one of the top 10 kokanee lakes in BC can be a fun way to spend a weekend away or a day close to home.