At any given time, there are always a few stillwater anglers that stand out from the rest due to their highly productive fishing abilities. These anglers can head out on nearly any lake and consistently land fish when others struggle to get a single strike. I guess the million-dollar question is, what makes them more productive every time they hit the water? Unfortunately, that question cannot be summed up in a few words, but I will do my best to explain what I feel makes an angler have a good day on the water when others struggle.
First and foremost, observing a lake and its soundings will definitely make a big difference when trying to locate fish in an unfamiliar body of water. A good percentage of productive anglers start the day by checking out what food sources inhabit the lake they are about to fish. The insects living along the shoreline under structure are what the fish feed on and they can vary greatly in size, shape and colour from lake to lake. The time spent observing the shoreline will answer many questions and help assist you when selecting what fly to start with once on the water. An insect's size and colour will change from month to month, and it is our job to imitate the live insects if we are to convince the fish into thinking our offerings are the real McCoy. Doing your research before heading out on the water is also important when gear fishing, as you can select the lures based on sizes and colours of available food sources. A good example would be to use a small, black flatfish or Kwikfish if there are lots of small, black leeches present in the lake. If there are damsel nymphs under the rocks, then try using a small, pale green lure.
Once on the water, look for birds taking insects off the surface or simply watch to see if other anglers are having success around you and try to see how deep they are fishing. As a general rule of thumb, insects such as leeches, shrimp, dragons and damsels should all be fished close to the bottom in depths from four to 20 feet deep, as this is where the natural ones live. For this reason, a variety of wet lines are available on the market to assist in getting your offerings to the fish, regardless of depth. If you prefer to fish with a dry line, then try using weighted flies, as they will get into the zone quicker. When trolling with flies, make sure to cover the edges of the shoals where the real insects live, as fish will often swim along the transmission of the shoals looking for their next meal.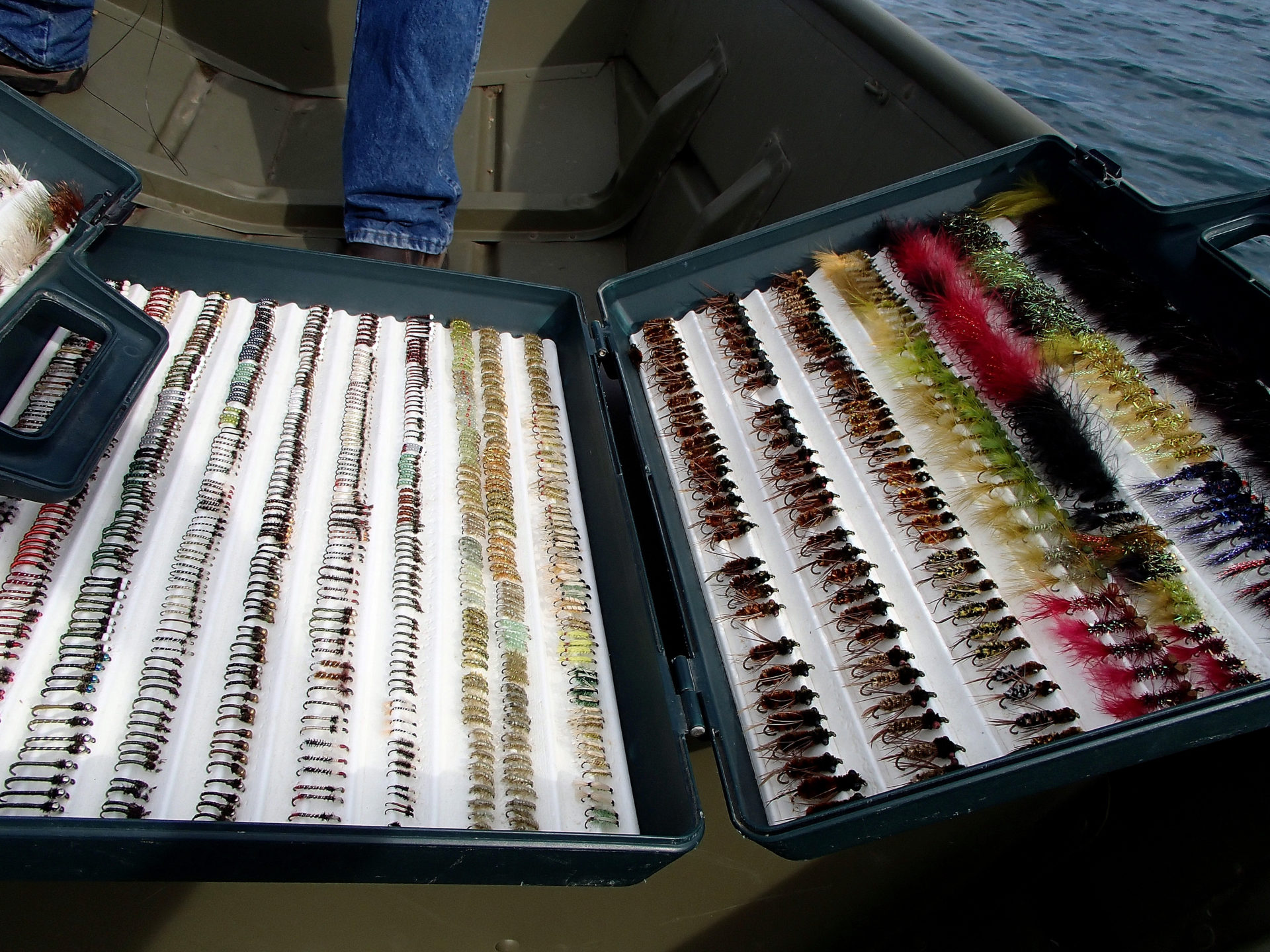 Being Organized Is Essential
I can't emphasize this enough: being organized is an essential part of being a productive stillwater angler. This sounds simple, but it can also be overwhelming if you are not generally an organized individual. Starting with the flies, they should all be separated in boxes according to species of fish being targeted. This means all trout flies go in one box and salmon flies in another, etc. As many anglers fish for a wide variety of species, this will mean you have a lot of fly boxes in your collection. The main reason for this is simple – there is no logic in bringing steelhead or salmon flies with you when you head to an interior lake to go fishing. To take it a step further, individual boxes should then be separated in the type of water being fished. Again, we don't need to bring our saltwater salmon flies with us when fishing inland rivers, as the flies are not productive in freshwater. Once the flies are separated into boxes, then they should be separated into insect types. A box of leeches, a box of dragons, a box of chironomids and so on. Within each one of those boxes, separate flies by size and colour. Another popular way to separate your flies is with the use of fly suite cases. Within these large boxes, flies should be separated by species and then by insects. With organized fly boxes, you can match the hatch within seconds, instead of minutes or even hours. This rule of thumb also applies to gear fishers.
As time is limited on the water, anglers should never arrive at a lake without the rods set up and ready to fish. It is much easier to set up your gear in the comfort of your home than it is while sitting on the lake with wind and other elements to contend with. This may sound a little extreme to some, but when I head out on a lake, I usually have five or six rods set up and ready to fish. With six different lines and flies ready to go, I am ready for any fishing situation and don't need to waste time changing leaders and flies throughout the day. I usually head out on the water with the most popular insects set up, with the appropriate lines to cover them. Some of the most predominant interior insects include leeches, dragon nymphs, damsel nymphs, shrimp, mayfly nymphs and chironomids. In a single day, I save close to two hours not changing around rods, reels, leaders and flies. It's simple math – the more time the fly is in the water, the more fish you will catch. I have had many productive days on the water that I didn't have to change a single fly.
Gear Fishing Can Be Very Productive In BC's Stillwaters
Many people feel that fly anglers are the only ones that can catch fish on a regular basis when lake fishing. The truth is, anglers using gear can also have very productive days on the water if they also learn how to read the lake they are about to fish. The nice thing about gear fishing is the fact it is affordable by all. A light spinning rod and reel can be purchased for around $100, and a good selection of lures can be assembled for about another $100. Compared to fly fishing, this is what I would consider very affordable. I feel that fly fishers are productive as then tend to spend a lot of time learning how to read a lake and its surrounds. When trolling lures, such as flatfish, spinners or spoons, it is important to cover the water that fish spend the majority of their time in. As trout are always looking for that next meal, trollers need to troll just off the edge of the transitions of the shoal. The reason for this is simple: the insects in a lake live there in mass. Insects such as leeches, damsels, dragons and shrimp all live there year-round, and the fish are well aware of it. The truth is, you need to be where the fish are, or you are not going to hook any. Over the years, I have seen far too many trollers trolling in the middle of the lake where there is often no food or fish.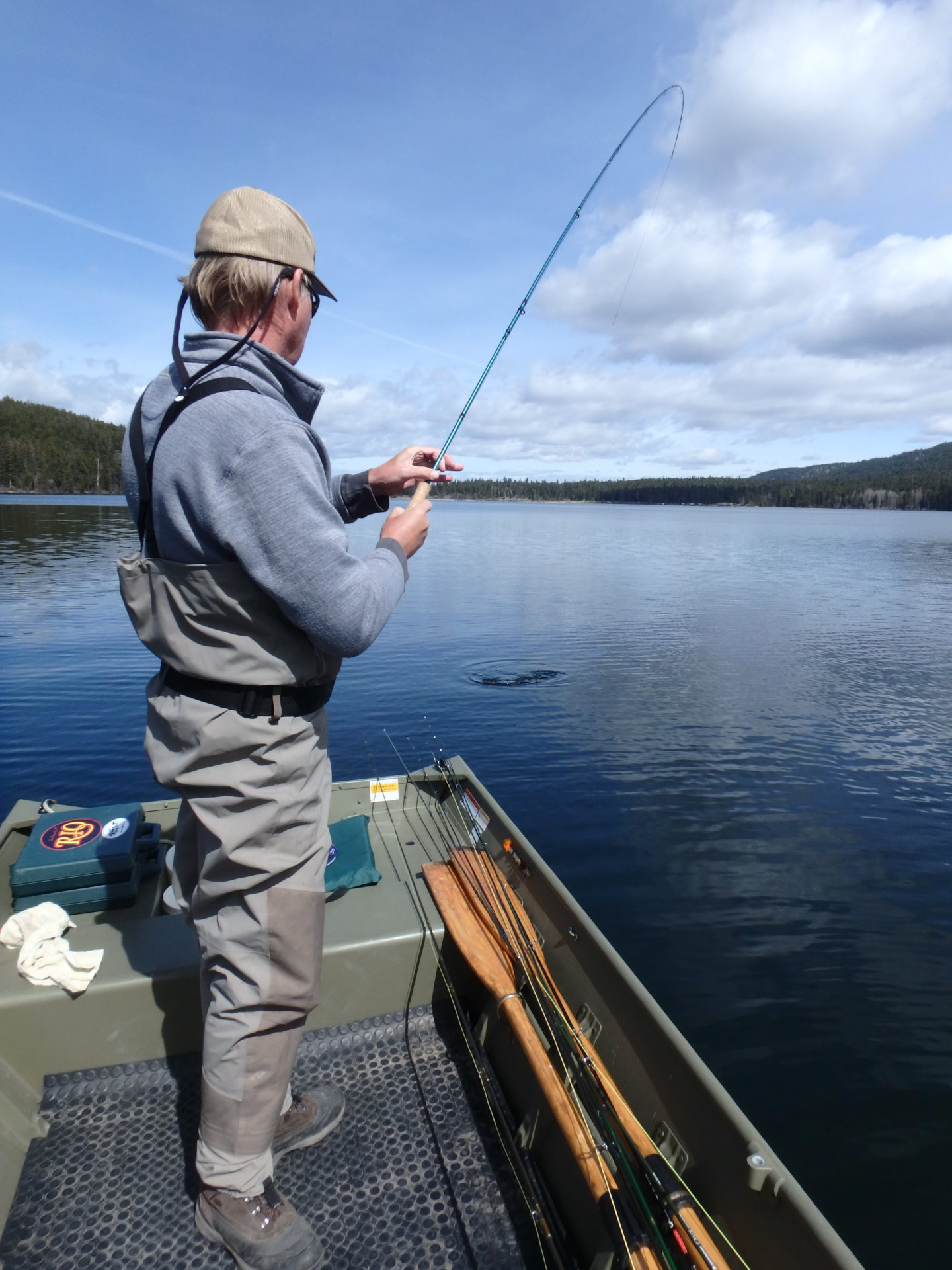 Experimenting Can Be A Good Thing
If there is one thing I have learned over the years, it is that experimenting when fishing can be a good thing. If you see fish rising or being landed around you and you are not getting any strikes, then it's time to try experimenting. It is very easy to experiment when fishing, as many times little changes make a world of difference. Try simple things first, like altering your speed when trolling or changing your retrieve when fly fishing. It can also be productive to change the size or colour of the fly or lure you're using, in order to entice a strike. When trying numerous different methods and techniques, it is important to remember what you were doing when you do hit a fish, so you can do it again once the fish is landed.
One of the most important things to learn when fly fishing with nymphs and other bottom-dwelling insects is where your fly is at any given time. The depth of the fly can be determined by simply counting down once your line hits the water. All sinking fly lines have sink rates, which is the type number on the box when you purchase a line. If you have an old line, a simple rule of thumb to remember is the darker the fly line, the faster it sinks. A type 3 sinks at three inches per second and a type 6 at six inches per second and so on. When fishing in 15 feet of water with a type 6 line, you would need to count to 30 to get the fly right to the bottom. The math is simple, but many anglers don't know exactly where their line is in the water column. I use a type 6 line on a regular basis when fishing stillwaters, as it gets my offering into the zone quickly. These lines are very popular when covering depths from 10 to 40 feet deep. I would consider a type 6 sinking line a must have when fly fishing our interior lakes and it is my go-to line on most outings.
Next time you plan on heading out to one of your favourite interior lakes, make sure you're organized and have done your research. These extra steps will definitely be well worth it once the first fish comes to the net.