Wearing a pair of bulky chest waders over five layers of clothing, I stumble out of the forest and into the mighty Campbell River where the chum salmon are calling my name.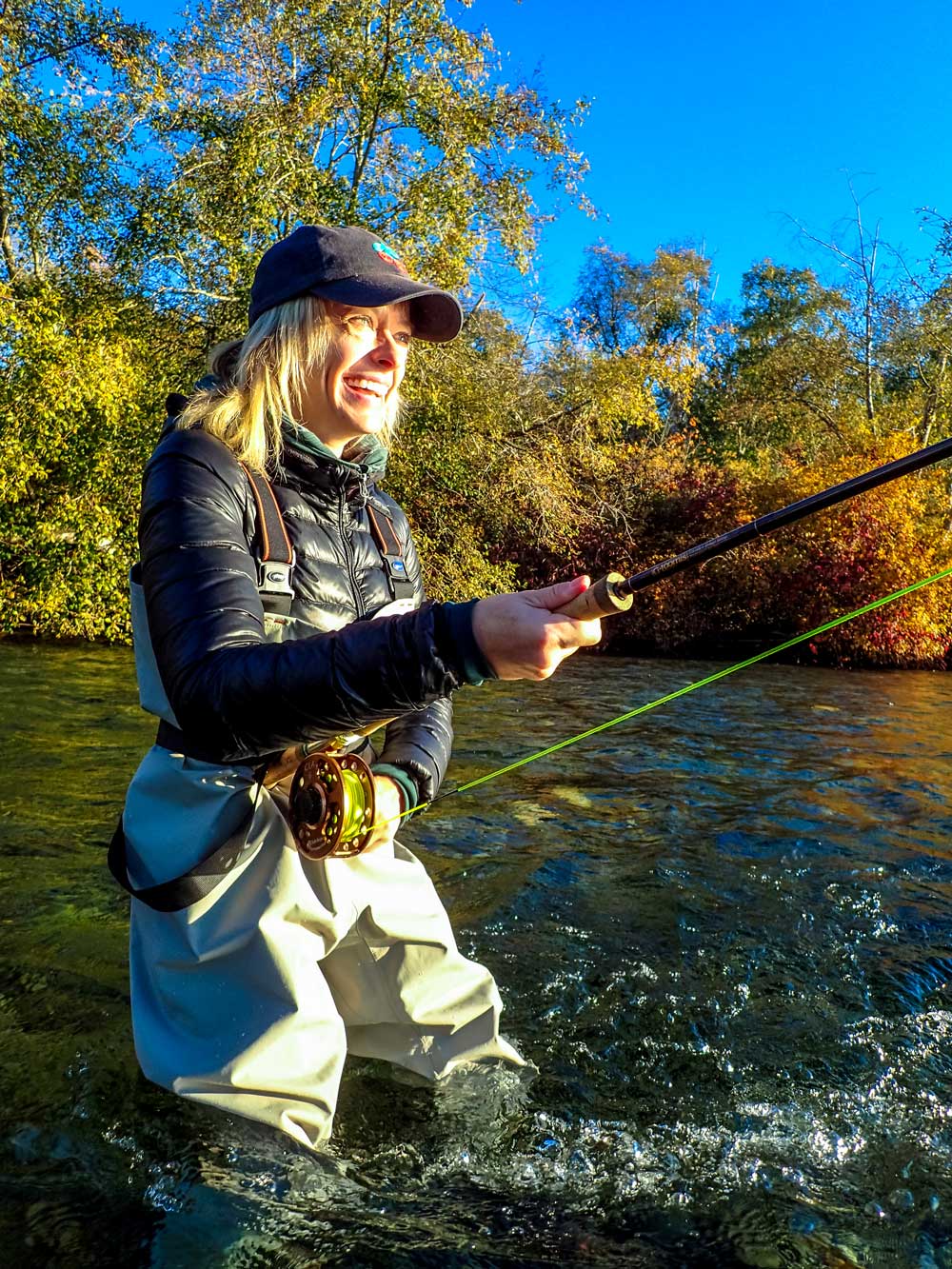 It's around 8:30 a.m. and a magical setting surrounds me. The sky is dazzling blue. Mist is rising off the fast-moving water sparkling in the sun. The leaves have turned brilliant shades of orange, yellow and red. And there's fish everywhere – jumping, splashing and swimming along the side of the river to spawn. I've never seen anything quite like it.
"There are hundreds of them right now in front of you," says my fly-fishing guide, Curtis Smith with Coastal Wilderness Adventures, noting the chum typically average between 12 to 20 pounds.
"They are the last species to come into our area and enter the river, so this is their prime time. They readily take the fly and they are the hardest fighting."
I'm filled with a variety of emotions as Smith and I hold onto each other, cautiously making our way further into the river of giant fish. I've fly fished for trout a few times in little streams in central Alberta and have had some success. But catching salmon on a fly was a different story and one that I was both nervous and excited to try.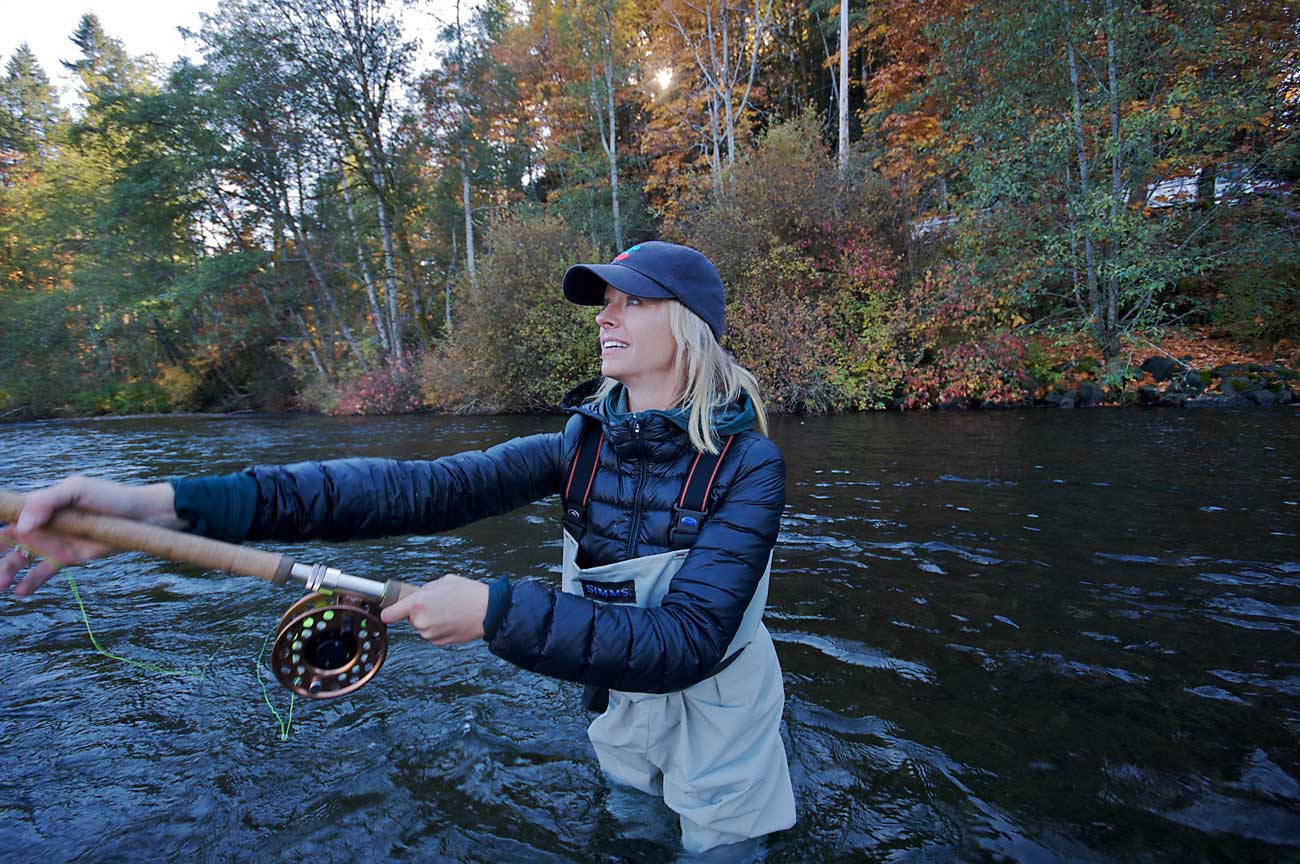 After a quick demonstration and a lesson on casting for this particular section of the river, I immediately get my first bite. It feels like an explosion at the end of my line, the rod tip looking like it's going to snap as it's pulled down to the water. Smith yells with excitement, instructing me to keep the line tight and let go of the spinning reel as the salmon takes off like a deer on the run.
I stand my ground, calmly trying to reel in the salmon, but he isn't going down without a fight. The battle is on. It's a game of tug-of-war, my hands gripped so firmly around the rod that they begin to hurt.
At times I'm not certain if it's a battle I'm going to win, but after 10 minutes I'm able to pull the fish closer and get to shallower water where Smith can grab the line and see what's on the end. He's pleased to find a beautiful, fresh chum that weighs about 15 pounds. My heart is still pounding from the thrill of the catch.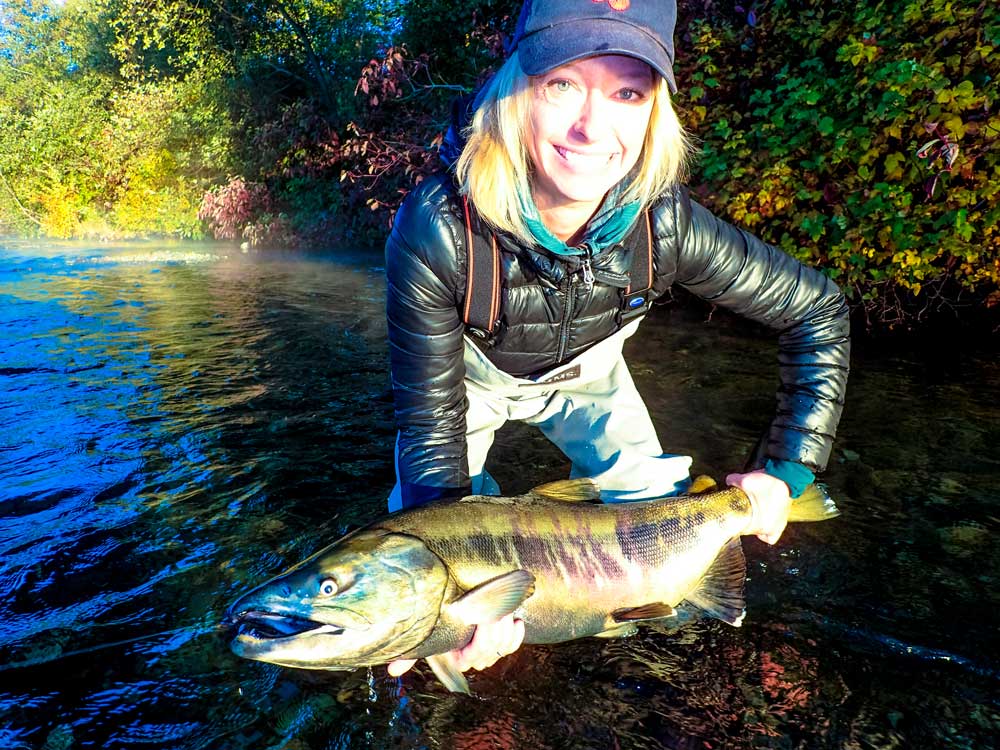 "That was so fun!" I say to Smith.
"Well let's catch another one," he replies with equal enthusiasm.
I signed up for a day of fly fishing lessons on the famous Campbell River to boost my confidence in the sport and improve the few basic skills I already have. Like Smith, fishing has always been in my blood. Some of my fondest childhood memories involve wandering along rivers and bobbing around on lakes with my father, and always pulling plenty of fish out of the water.
Three years ago, I received a fly fishing rod for my 33rdbirthday from my boyfriend at the time. Living in Edmonton, he was eager to spend our weekends driving to some little stream in the middle of nowhere and fish for trout until the sun went down.
We taught ourselves how to cast from watching YouTube videos and had some success in the months that followed, but not nearly as much as we would have liked. A year later I moved to Victoria without the boyfriend, but I did take the rod.
I've only been fly fishing a couple times since moving to Vancouver Island, and noticed the few skills I do have are now embarrassingly rusty. I spend more time trying to get my fly untangled from the trees than in the water, making me shy away from the sport even more.
But I've also noticed whenever I do feel brave enough to venture out to a nearby lake or stream, I'm usually the only female with a fishing rod in hand. I can't help but feel intimidated and often wonder why this is. It's because of this that Smith's guiding business caught my eye.
I wanted to try fly fishing in Campbell River since it's known as the salmon capital of the world. From the last week of July to the middle of November, the rivers of the Campbell are teaming with one or more of the five Pacific salmon species, drawing anglers from all over the globe. Smith is one of only two people guiding rivers in Campbell River and he offers fishing and fly-fishing packages for women only. It's something he says that's become quite popular as more women get interested in the sport, but aren't quite sure where to begin.
"There is huge interest there, but they are totally nervous to do something so out of their comfort zone," said Smith, noting fly fishing is the hardest of all the types of fishing he does.
"I think women think it's way more hardcore than what it actually is. I don't change the experience if I'm taking a woman or a man. Most of the time they do better than the guys."
Growing up in Campbell River, fishing was an obsession for Smith. Whenever he had the chance, he'd throw a hook into a lake or a river with a few friends by his side. By the age of 20, he was running his own fishing guide business, taking a mix of beginners and long-time fisherman to the best saltwater and freshwater fishing spots he could find.
But after 17 years in the business, Smith now enjoys taking people out on the water more than doing the actual sport and seeing his clients achieve something they've wanted to do their entire lives.
Laura Barr-Kyrzyk was scared to hike through the forest when she first met Smith, but now she regularly goes fly fishing on her own. Interest was sparked whenever she'd go kayaking on various lakes in Alberta and often saw people pulling fish out of the water.
Barr-Kyrzyk dabbled in fishing with a spinning reel for a few years, but found it was rather dull. So, she joined a trout-fishing club in Edmonton to improve her techniques and often heard about the joy of fly fishing.
"The folks in the fishing club said once you try fly fishing you'll never look back," said Barr-Kyrzyk, who found Smith during a short holiday to Vancouver Island in June 2016.
After one day of fly fishing on the Campbell River, Barr-Kyrzyk never looked back. She returned to Edmonton, purchased some fly-fishing equipment and went out to rivers, lakes and streams at least three times a month. But she admits it wasn't easy.
"I made a lot of mistakes and even broke my first rod. I suggest looking for second-hand supplies at first, since you will lose flies and break things and decide you hate the sport, then you will go again and make a beautiful cast and reel in a trout and you are back in the game," she said, noting she rarely sees other women fishing.
"It is intimidating, even in the fishing stores, to do this on your own. But this will grow your confidence like nothing else I have ever experienced. I wish there were more ladies who were interested and available."
Back in Campbell River, Smith and I eventually head to another section of the river where the current is stronger and plenty of fish are splashing around in the cool water. Smith demonstrates another type of casting before handing me the rod. Within seconds I hook a salmon, sparking another battle that I win – with confidence, this time.
By the end of the day, I'm proud to say I caught four salmon and lost a handful of others. My arms are aching, yet I'm determined to catch one more. The thrill of the catch has me hooked.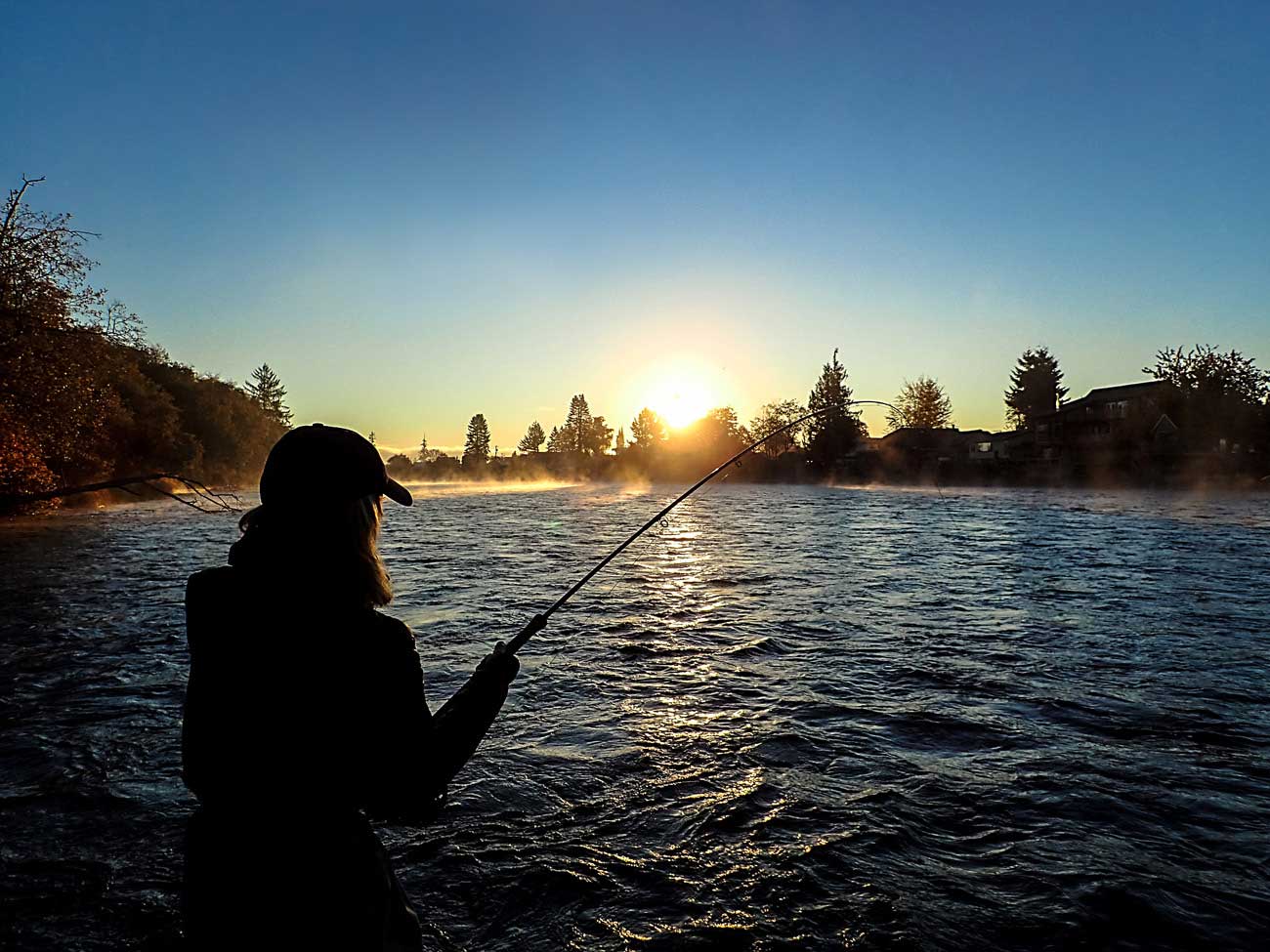 The experience didn't inspire me to purchase a new fly rod to go catch salmon, but it has sparked a renewed interest in the fly rod I already have. It reminded me how special it is to stand waist-deep in a river with fish swimming all around and determine how to catch at least one of them. Fly fishing is a game of who can outsmart whom and one women should try — with or without a partner.