Over the last few years, we've spent countless springs cruising the northern coast of British Columbia in search of prawns, crabs and that elusive early chinook run that we always seem to miss. Similar plans were in place for this year; and if you know me, you know that the taste of succulent spot prawns has been on my mind since the end of last season.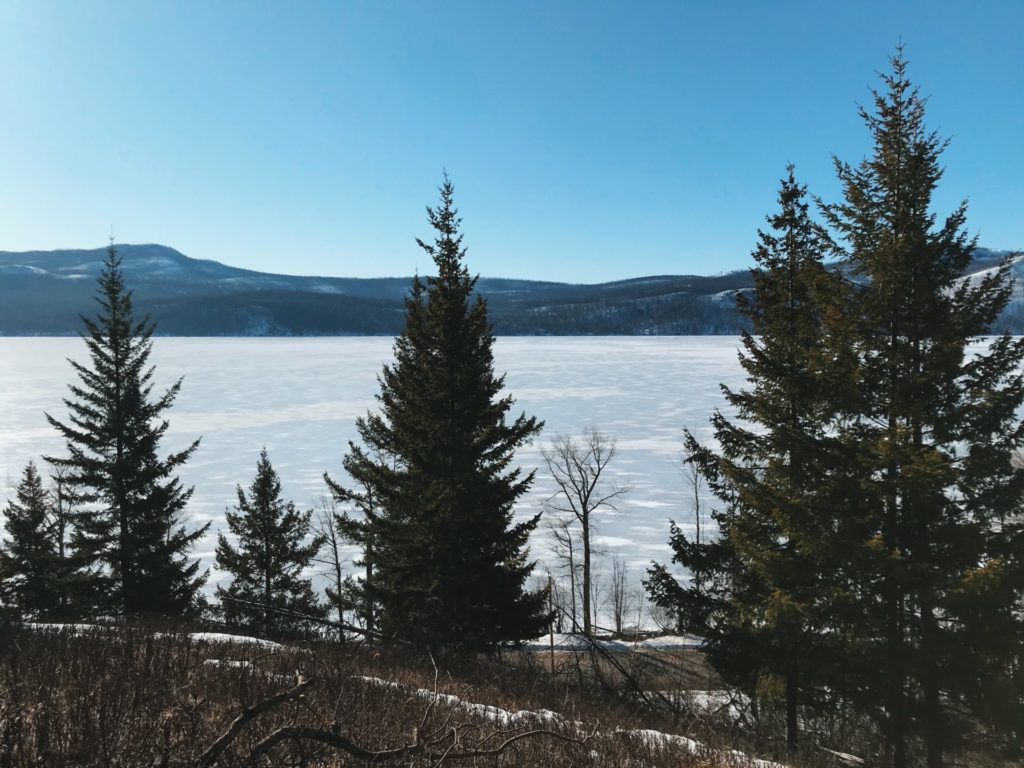 Despite all that planning and dreaming, things have changed over the last couple weeks. While a person could look at it as a disappointment, I like to look at it as an opportunity to spend a little bit more of our spare time exploring the vast wilderness around our home. And thus, a new challenge began to form in my head: this would be the year that I finally found that ever elusive, first mule deer shed.
Now, hold on a minute, you might think to yourself. You mean to say, that in 25 years of hiking, exploring, hunting and working in the outdoors, you have never found a mule deer shed? 
I know. Sometimes I can't believe it myself.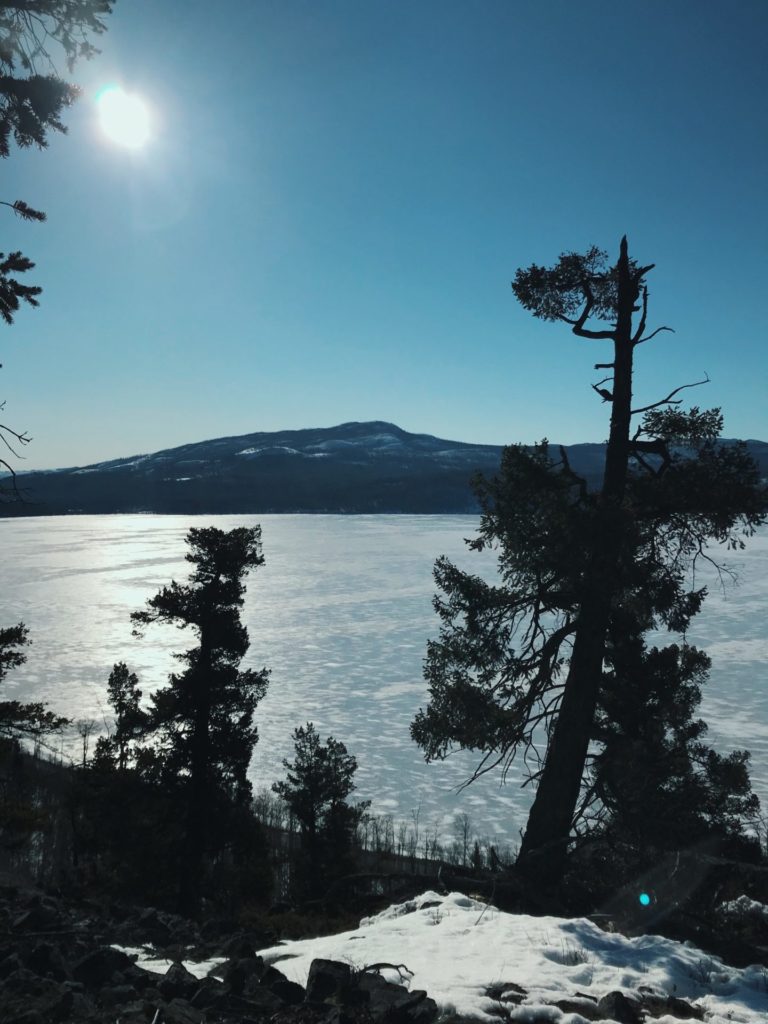 Over the years, I have lugged home countless moose sheds on my back to add to my collection. Obviously, a moose shed is significantly larger than a deer shed, and a big white paddle sticks out like a sore thumb on the mossy forest floor, rather than blending into the fallen twigs and branches on south-facing slopes.
It certainly isn't for lack of trying that the deer antler has eluded me for so long – over the last five years, we have made concentrated efforts to specifically get out for early spring hikes, focusing on combing through those aforementioned south-facing slopes, weaving our way through scrubby open hillsides and old Douglas fir stands where mule deer prefer to bide their time, waiting out the snowy winter months.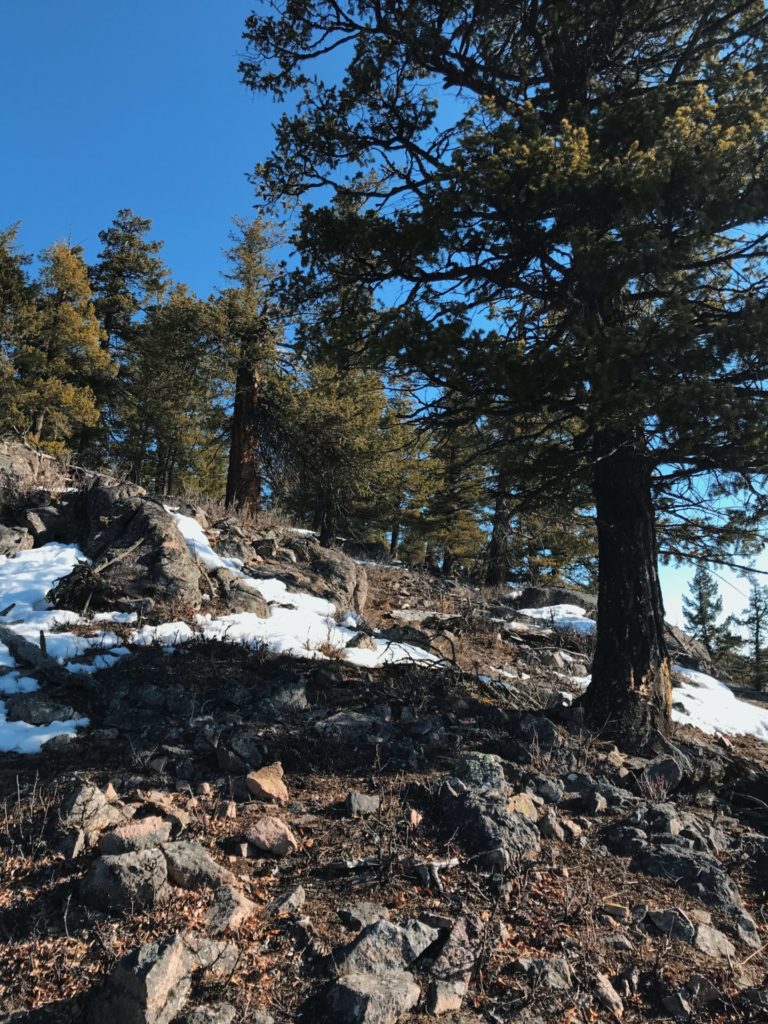 This year, I decided, was going to be my year. We had brought our snowshoes along for the trip but were pleasantly pleased that a colder morning made it easy to walk on the crust of what snow remains on those slopes in mid-March, so our load was lightened significantly. Scrambling up the first steep bank, we jumped a small group of mule deer does, who spooked quickly yet paused behind the next rocky outcrop to get a look at the strange, two-legged mammals that disturbed their relaxing sunny morning.
When we reached the first stand of mighty Douglas fir, it came as a relief to lean up against their sturdy trunks as we caught our breath and took in the views from our high vantage point on the hillside. I had just finished explaining to my partner, my deep desire to finally find a deer shed when, lo and behold, half frozen into the snow and half resting on the fir needle-littered ground…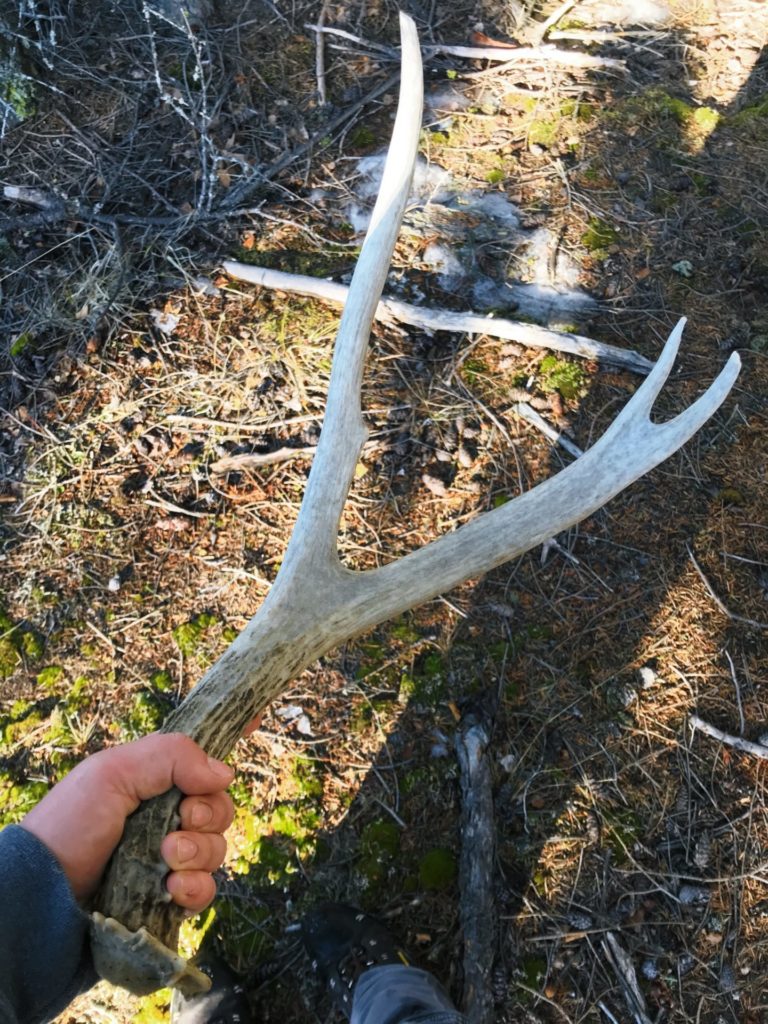 "Did you ignore that antler so that I could find it?!" (I promise I'm working on tamping down my competitive side in cases like this!)
No, I was assured, this find was all mine. A beautiful three-point mule deer antler, still dark brown on the backside and unscathed from the almighty squirrel that loves to chew on the tips. Nothing spectacular, and relatively unimpressive compared to many of the large sheds that others find. Nevertheless, this one was all mine – and a treasured way to start off the 2020 spring shed hunting season.