Flying under the radar, at least my radar, was the reality that for the past eight years a premium-grade production rifle was being built right here in Canada. In Quebec, to be exact. While I may have been aware of Fierce Firearms, the fact that their origins were tightly tied to Canada had unfortunately eluded me. Bummer. As a gun writer, the opportunity to showcase Canadian premium-grade rifle manufacturing seldom arises and I had all but missed the boat as the curtain was about to fall on the Canadian end of production. Fierce is now in the process of parting ways with the Canadian manufacturer and will henceforth build all their rifles in the United States. From a business perspective, this makes sense as Fierce is already manufacturing a number of their models in the US and the bulk of their sales is south of the border.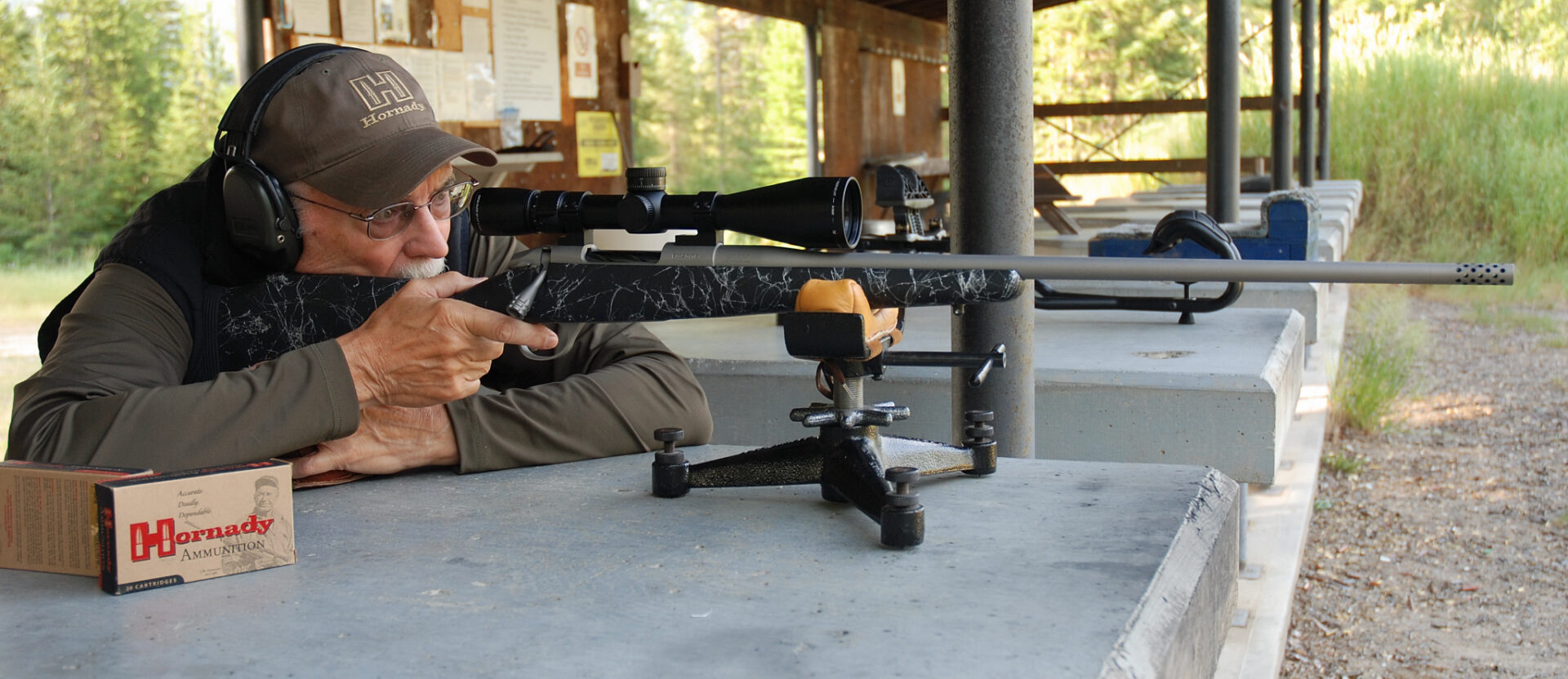 To share a bit of history, the Canadian company in this saga was manufacturing precision components for the industry when, in 2014, John Mogle, the CEO of Fierce, struck a deal with them to build a custom semi-production rifle that he then marketed through his company in Redmond, Utah. This marriage was a success for both. It certainly put Fierce on the map, as 20,000 rifles crossed the border to be sold under the Fierce brand name, accompanied by a .50 MOA group guarantee. Meanwhile, when the opportunity presented itself for me to test the latest version of the Fierce Fury still being manufactured in Quebec, the decision was easy. 
Fierce Fury 6.5 Creedmoor
The Fury was first introduced in 2016 as Fierce's new entry-level rifle that, while guaranteeing .50 MOA accuracy, it would not be accompanied by a certified accuracy target as offered by their more expensive models. So, let's take a look at what makes the Fury tick. Starting with the action, it features a 70-degree bolt throw, a tree-lug fluted bolt with a one-of-a-kind bolt handle and is machined to lock into a Triad receiver with the tightest tolerances in the industry. It is a controlled-round-feed action that utilizes a Sako-type extractor and a fixed-blade ejector. The action is bedded into a carbon-fibre stock with the two action screws passing through aluminum pillars. The stainless-steel barrel is match grade, free floated, button rifled, hand lapped, cryogenically treated and is threaded for an optional muzzle brake (test rifle was so equipped). The stainless-steel receiver, barrel and bottom metal are Cerakote finished in a standard matte tungsten grey. The Monte Carlo stock features a Limbsaver recoil pad, and my test rifle came in the standard stock colour of black with grey web. In actuality, I would have called the web white or even silver. Fierce, however, offers other stock patterns and metal finishes at an additional cost.
The match-grade trigger is adjustable and comes factory set at 2.75 pounds. The rifle features a two-position safety, with a bolt release button situated just in front of the safety so that the bolt can be opened with the safety engaged. The flush-mounted, detachable metal magazine will hold four standard type cartridges and three magnum or belted type cartridges.
Of note, Fierce departed from the norm by utilizing 8-40 scope base mount screws, which unquestionably will provide a more secure mount than the industry standard 6-48 screws.
Rifle Specifications
Calibre: 6.5 Creedmoor
Total length: 43.5 inches
Barrel length: 24 inches
Weight: 6.9 pounds
Rate of twist: 1/8
Magazine capacity: 4
Length of pull: 13 5/8 inches
Drop at comb: 5/8 inches
Drop of heel: 1 inch
Drop top of Monte Carlo: 1/4 inch
Vortex Razor HD LHT 3-15×50
Wanting to get the most out of this rifle, I matched it with a scope that provided quality optics, superior illumination, sufficient magnification and a lighted reticle. In other words, a scope that will do it all from last light to a long-range shot across an open field. The Razor delivered on all fronts. It features optically indexed lenses, select glass for exceptional resolution, outstanding colour fidelity, edge-to-edge sharpness and light transmission. The lenses are XRPlus fully multi-coated and the exterior lenses are ArmorTek coated for ultra-hard scratch resistance. The one-piece 30-millimetre tube is constructed from a solid block of aircraft-grade aluminum and the scope is fully waterproof, shockproof and fogproof. It additionally features a locking elevation turret, large diameter capped windage turret and a RevStop Zero System. The second plane G4i BDC MRAD illuminated reticle will provide 10 levels of red dot brightness, as well as subtensions for both elevation and windage. And the scope comes with a sunshade, lens covers, lens cloth, CR2032 battery and a VIP unconditional lifetime warranty.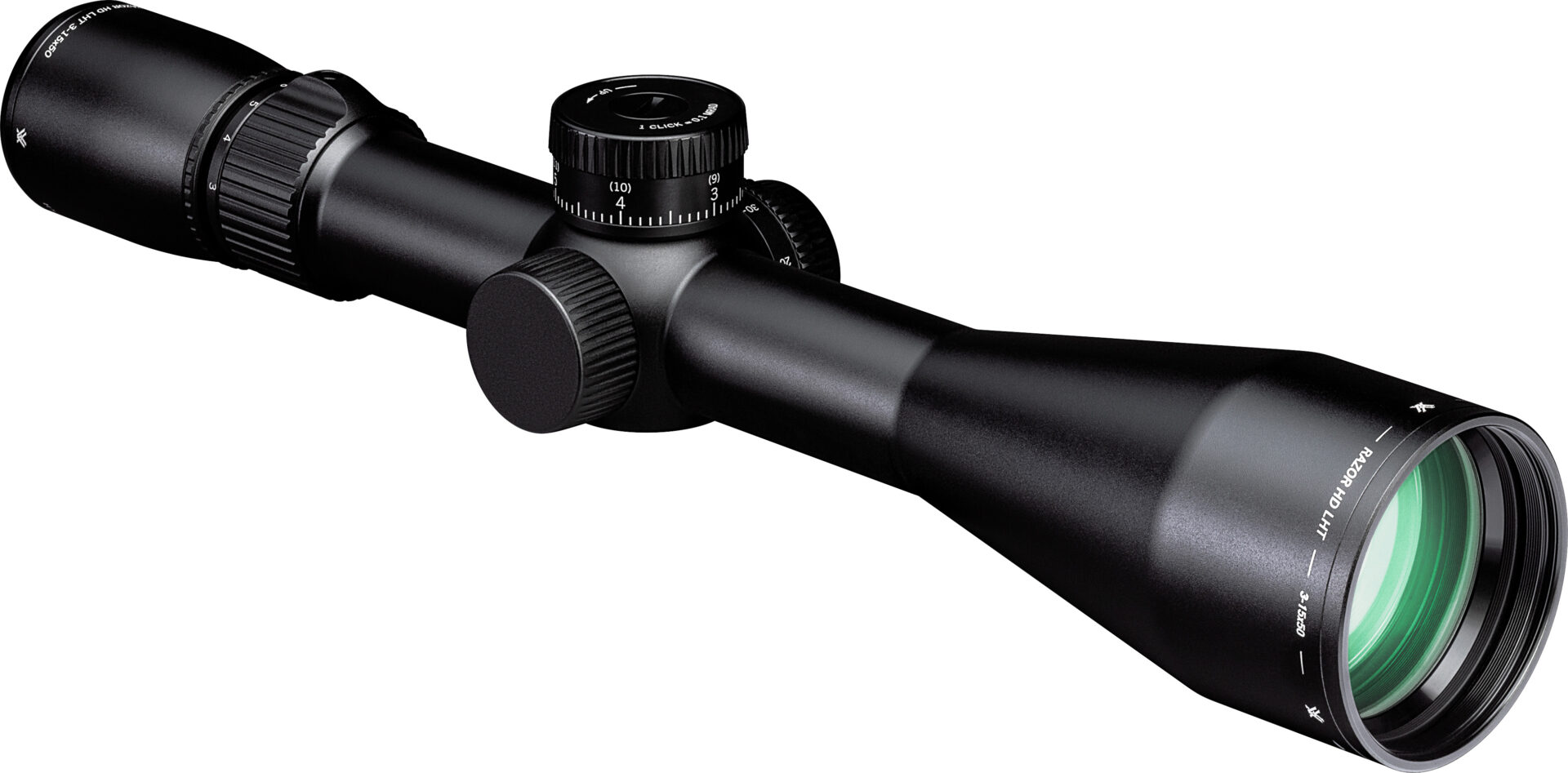 Scope Specifications
Magnification: 3-15x
Objective Lens Diameter: 50 millimetres
Length: 13.3 inches
Weight: 20.5 pounds
Tube Size: 20 millimetres
Eye Relief: 3.8 inches
Parallax: 20 yards to infinity
Field of View: 35.3 to 7 feet/hundred yards
Test Results
My immediate reaction, after extracting the Fury from its shipping box, was, "If this rifle shoots as good as it looks, Fierce has a winner." This is one well-made rifle. The fit of all the component parts was perfect and the aesthetic appeal was spot on. The stock felt solid in hand and balanced well with the 24-inch barrel. No short cuts here! I then set about mounting the Vortex Razor – and here I must give a nod to Talley for coming through with a set of their integral 30-millimetre Precision Mounts with 8-40 mounting screws. These lightweight mounts make mounting a straight forward and simple process, without adding unwarranted weight to the rifle. Having weighed the rifle earlier at six pounds, 12 ounces (all but dead on its advertised weight), I then reweighed it with the scope in place at eight pounds, four ounces.
Next came the trigger, with no detectable creep, four pull weights varied between two pounds, 8.6 ounces and two pounds, 11.7 ounces, which was a tad lighter than its advertised pull weight of 2.75 pounds. I then established the seating depth for all the bullets I was going to use in my handloads. Of immediate note was the length of this rifle's throat. This additional length, on average, necessitated seating bullets out an additional .150 inches to achieve my desired optimum accuracy seating depth of .015 inches off the lands. As a spinoff, it also freed up a bit more case powder capacity should I need it. For purposes of this test, I developed six handloads that had performed well previously and included 11 hunting factory loads and three match factory loads. On the range, I did, however, remove Hornady Superformance 129-grain SST due to pressure and resulting accuracy issues.
Meanwhile, throughout this test both the rifle and scope delivered as their price point would suggest: flawless. The scope was bright and sharp, and the rifle was a joy to shoot with its mild recoil and ease of cycling and handling.
Factory Ammunition
Brand
Bullet
Advertised
Velocity (fps)
Group
Size (in)
Hornady Outfitter
120-grain GMX
2,925
.448
Hornady American Whitetail
129-grain InterLock
2,820
.618
Hornady Precision Hunter
143-grain ELD-X
2,700
.569
Federal Premium
120-grain Trophy Copper
2,800
.853
Federal Premium
130-grain Barnes TSX
2,825
.726
Fusion
140 grains
2,750
1.350
Barnes VOR-TX
127-grain LRX
2,825
1.242
Winchester Deer Season XP
125-grain Extreme Point
2,850
.882
Winchester Expedition Long Range
142-grain AccuBond
2,700
.593
Sako Gamehead Pro
130-grain Tipped GameKing
2,855
.812
Handloads
Bullet
Powder
Case
Manual
Velocity
(fps)
Group
Size (in)
Hornady 129-grain SST
Winchester 760
Hornady
2,860
.946
Hornady 140-grain SP InterLock
H4350
Hornady
2,770
.685
Hornady 143-grain ELD-X
IMR 4350
Hornady
2,750
1.058
Hornady 140-grain SST
StaBall 6.5
Hornady
2,806
.506
Barnes 120-grain TSX
StaBall 6.5
Hornady
3,004
.694
Barnes 127-grain LRX
IMR 4451
Hornady
2,760
.688
Factory Match
Brand
Bullet
Advertised
Velocity (fps)
Group Size (in)
Hornady Match
120-grain ELD Match
2,910
.304
Hornady Match
140-grain ELD Match
2,710
.776
Federal American Eagle
140-grain Open Tip Match
2,700
.548
Note: Manual velocity refers to the velocity taken from the manufacturer's reloading manual for that bullet weight and powder charge and all groups are three shots at 100 yards.
Last Shot
I expected the Fury to shoot well for a couple of reasons. First, was Fierce's .50 MOA group guarantee and, second, all of the half-dozen 6.5 Creedmoor rifles that I have shot have done well, with most delivering varmint rifle-like accuracy. Needless to say, I was not disappointed, as my handloads averaged .762 inches and the hunting factory loads averaging just a tad larger at .809 inches. The match factory ammunition delivered as one would expect, surpassing the lot with an average of .542 inches. For hunting lighter game such as deer, sheep and antelope, I would suggest either Hornady Outfitter 120-grain GMX or Hornady American Whitetail 129-grain Interlock. For a bit larger game such as caribou or cow elk, I would certainly include Winchester Expedition 142-grain AccuBond, Hornady Precision Hunter 143-grain ELD-X or one of my Hornady 140-grain handloads. All provided excellent accuracy and would provide plenty of knock down punch for light to medium-sized game. The Fury is a winner, its .50 MOA guarantee in my test rifle proved to be a reality.