Get your loved one exactly what he or she wants this year! Not sure what that might be? Find some great ideas in the list below.
Under $50
Hornady Security Wireless Hygrometer
Guns stored in a gun safe require protection from corrosion. The Hornady Security wireless hygrometer will monitor humidity and temperature in real time without opening the safe. It employs a remote sensor inside the safe that transmits readings to an external base display. The display features a touchscreen that shows current high/low data from both the base and remote unit in Fahrenheit and Celsius. The base also offers several placement options, such as an integrated stand, magnets, hanging hole and Square-Lok. The sensor is 2.8 inches by 2.8 inches by one inch and weighs 1.6 ounces. The base display is three inches by 2.5 inches by 0.6 inches and weighs four ounces. They each require two AAA batteries.
MSRP: $37.99 US
www.hornady.com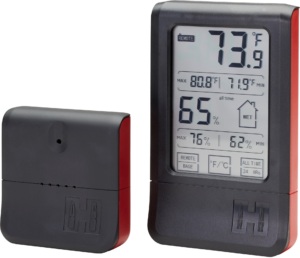 Bow Spider Arrow Wraps
If you are looking to improve the visibility or flashiness of your arrows, Bow Spider wraps have got you covered. They are six inches long and are carefully crafted from premium two mil vinyl, which is half the thickness and weight of conventional wraps. The unique spider design in either red or black will draw attention to your arrows. And because they use premium cast vinyl, the adhesive back allows air bubbles to escape as the wrap is applied.
MSRP: $14.95 US
www.bowspider.com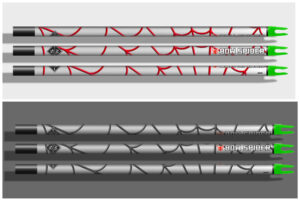 Hi Mountain Seasonings Rub 3-Pack
Quality seasoning enhances the flavour of all sorts of meats, whether you are looking at preparing steak, brisket, ribs, chicken or game meat. Hi Mountain Seasoning's new rub three-pack offers you two options: rub pack #1 includes steak, rib and poultry rub; rub pack #2 includes brisket and prime rib, venison and garlic pepper rub. Each rub is carefully crafted to seal in the natural juices and bring out natural flavours that improve the dining experience for family or guests. They come in 10 to 11-ounce plastic bottles with dual action flip lids.
MSRP: $32.97
www.himtnjerky.com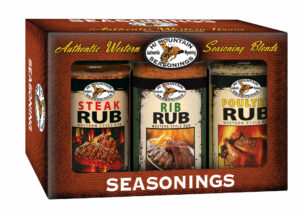 Outdoor Edge FieldLite Knife
Outdoor Edge's FieldLite is the ideal carry-anywhere knife. It offers a sturdy lock back that ensures it will handle a wide variety of jobs, from field dressing small game, game birds and big game to everyday chores around the home. For an easy carry, it has a stainless-steel clip and weighs a mere 2.6 ounces with a total length of 7.5 inches. It has a 3.3-inch 8Cr13MoV steel blade and a handle of glass/nylon polymer with integrally molded rubberized TPR.
MSRP: $29.95 US
www.outdooredge.com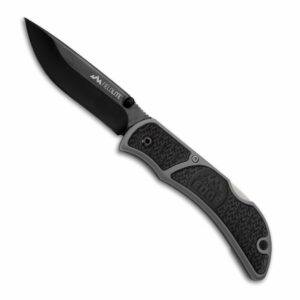 Swab-its Rifle Firearm Cleaning Kit
The Swab-its rifle firearm cleaning kit includes .22, .243, .30 and .40-calbre bore tips and nine firearm cleaning foam swab gun tips. The bore tips attach to a standard 8-32 threaded cleaning rod and can be washed with standard dish soap or mineral spirits, to be reused multiple times. No longer do you need to fumble with patches and jags, as they provide a lint-free tight fit with lands and grooves. The reusable gun tips, with their bendable handles, are designed to clean action areas and other hard-to-reach spots.
MSRP: $29.99 US
www.swab-its.com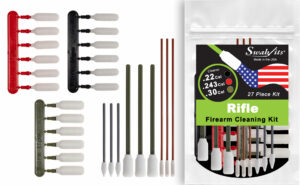 $51 to $250
Lacrosse Cold Snap Boots
Lacrosse Cold Snap boots will keep late season hunters' feet warm and dry. They are constructed with a full grain leather, 900 Denier nylon upper and a deep lug Permafrost outsole that will not harden in cold temperatures. High-wear areas are coated in polyurethane to prevent abrasion and the 90-degree heel affords maximum traction on the ground or when climbing tree stand ladders. The fully waterproof Dry-Core lining provides protection from the elements. They can be obtained in either Mossy Oak Break-up Country or Realtree with 1200G, 1600G or 2000G Thinsulate Ultra insulation.
MSRP: $170 to $190 US
www.lacrossefootwear.com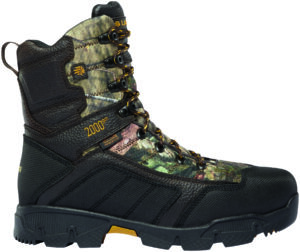 Trulock Turkey Chokes
Trulock has developed choke tubes to maximize pattern performance and density of high-performance turkey ammunition. They offer choke tubes for Federal Premium Heavyweight TSS in gauges from 12 to .410 and Winchester Long Beard XR choke tubes for both 12 and 20-gauge shotguns. Or you could opt for a Pinhoti Turkey choke tube that offers two levels of core density for proven results with both lead or TSS ammunition and is offered in either ported or non-ported models.
MSRP: $54.99 US per choke tube
www.trulock@trulockchokes.com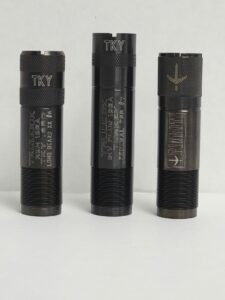 Bushnell Backtrack Mini GPS
The Bushnell Backtrack Mini GPS will get you back to your point of departure. It features an easy-to-read display with time, temperature, barometric pressure, elevation, decline, sunrise and sunset, as well as moonrise and moonset. Its digital compass provides both latitude and longitude coordinates and an on-screen map will display your way points and where you have been using breadcrumbs. It has large, glove-friendly buttons, is rugged and waterproof and includes a tether and carabiner to connect to your backpack or belt. At a weight and size of only 1.9 ounces and 2.54 by 1.95 inches, it is super compact and lightweight. It is rechargeable with any micro USB and can be connected with the Bushnell Connect smartphone app to upload trips and way points.
MSRP: $79.99 US
www.bushnell.com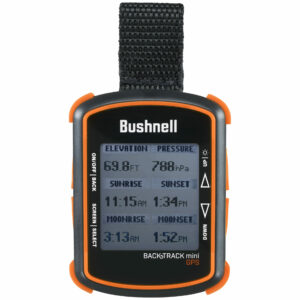 Mojo Pick Stick & Hull Sacker
No longer do you have to bend over to pick up shotgun hulls. Mojo's Pick Stick employs a magnetic adjustable shaft specially designed to cause empty hulls to walk up the side, allowing you to pick up as many as 25 hulls at a time. With a comfortable handle, it is adjustable from 35.5 to 55.5 inches and will work in water or on dry land. The Hull Sacker is a netted basket with a hinged lid for the easy storage of hulls collected by the Pick Stick. It will hold up to 200 hulls that can be easily disposed of by turning it upside down and dumping them into a disposal container.
MSRP: Pick Stick $34.99; Hull Sacker $24.99 US
www.mojooutdoors.com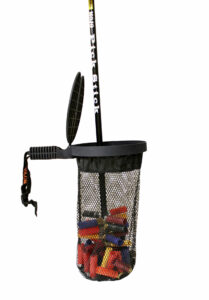 RCBS Electronic Digital Caliper
The RCBS electronic digital caliper adds precision to reloading, whether you're a newcomer or a veteran reloader. It is very easy to use and will provide accuracy of +/- 0.001 inch. It is made with a hardened stainless-steel body and will switch from inches to millimetres with the touch of a button. It will range from zero to six inches and provides large, easy-to-read numbers. It adjusts to zero at any position and will measure internal, external, depth and step dimensions. The jaw depth measures 1.5 outside, 5/8 inches inside and the slide will lock in position for measuring constants. It includes a battery, low battery indicator and a fitted plastic storage case.
MSRP: $92.45 US
www.rcbs.com machined from a hardened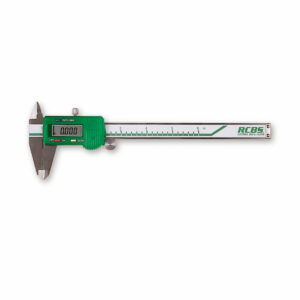 $251 to $500
Vortex Crossfire HD 1400 Laser Rangefinder
The Crossfire HD 1400 is a rugged, compact, lightweight and modestly priced rangefinder. Designed for both rifle and bow hunters, it includes 1,400-yard (750 deer) ranges, an HD optical system for outstanding sharpness and light transmission, red OLED display for low light, three target modes (normal, first, last), two ranging modes (HCD and LOS), 5x magnification and one-yard increment display with a minimum range of five yards. It is ArmorTek coated, offers XR lens coatings and is waterproof. At four inches by 2.9 inches by 1.3 inches and 4.8 ounces, this is a take-anywhere rangefinder. It comes with a soft carry case, wrist lanyard, lens cloth and CR2 battery.
MSRP: $379 CAD
www.vortexoptics.com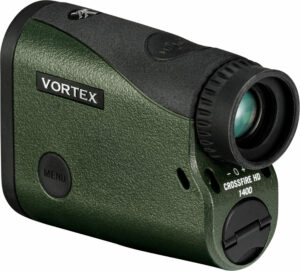 Sitka Women's Ambient Jacket
Sitka's new Ambient line of clothing is versatile, durable and packable. During colder weather, it can be worn as a mid-layer under a shell or on its own in milder temperatures. The jacket offers warmth when still and breathable moisture management performance when on the move. It will also dry quickly if wet and features 200 ripstop nylon fabric, 150 grams of recycled PrimaLoft Evolve Active insulation for breathable, low-bulk warmth, mechanical stretch for a wide range of motion, DWR finish that sheds water, zippered hand and chest pockets and a drop-away hood with a stand-up collar that won't impede vision. The jacket weighs 15 ounces and is available in sizes S, M, L and XL.
MSRP: $309 US
www.sitkagear.com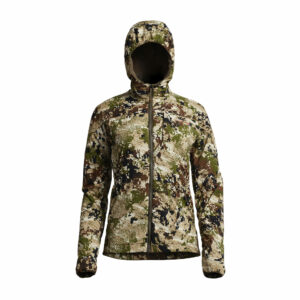 Primos Double Bull Roughneck Blind
At an eye-catching price, the new Primos Double Bull Roughneck blind is loaded with features. It offers a traditional ultra-durable Double Bull fabric, aluminum hub system, triangle door for quiet entry and exit, silent-slide window system with shoot-through mesh, bush deception straps along the roof line to assist in adding brush for total concealment and comes in Mossy Oak Country DNA camo. It is 58 inches by 58 inches by 65 inches and weighs 18 pounds with a bag. It includes a limited lifetime warranty.
MSRP: $379 CAD
www.primos.com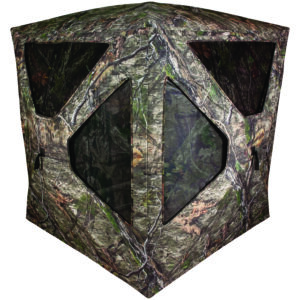 Browning Bruiser Pro Double Gun Case
The Bruiser Pro double gun case is as tough as the name projects. It features a waterproof, double wall polyethylene shell with rounded corners, recessed handle and wheels. It has an O-ring lid seal, an equalization air valve, Tough-Lock hinge, three locking points for padlocks, protective foam padding for two scoped firearms and includes corrosion-inhibiting Zerust inserts. It is airline approved and measures on the exterior: 54 inches wide by 15 inches deep by six inches high; interior: 51 inches wide by 13 inches dep by five inches high and weighs 19 pounds.
MSRP: $379.99 CAD
www.browning.com/products/gun-cases.html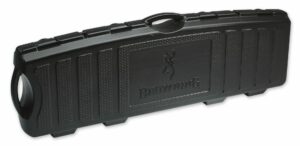 Nomad Cottonwood NXT Berber Fleece Collection
Nothing beats fleece for comfort and silence in the woods. Nomad has introduced a Berber fleece collection consisting of a jacket, pant, cap and flip mitts. The collection utilizes high-pile Berber fleece and a windproof membrane bonded to a sherpa-lined fabric to provide stealth and unbeatable protection from the cold. Each garment has its own individual features to optimize its individual use. They include Berber fleece ear flaps, four-way stretch fabric, three-way adjustable hood, zippered Sherpa-lined pouch, four-way stretch gusseted underarm panels, ever adjust waistband, removable suspenders, high-back waist, Sherpa-lined hand warmer and cargo pockets. They are in available in either Mossy Oak Hybrid Droptine or Realtree Edge and in sizes to 3XL.
MSRP: Gloves $50, hat $45, jacket $200, pant $200 US (3XL plus $10)
www.nomadoutdoor.com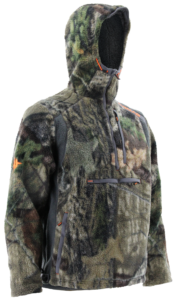 Big Ticket Items
Steelhead Outdoors Modular Firearm Safes
Steelhead Outdoors modular safes are a new concept in safe design. It ships flat and can be assembled or disassembled for a move by two people with the supplied hex wrench. They are constructed with double wall 12-gauge welded powder-coated exterior panels and 20-gauge interior panels that include dual stage fire protection with 2,300-degree insulation. For maximum security, all the assembly bolts are only accessible from the inside. The fully modular interior racking system offers infinite arrangements of shelving and gun rack configurations. The Nomad is available in various sizes: 26-15 guns, 32-19 guns and the 38-35 guns. They are available with either an electronic keypad or a mechanical lock.
MSRP: Starting at $2,700 US
www.steelheadoutdoors.com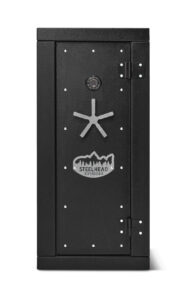 Weatherby Element Turkey Shotgun
The Element Turkey shotgun is a new value-priced semi-auto from Weatherby. Available in either a 12 or 20 gauge, it offers a short and nimble 22-inch barrel with an extended full choke. It is built around the proven Weatherby Element inertia action, which offers a cleaner, more maintenance-free shotgun. Its extended full choke is fluted for easy, tool-free removal and can be replaced with three flush chokes, improved cylinder, modified and full. It will handle either 2 ¾ or 3-inch ammunition and comes equipped with front and rear sling studs, fiber optic front sight atop, a serrated and ventilated rib, a full set of shims for alteration of cast and drop and is clad in Mossy Oak Bottomland camouflage.
MSRP $799 US
www.weatherby.com

Nosler Model 21 Rifle
Nosler refers to the Model 21 as "a rifle for the next decade." It is built around a new action that blends the best features of both the Mack Brothers EVO action and Nosler's unique customizations. Its features include a Shilen match-grade stainless-steel barrel with a precision recessed crown, threaded muzzle with a knurled thread protector, EDM-machined receiver, a nitride coat, upgraded fluted bolt machined from 4340 chrome molybdenum with a modified M16 extractor, threaded bolt handle for a change out, a TriggerTech Field model trigger that is adjustable from 2.5 to 5.5 pounds and is available in 12 calibres from .22 Nosler to .375 H&H. Meanwhile, it sports a McMillan Hunters Edge Sporter 100 per cent carbon fiber stock with a one-inch recoil pad.
MSRP: $2,795 US
www.nosler.com

Burris Eliminator 5 Scope
With the push of a button, the Eliminator 5 ranges the target, displays the distance and instantly calculates and displays the exact aiming point. It offers 5-20x magnification, will range out to 2,000 yards and with its super clear glass is the best optical system in the Eliminator series. It includes an improved ballistics calculator that accommodates centerfire, rimfire, muzzleloader and slug gun loads. Additionally, it offers a wireless Bluetooth remote for laser activation, inclinometer, smart dope card and a X96 reticle that displays a 10-mile-per-hour wind value with wind hold-offs for your specific cartridge at the indicated range. It mounts to any Weaver or Picatinny base without rings, is 15.5 inches in length and weighs 28.8 ounces.
MSRP: $1,899.99 US
www.burrisoptics.com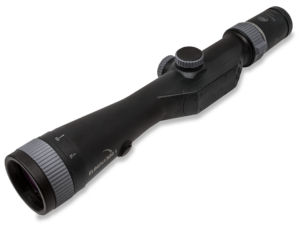 Mathews V3X Bows
Mathews V3X bows evolved from 30 years of innovation. They are available in either 29 or 33-inch axle lengths. And for industry-leading accuracy, they deploy a long riser to axle-to-axle ratio. The 29 has a six-inch brace height and accommodates draw lengths from 25.5 to 30 inches, whereas the 33 offers a 6.5-inch brace height with draw lengths from 27 to 31.5 inches. They feature a new Bridge-Lock Sight Technology to enhance balance and reduce vibration, a patent-pending Stay Afield System allowing hunters to safely remove or repair their strings and cables in the field and completely redesigned LowPro quivers available in either a fixed six-arrow or a detachable five-arrow configuration. Both bows are available in a variety of colours and draw weights from 60 to 75 pounds with 80 to 85 per cent let-off.
MSRP: V3X 29, 4.47 pounds: $1,199; V3X 33, 4.67 pounds: $1,299 US
www.mathewsinc.com