Where It All Started
I first started guiding for chinook salmon in Bristol Bay, Alaska, in 1999 on the Nushagak River. This is the largest run of "kings" in Alaska, oftentimes reaching 230,000 fish. My job was to stay at an outpost camp and to receive anglers from the main lodge and back-troll plugs for tidal fish. I grew up fly fishing for trout, so I really had very little clue as to what I was doing. My neighbour camp was called Mission Lodge, which had some very experienced guides, like Chris Andersen, who now works for Sage. In the evenings, if I plied the guides with enough alcoholic incentive, they would begin to teach me the secrets to catching these fish with regularity. I began to learn the subtleties and intricacies of competing with the top rods. Water levels, tidal influence and early and late fish habits were crucial to knowing where the fish would be. It wasn't long after this that I was on a fly-out trip to a river called the King Salmon, where my guests were using giant red floats to dead-drift bait. They were hooking fish nearly every cast. The chinook began to come to the top and decimate these floats with surface bites. I was completely floored and immediately obsessed with the species from that moment on. The next day, I brought a spey rod rigged with coho wogs, and we had one of the most memorable, epic days I've ever had. In fact, the pilot and I still text and e-mail each other about it to this day.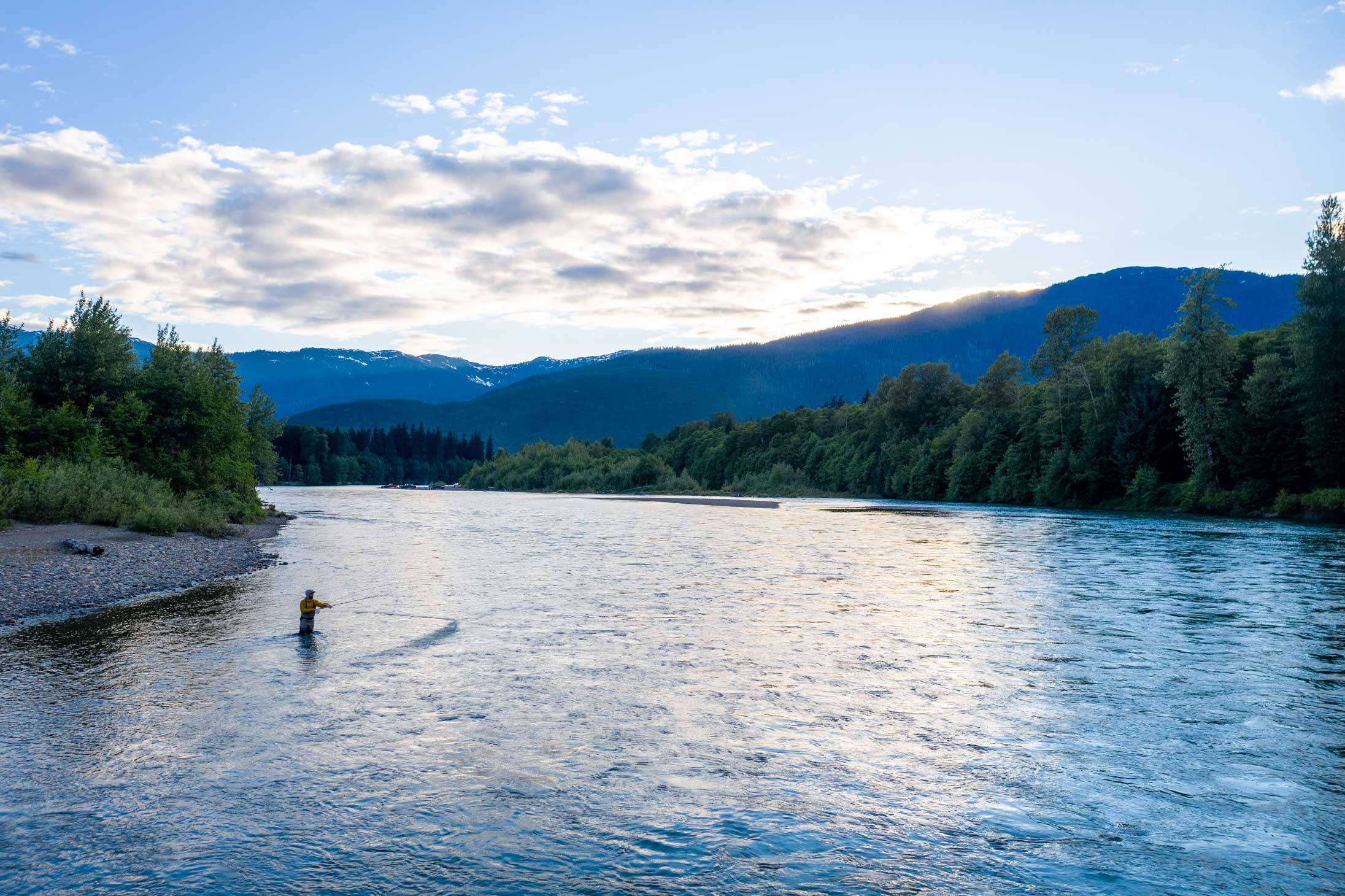 Chinook Trends Are In Deep Decline
A lot of things have changed over the past 20 years for chinook salmon. Even in the '90s, researchers were finding that the fish's weight was nearly cut in half by a century's worth of commercial harvests, poor genes with the introduction of hatchery fish, dams and massive habitat losses. However, over the past 20 years, things have really accelerated. The very large kings of the past lived in the ocean for seven years. This is now nearly impossible to do. Greg Knox of Skeena Wild likes to compare it to someone running past a firing squad. You can make it back and forth a few times, but eventually, you are going to get shot. These chinook face constant threats navigating past all of the commercial nets in what is essentially their nursery grounds. This lends a big advantage to chinook that don't live in the ocean for very long, and evolution quickly adapts to the trend. Today's now-smaller chinook lay very few eggs compared to the big ones of the past, and they need smaller gravel to spawn.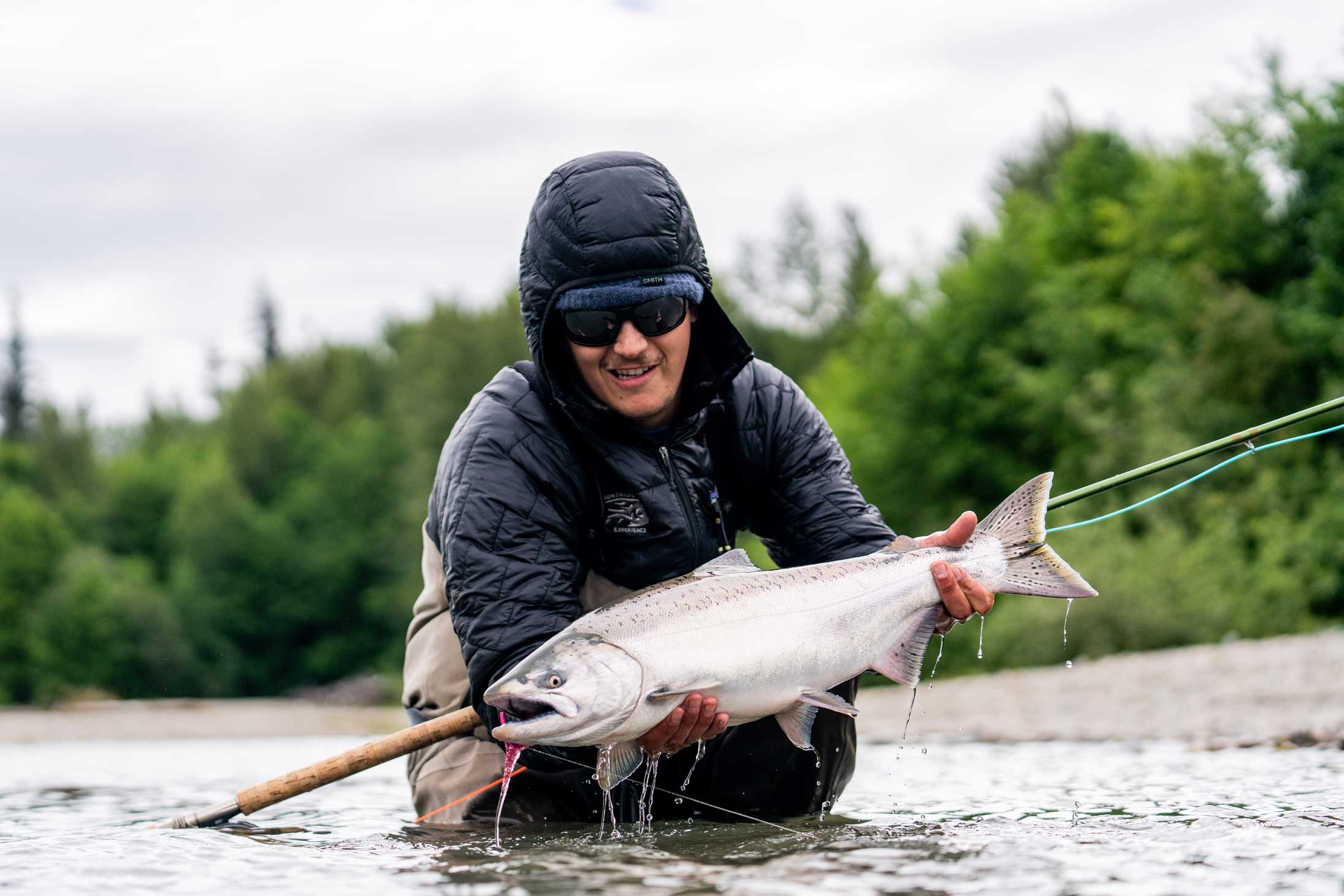 Looking For Kings
All of these factors have come to a head in recent years, and nearly all of the great chinook fisheries have been closed or partially closed in both BC and Alaska. This means that catching chinook in rivers has become a special and unique opportunity. In northern BC, we are seeing steady closures, but we can still often fish the Skeena, the Kitimat and some Nass River systems. Tracking these fish as they enter the river is important when you are targeting them with a fly. The first thing you need to do is map out what you think are the swim lines. These are the routes that the bulk of the fish will take as they traverse the flows. Chinook prefer deep water, but they do need to stay out of the main current whenever possible to conserve energy. They will travel in the soft, deep seam next to the heavy current and get quite close to shore as long as there is some depth. The key to targeting these fish with spey rods is finding the spots where you can present a fly to them while they hold or even pass by. There are many places where the fish stack up and where gear fisherman can access them, but not us on the fly. The biggest factor is the current speed. You can get to them in deep water if the current is very slow, and you can get them in the chop if they are in less than four feet of water. You mostly want to avoid trying for any fish that are in very deep, choppy water. Leave it for the gear guys.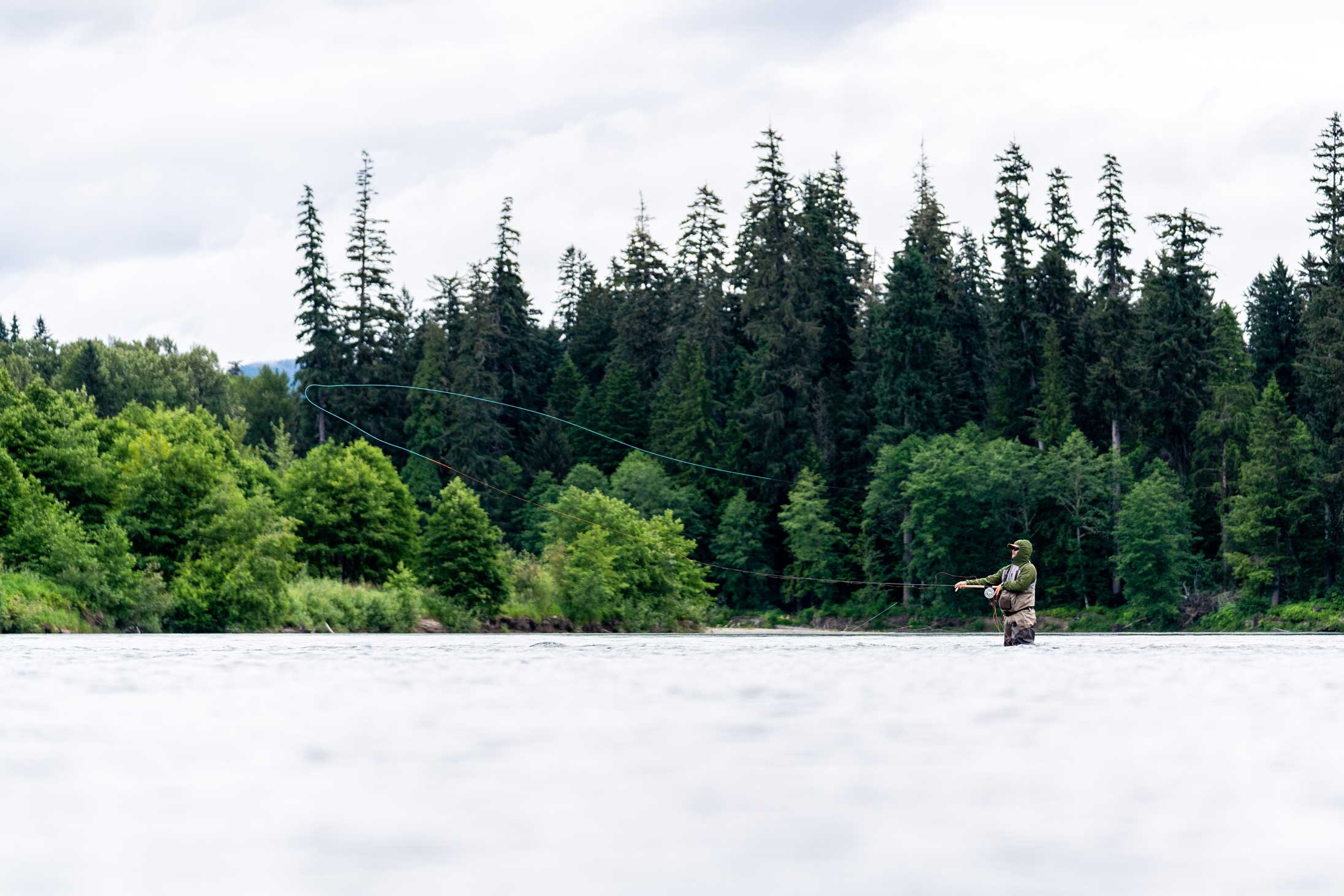 Tackle To Use
If you want to land a big king in BC, you need to upgrade from trying to get by with your steelhead gear. Size wise, these fish basically start where the steelhead end. The blistering runs will spool you unless you have early control, and that is possible only with a big stick. Think nine or 10 weights that are more than 13.6 feet long. Modern king rods are very light for the size, and that is an important factor for preserving energy while casting big, heavy tips. The most common tip we use is 12.5 feet of T17. We also prefer lightly weighted flies that cast well. Many guides will tell you that you need to throw 20 feet of T17 with a giant lead-eyed full squirrel tail to catch chinook. If that were the case, the sport would not be growing as fast as it is. It is growing because with the perfect run, right rod, sink tip and fly, it is actually enjoyable to cast and step through a run. If you can't cast your setup comfortably, then you are too heavy. Keep chopping your sink tip and switching to lighter flies until you match your comfort level with your ability. If you are struggling, find water where you can present a fly to moving fish with shorter casts, like the head of a run. You are often fishing for different fish than the gear guys are, so no need to worry about what everyone else is catching. We often guide chinook beginners, and by selecting gear to match their abilities, finding water that offers a chance (and long hours spent casting), they will eventually find fish. Although chinook spey fishing is better suited toward intermediate anglers, it is a sport for everyone who enjoys swinging flies.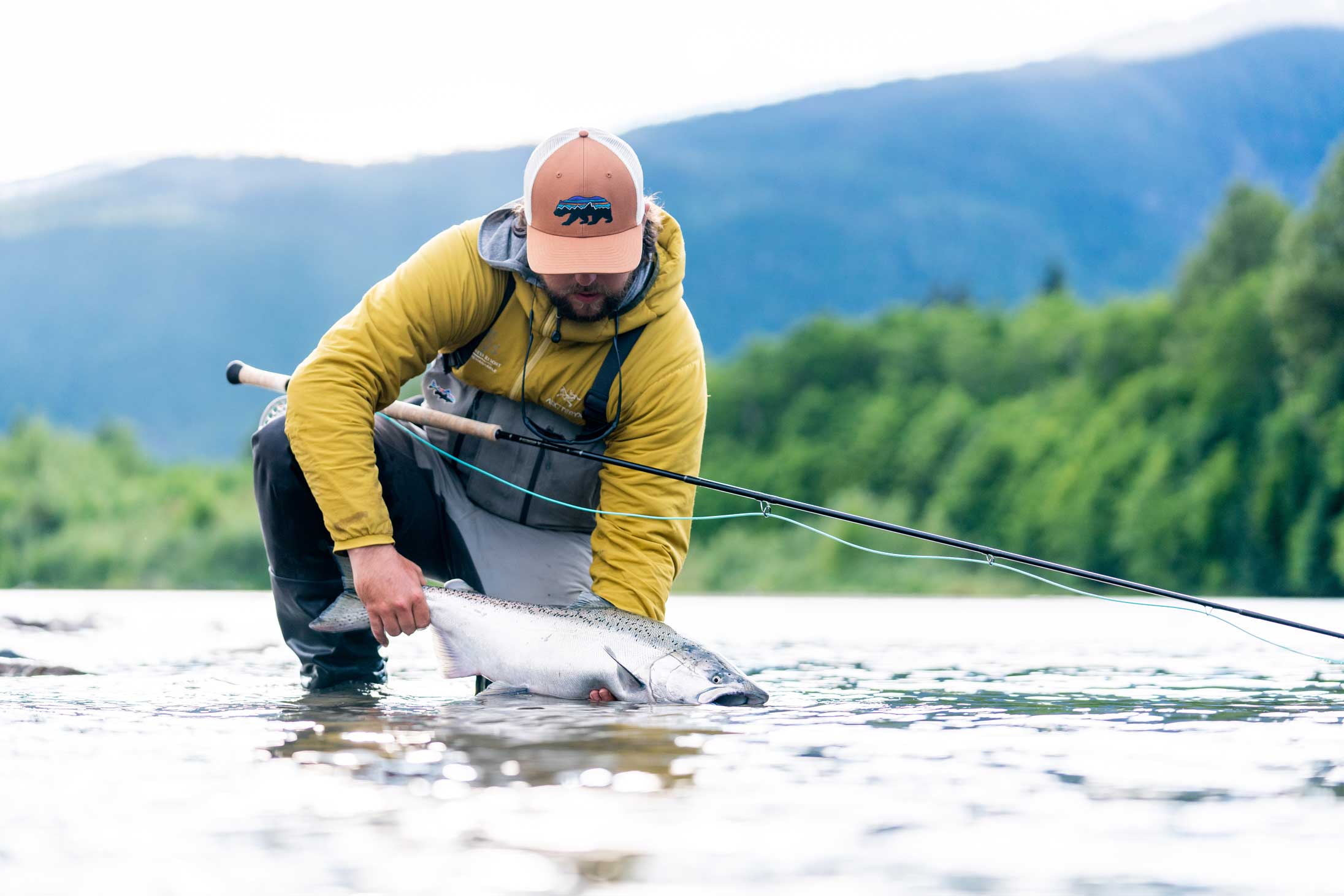 Fishing Smaller Coastal Rivers
We fish a lot of small chinook rivers, like the Kitimat in BC, or Kodiak Island's Ayakulik in Alaska. You have to change your tactics a little bit to be successful. Due to the small, clear water, the fish will tend to move in the early morning or late evening, and by being chased constantly by seals, these fish are always on red alert. When they first arrive at their new lies, they are in their most aggressive state as they compete for space in the pool. They will hold in deep, slow runs, which are similar to where our summer steelhead fish go when water temps drop to the low 30s. When the tide comes in and fresh fish mix with holding fish, it's like a bar letting out after hours on Granville Street. Tensions are high here, fish are extremely aggressive, and you are most likely about to be in for the fight of your life!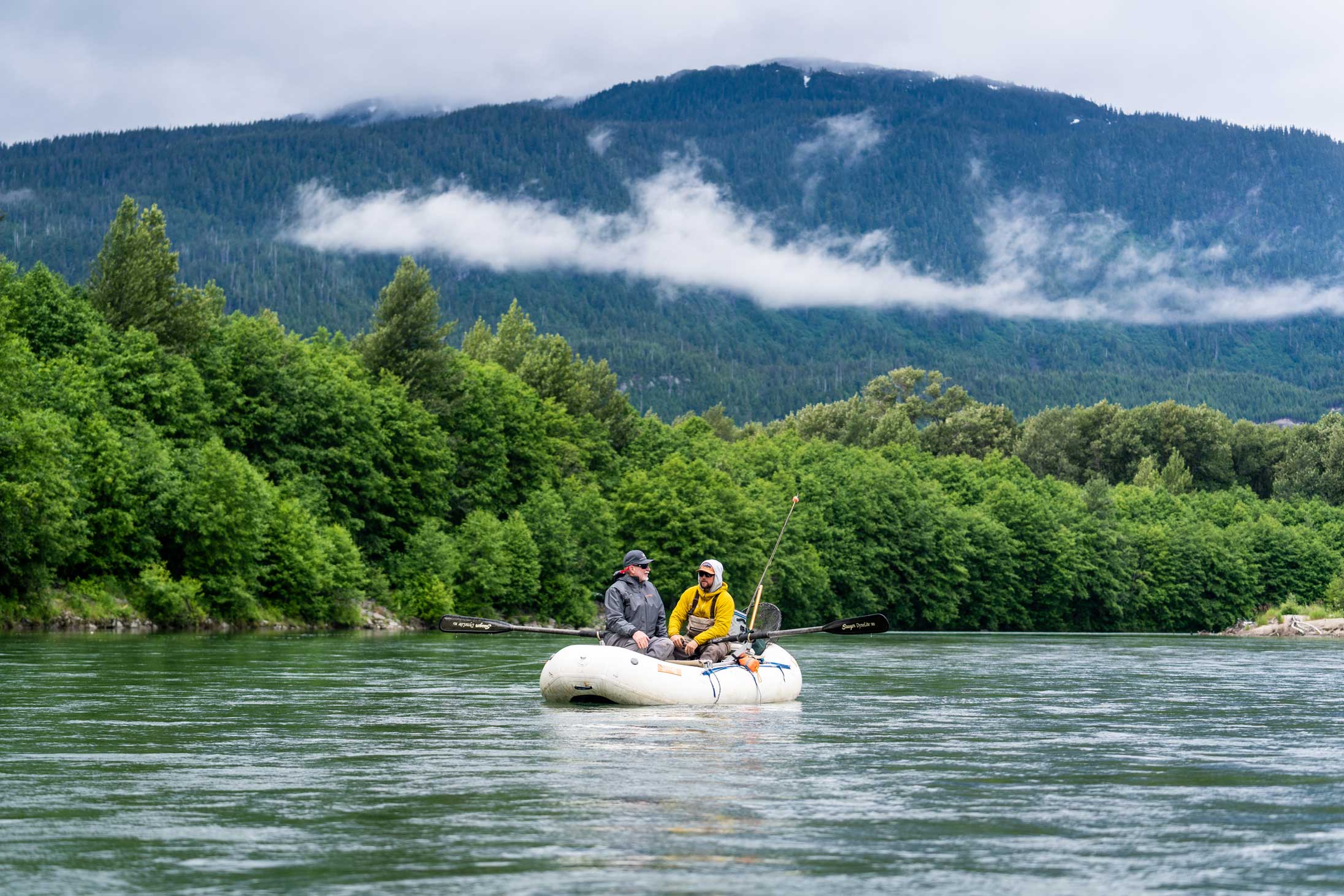 Making The Transition From Steelhead To Chinook
With the evolution of spey fishing, steelheaders are constantly looking for new, challenging opportunities to catch large, anadromous fish on the swung fly. Although swinging flies for chinook has been around for a long time, with the technology of lighter, more powerful spey rods, new lines, easy-casting tips and the evolution of flies, the game has changed. We have turned many doubters into believers by simply getting them into their first chinook on a spey rod. The experience is intense, nerve wracking and scary.
Gear Recommendations
Fly rods: Nine or 10-weight spey rods work well (if the rod is a nine, it should be a sturdy one).
Reels: We recommend a durable reel with a strong drag and a large arbor spool, capacity of at least 200 yards of 30-pound backing.
Lines: Versatility is important; one must be ready for a variety of water depths and flows. Consider shorter Skagit lines and use tips that vary from 10 feet of T11 to 15 feet of T17. RIO's InTouch Skagit Max GameChanger is a good choice for chinook.
Leaders: Leaders should be abrasion-resistant monofilament with 20 pounds of strength (Maxima is by far the best). Any more and you tend to break fly lines when they get stuck in rocks.
Flies: We find that the best thing is to bring tube flies, as any store-bought ones don't have big enough hooks. If you tie your own, use 2/0 high-quality hooks. Anything in chartreuse, pink, purple, black, orange or any combination of these colours is good. The pattern itself should be fairly big — in the two to four-inch range, but not overdressed so it can sink fast. Have a variety of weighted flies, from unweighted to medium heavy. Leave the giant, un-castable flies at home.
Fishing For The Future
Catching chinook in the rivers is now a special experience, and it is important to take good care of the fish that are caught. Alaska implemented a law 15 years ago that doesn't allow anglers to take chinook out of the water for catch-and-release fishing. If you do not plan on harvesting fish, leave at least its head and gills completely submerged in water. Although BC has yet to adopt this policy, it is a good idea to follow it. Opportunities to catch these fish in rivers are becoming more and more limited each year. Anglers need to do everything they can to promote healthy catch-and-release fishing so that we can continue to pursue these magnificent kings of the river.