Bathed in the golden glow of the setting sun, a parade of rowboats carrying hopeful anglers glides back and forth across the Tyee Pool near Campbell River. Their eyes sparkle with anticipation, wondering who will become the next champion of the rod – a title only earned by catching a tyee, a chinook salmon weighing at least 30 pounds.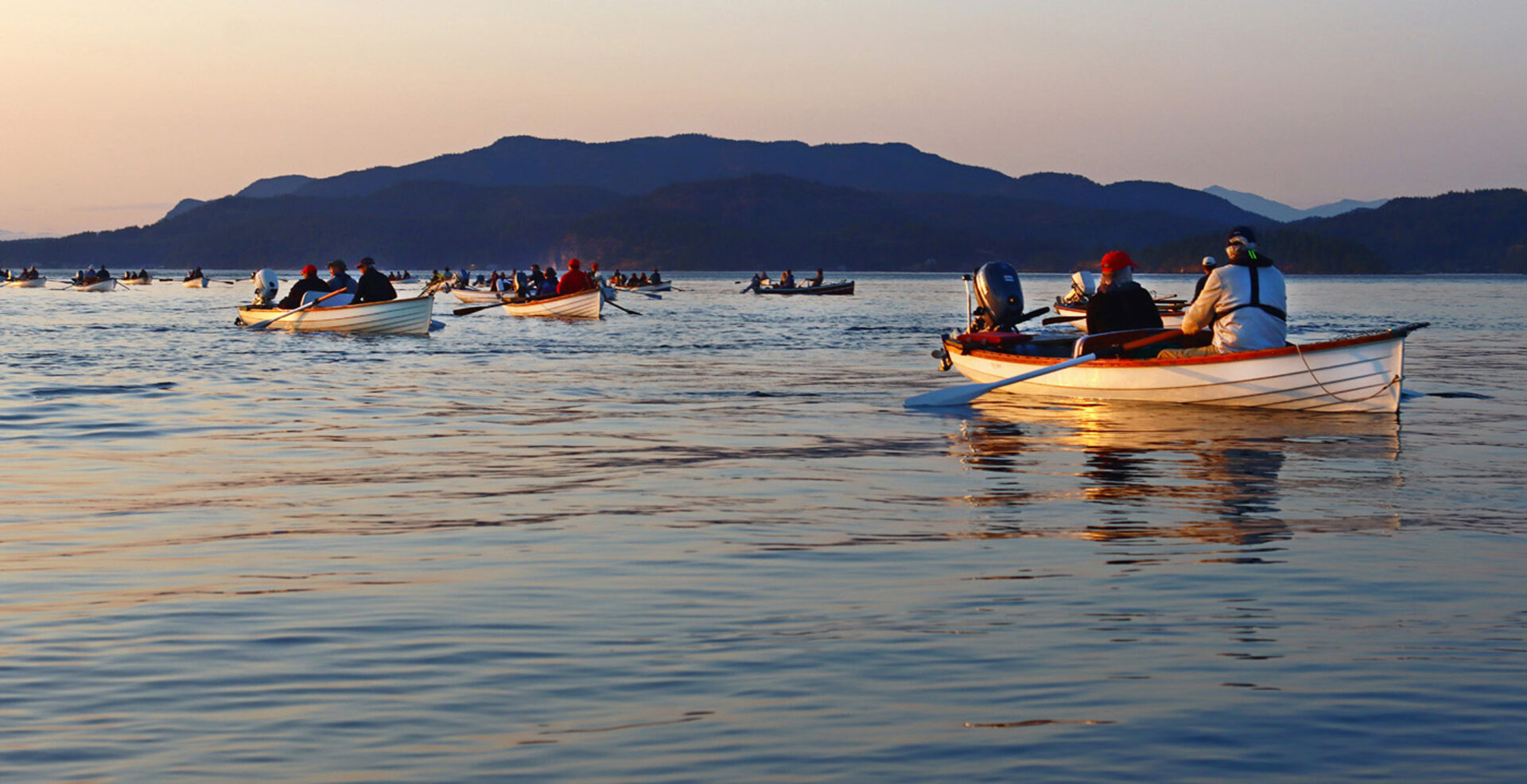 "Any action?" says Roger Gage, as he rows our boat, carrying myself and my 71-year-old father.
"Lots of interest," replies a man in a boat passing by.
I hold onto my rod tightly as Gage carefully zig-zags through the maze of 40 rowboats trolling through the small pool located between the Tyee Spit and Discovery Passage. The boats are filled with people from all walks of life, saying hello as we pass by. The sense of community is strong, just like my determination to become a member of the exclusive Tyee Club of British Columbia, which has had the same traditions for 97 years.
I've been living on Vancouver Island for six years now, but I had yet to try fishing on the ocean. Growing up in Alberta, I've always fished for pike and trout. Netting a giant salmon was intimidating. But I was intrigued by the club's unique traditions and wondered what it would be like pulling a 30-pound salmon into a 14-foot rowboat. To qualify for club recognition, a tyee can only be caught while trolling from a boat being rowed or paddled.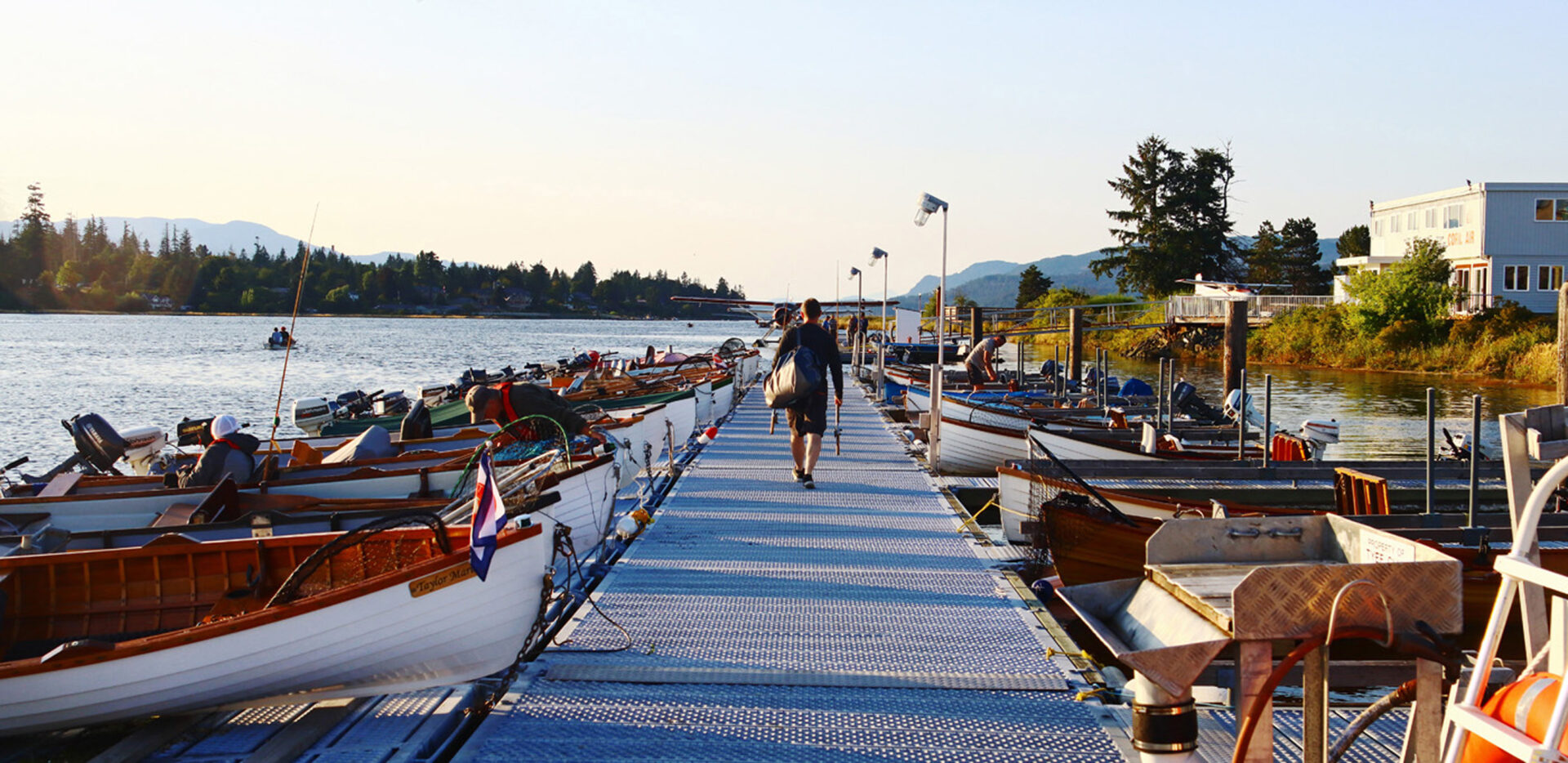 Earlier that morning, a rookie rower caught the biggest fish of the year thus far at 42.5 pounds. It sent a ripple of excitement amongst the club and those hoping to become a member.
"That hasn't happened for about four years," says Gage, the club's president. Growing up in a fishing family, Gage was 12 years old when he became a member of the Tyee Club by catching a 39.5-pound chinook. It was a rainy and windy day, he recalls, and it took him 25 minutes to reel in the fish. But it's an experience that left him coming back for more.
"I just enjoy the peace and tranquility of it. There's no engine or exhaust. It's a lot simpler and cleaner and it's the same kind of fishing we've always done," he adds.
First Nations people had been fishing for tyee for ages prior to the arrival of Europeans. Using spears and handlines from dugout canoes and traps, they were greatly admired for their skill by the first white men who fished at the mouth of the Campbell River.
According to the club's website, the first account of angling for tyee appeared in a London newspaper in 1896. It was submitted by Sir Richard Musgrave, who caught 19 tyee with his partner in one week using a dugout canoe paddled by a Native guide. His largest fish weighed 70 pounds. Word about giant fish in the Campbell River began to spread and, by 1903, tyee fishing had become well established, along with the first Willows Hotel, complete with boats and guides.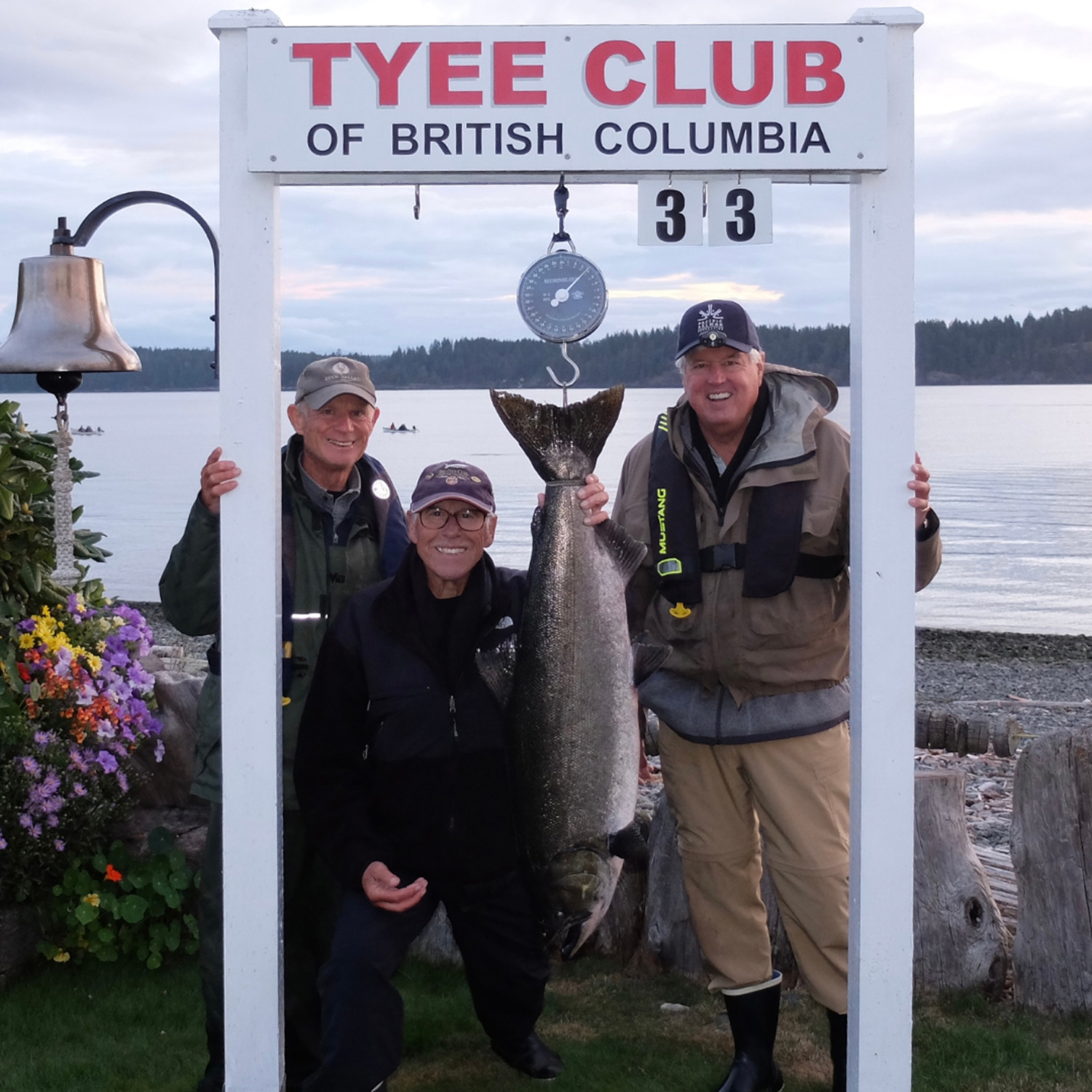 In the summer of 1924, a few fishermen decided to organize a club to standardize the sport of salmon fishing in BC. It was to be called The Tyee Club of British Columbia and the fisherman landing the largest salmon would be awarded an annual championship button and named "Tyee Man." The annual tournament drew in hopeful fishermen from around the world, including King Prajadhipok of Thailand.
On July 29, 1947, the club's first record was set when Ray Slocum hooked a 70.5-pound tyee. The behemoth took some 50 minutes to reel in and had a girth of 33.5 inches and length of 51.5 inches. It was a record that would stand for 21 years until Walter Shutts of Oregon caught a 71-pounder, which remains the club record.
Throughout the years, the club's rules have hardly changed, which Gage says helps maintain its rich history. Fishing season begins each year on July 15 and ends Sept. 15. The rod should be six to nine feet long, with a hand-operated reel, and have a maximum 20-pound test line. The lure may be any type of artificial lure that has one single barbless hook. The two basic lures are a spoon or plug. Natural bait is not permitted.
When a fish is hooked, the rower and/or angler calls out, "Fish on!" until the fish is maneuvered out of the pool and into deeper waters. Once the fish is on shore, only the weight master at the clubhouse can put it on the scale and declare the official weight. If it is a tyee, the angler has the honour of ringing a large bell from an old, converted schooner built in the 1860s. One ring is given for every 10 pounds of weight.
One thing that has changed over the years is the number of salmon and their size. According to Gage, between 40 to 80 tyee are caught in a good year, but it's often less than 20. The 2014 season marked the beginning of the notable decrease in the size of the fish, prompting concerned members to begin viewing catch and release as a viable way to help care for the quality of the chinook run.
"Many factors have contributed to the decline of wild salmon stocks. The majority of the chinook caught in recent years have originated from the local Quinsam River Hatchery, which traditionally has produced chinook of smaller size than the wild chinook salmon from the Campbell River," says Gage, noting catch and release buttons are awarded to anglers who release a fish estimated to weigh 30 pounds or more.
"Some fish for years before getting a tyee. Lucky folks get one the first time ever fishing in a rowboat. It's just a quiet, respectful way to fish for large salmon."
As darkness falls around a full moon, we decide to head in, leaving about 25 boats with twinkling lights still rowing back and forth through the pool. No tyee were caught on this particular night, which leaves me feeling slightly disappointed. But I'm pleased to say that I am now one of the 1,000 people per year who's tried catching a tyee through an experience that feels like stepping back in time.
The Tyee Club has a saying: "All to the end that our brave tyee may have a fair fight, and that the men and women we meet wearing the coveted emblem of the Tyee Club shall be known as worthy champions of the rod."