This Weeks Highlights
This WHOPPER of a Steelhead was released on Dec 28th morning.  This fish would have made anyone's knees weak! Congratulations to angler Randy Baker and guide Nick. What a magnificent fish!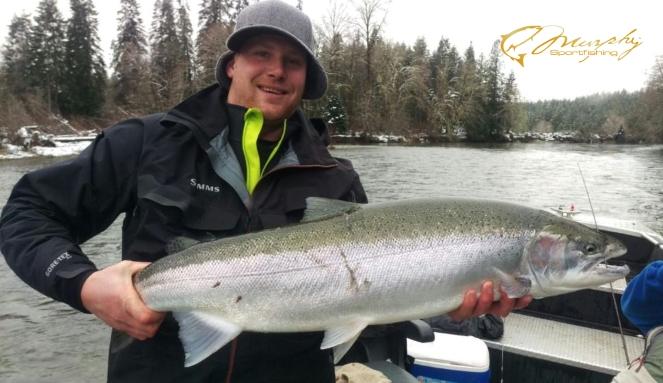 Winter Steelhead in Season
The Winter run Steelhead are throughout the entire river now and we have been running trips on both the upper, middle and lower sections.  This was a good day with all boats hooking at least 4 fish per boat, while today was less productive with one boat with a strike out and the other hooking two.
This season we are seeing more big fish and more small fish, but less medium sized. This is what was expected because two years ago there was a failure at the Robertson Creek Hatchery. We are thrilled at the size of the fish we have been seeing though.
River Conditions
With the cold temperatures prevailing and very little precipitation in the forecast expect the river to get a little tougher to fish as the river drops and gets clearer.
If you are thinking about fishing we have dates open next week. Weekends are getting skinny this month.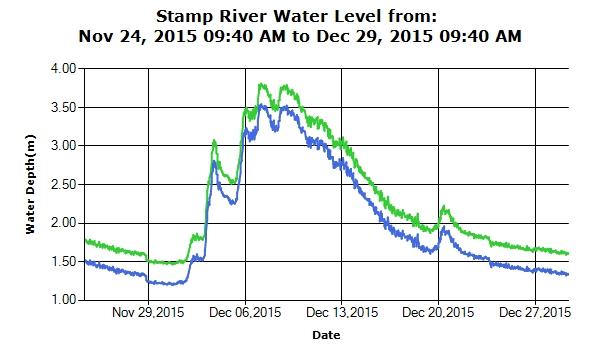 Contact for Latest Conditions
For the latest and ongoing conditions please visit our fishing report page.
Stamp River Fishing Report
Call 250-723-8022