This is the perfect recipe for those times when you only have a small portion of catch available for smoking. It is simple and delicious, and can be used to smoke just one or two salmon fillets, trims or less-than-platter-perfect steaks. It's wonderful to have a way to smoke those extra bits of fish that are lying around, as most recipes call for larger amounts of catch!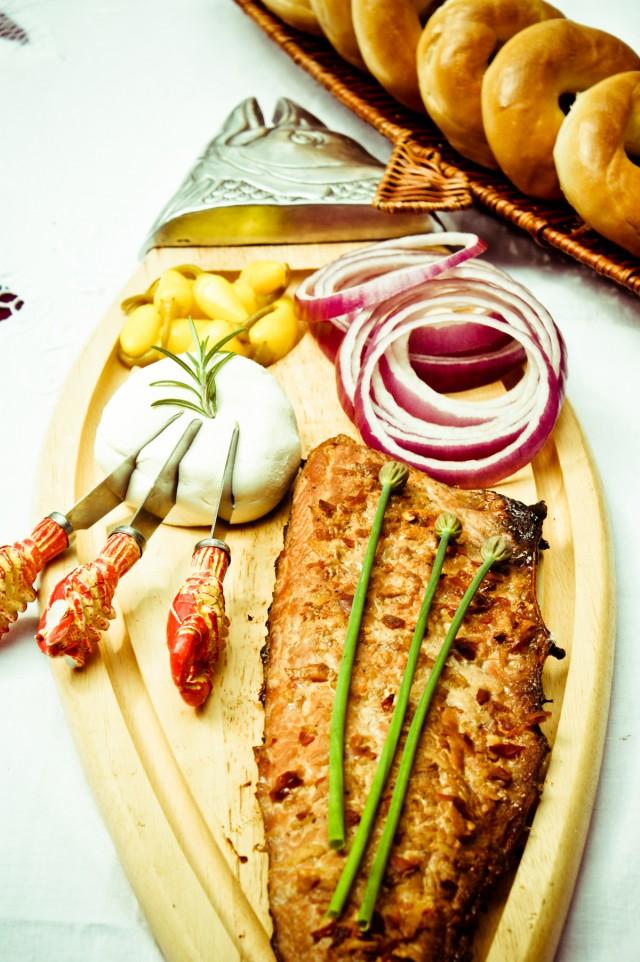 A smoked fillet such as this makes a very elegant appetizer when served with cream cheese, herbed butter, thinly sliced red onion rings, pickled chili peppers and bite-sized bagels or pumpernickel bread. And, of course, white wine for toasting the occasion. In my rules of entertaining it is definitely worth the time and effort to smoke up a fillet for a special party treat. It always earns rave reviews and is the best way I know of stretching a piece of the prize into enough nibbles to go around to all! And if you feel your steaks are a little too uneven to serve as an appy on their own, then this dip recipe is perfect for the platter, and every bit as delicious as a whole fillet.
If you fancy a super-sweet slab of smoked salmon then try generously basting the fish with maple syrup several times during the smoking process. A three-pound fillet makes enough appetizers for about 8. The brine in the recipe below is enough for two fillets of about 3 to 4 pounds each
Ingredients and Recipe
Brine
2 cups water
1 tablespoon salt
3/4 cup dark brown sugar
1/4 cup maple syrup
2 cloves minced garlic
1 teaspoon ground black pepper
1 teaspoon chili flakes
1 teaspoon grated lemon zest
Juice of half a lemon
Combine above ingredients in large, flat glass baking dish that will allow fillet (or fillets) to lay flat. Stir until sugar and salt is dissolved.
Marinate the Salmon
Rinse salmon under cold running water and pat dry with paper towels. Put the fillet in the brine and turn several times. Cover and refrigerate for 6 to 8 hours or overnight, turning a time or two. Remove fish from marinade and place skin side down on smoker rack. If you don't use more salt than called for in the recipe, the fish does not need to be rinsed with cold water. However, you can rinse it if you think it may be too salty to suit your taste. Using a slotted spoon, spoon some of the peel and spices evenly over the fish. Air dry for about 30 minutes or until the flesh is dry and a pellicle has formed.
Smoking
Light the smoker and fill with hickory or maple wood chips according to manufacturer's directions. When the temperature inside reaches about 170ºF, place the rack in the smoker and smoke for 4 to 6 hours – depending on thickness of fillet or until desired smokiness is reached. Since smoker models vary in the amount of smoke and heat they produce, follow your manual for given times and suggested settings for smoking salmon. Remove the tray from the smoker and cool.
Serving
The salmon is now ready to serve, or it can be wrapped well and refrigerated for up to 3 weeks. It can also be frozen for long-term storage, but really it's so good I seldom see leftovers hit the fridge! If you do find you have a little smoked salmon left on the tray, then try the delicious dip recipe below. Or, do as I do, and smoke tidbits especially for the purpose!
Smoked Maple Salmon Dip
4 hard-boiled eggs, finely mashed
3 finely minced green onions or chives
1 cup (more or less) smoked salmon, flaked
3 tablespoons mayonnaise
2 tablespoons soft butter or margarine
1 teaspoon lemon juice
3 tablespoons finely chopped green olives stuffed with pimiento
Salt and pepper to taste
Pinch of fresh minced dill or dried dill weed to taste
Mix all ingredients until well blended, and add a little more mayonnaise or butter if needed to achieve spreadable consistency. Taste and adjust seasoning. Serve with crisp crackers or sturdy vegetables for dipping.