1. Burris Oracle X Rangefinding Crossbow Scope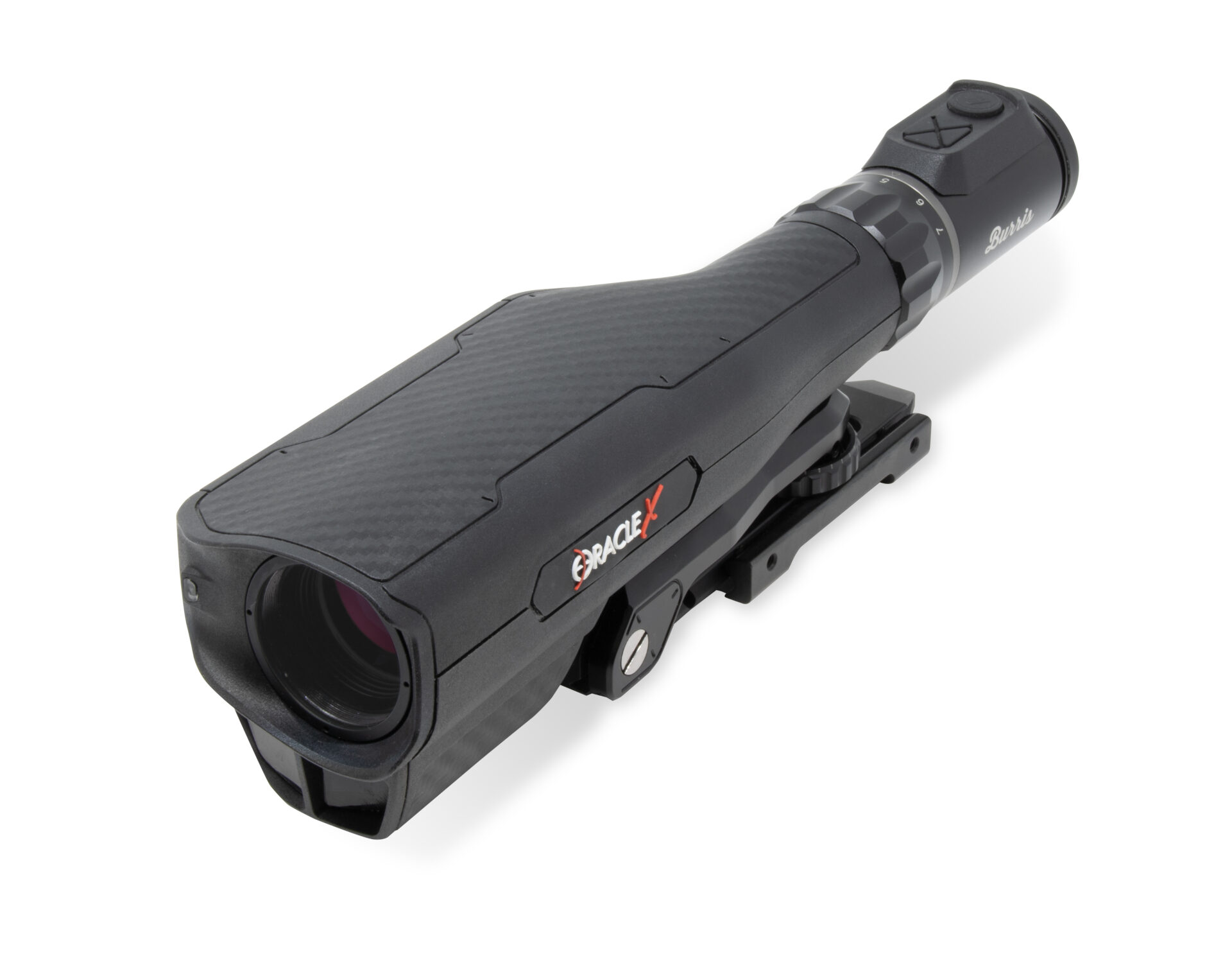 Even with today's faster crossbows, knowing the distance to your target is critical for proper shot placement. The new Oracle X crossbow scope eliminates this requisite. It uses a built-in laser rangefinder that is activated with a wireless remote or with the rangefinder button on the scope. It will display the distance to your target and then provide an exact aiming point, factoring in the angle of your shot. The aim point will also change to stay accurate no matter what your magnification setting is within the 2-7x zoom range. It is the most advanced rangefinding crossbow scope on the market and was built on the decade-long success of the Burris Eliminator riflescope. It offers an electronic bubble level to reduce unwanted cant, a precise aluminum mount/adjustment system, locking screws, a battery life of 3,000-plus activations, auto brightness and lightweight design. It is also nitrogen filled, waterproof, shockproof, fogproof and comes with the Burris Forever Warranty.
MSRP: $1,335 CAD
2. Browning Wicked Blend Shotgun Ammunition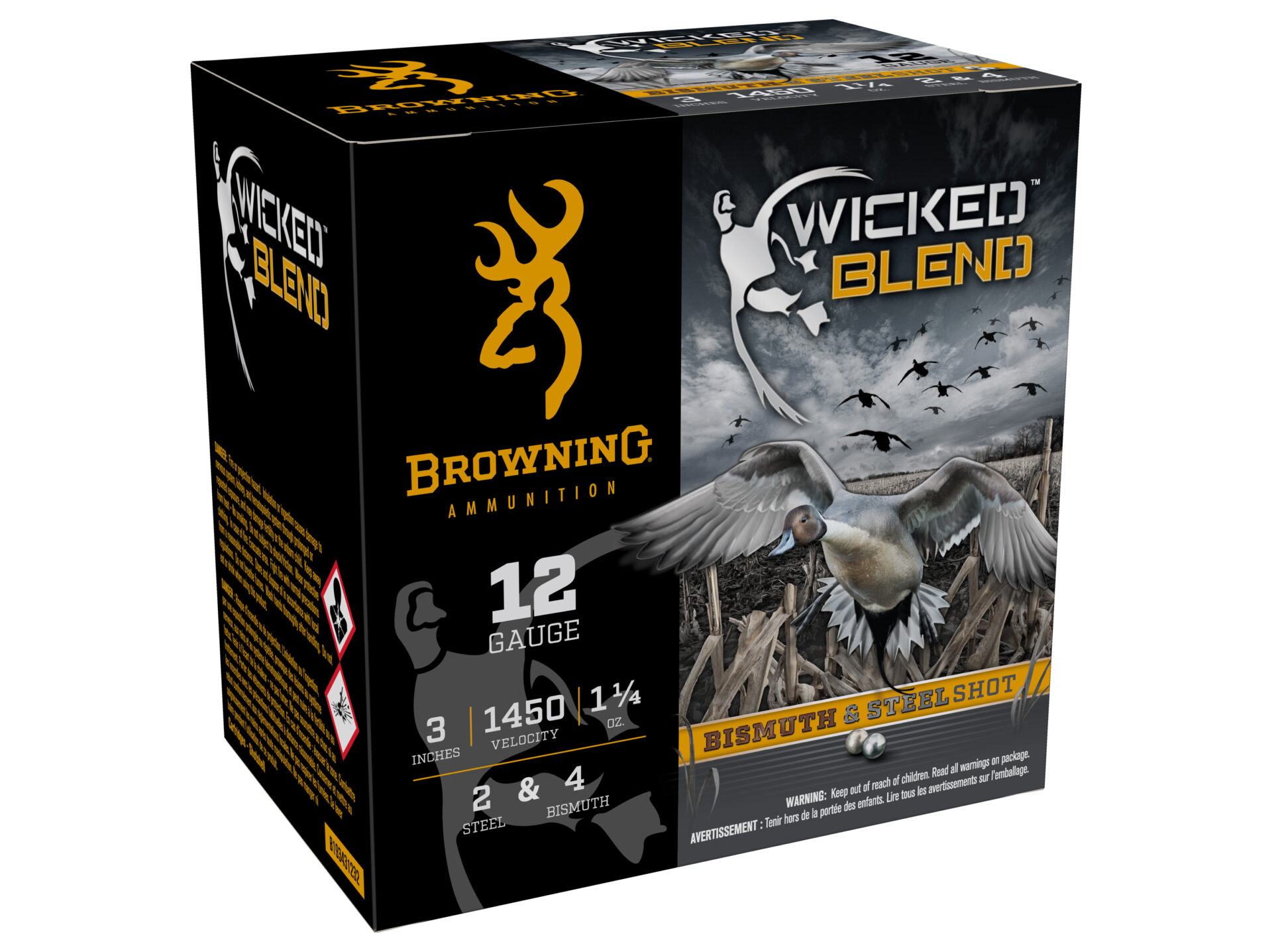 Browning has taken the success of their award-winning Wicked Wing XD ammunition and upgraded it with the addition of bismuth. The new Wicked Blend shotshells includes 70 per cent of the premium plated steel shot used in Wicked Wing and added 30 per cent premium plated precision rounded bismuth for a stacked payload, to quote Browning, "Like no other." Because bismuth is so much denser and heavier than steel, it allows the use of smaller shot size while still providing equivalent performance. This increases the number of pellets and pattern density. For cleaner kills, the smaller bismuth pellets will also penetrate deeper, hitting more vitals. Meanwhile, the extra-distance Wicked Wad ensures uniform shot release and tight patterns with a variety of choke designs. It is available in two 12 gauge 3-inch loads and two 12 gauge 3-and-a-half-inch loads and in a shot size blend of either #2 steel with #4 bismuth or BB steel and #1 bismuth.
MSRP: $30 to $35 US per box
3. Montana Decoy Whitetail Doe Decoy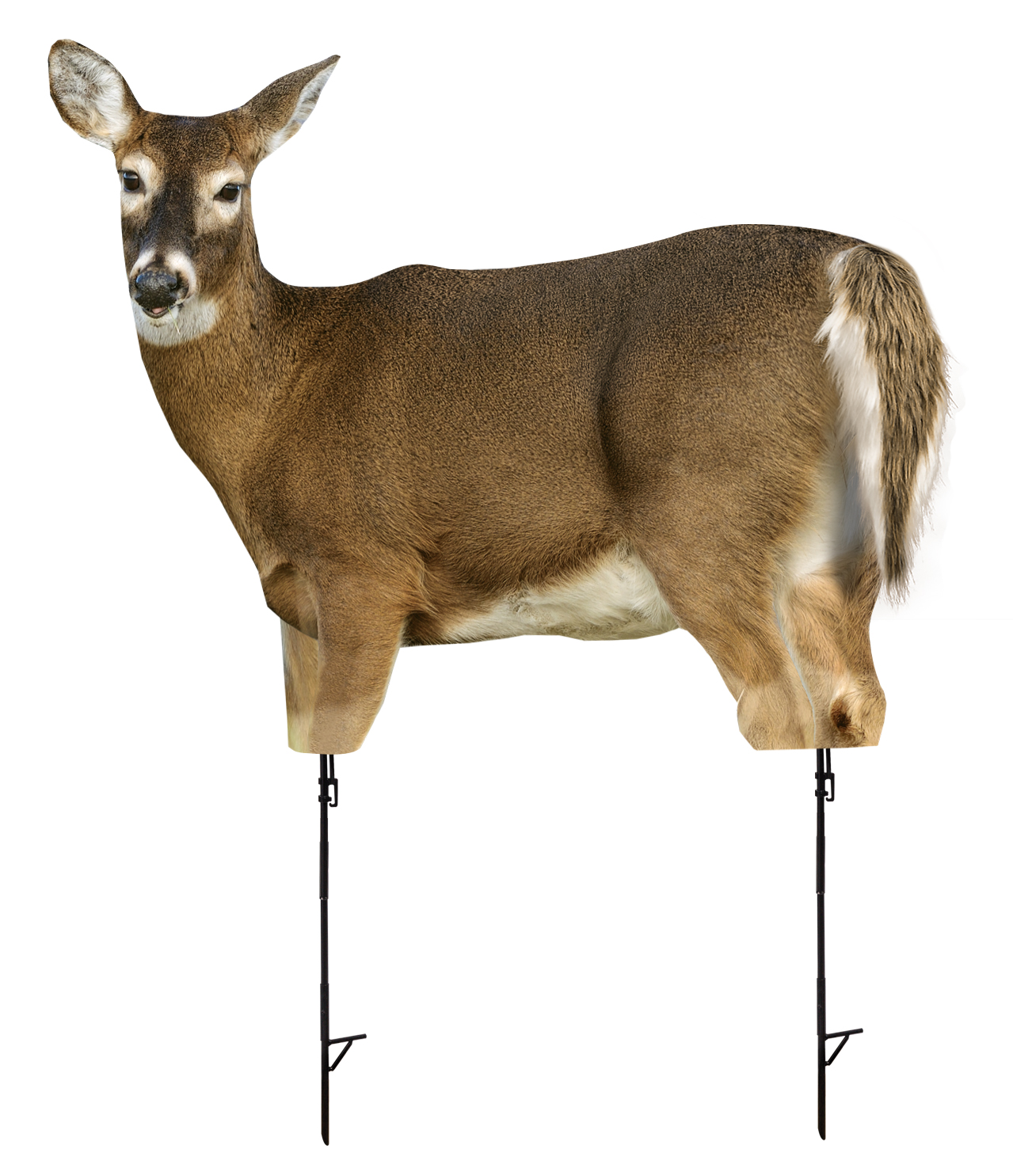 There are times when a deer decoy will coax a buck out of the shadows when nothing else will work. The new Trixie whitetail doe decoy from Montana Decoy has proven to be one of the most effective whitetail decoys on the market. It features new printing techniques that provide higher detailed printing and a unique calming pose that works on both bucks and does. With its lightweight twist-and-fold design and jointed leg poles, this 2D decoy will fit in your day pack. It also includes two of Montana Decoy's popular Teaser Tails that add just the right touch of motion and realism. The tails attach with magnets so you can apply scents and then change them up with a fresh tail as the season progresses.
MSRP: $109.99 US
4. Vortex Summit Carbon II Tripod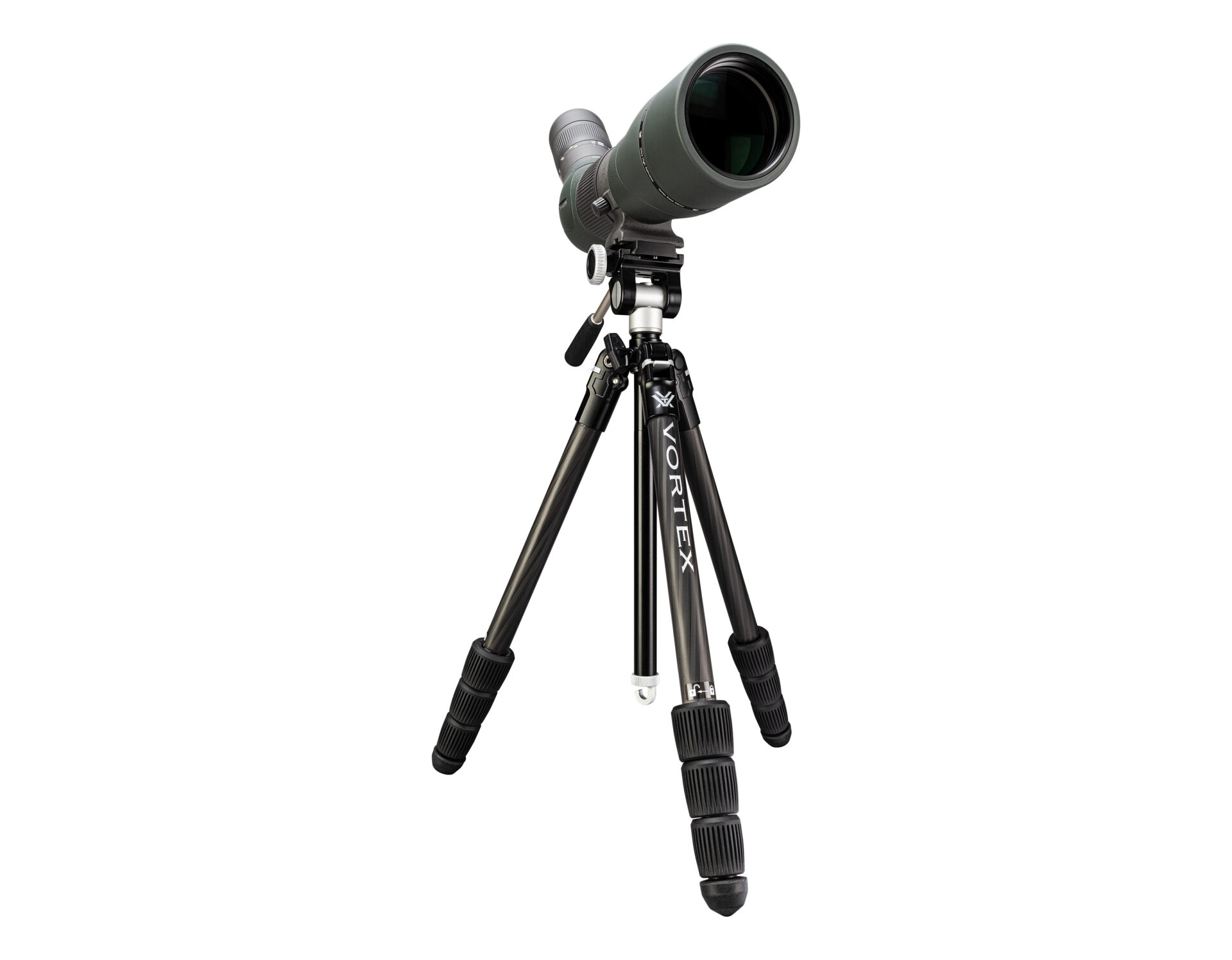 Scoping with any high magnification optics to determine legality or trophy quality requires a steady platform. But weight and size can be a factor when heading into the high country. This is where the new Summit Carbon Tripod from Vortex, at a weight of two-and-a-half pounds, is the go-anywhere answer. To cut down weight even more, the detachable centre column can be removed and stored for lower viewing or replaced when you need to go taller. And, for the ultimate in packability, its four leg sections collapse to a smaller size. It is constructed of carbon fibre that provides lightweight strength and a stable platform. It has a two-way pan head and comes with an interchangeable Arca-Swiss quick release plate, a rubber packing strap, detachable counterweight hook and a 1.3-millimetre hex wrench. It will hold up to 22 pounds, with a minimum/maximum height of 6.3 inches/53.3 inches, with a folded dimension of 18.1 inches by 3 inches.
MSRP: $699 CAD
5. Kryptek Koldo Jacket & Pant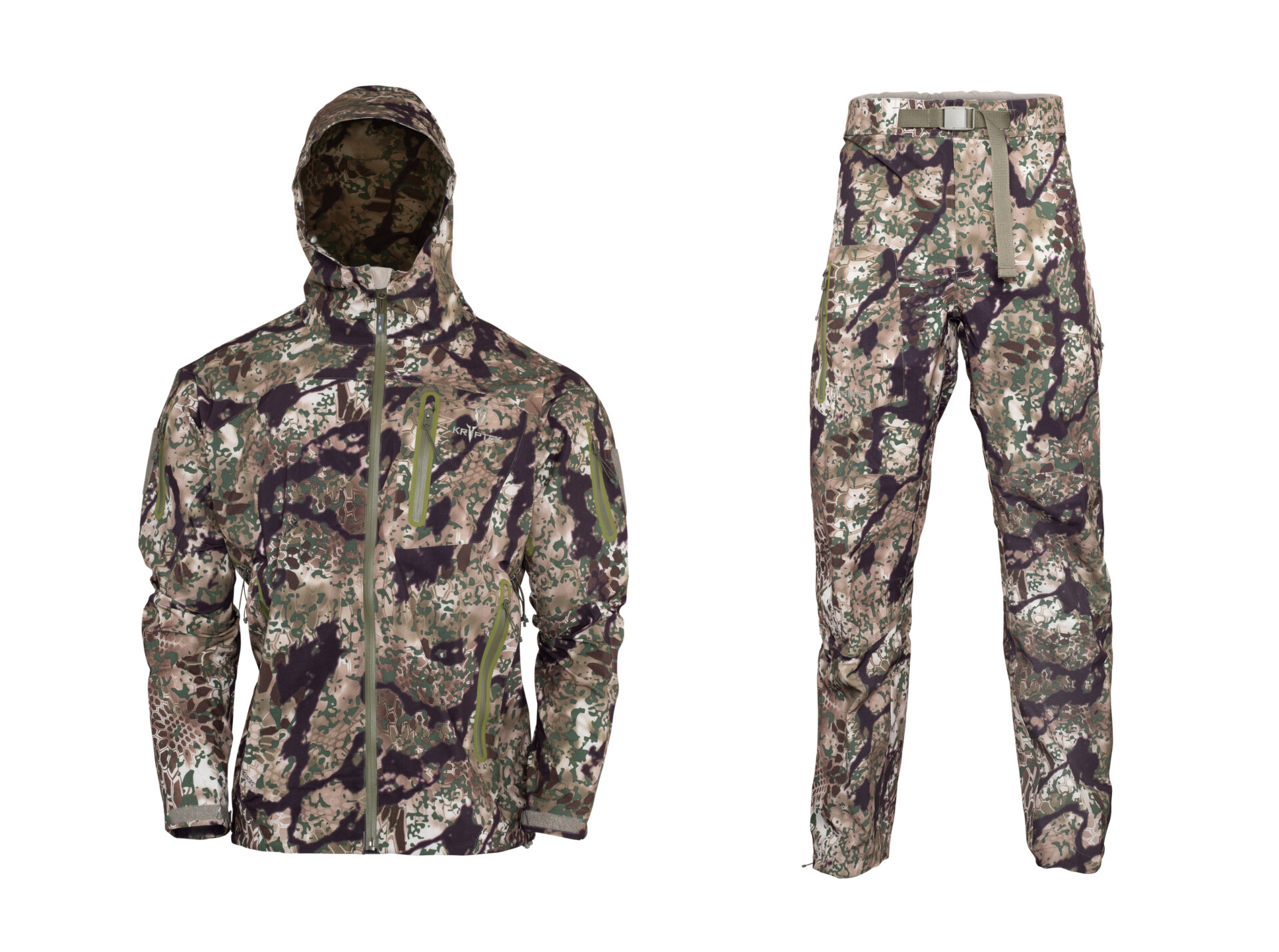 This jacket and pant are designed to handle the ugliest and foulest of BC's wet and windy weather. The jacket is made with a three-layer DWR waterproof fabric that, despite the weather, will maintain core body temperature and is breathable, waterproof, rugged and durable. It includes a hood with several adjustable draw straps, welded Bemis seam taped waterproof zippers, pit zips, high chest pockets to accommodate packs, lined chin guard, adjustable waistband, reinforced articulated elbows and adjustable wristbands. The pants are 100 per cent waterproof three-layer laminate and include bonded laminate reinforced knees, heat welded seams and waterproof zippers. Both are offered in the new Obskura Transitional camo, as well as Highlander, Typhon and Dark Charcoal. The jacket is available in XS to 3XL and the pant in S to 3XL with a XL long.
MSRP: Jacket $452.94 to $466.67; pant $315.68 to $329.41 US
6. Safariland Liberator HP Multi-Mode Hearing Protection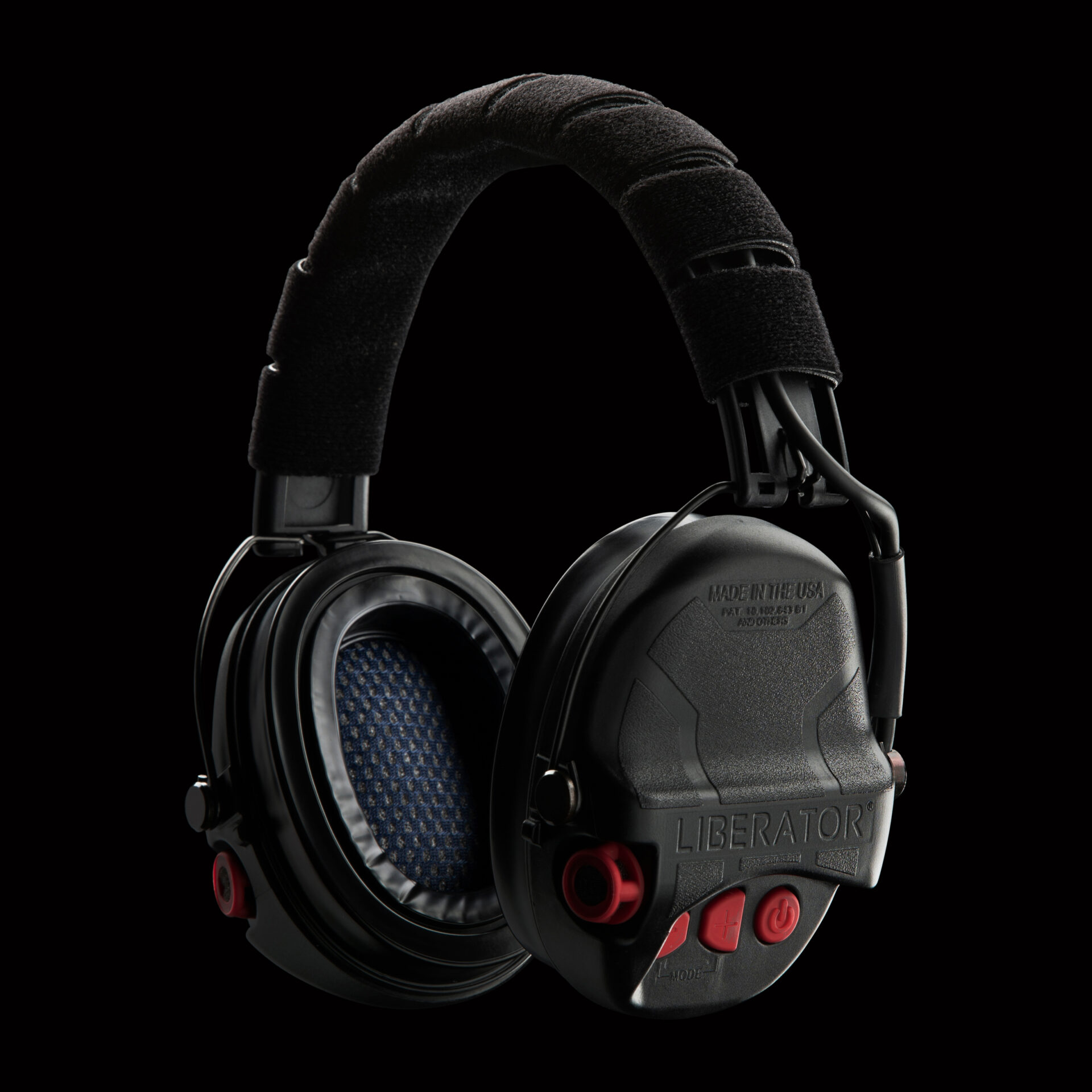 Safariland has introduced the next generation in electronic hearing protection. The Liberator HP offers three distinct hearing protection modes. The Enhanced Mode blocks dangerous impulse noise while enhancing nearby speech and audio. The Move Mode blocks all external noise, and the Clarity Mode blocks all external noise while enhancing nearby speech and audio. They include high-definition speakers with enhanced electronics and a speed change battery compartment that works with either two AAA batteries or one CR123 battery that provide 160 to 300 hours of run time, depending on the mode. The slim ear cup design is layered with sound barrier technology and gel seats provide all-day comfort. The high sensitivity, dual ambient microphones provide 360-degree awareness. They are available in black, flat dark brown and olive drab green.
MSRP: $299.99 US
7. Stoeger M3020 Shotgun

If you are looking for an affordable, dependable 20-gauge semi-auto shotgun, the new M3020 line from Stoeger is worth a look. Its inertia-driven action is one of the world's most reliable operating systems and will handle a full range of loads from 2-and-three-quarter inch to 3-inch magnum loads. With its shim kit, it is customizable to you and your shooting style and includes three chokes, IC-M-XTF, plus a wrench, has a red bar front sight and is available in various models including M3020, 3020 Compact, 3020 Defense and 3020 Upland Special. It is offered in numerous finishes from black synthetic to gloss walnut and in various barrel lengths and finishes. At average weights of 5.5 to 5.7 pounds, these are lightweight, easy-handling shotguns.
MSRP: $730 to $885 CAD
8. Browning Primal Combo 6 Piece & 2 Piece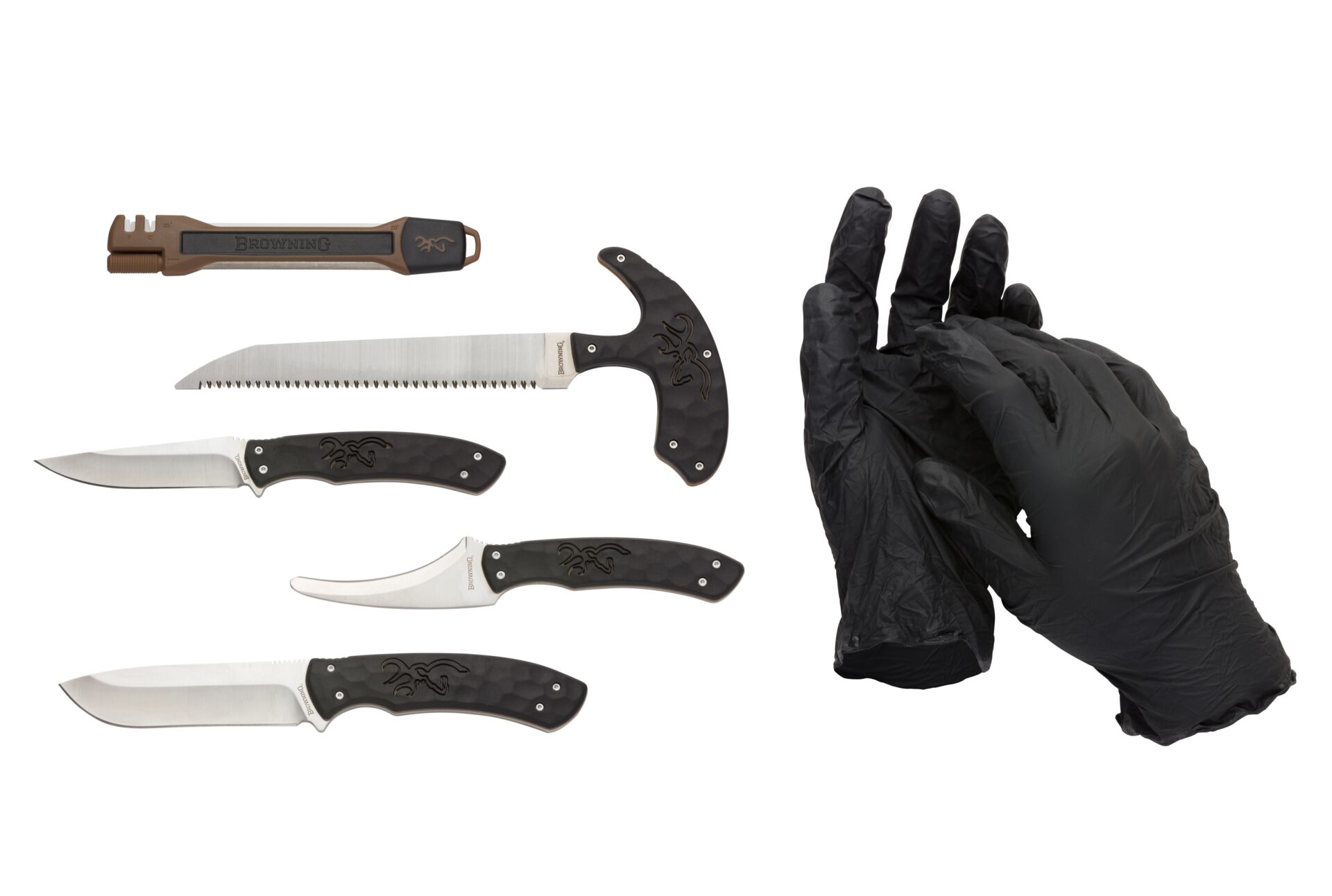 The six-piece is a do-it-all field dressing combo. The set includes a fixed blade skinner, caper, gut tool, bone saw, sharpening tool and disposal nitrile gloves. The knives are made with 8Cr14MoV blades and have slip-resistant, easy-to-clean polymer with rubber overmold handles. Blade length/total length in inches: skinner 3 3/4 to 8 3/4; caper 3 1/2 to 8; gut tool 3 1/8 to 7 1/2, bone saw 6 3/4 to 9 1/4. They are packaged in a rugged nylon tool roll with a zippered closure. The two-piece combo includes a fixed blade guthook/skinner with a drop point profile and a saw. Both are securely carried in a stitched nylon sheath. The blade length/total length in inches: guthook skinner 3 3/4 to 8 3/4; saw 5 1/4 to 7 3/4.
MSRP: Six-piece $149.99; two-piece $59.99 CAD
9. Hoyt Carbon RX-5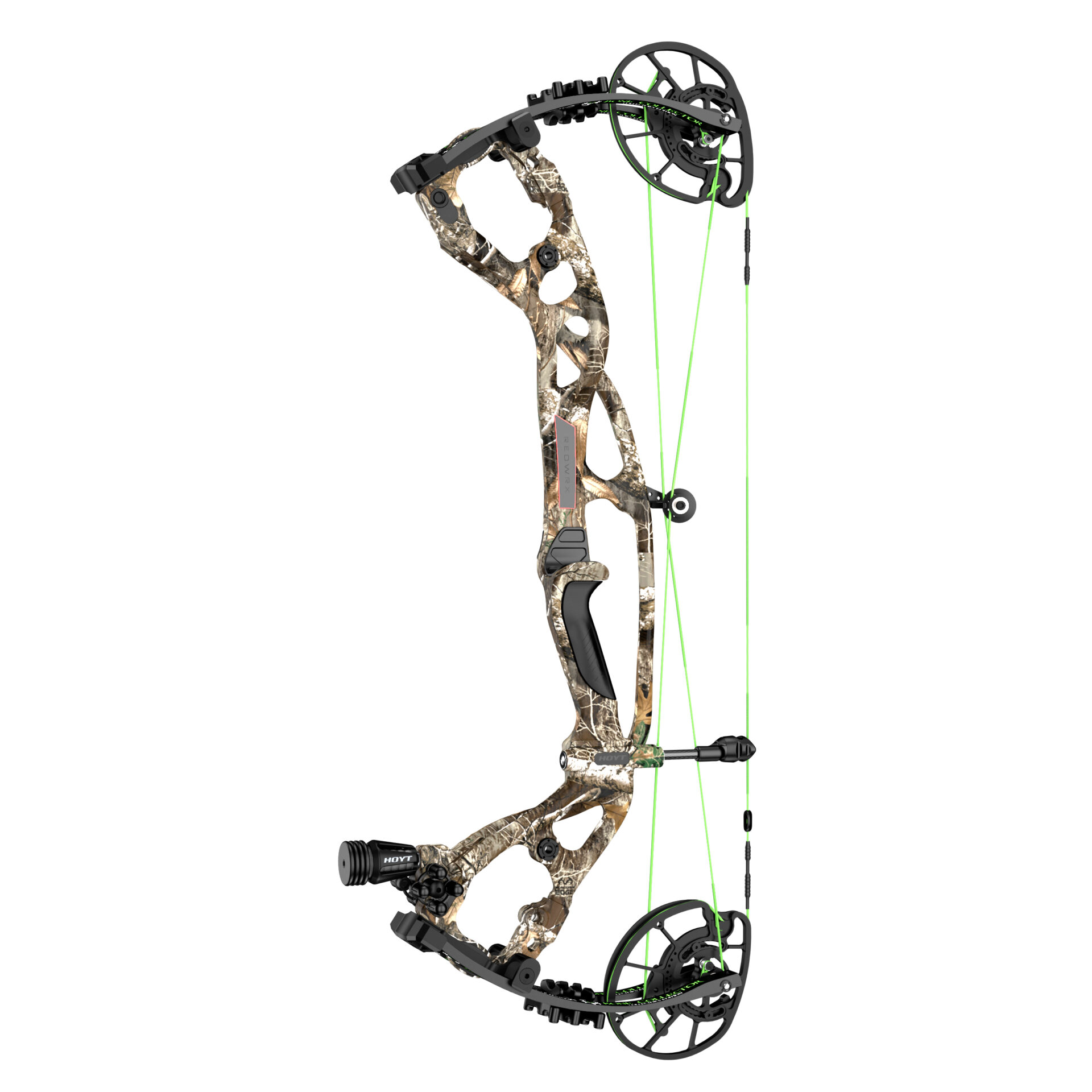 The new Hoyt Carbon RX-5 is a bow that befits the most challenging hunt. It has an all-new engine, the HXB Cam system comes in one size that covers the full draw length range by using two different module sizes, which provides the fastest performance across all draw lengths. At a weight of 4.4 pounds and generating 342 feet per second, this bow is engineered with patented hollow carbon fibre tubes for lightweight smoothness and efficiency. It also boasts redesigned Limb Sox, Shock Pods and a new stabilizer mounting location that now includes the stabilizer. It has been moved to a lower centre of gravity location, which provides a lighter weight two-inch stabilizer with the same effectiveness as a six-inch stabilizer. The bow also incorporates an in-line Picatinny sight mount, integrated rest mount and stealth shot that kills noise while improving arrow delivery and forgiveness. It is available in various draw weights from 30 to 40 up to 70 to 80 and in eight colours.
MSRP: $2,099 CAD
10. Hornady Bore Driver FTX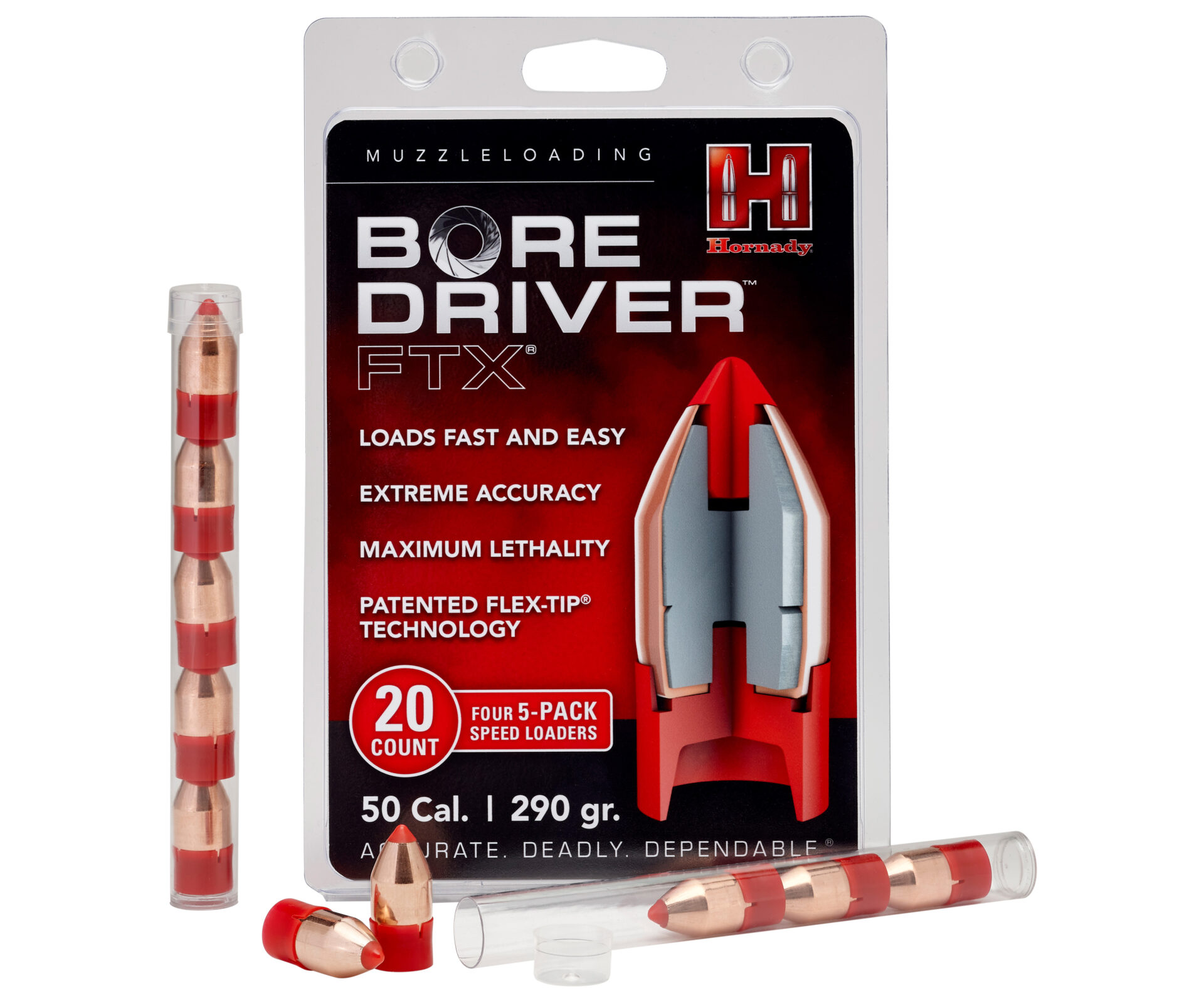 One of my pet peeves about hunting and shooting a muzzleloader is the difficulty one can encounter when loading bullets. Some have been so tight that I have bent ram rods trying to seat them. No longer will this be an issue with Hornady's Bore Driver FTX. With the lack of a sabot, it loads fast and easy. Meanwhile, its polymer base features a post that fits into the bottom of the bullet, which swells in diameter at ignition, providing better torque engagement from inside the bullet. Its centering petals then grip the bullets boattail while the skirt engages the rifling to optimize energy transmission. The FTX bullet itself incorporates an Interlock ring that improves bullet weight retention on impact and its tough copper alloy delivers deep penetration and expansion for the ultimate in lethality. The bullet is also designed with Hornady's patented FlexTip that initiates expansion ensuring terminal performance even at low velocities.
MSRP: 50 Cal. 290-grain 20 pack $34.99 CAD