You don't have to travel all the way to the Louisiana bayous to indulge in a bowl of mouthwatering jambalaya-which is without doubt one of the most versatile creations in the world and one of the few dishes made famous in song.
The good news is that you can make jambalaya in your own kitchen, and if you don't know the words to the old song about having "big fun on the bayou," then rattle those pots and pans to your own tune!
Jambalaya is closely related to gumbo and étouffée (two similar Louisiana specialties influenced by Spanish and French cuisine,) but the big difference is jambalaya contains rice as part of the main dish, whereas in the other creations rice is cooked separately and served on the side.
Of course, when it comes to making this spicy dish there are no rules to abide by unless you're taking part in the annual jambalaya cooking festival held in Gonzales, Louisiana, the Jambalaya Capital of the World, in which case you may need to strive for a little authenticity. Otherwise, do as I do and cook it up any way you want!
Cajun-style jambalaya calls for crawfish, shrimp, oysters, turtle and even alligator, which are all common catches in the bayous. Other meats, poultry and sausages are traditionally added to the pot along with the swamp bounty.
I don't add meat or poultry to my seafood jambalaya, but I do find smoked sausage such as andouille (a spicy Cajun sausage of French origin) or highly-seasoned Spanish chorizo adds excitement to the pot as does a pinch of spice known as file powder (accent on the e) which captures the Deep South taste.
File powder is made from dried, ground sassafras leaves. It lends unique flavour and acts as a thickening agent. File powder can be a little hard to track down, especially in smaller towns, so don't fret if you can't find any as my Creole seasoning mix below will suffice without it.
A number of years ago when I first starting making jambalaya ingredients such as okra, as well as file powder, were not easily found. Today, cooks can find okra fresh and frozen year-round in larger supermarkets. I prefer to use frozen okra and I like to leave it whole as I find the seeds have interesting texture when the plant is bitten into. Sort of reminds me of "little white caviar." I also like the deep splash of green they add to the pot.
Serve this hearty supper to your crew and they'll be singing praises long after the meal is over.
How-To:
Measure the following ingredients into the blender and give it a whirl: ¼ cup paprika, ¼ cup onion powder, ¼ cup dried garlic flakes, 2 tablespoons whole black peppercorns, 2 tablespoons dried oregano, 1 or more tablespoons crushed red chilies to achieve desired heat and 1 tablespoon of file (sassafras) powder. Store in capped jar.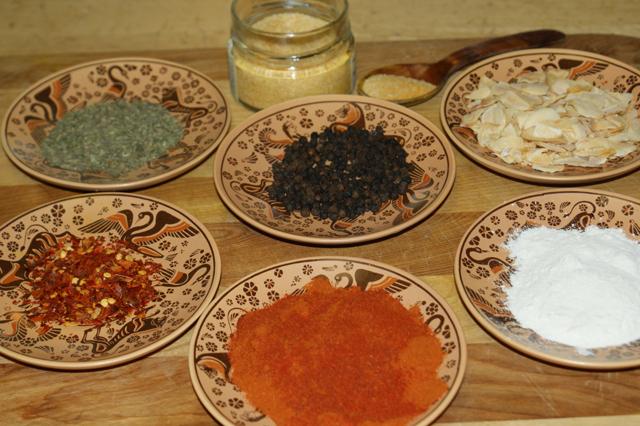 3 tablespoons oil
1 large diced onion
3 cloves minced garlic
1 sweet red pepper
2 or 3 hot chili peppers (if desired)
¼ stick diced celery
1 cup frozen or fresh okra (whole or sliced)
2 cups long grain uncooked rice
2 tablespoons Creole seasoning mix or to suit taste
4 chopped tomatoes
1 (or more) cups tomato sauce
3 cups fish or chicken stock
¼ cup chopped parsley
Sprig of minced rosemary
1 diced sausage, such as andouille or chorizo
1 to 2 cups dry white wine
Seafood of your choice—some or all of the following in any amounts you desire: washed clams, scrubbed mussels, pan ready prawns, shrimp, fish chunks, scallops, crab meat, oysters, or any other seafood that happens to be handy
Heat oil in Dutch oven, sauté onion, garlic, peppers and celery until soft, add okra, rice and spice. Fry a couple of minutes. Add tomatoes, 1 cup sauce, stock, herbs and 1 cup wine. Cover and simmer 10 minutes. Add sausage and more wine or tomato sauce to achieve desired thickness. Bring to boil. Add seafood, cover and cook until shells are steamed open and all is done to your liking. Serve in bowls with crusty bread and white wine for toasting the feast. This is a great recipe for cleaning up fish and seafood tidbits from the freezer or for cashing in on great buys at the fish market. It is impossible to say how many this serves! I suppose it depends on how much seafood you put in and how big the appetites are.