Fishing is often a feast or famine sport, where your luck – and the amount of free space in your freezer – can quickly change. Salmon season is an excellent example of this circumstance. Depending on timing, water clarity, precipitation and a host of other factors, fish can be either few and far between or every other cast. Here in the Lower Mainland, we are fortunate to have all five Pacific salmon species on our doorstep.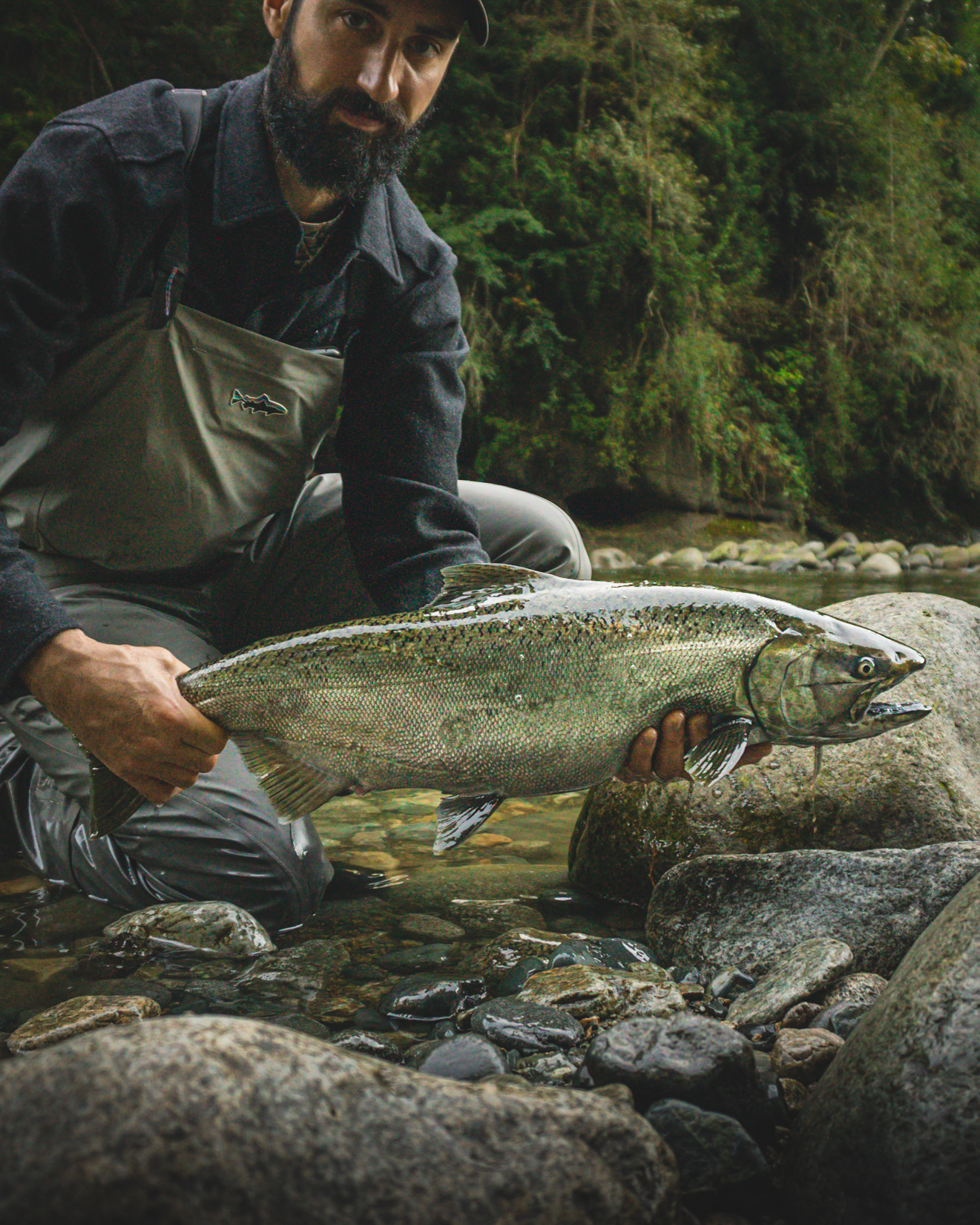 In areas that experience higher-than-average fishing pressure, patience is a virtue and covering ground is a necessity. A byproduct of having a highly productive fishery close to Vancouver is that when it's good, it's busy. On any of these local fisheries, you are going to encounter individuals with varying senses of personal space; therefore, scouting spots early and being prepared to put some miles on your wading boots is an excellent way to avoid crowds.
Depending on where you're fishing, having a variety of rod/reel/line options can make or break a day on the water. Although my preference is for a tight-line swung-fly grab, in smaller systems or low water conditions, rods in the 13-foot-plus range aren't necessarily the most appropriate choice. As such, in addition to my go-to 13-foot seven-weight DNA Spey rod, I usually bring along an heirloom nine-foot, eight-weight single-hand rod. On this particular day, I'd found a quiet spot with enough space for the backcast of a single-handed fly rod. With a vintage Hardy Marquis Salmon 1 spooled up with a type 6 sinking line, I directed my efforts towards some enticing pools. In picking the brains of people much more knowledgeable than myself and in hearing about how to outsmart an animal with a brain the size of a pea, a common theme seems to be that sometimes novelty is the key. In spots where the majority of people fishing a system are throwing roe or blades or something pink, sometimes putting something new in front of the fishes' faces elicits the response you're hoping for.
I arrived well before first light, hoping that the river had had a chance to relax for the evening and that the high tide and rain combination overnight had pushed some fresh and/or aggressive fish into the system. After rigging up by the glow of a headlamp, I enjoyed a cup of coffee and the juxtaposition of this river sanctuary and the urban metropolis in which it was shrouded. As the sun moved more directly overhead, I lengthened my leader and downsized my fly to a size 10 chartreuse muddler. Stripping the full sink line through the pool, the line went tight and my eight-weight bent into the cork: this was definitely a springer. Given the relatively low water conditions, there wasn't really anywhere for the fish to go, which meant that I didn't have to put undue duress on my tippet. After a back and forth where the fish walked me up and down the pool, I could feel the hen start to weaken and the odds began to tip back in my favour. Soon after this pivotal point, I began to see flashes of bright silver; this fish was fresh. Stepping back towards the tailout for a spot to land the chromer, I prepared myself to tail it. Unsurprisingly, once the fish saw me, she was not too impressed. After a few last screams from the click and pawl Hardy, I had my way with the fish and she was soon on the bank. I was elated.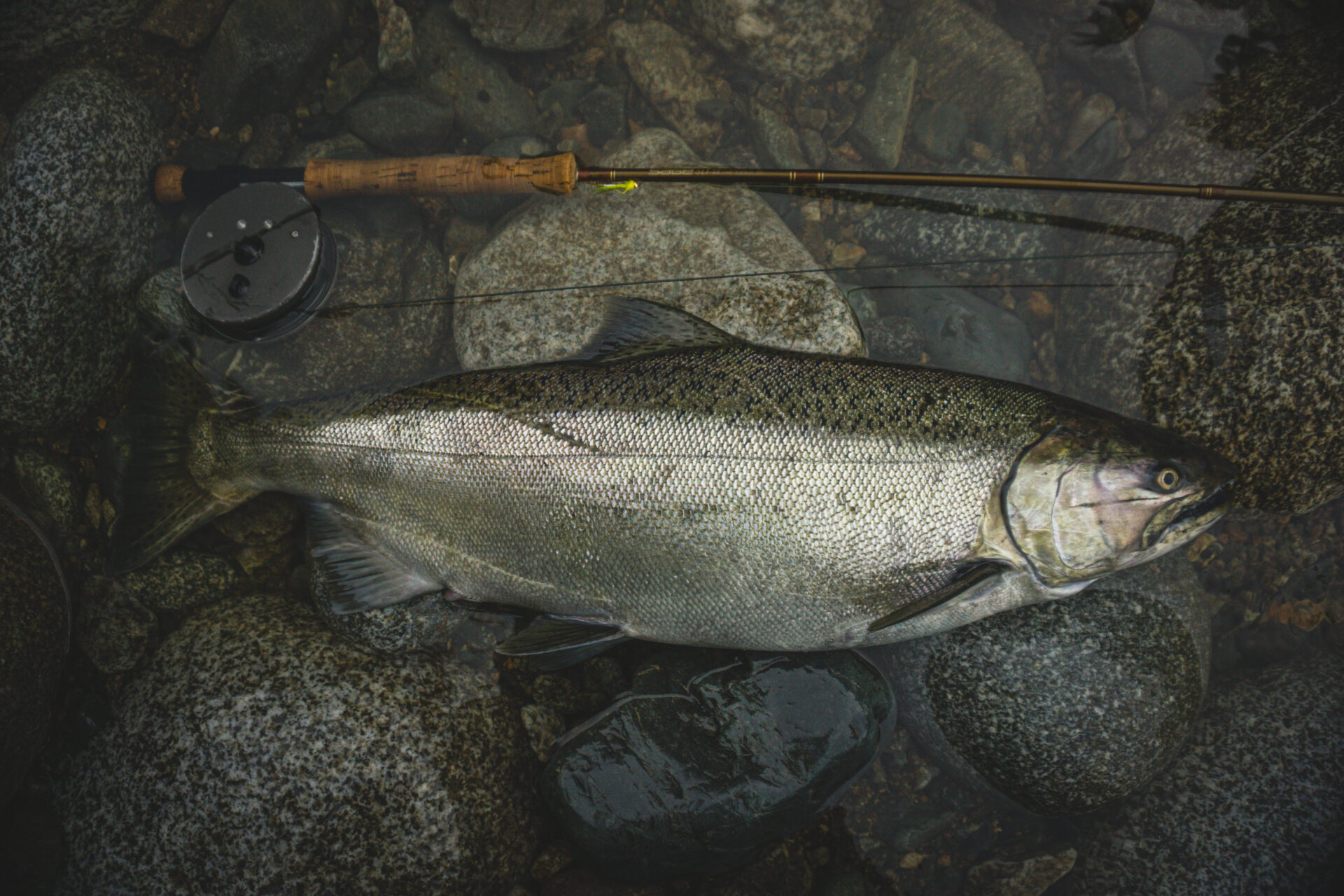 As soon as I land a fish that I intend to eat, my mentality quickly shifts from 'how to get the fish to the bank' to 'how to facilitate the best meal possible' from said fish. An ethical kill is the top priority once the battle is over; usually a rock or thick stick from the bank and a few swift blows to the head will suffice. As soon as the fish has been bonked, I immediately use the Leatherman Surge I carry on my wading belt to cut the gills and bleed the fish out. Blood is one of the first things to spoil and, just as with hunting, if you can remove as much blood as possible from your quarry, you will be rewarded in the freezer and on the dinner table. Bled fish last longer and taste better. Once the fish had been bled out, my day was done and I was ready to head home.
Undoubtedly, there is no substitute for fresh, pan-fried salmon with nothing more than a bit of salt and pepper; however, sometimes I like to change things up, have fish that has been frozen for a while or want to feed a large number of people. Enter the salmon burger. There's something about eating a meal with your hands that you have caught with those same hands that I find incredibly satisfying. Another great aspect of the salmon burger is that they can be prepared en masse ahead of time, frozen, thawed and fried up at a later date.
For me, the lynch-pin of any self-respecting hand-held meal is a sauce that makes the protein sing; in this case, a homemade tartar sauce. Traditionally, tartar sauces are made with some variation of pickles, herbs and spices and mayonnaise. My take on this classic was to replace the pickles with a local pickle supplier, BC Brine, who produce a fantastic spicy pickled celery. At the heart of this sauce is the crunch provided by the celery in concert with the heat of the spicy brine. Complementing the spicy pickled celery was some finely diced shallot and garlic, a few healthy heaps of capers and whole-grain mustard, a squeeze of lemon, paired with a healthy cup of mayonnaise.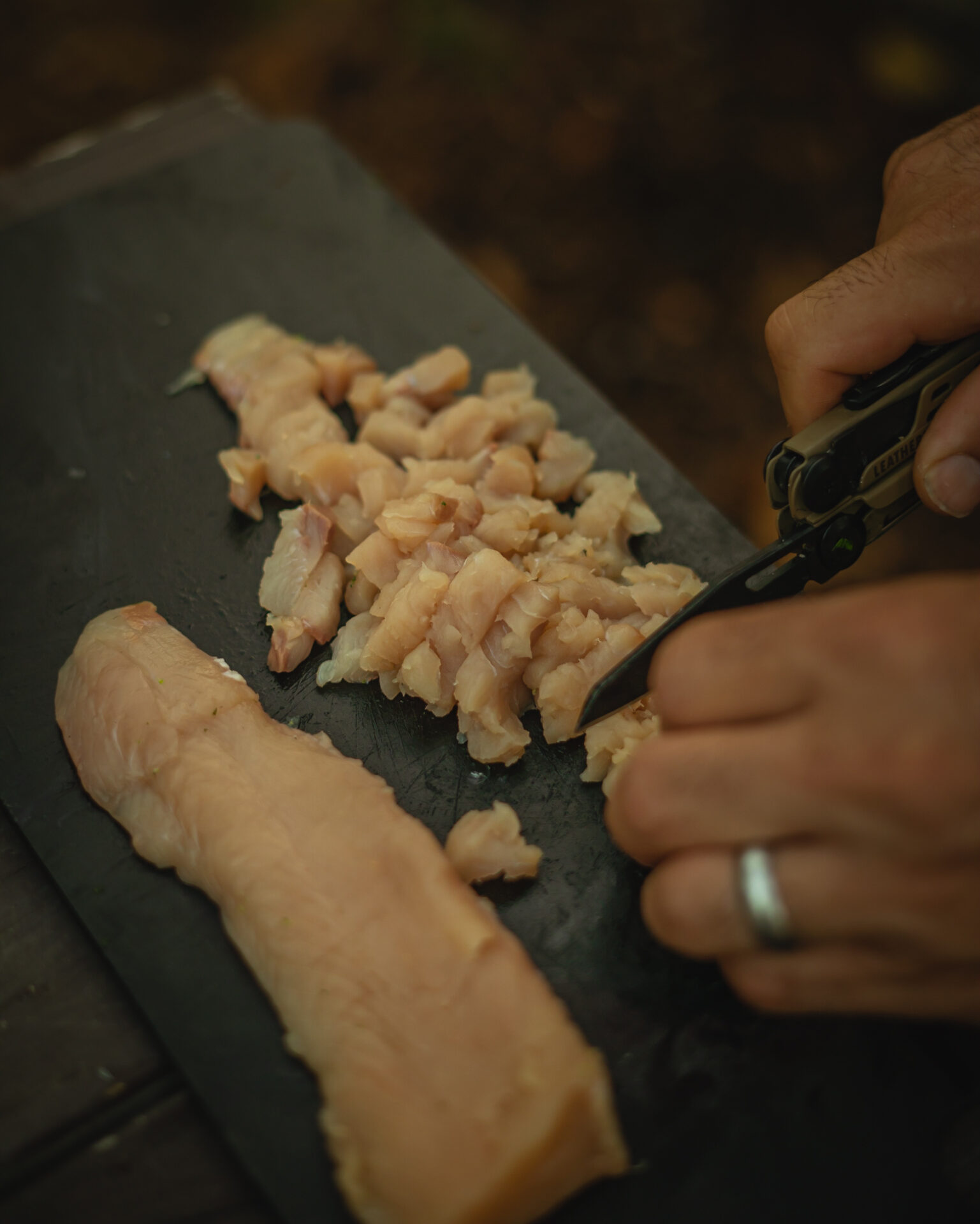 When I'm biting into a burger, I like to have a little bit of textural contrast paired with an adequate amount of seasoning and heat. In preparing the burger patties, I finely chopped half a fillet of salmon and then roughly chopped the other half, with the idea being that when you bite into the burger you get some classic burger mouthfeel alongside some flaky chunks of salmon. In addition to a seasoning of salt and pepper, I like to add some finely diced serrano chilis, parsley stems and chives. I'll add an egg and enough panko breadcrumbs to bind everything together into palm-sized patties.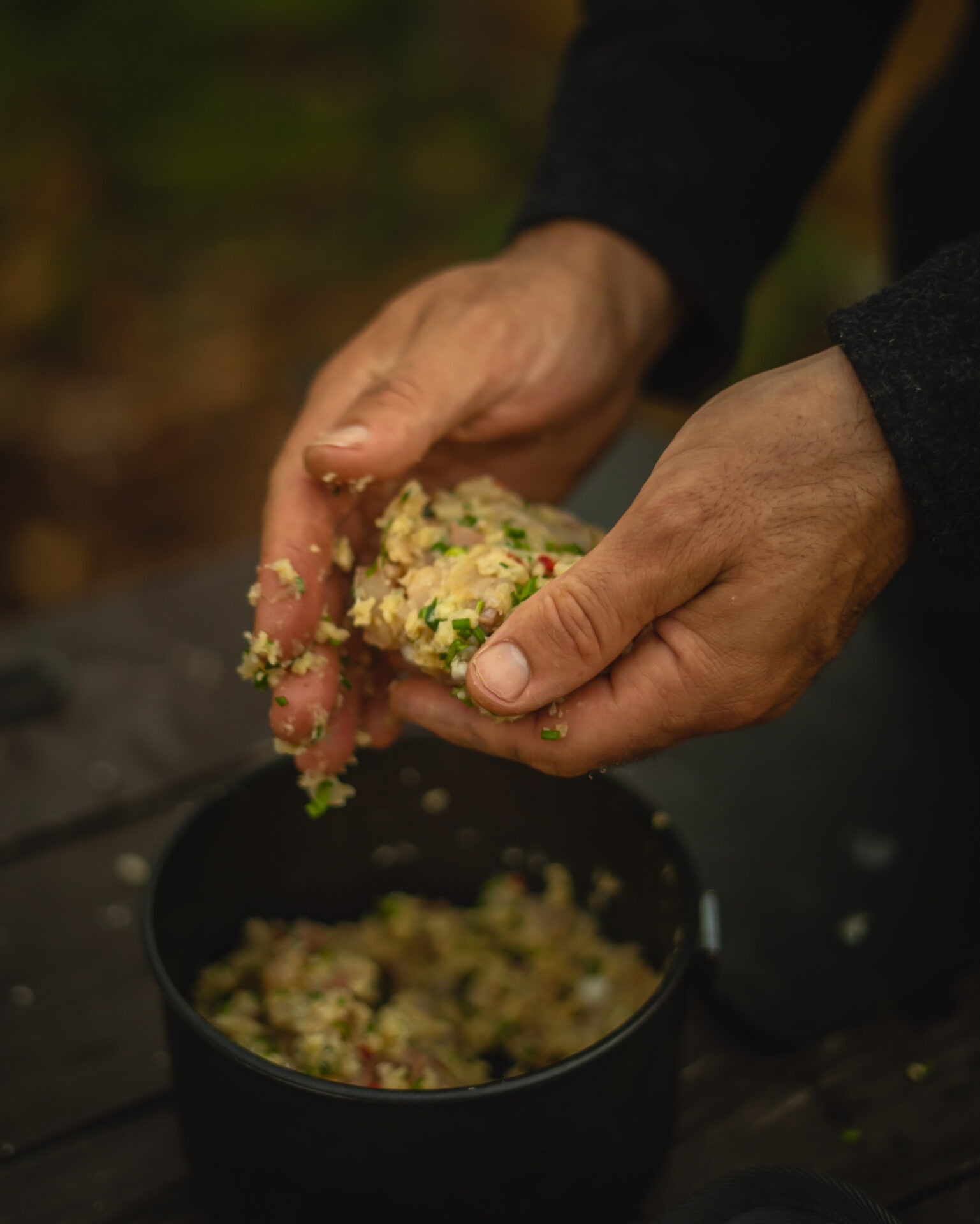 Cast iron is an excellent platform for even cooking, a great sear and mitigating the temperature variations experienced when cooking over an open fire. In a heavy cast iron skillet, I fried off each of the salmon patties. If the burgers start to take on too much colour, I'll take them off the direct heat and let the residual heat of the pan cook the burgers, preventing them from burning. You'll be able to see the bits of salmon go opaque as the burger cooks. Once half-way up the burger goes opaque, flip it. After cooking through, take them off the heat and fry some brioche buns in some oil. It is tough to beat fried bread.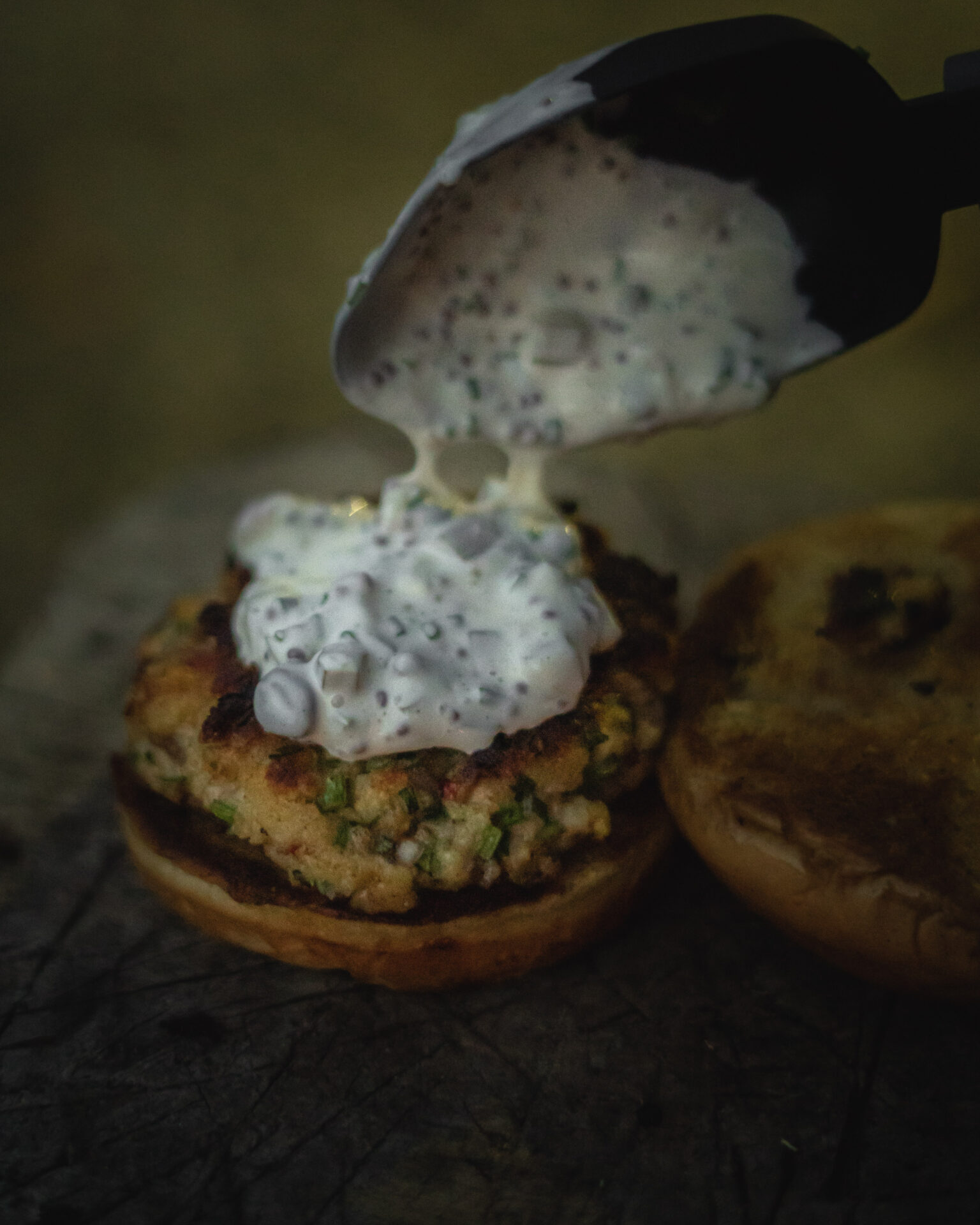 To finish the burgers, apply a liberal amount of the tartar sauce to the recently fried brioche, add the burger, more tartar, a handful of arugula and the top bun. These burgers are best enjoyed with a frothy beverage, a few good stories and a group of friends who believe those stories.