Cooking with wild game doesn't have to be difficult – some of the greatest meals come from leftovers in the fridge. Great for lunch or dinner, this quick moose dip with garlic mayo is a crowd pleaser. I have found that two cups of au jus is enough for approximately four sandwiches.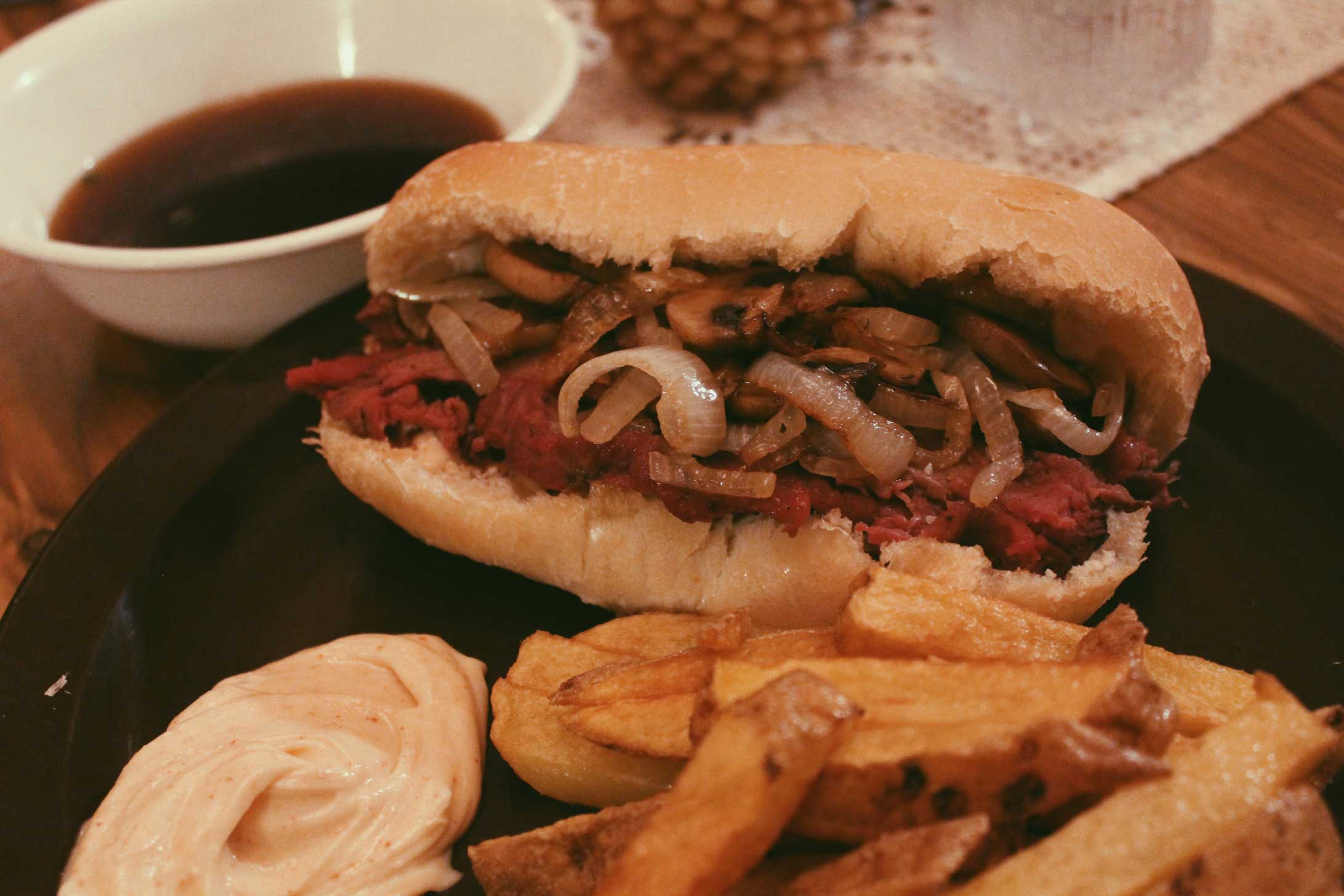 Ingredients
Moose roast*, medium rare and thinly sliced (this is a great opportunity to use up leftovers!)
4 hoagie rolls
3 tbsp butter
One onion, thinly sliced
Two cups mushrooms, sliced
Mayonnaise
Garlic powder
2 cups of beef broth
1/4 cup low-sodium soy sauce
2 garlic cloves, minced
2 tsp fresh rosemary, finely chopped
1/8 tsp onion powder
Ground pepper, to taste
Method
Put a few tablespoons of butter into a frying pan over medium heat and melt. Add sliced onions and mushrooms to the pan, and sauté until onions are translucent and mushrooms are soft.
To make the au jus, combine beef broth, low-sodium soy sauce, minced garlic, chopped rosemary and onion powder in a small saucepan. Bring to a gentle boil and turn down to low for about five minutes – if necessary, add a bit of ground pepper to taste.
In a bowl, combine mayonnaise and garlic powder. Starting with half a teaspoon of garlic powder at a time, mix into mayonnaise until desired "garlicky-ness" is reached – for some people, you may find you only need a little bit to get that extra kick to your mayonnaise; for those people like me, you'll find yourself with lots of garlic powder added.
To assemble the buns, spread garlic mayo on both sides of the hoagie roll. Layer in the sliced moose roast, followed by the fried onions and garlic. Pour au jus into a bowl. Serve with a side of homemade fries.
*Note: If you don't already have cooked moose roast leftovers in your fridge, throw a roast into a 350 degrees Fahrenheit oven for 20 to 25 minutes per pound of roast (for example, a three-pound roast would cook for 60 to 75 minutes).