A traditional spring clean of the house is never far at the top of my priority list – because as spring slowly edges winter out of the picture, taking advantage of the warming days by getting in some late-season snowshoeing and shed hunting sounds like a great way to burn some daylight hours. However, before heading out for some serious fresh air is a great time to spring clean your daypack and replenish any missing supplies. Here are 10 things that are stocked in my daypack and ready to go.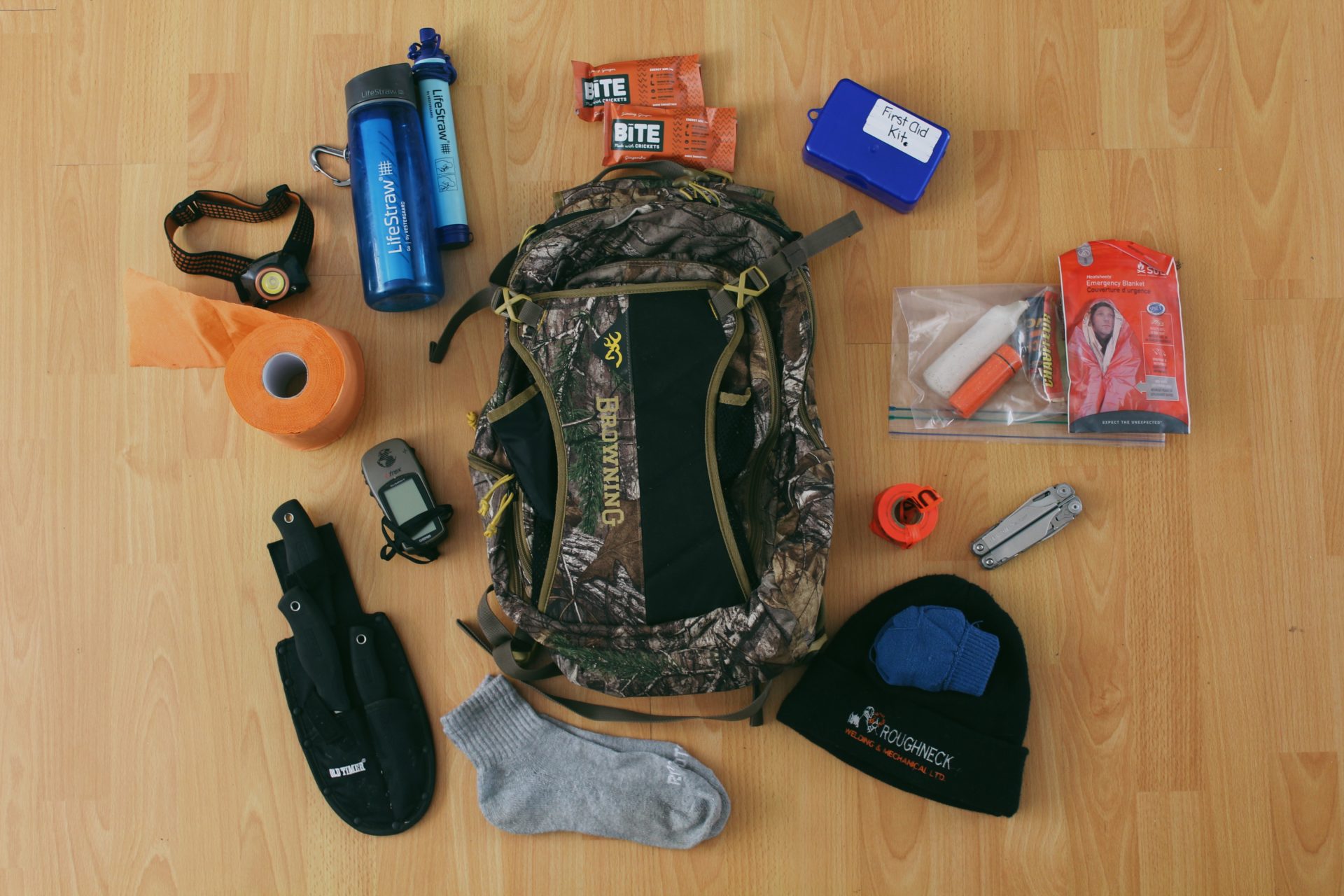 Hydration
Along with a filled water bottle, having a backup form of water purification (such as a filtration system or tablets) will ensure you can safely take advantage of water sources that you may encounter. 
Navigational Equipment
With advancements in technology, there are more options for navigational equipment than ever before. There is GPS, personal location beacons, smart phone apps and satellite phones; on the lower tech side of things, you have a map and compass. Depending on the length of an outing, which equipment or combination of equipment you choose to bring with you may change, but I like to always have one high tech option (complete with extra set of batteries) paired with a compass (be sure you know how to use it). 
Fire
A waterproof container or bag is a good place to store a lighter, matches and fire starter. 
First Aid
A basic first aid kit with nitrile gloves is always in my daypack, along with allergy medication, moleskin, bug dope and sunscreen. Particularly when it comes to my first aid supplies, if something gets used while outdoors then it gets replaced that same day when at home.
Knives
A good, sharp knife, along with a multitool, is an invaluable tool to have in a daypack, particularly if you're like me and have a hard time remembering where you left your knife at! The knives and multitool in my pack are not my everyday ones, but I can rely on them to be there when I need them most.
Headlamp
Fresh batteries and double checking for spares is all that's needed to keep your headlamp ready to get you back to your vehicle in low-light conditions.
Shelter
Something as simple as an emergency blanket and a bit of rope is extremely handy and lightweight to carry around in your daypack.
Food
Keeping some extra food (on top of what you are planning on consuming on your outing) can be something as simple as some dried foods, nuts and protein bars. 
Extra Clothes
Particularly in the shoulder seasons, weather can vary greatly. Keeping some light gloves, extra socks and a toque on hand is an easy way to stay prepared for those weather changes.
Handy Bonus Gear
On top of all the above items, keeping a roll of toilet paper in a plastic bag goes a long way for those emergency bathroom stops. A roll of flagging tape also is tucked away in a pocket, just in case I need to leave an easy visual marker while adventuring.
Every individual knows their needs best – and depending on the situation, more things get added into my daypack. It's an easy way to make sure that you can be best prepared for any situation that comes your way while away from home.