I've been riding horses pretty much all my life. Mom still has a picture she proudly shows people of me sitting on a horse when I was six months old. I've shown horses, I've worked cattle on horses, I've roped from horses. But some of my most memorable experiences are not only of riding horses, but of also having a pack horse in tow. I've been fortunate to see some of the most remote corners of British Columbia, Yukon, Northwest Territories and Alberta on the back of a horse, with a string of pack horses behind me. While most of us remember the great horses we've ridden, some of my most vivid memories are of the pack horses I've led. Not all are fond memories, but they're memories, nonetheless.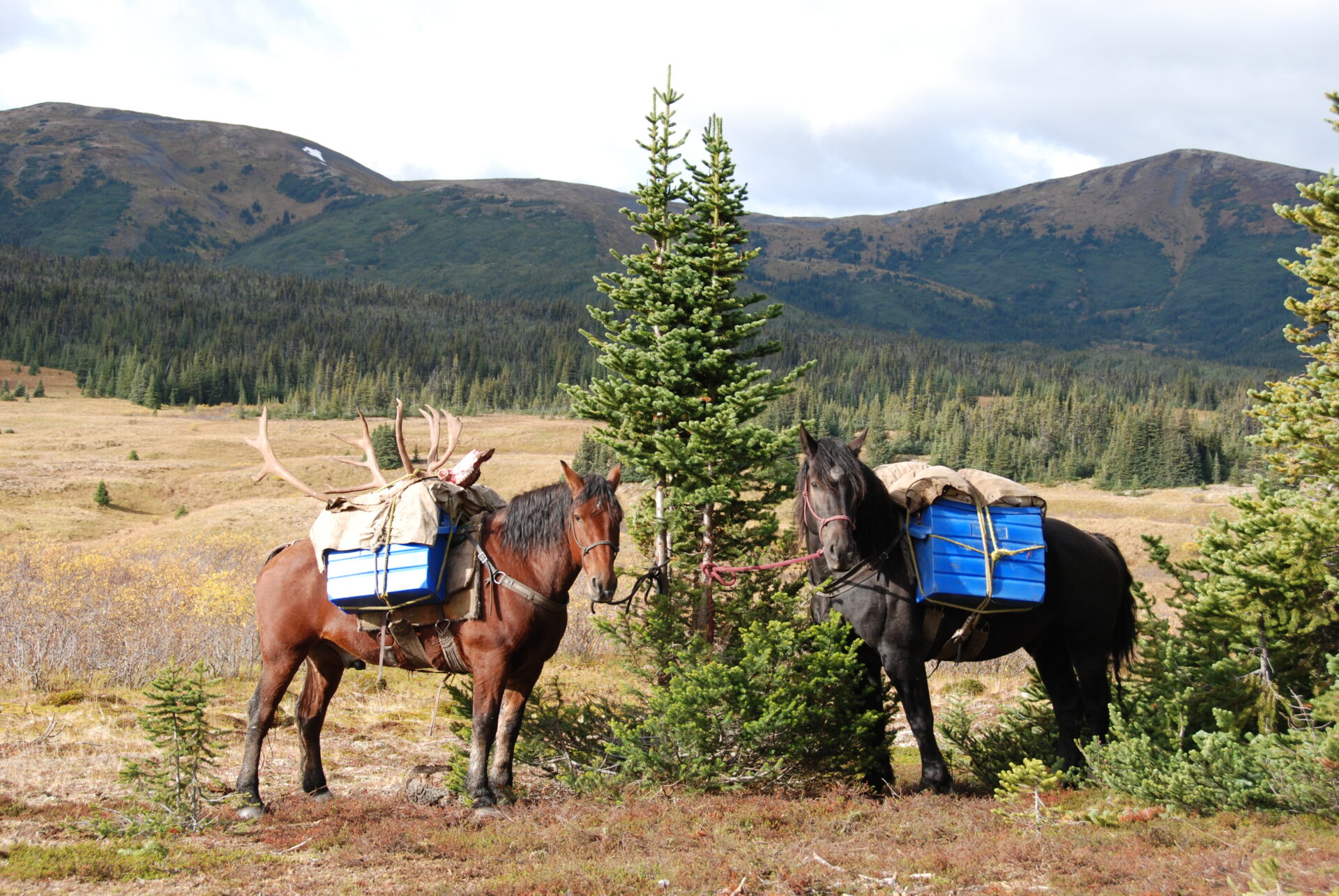 I didn't really get serious about packing until I was in my early 30s and that came about strictly by accident. I booked a Stone sheep hunt in northern BC with Darwin Watson at Christina Falls Outfitters back in the early '90s and Darwin paired me up with his top sheep guide and horseman, Garry Dowd. As I found out upon my arrival, it was going to be just Garry and me for two weeks and we'd be covering hundreds of miles of some of the roughest terrain that northern BC could offer. While I was there as a hunter, I was going to be assuming the role of wrangler, under Garry's guidance as well. I didn't look upon it as a hardship at all, but rather an opportunity. I was afforded the opportunity to learn about packing horses in the mountains from one of the very best and I intended to take full advantage of that opportunity.
The 14-day hunt turned into 18 days and we challenged both ourselves and our trusty equine companions to the maximum. We were forced to cross flooding rivers, make our way through high, snow-choked passes and live on pretty meagre rations for the final days of the hunt. We struggled to find places for the horses to graze and the trails were slick and covered in ice. We ended up spending as much time leading our horses on foot the final days of the hunt as we did riding. I had a pack horse lose its footing and go over the edge of a cliff. The only thing that prevented it from falling to its death was the bowline knot that secured it to the horn of the saddle on my riding horse. Garry had taught me the knot a couple weeks earlier and stressed its importance. I'd practiced tying it a hundred times. Obviously, the practice paid off as the knot held tight and I managed to urge my saddle horse ahead and pull the pack horse back up onto the trail, quite literally saving its life.
Garry patiently taught me how to balance pack boxes to within ounces of each other by simply lifting them and then taught me to secure them to a pack saddle with a basket hitch. I started on the offside assisting with the diamond hitch, but as the week progressed, he switched positions with me and offered nothing but constructive advice as I tried to remember if the loop went over or under. We managed to take a grand old Stone sheep ram on the hunt, but success was a small part of what makes this still one of my most memorable hunts.
I came off the hunt with Garry confident enough to take my own string into Alberta's Willmore Wilderness the next fall. We planned to go about 50 miles in, but in the first couple miles of the trip, one pack horse kicked open a hornet's nest in the ground and took the full force of their attack. He ended up throwing himself down a steep slope and rolling several times as he careened down through the aspens. He came to rest in a small creek at the bottom, upside down and not moving. As I was running down, expecting the worst, I couldn't help but feel a bit of pride in the fact that the load hadn't shifted at all. Thankfully, the pack horse was fine, and we continued on with our journey. Since those days, I've led a 24-horse string across the high plateaus in northern BC, I've fought through miles of bog in the Yukon, and I've enjoyed every minute of it. I am so pleased to have had such a patient teacher. But in those travels, I've also learned a lot about pack horses themselves.
The Greenhorn
For many outfitters with large strings of horses and little time on their hands, the two-year-olds get thrown in the pack string first, before they are ever broke to ride. Some poor, young wrangler is typically left to pack break them, a process that usually involves little more than gingerly saddling and putting the boxes on them and then standing back and waiting for the inevitable explosion. I was on a goat hunt one time up on the Halfway and we had a couple young horses in the string. We had one First Nations fellow with us that was a heck of a horseman and each morning he'd carefully saddle and load the young horses without incident. I'm not certain I heard him speak a word for the first five days of the trip. After we'd taken our goat and were packing up to head back to base camp, one of the young horses either got a bit spooky from the smell of blood or just got a bad case of get-homeitis and started bucking in a way that would have made the Calgary Stampede's, six-time bucking horse of the year, Grated Coconut, proud. She managed to buck right out of most of the rigging and ended up with the saddle and one box under her belly before she relaxed. Our Native guide just looked at her and quietly said, "I coulda rode that," before starting to remove the rigging and repacking. We all roared with laughter.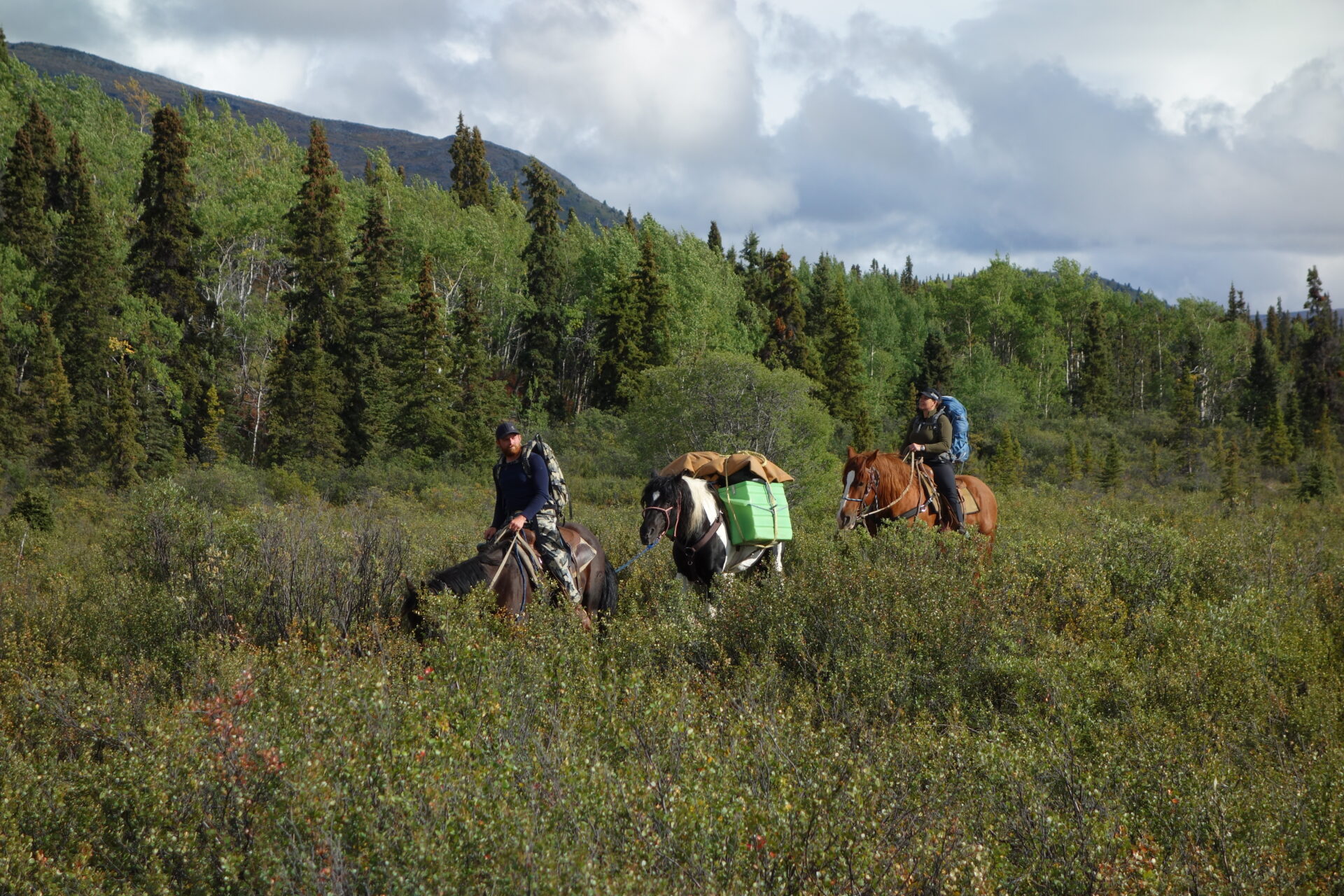 The Stove Horse
The stove horse is typically the most reliable of all the pack horses in the string and the name comes from the days when they used to top pack old, tin, airtight stoves when moving from camp to camp. These loads were typically quite tall and noisy, and it took a reliable horse to pack them down the narrow trails. The stove horse was typically also the egg horse, onto which fragile items were packed. I was helping out with a video production back in the mid '90s and we were packing for three weeks up in the Cassiars in search of goats, Stone sheep and caribou and we had about 120 pounds of very fragile camera gear. The outfitter assured us that we had nothing to worry about and that he had just the horse for the load… the stove horse.
The big bay mare seemed quiet enough as we carefully lashed the pack boxes filled with batteries and tapes on her saddle and the big Betacam camera in its protective case didn't seem to bother her in the slightest when we put it on as a top pack. There was still a bulky, fluid-head tripod to go and as I went to place it gently on her, the impatient outfitter grabbed it from me and plopped it on top, alongside the camera case. While the big bay mare might have been conditioned to the metallic rattling of the stove, she wasn't to the foreign sound of a tripod hitting plastic and she came unglued and begun bucking in a circle. With each kick another piece of expensive camera gear went crashing to ground. The outfitter looked to the horrified cameraman, who'd never actually ridden a horse let alone packed one, and said, "Well, I'll be." With that, we packed the camera gear on a new horse.
The Long Timer
While many horses spend their formative years as pack horses and go onto to become riding horses, some are just content in the role of pack horse and never progress. While often looked down upon, a good pack horse is every bit as valuable as a good riding horse. One just need look back through historical photos at some of the loads the old timers used to pack, from plywood to lengths of pipe to boats, horses were often the only way to get goods into the backcountry. And while some horses never progress to be riding horses because they are just too good at packing, with others, it's because they are too ornery.
We did a Dall sheep hunt in the Yukon a few years ago and the outfitter was a bit short on horses but assured me that his 16-year-old pack horse, despite never having been ridden, would be just fine. Everything went well for the first couple days, but this paint was sneaky. We were headed back into camp late one evening and coming down an extremely steep, buckbrush-covered hill. I had about 40 pounds of camera gear in my backpack and was already a bit off balance and the old gelding sensed opportunity was at hand. Vanessa says I got bucked off and I say I took a graceful exit off his back, but either way, I ended up in a heap in the buckbrush and he ran back to camp without me. The outfitter came over to check on me and when he saw it was just my pride that was injured, he turned around and started riding back to camp muttering something about the paint going pack into the pack string.
Pack horses are as unique a breed as those humans that pack them and despite many a wreck over the years, I still look forward to every encounter, as I know they are taking me somewhere that few will ever get to tread. If you've never been on a pack trip with horses, I'd highly recommend it.