Millennium T100 Tripod Stand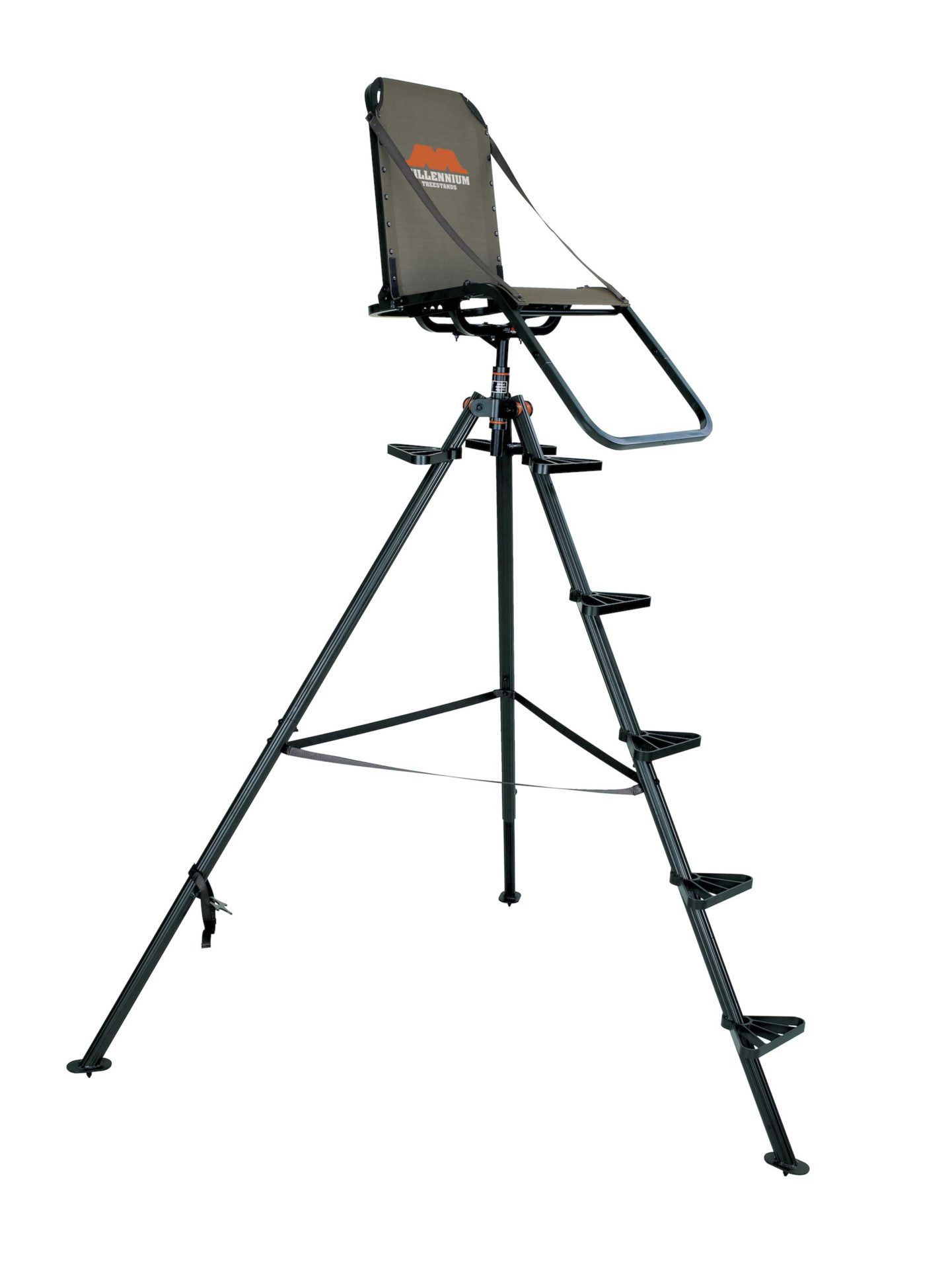 Elevation above a bush line or new growth trees can be essential for enhancing visibility and spotting game moving through the area. The Millennium T100 tripod stand provides the ideal solution when there are no large trees for a tree stand. This stand is self-supporting and can be set up virtually anywhere there is reasonably level ground. It offers both the bow and gun hunter the opportunity to elevate above the eyesight of game, as well as providing maximum visibility with a 360-degree swivel seat. It has non-sink, no-slip feet; is constructed out of aluminum for lightweight run-and-gun portability (10 feet, 36 pounds); has a weight capacity of 300 pounds; offers a four-foot extension (T103); has a durable powder coat finish; easily folds up for transport; has an exclusive, patented comfortMAX contoured tight sling seat with a foot rest; large, easy-to-climb, sure-footed steps; and includes an adjustable leg so that the stand can be perfectly level when the ground is not.
MSRP: T100 $409.99 US; MSRP: 4-foot height extension Model T103 $152.99 US.
www.millenniumstands.com 
Umarex 850 M2 Pellet Rifle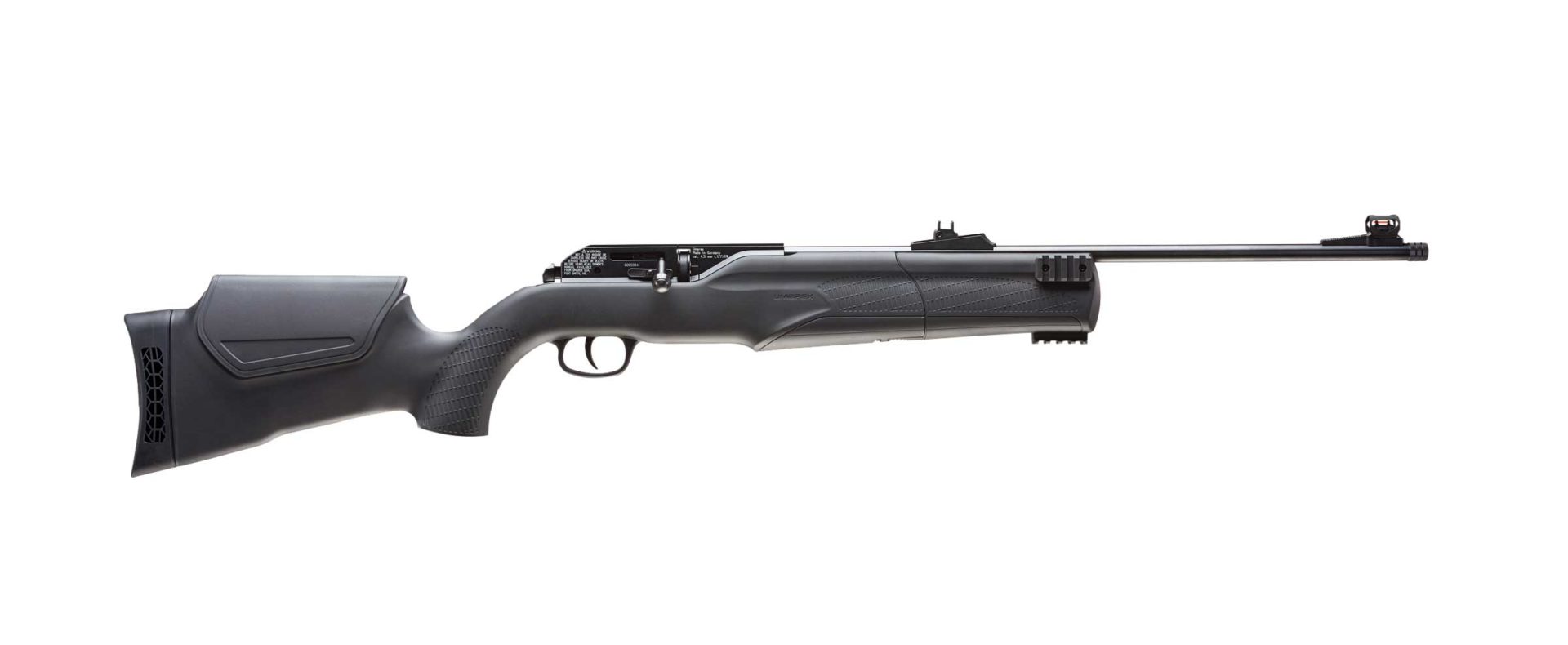 Umarex has introduced a new CO2-powered pellet rifle, the 850 M2, which resembles and functions as a repeating rifle. This is a bolt-action repeater that uses an eight-round magazine and is powered by an 88-gram CO2 cartridge that can fire up to 200 shots per cartridge. The 850 M2 is an accurate backyard plinker or small game pellet rifle that includes Picatinny accessory rails, hooded fiber optic front sight, adjustable fiber optic rear sight, 11-millimetre scope mounting rail, two-stage adjustable trigger, rubber recoil pad and a tough, all-weather polymer stock that can be modified with an included cheek piece riser when shooting with a scope. It is available in a .177 calibre with velocities of 760 feet per second with lead pellets or 960 feet per second with alloy pellets, and in a .22 calibre with velocities of 655 feet per second with lead pellets or 855 feet per second with alloy pellets. The magazine is long enough to house a wide variety of pellet designs and a spare can be purchased separately.
MSRP: $299.99 US
Additional magazine MSRP: $29.99 US
https://www.umarexusa.com/
Koola Buck Game Bags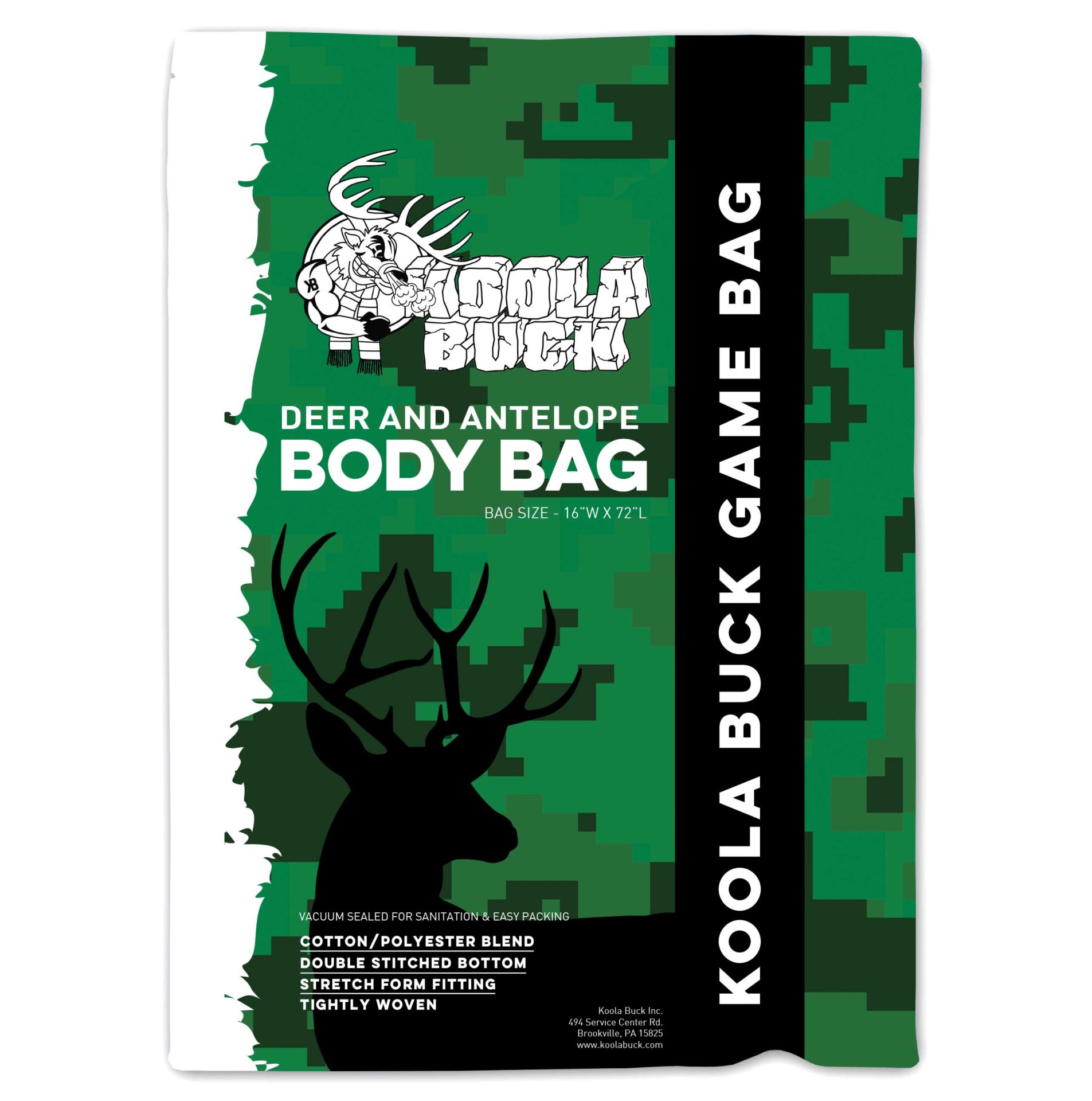 The new line of Koola Buck game bags is designed to protect your game meat from bugs and debris. They are made of a high-quality, tightly woven cotton/poly blend material that is form fitting to any size animal or quarter. They are double stitched with exceptionally thick thread and the carefully sewn seams make the bags more durable than standard bags. They are designed for longevity, breathability and are washable for repeated use. They come in three sizes and are individually vacuum sealed to remain sanitized and compact for easy packing. The largest measures 16 inches wide by 72inches long and will accommodate a full-sized deer or antelope. The elk quarter bags are 16 inches wide by 60 inches long and will form fit any size quarter. The smallest is designed to fit deer-sized quarters and measures 10inches wide by 50 inches long. Both the elk and deer quarter bags come in packs of five, one for each quarter and another for backstraps or other meat.
MSRP: $8.99, $19.99 and 18.99 US
https://www.koolabuck.com/ 
Outdoor Edge Jaeger Pak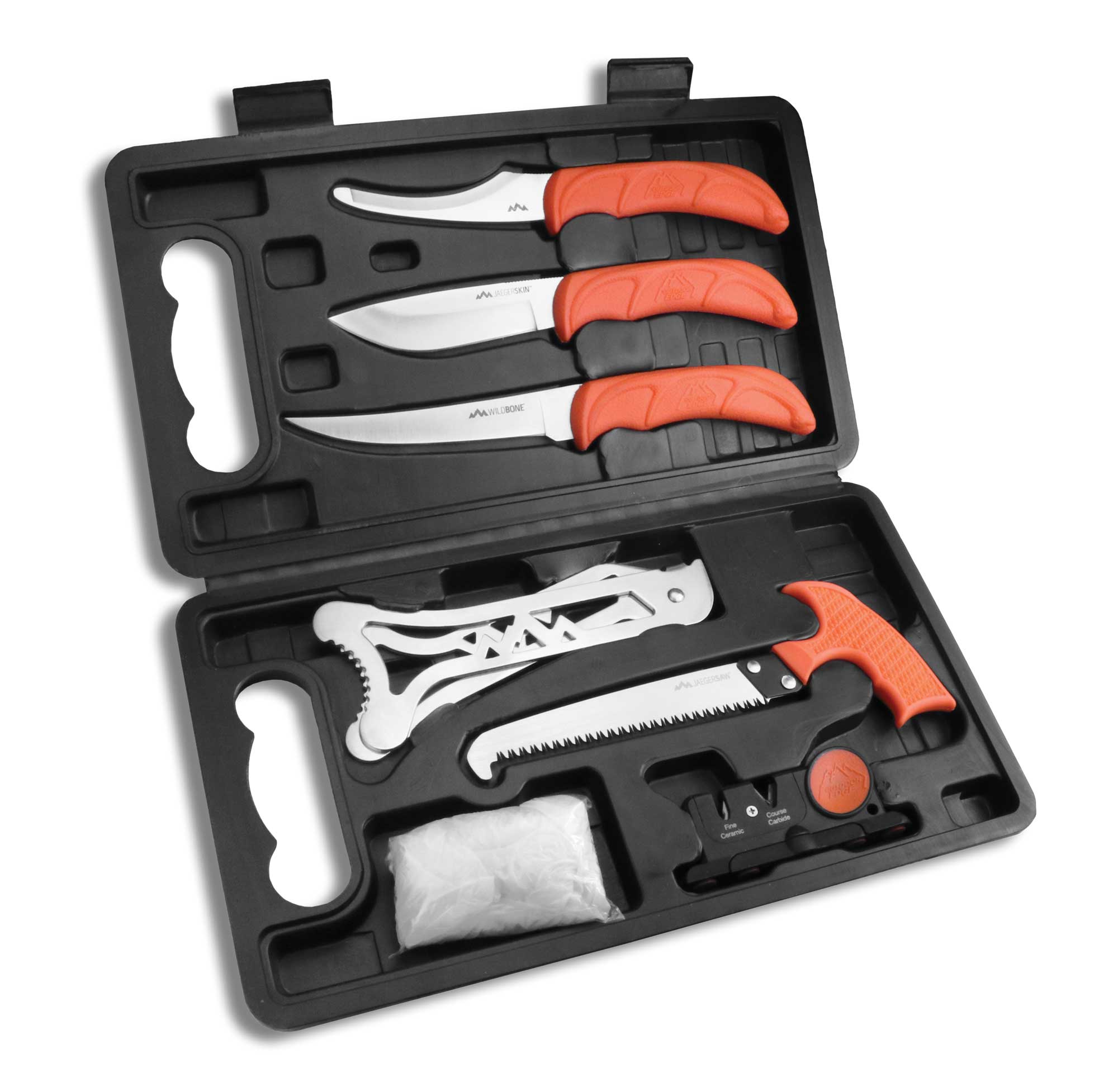 Whether field dressing game, boning it, skinning it, or process cutting it, a set of knives that compliments each task is a handy solution. The Jaeger Pac from Outdoor Edge offers a compact, lightweight kit that can do it all. The kit includes three exceptionally strong knives made out of high-quality 420J2 stainless steel with a full tang design, and comfortable, non-slip, rubberized TPR handles. The three knives include a five-inch boning/fillet knife that is ideal for separating muscles and slicing steaks, a four-inch skinner with a drop point blade which allows you to sweep through skinning, as well as cut through thick layers or cape a trophy head. The third knife is a 3.7-inch blunt-tipped gutting knife that runs under the skin for a seamless and effortless cut without piercing vital organs. The kit also includes a T-handle wood/bone saw, a stainless-steel ribcage spreader, a two-stage ceramic/carbide sharpener and rubber gloves. The set comes with a hard case for easy storage and transport.
MSRP: $69.95 US
https://www.outdooredge.com/
Benelli SBE 3/Ethos with BE.S.T.

Living or hunting waterfowl in wet, humid environs or in saltwater coastal areas will often push rust prevention to the limits. Well, no more with the new and innovative Benelli surface treatment, BE.S.T. It is a hybrid physical vapor deposition and plasma enhanced deposition technology that they have applied to the metal components of their SBE 3 and Ethos shotguns. The coating provides the best corrosion and abrasion resistance on the market. Benelli, in fact, provides a 25-year warranty from the date of purchase on all BE.S.T. parts. The diamond-like carbon particles, when applied using nanotechnology, provides an exceptionally hard surface that is hard to scratch and won't ever rust or corrode. On the SBE 3, these include barrel, extended choke, bolt, bolt handle, stud, trigger, trigger pin, safety and barrel extension. The Ethos has a treated barrel, bolt, bolt handle, trigger, trigger pin and safety. The BE.S.T. coating also significantly reduces the amount of oil and maintenance required.
MSRP: SBE3/Ethos $2,910 CAD
https://www.stoegercanada.ca/brands/benelli/