The boat slowly idled through the morning fog, heading across the lake. It was amazing how quiet it was, given in the next few hours it would seem like a water skiing and tubing carnival. There was no sound except for a few waking gulls and the slight hum of a downrigger wire. The coffee was good and hot. A Cariboo lake at dawn is almost surreal. Just when I forgot I was even fishing, the rod in the left holder slammed down into the water and a two-pound kokanee took flight. Before I could even get up, the second rod slammed down and a double header of silver, jumping chaos was underway. The nice calm morning had given way to what kokanee fishermen refer to as the "bite". For the next hour I could not get both rods back in the water; before the second line had sunk, the first was ripped off the downrigger. I slowly trolled back to the dock with a limit of two-pound plus kokanee, loaded the boat and left before a soul knew I was even there.
For interior stocked kokanee the roots of success lay in the failures of the day. During the Cariboo heyday there were so many barren lakes without sport fish, or any fish for that matter, that producing a trophy lake was as simple as picking the next one that met the criteria. The focus was on turning highly productive lakes into rainbow trout trophy fisheries. But there were a series of larger small lakes that had native coarse fish that did not allow for rainbow trout production. Almost every strain, type and age of rainbow trout was tried in these fisheries but they just could not compete with the populations of pike minnows, chub and shiners. Several of these lakes reside in the upper plateau of what is called the Inter-lakes region. These were highly productive, alkaline lakes flowing through the Bridge Creek drainage. After years of trial without results, two Cariboo fisheries biologists, Fisheries Section Head Jack Legget and Sr. Fisheries Biologist Maurice Lirette came up with a new plan. Kokanee, unlike rainbow trout, live the majority of their life in the limnetic (open water) area of the lake. Their primary food is actually a zooplankton called daphnia. Native coarse fish and rainbow trout, unlike kokanee, live the first years of their life in the littoral zone (near shore). So while kokanee have the open mid-waters of the lake to themselves, rainbow trout must stay inshore and compete it out with hundreds, if not thousands of coarse fish.
The first stockings of kokanee occurred in the early 1990's; stocking of Bridge Lake with nearly 100,000 kokanee fry. The stockings were an immediate success. Not only did the kokanee find a niche that other species of fish were not, they were utilizing the high concentrations of pelagic zoo plankton that these lakes had stock-piled. The result was huge kokanee growth and high survival rates, resulting in one of the most incredible small lake stocking experiments in Cariboo history. In the first years no one knew how to fish for summer kokanee, so most of the fishing was done during the winter on frozen lakes. Fishermen jigged through the ice as waves of kokanee came past, resulting in hundreds of fish caught daily. While the "barren lake effect" could not last, Bridge Lake settled down to become one of the province's premier kokanee fisheries and still is to this day. Twenty-five years later the kokanee stocking experiment has expanded, with now a dozen kokanee lakes stocked annually in the Cariboo and more to come. The Inter-lakes region is now dubbed by some as the "kokanee highway", with kokanee currently being stocked annually in Horse Lake, Bridge Lake, Big Deka Lake, Small Deka Lake, Sulpherous Lake and most recently Hathaway Lake. To the north around Williams Lake, Timothy, Chimney and Big Lake and further north near Quesnel, Ten Mile Lake, have all now been stocked with kokanee.
The greatest challenge fisheries managers faced and still do face is getting the word out about how good the fisheries are. The Cariboo hosts one of the best small lakes trout fly fisheries in the province. Kokanee opportunities largely fall in the shadow of these trophy fisheries. But for the average fisherman who is interested more in catching a few fish for the bar-b-que or taking a friend or family member fishing, kokanee are the ticket. In the early spring, from the period of lake turn-over to when the lake warms, kokanee are right on the surface and easily accessed by a troller with hardware or flies. During this time of the year, kokanee heavily forage making for fast fishing action. For first time kokanee fisherman soft rods and light tackle are the key. Kokanee are very aggressive but have very soft mouths so success is often not measured in the number hooked, but in the number landed. I find the best rods are fiberglass or slow action graphite. Go into the garage and find grandpa's old Fenwick or Eagle Claw rod and rig it up with a spin caster or bait-casting reel with monofilament line. Braided line and high technology fluorocarbon are out. No stretch equals no fish when a kokanee jumps skyward after being hooked. I prefer a quality monofilament line in the 10-pound test range, but that varies between how small the fish I am catching are and how big the attractor is. With a dodger or willow leaf now being over 10 dollars, I think more and more about losing gear. One of my favorite options is actually an old fiberglass fly rod with a wet line. During the spring it's great rigged up with a small spoon or wedding ring type spinner trolled on a short leader right behind the fly line.
For hardware, kokanee fishing is a two-part equation, an attractor and a lure. An attractor does what it says; it either provides a flash or a vibration that brings kokanee towards your lure. I personally think the flash and thump of an attractor mimics another kokanee feeding, signalling a curious kokanee to take a look. Attractors come in two basic types for kokanee: trolls and dodgers. Trolls have long been an established way to fish for kokanee and come in every size from six inches to five feet. While the larger trolls are effective, I avoid them because they are just too heavy to pull through the water and they take the fight out of the fish. If I use trolls I use small ones such as Willow Leafs, Bolo's or Hildabrant's. If I feel I need a larger troll, the Luhr Jensen Ford Fender is deadly. If I had my choice, however, I would use dodgers. Many companies produce a four-inch dodger specifically for trout or kokanee, like the Luhr Jensen 4/0 dodger. I believe dodgers are as effective as trolls and allow you to use a much lighter rod and line to get a better fight out of the fish.
Once kokanee have located the attractor, it's up to the lure. There are two types of lures for kokanee; active, or having an action on their own, and passive, or needing the attractor to move the lure in the way kokanee like. Active lures for kokanee include spoons such as Needlefish (size 1 to 3), spinners such as wedding rings and plugs such as Apex's (size 1 or 1.5). As they have their own action, these lures should be trolled significantly back of the attractor so that the action of the attractor does not impede the action of the lure. As a rule of thumb I use about a two to three foot leader behind the attractor for these lures. Passive lures include small hoochies or flies. These need a dodger to induce a kokanee stimulating action and should be no more than 10 to 12 inches behind the dodger.
Almost all kokanee lures are tipped with bait of some sort. Kokanee will hit an un-baited lure when they are aggressive, but can be seduced into biting a lure with scent when inactive. Scents are a confusing world for the new fishermen but kokanee eat everything from worms and maggots to power bait. The key with kokanee is to let them tell you what they want. I always start off with two different attractant lure and bait combos and monitor their success. There will always be one combination that out-fishes the other and I change set-ups to mimic what is working. The same goes for speed. In general, kokanee like a slowly trolled lure and if you have only fished rainbow trout to this point you don't know what slow actually means. The easiest way to measure your speed is through a GPS or a smartphone app that probably is available through your device. I fish kokanee somewhere between 1.5 and 3.5 kilometres an hour. If I am using active lures for bigger fish I tend to travel faster. For smaller fish with passive style lures, slower. Once you have fished kokanee a few times you will be able to judge when you are going the right speed when you look at the action of the lure in the water.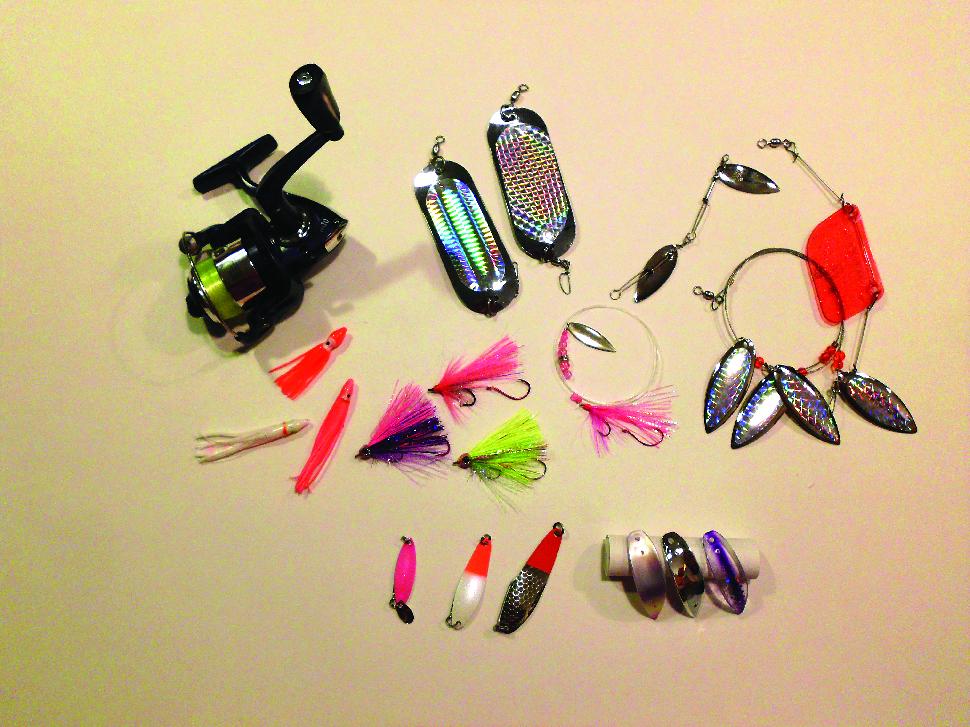 As spring turns to summer you have to start going deeper. Kokanee are a cold-water species and therefore need deeper water as summer water surface temperatures increase. During this time you need to be able to get your lures down to twenty plus feet to access where the kokanee are. This means either switching to weights, lead core or small downriggers.
The Cariboo region is set up into five general areas with a distribution of lakes from trophy to family in each of the areas. Kokanee stocking has focused on the family fishery end, meaning close to communities, good access, and good services. Lakes such as Ten Mile, Chimney, Tyee and Timothy have higher than average kokanee stocking densities to support these family fisheries. All of the stocked lakes have developed boat launches; Sulpherous, Timothy, Horse and Hathaway have fishing lodges, while Ten Mile, Ruth and Bridge have parks or recreational sites for camping. With spring only a few months away why not consider trying a Cariboo lake for kokanee? Contact your local biologists to find out what lakes are fishing best or the Freshwater Fisheries Society website to look at kokanee stocking in your area. The Cariboo provides a huge diversity of fishing opportunities for all levels of fishing expertise and outdoor experience. You may even want to throw in a fly rod, just in case you want to try fishing for trout.