Historically, we are constantly expanding our horizons, and that certainly applies to cartridge development. The latest from Winchester is the 6.8 Western, an addition that leads one to ask, "Do we need for another .277 cartridge when we already have four that set a high bar for this calibre?" A question that certainly warrants a response when noting the similarity between the 6.8 cartridge case and the .270 Winchester Short Magnum case. As it turns out, the .270 WSM case is actually the parent of the new 6.8 case. So why did Winchester go through all the machinations and developmental costs associated with a new .277 chambering? Well, it all relates to the faster twist rate in 6.8 rifles that will shoot long, sleek, heavy-for-the-calibre, high ballistic coefficient (BC) bullets, predicated on the idea of overshadowing the long-range performance of the popular 6.5s, which are marginal on long-range game such as elk. In short, 6.8 rifles with a one-in-eight-inch twist rate or faster will handle factory loadings of 165, 170 and 175-grain bullets. These are heavyweights when compared to the 130 to 150-grain big game standard factory loadings of the .270 WSM or the 120 to 143-grain standard big game loadings of the 6.5s.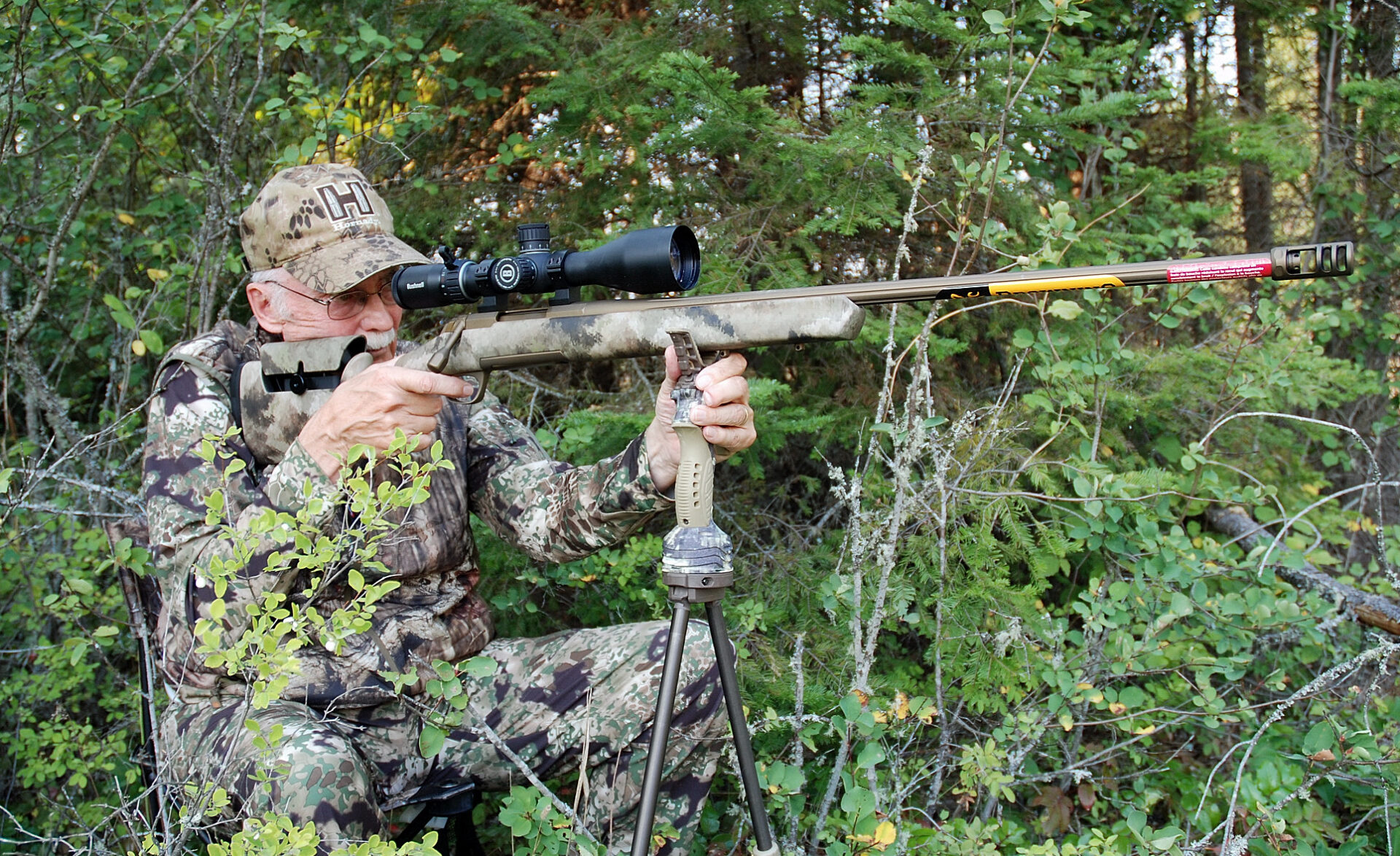 While it will not compete with the .27 Nosler, it does fill the gap between it and the 270 Winchester and does so in a short action. As a direct comparison, the 270 Win. 150-grain bullet, with a muzzle velocity of 2,900 feet per second, will deliver 1,437 foot-pounds of energy at 500 yards, whereas the 165-grain bullet in the 6.8 Western, with a muzzle velocity of 2,970 feet per second, will deliver 1,862 foot-pounds of energy. That's over 400 extra foot-pounds of kill potential. Ok, now that we have established the reason for its existence, what about rifles to handle the new offering. As expected, both Winchester and Browning offer a number of rifles so chambered. With the old adage, "In for a penny, in for a pound" pervading my thinking, I went looking for a long-range rifle that would meet the purported potential of the 6.8. I ended up testing this cartridge in Browning's new Hells Canyon Max Long Range rifle. 
Browning Hells Canyon Max Long Range 6.8 Western
The first requisite for any long-range hunting rifle is dependable accuracy with ammunition capable of ethical kills at extended distances. The Max Long Range 6.8 Western is designed to do just that. It includes a heavy sporter-contour fluted barrel with a one-in-7.5-inch twist that is free-floated by bedding the front and rear of the action. It also includes the new removable Hawg muzzle brake that is designed to reduce recoil by up to 73 per cent, a reduction that should improve shot follow through, identification of shot placement and quick target reacquisition for a follow-up shot, should it be necessary. Next in the pursuit of long-range performance is an excellent trigger and, once again, the Max delivers with its three-lever Feather Trigger that offers a clean, crisp pull, with no creep and only minimal overtravel.
Both the receiver and the barrel are finished in a burnt bronze Cerakote and the short 60-degree bolt lift affords faster cycling without any interference from the scope. It includes a detachable rotary magazine made out of lightweight polymer that will feed cartridges directly in line with the bolt. The bolt unlock button allows the unloading of a live round from the chamber with the top tang safety still engaged. The last of the mechanics is the Max's extended bolt handle for an easier and faster grip.
Stock fit and adjustability are other features that can contribute to accurate, long-range performance and the Max offers this in spades. Its composite stock includes a vertical pistol grip and an adjustable comb for the perfect dial-in eye-to-scope alignment, as well as quarter-inch and half-inch spacers for length of pull adjustment. It is finished in A-TACS AU camo with three swivel studs for sling and bipod use and an Inflex recoil pad that aids in deflecting recoil away from your face.

Rifle Specifications
Calibre: 6.8 Western
Barrell length: 26 inches
Overall length: 46 inches
Length of pull: 13 and three-quarter inches (adjustable with spacers)
Drop at comb: Adjustable
Drop at heel: Adjustable
Weight: Eight pounds, three ounces
Magazine capacity: Three
Rate of twist: One-in-7.5 inches
Bushnell Forge 3-24x56mm Scope
Scopes designed for long range and low light performance, with a large objective lens, can get pricey, so I went looking for a scope that would deliver both without buyers cringing when handing sales staff their credit card. The Forge 3-24×56, with its German #4 reticle, was actually designed for the European market where hunters push the limits on hunting in low light to the max. While it is no longer being sold in the US, it is still, thankfully, available in Canada where, for the price point, it offers an array of features. Starting with ED Prime glass, it also includes a massive 8x magnification range (3-24x) with a Throwhammer removable power lever on the power change ring, G4I-Ultra SFP illuminated reticle with six brightness settings and an off position between each setting, 34-millimetre tube, exposed locking turrets with Revlimiter Zero Stop on the elevation turret, fully multi-coated glass with EXO barrier protection to shed water, snow and dust, fast focus eye piece, side parallax adjustment from 20 metres to infinity, IPX7 waterproofing so it will never fog, ultra-wide band coatings, and carries an Ironclad lifetime warranty.
Note: This being a scope designed for the European market, the windage and elevation clicks are in centimetres and not inches.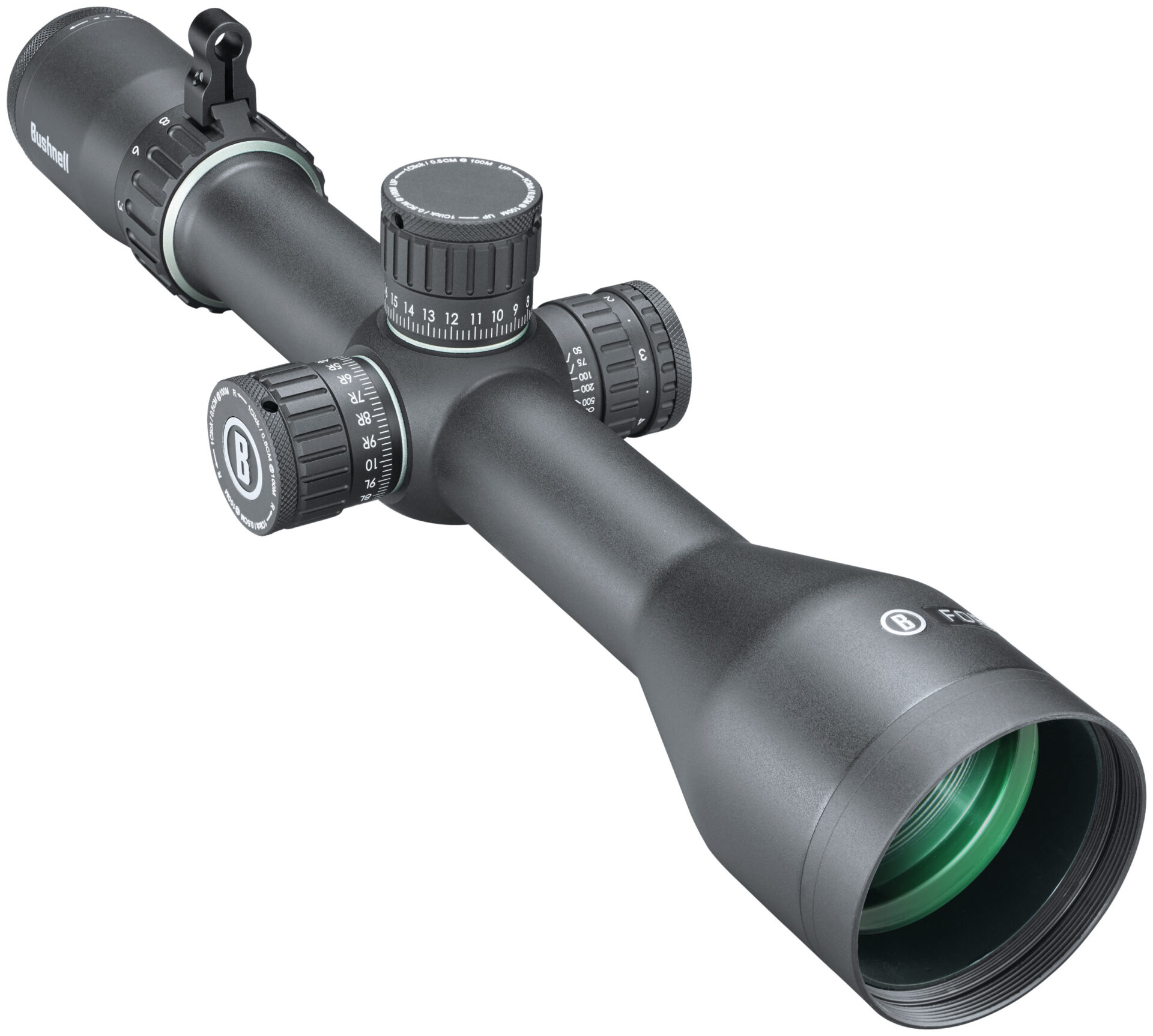 Scope Specifications:
Magnification: 3-24x
Objective lens: 56 millimetres
Length: 380 millimetres
Tube size: 34 millimetres
Reticle: G4I-Ultra SFP illuminated
Field of view: At 100 metres 28 feet at 3x, four feet at 24x
Eye relief: 100 millimetres
Elevation adjustment: 90 MOA
Windage adjustment: 90 MOA
Weight: 37 ounces
Scope Screws: It's All About Inch-Pounds Of Torque
When mounting a scope, it is vital that both the ring and base screws are properly tightened and the best way to achieve this objective is with proper torque tools, such as Fix-it-Sticks. Most require between 15 to 25 inch-pounds of torque, depending on the manufacturer. The key is to ensure that scope screws are tight but not to the point of damaging the scope. A check of company specifications will affirm the correct amount of torque for their product.
Test Results
I write this review with the following codicil – long-range hunting is not for everyone. Every hunter should know their limits on how far they can shoot to ensure a clean and ethical kill. You owe it to yourself and the game you hunt.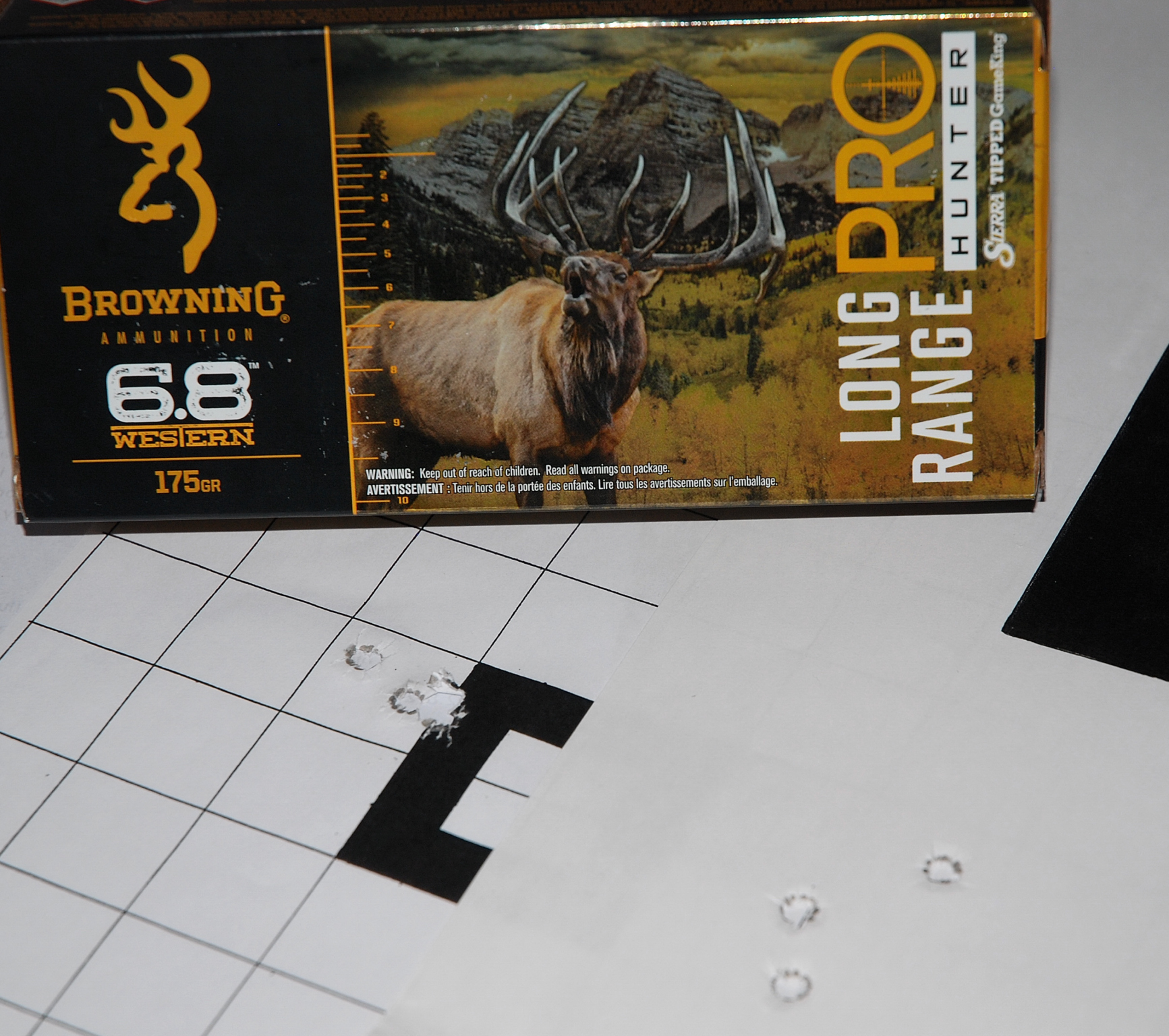 Right out of the box, the rifle impressed me with its general appeal – it just looked like a purpose-built rifle. The rifle was accompanied by Browning's integral X-Lock 34-millimetre scope mounts, which utilize four screws per base, a real plus when mounting a heavy scope such as the Forge. Once the scope was in place, I weighed the combo at 10 pounds, nine ounces. While I might not haul this unit up a mountain, it would have its place on a large cut block or open hay field. I then checked the trigger, which initially surprised me with a factory pull weight of well over four pounds. Heavy for a potential long-range rifle, so I set about reducing it. With no creep, pull weights then varied only very marginally between two pounds, 13 ounces and two pounds, 15 ounces.
In organizing ammunition for this test, I was only able to lay my hands on three factory loads and somewhat surprisingly discovered that Lee was the only company even considering manufacturing 6.8 reloading dies. Which, thankfully, I received around the time the rifle arrived. Bearing in mind that the concept behind this calibre was to utilize heavy-for-the-calibre bullets, I keep most of my handloads to 140 to 150-grain weights. Unfortunately, I was not able to obtain any heavier .277 bullets at the time. Additionally, to maintain the long-range aspect of this review, I decided to test this combo at both 100 and 300 yards, the max distance on our range, with the two best hand and factory loads at 100 yards making the 300-yard cut.
On the range, of immediate note was just how easy it was to adjust the comb for perfect eye-to-scope alignment and, for its price point, just how sharp and bright the Forge scope was. I particularly liked the G4I-Ultra SFP reticle, as the dot provided quick target acquisition and was ideal at extended ranges for precise on-target holds in low-light situations. When illuminated, this dot will push twilight to all but darkness. My only cautionary comment was the muzzle blast associated with the Hawg muzzle brake. The blast was notable on the next shooting bench over and it was loud, so adequate hearing protection is a must. But on the upside, it sure took the sting of any recoil. 
100 Yards (three-shot groups)
Factory Ammunition
| | | | |
| --- | --- | --- | --- |
| Brand | Bullet | Advertised Velocity (fps) | Group Size (in) |
| Winchester Ballistic Silver Tip | 170-grain Rapid Controlled Expansion Polymer Tip | 2,920 | .845 |
| Winchester Expedition Long Range | 165-grain AccuBond LR | 2,970 | .490 |
| Browning Long Range Pro | 175-grain Sierra Tipped Game King | 2,835 | .792 |
Handloads
| | | | | |
| --- | --- | --- | --- | --- |
| Bullet | Powder | Case | Manual Velocity (fps) | Group Size (in) |
| Sierra 140-grain SP GameKing | H1000 | Winchester | 3,110 | .595 |
| Hornady 140-grain InterLock | Retumbo | Winchester | 3,045 | 1.125 |
| Nosler 140-grain AccuBond | H4831 | Winchester | 3,090 | .858 |
| Barnes 130-grain TSX | H1000 | Winchester | 3,140 | 1.835 |
| Nosler 150-grain AccuBond LR | I7977 | Winchester | 2,982 | .725 |
| Nosler 150-grain AccuBond LR | H1000 | Winchester | 3,010 | .854 |
| Nosler 150-grain AccuBond LR | H4831 | Winchester | 3,020 | .835 |
| Nosler 150-grain Ballistic Tip | StaBall | Winchester | 2,991 | .558 |
| Nosler 150-grain AccuBond | I4451 | Winchester | 2,935 | .710 |
Note: Manual Velocity refers to the velocity taken from reloading data for that grain weight bullet.
300 Yards (three-shot groups)
Factory Ammunition
| | | | |
| --- | --- | --- | --- |
| Brand | Bullet | Advertised Velocity (fps) | Group Size (in) |
| Browning Long Range Pro | 175-grain Sierra Tipped Game King | 2,835 | 1.408 |
| Winchester Expedition Long Range | 165-grain AccuBond LR | 2,970 | 1.652 |
Handloads
| | | | | |
| --- | --- | --- | --- | --- |
| Bullet | Powder | Case | Manual Velocity (fps) | Group Size (in) |
| Nosler 150-grain AccuBond | I4451 | Winchester | 2,935 | 1.570 |
| Nosler 150-grain Ballistic Tip | StaBall | Winchester | 2,991 | 2.675 |
Last Shot
This rifle and scope certainly lived up to and exceeded their price point billing. At 100 yards, my nine handloads averaged .899 inches, with only one load skewing this average, that being the one and only 130-grain load I tested. The two best handloads touched a half inch at .558 and .595 inches, respectively. The three factory loads faired a bit better with a .709-inch average, of which Winchester Expedition Long Range 165-grain ammunition bettered a half inch at .490 inches. But for me, the guts of this test came at 300 yards, where three of the four loads tested averaged 1.513 inches. The best of which, Browning's Long-Range Pro 175-grain ammunition, bested the lot at 1.408 inches. Wow! This is simply outstanding long-range performance.