From the four walls of Ron and Lydia Pfob's garage in 1986 to the 43,500 square- foot property on Ellis Street in downtown Kelowna, Malibu Marine has become one of the most established boat dealerships that also offers boat storage and servicing right near Okanagan Lake—and today the company takes another exciting step by announcing its new name: Flagship Marine.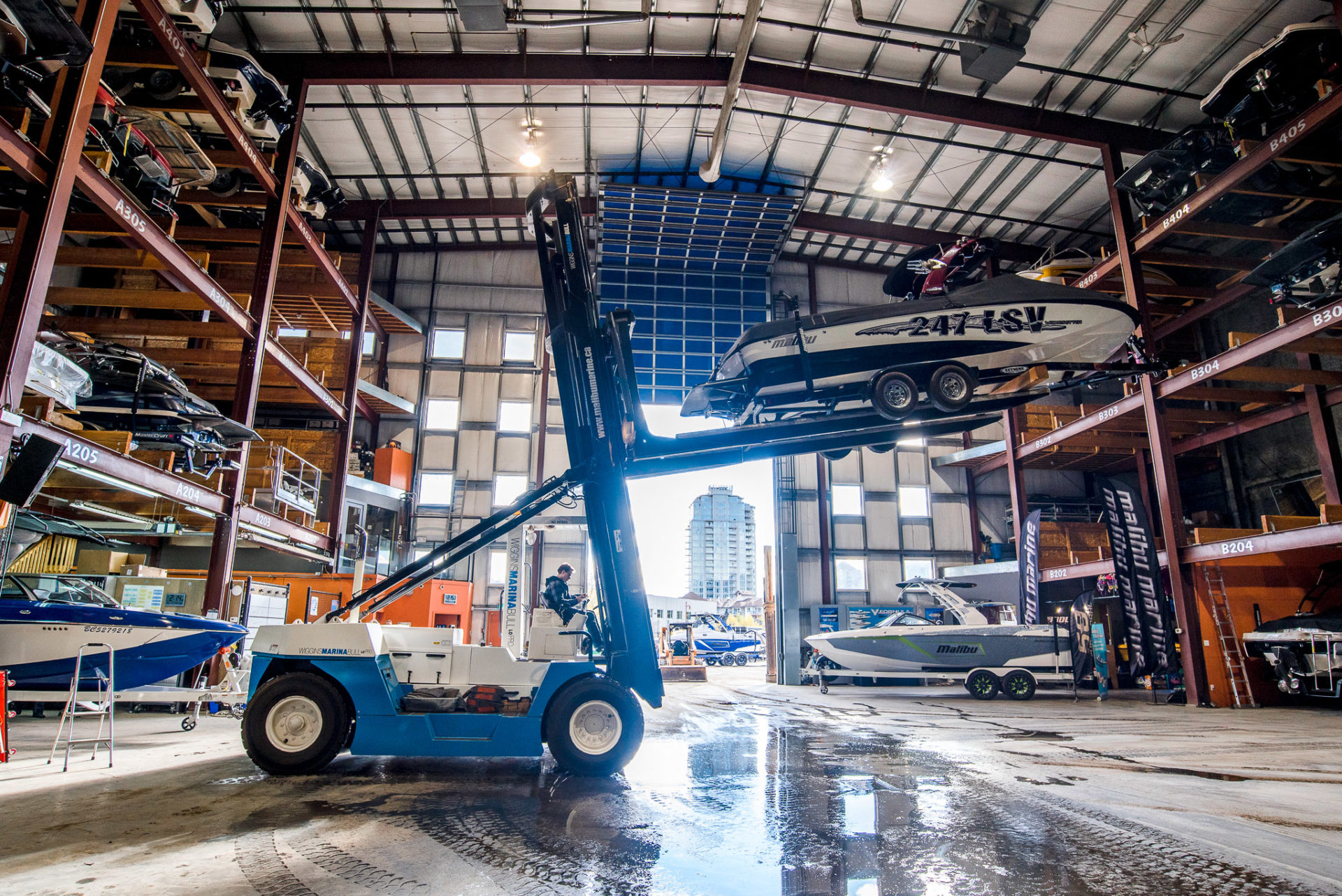 "In our early days, we were an exclusive dealer of Malibu boats, and so our previous name, Malibu Marine, was a great fit," says Kevan Winship, the company's new general manager and a veteran in premium boat sales and manufacturing. "We are now the exclusive dealer in western Canada of Formula boats, and we have such a great range of boat services for every stage of boat ownership, so we needed a name that better reflects who we are today as a luxury marine dealership."
Located in downtown Kelowna just a few blocks from the Water Street boat launch, Flagship Marine provides new Formula boat sales, consignment sales and a full line of services, including boat storage, parts and mobile boat repairs, detailing, hauling and financing. Winship says many of Flagship Marine's clients have been with them since the beginning, and they often get to welcome the next generation of boating families—many of whom are after a coveted Formula yacht or cruiser, the 'Lamborghini' of boats that can be customized.
"There really isn't a finer boat on the water and it's always exciting to see another family embark on a summer of memories in a new Formula," says Winship, adding a number of models—the 350CBR, the 310 Bowrider and the Sunsport—are particularly popular in the Kelowna area for their entertaining capabilities. "Having a great time out on the water with all of your friends and family has become even more important, and Formula is one of the few boats that can accommodate cruising with a bigger group."
As an exclusive dealer in western Canada and specializing in servicing Formula boats, Flagship Marine is drawing boaters to Kelowna and employing a team of highly skilled certified marine technicians.
"With the Pfobs being a part of our new ownership group, we are proud to carry on the legacy that they helped build and to be a fixture in the Okanagan's boating community and the business community in downtown Kelowna," says Winship.
About Flagship Marine
Since 1986, Flagship Marine has helped families enjoy the water in premium new and preowned boats and a full range of boat services, including parts and mobile boat repair, storage, winterization, hauling and financing. As the only downtown Kelowna boat dealership, Flagship Marine has become a beacon for boaters in search of top quality, water-ready boats, expertise to help find just the right boat, and all the other services boaters need to protect and enjoy their investment. For more information, please visit: www.flagshipmarine.ca