In 2019, Savage introduced a number of new guns, one of which was the 110 High Country. My first exposure to this rifle was during the 2019 SHOT Show, where I had the opportunity for some hands-on assessment and to question the reps about its salient features. I walked away with the impression that, chambered correctly, this may be the value priced long-range rifle I had been looking for. But would it live up to its hype?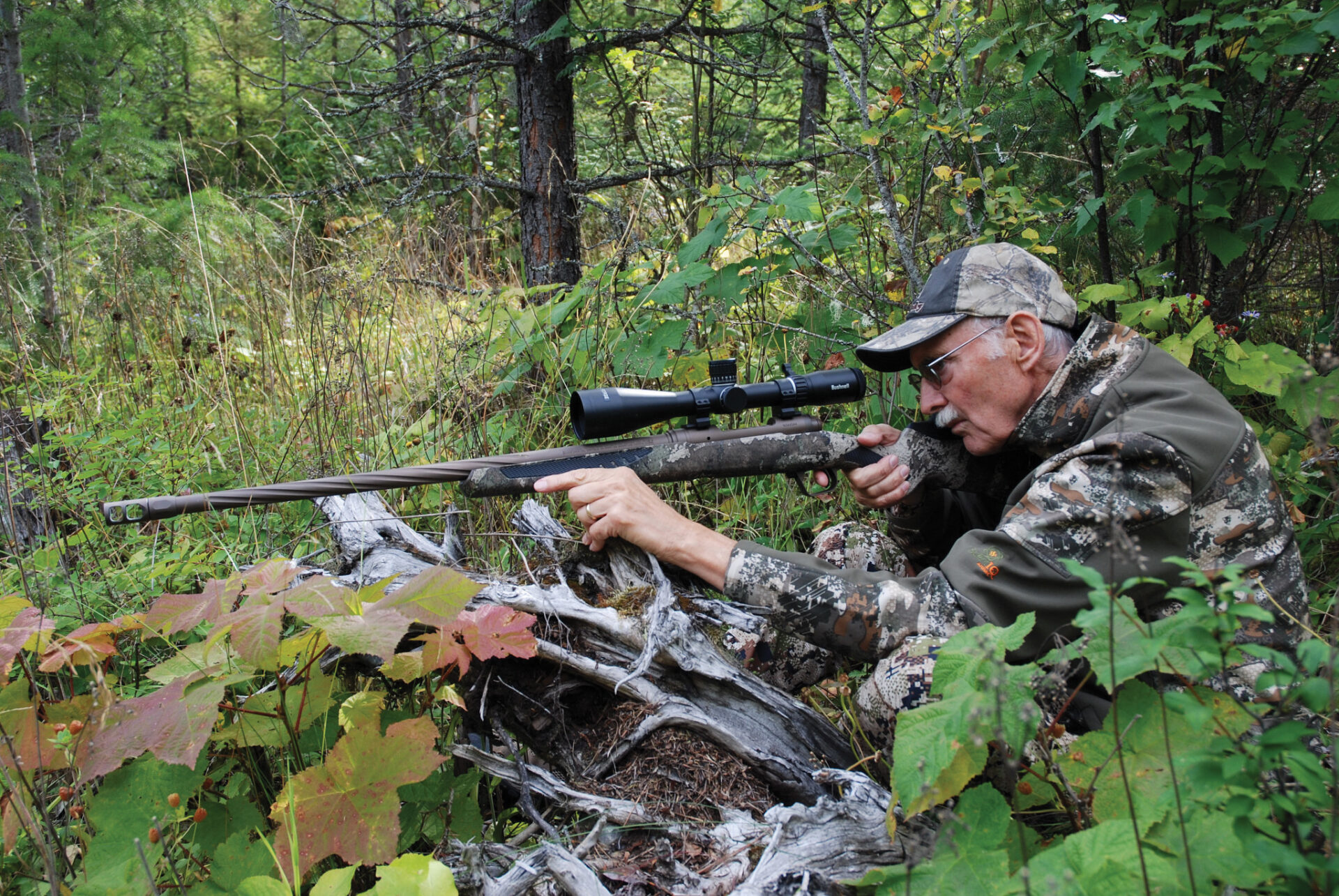 Savage 110 High Country .300 Winchester Short Magnum
Starting with the features that had initially caught my eye, the barrel and action are first up. The beefy, medium contoured, stainless-steel barrel and action, as well as all metal components, are coated with a coyote brown physical vapor deposition (PVD) coating that is just two to four microns thick. It is harder than competitive finishes and protects from corrosion and heat but does not interfere with the rifle's tight tolerances. The finish also adds lubricity to moving components, such as the bolt. The spiral fluted barrel and bolt are certainly appealing and the taper-lock interface muzzle brake on my magnum test rifle added a custom rifle-like finishing touch to both. It is also equipped with a metal detachable box magazine, which is a bit of a stalwart constructional throwback these days. Savage's renowned adjustable AccuTrigger also warrants mention, a trigger I have doted on in the past. Adjustable from 1.5 to 4.5 pounds, it provides an incredible lock time of just two milliseconds and, with its two-stage design, is one of the safest triggers on the market.
The True Timber Strata synthetic stock is an ingenious innovation in its own right. The AccuFit system is designed to customize the length of pull and comb height to your specific requirements. It comes with five different risers to adjust the comb height in one-eighth-inch increments and four inserts in quarter-inch increments to adjust the length of pull from 13 to 14 inches. These potential adjustments should accommodate just about any shooter's LOP and provide the perfect comb height and subsequent scope sight picture for most any height of scope mounts. The stock also incorporates a generous-sized rubber recoil pad and overmolded rubber inserts in the forend and pistol grip. Last, it boasts a three-position safety and the receiver is drilled and tapped.

Rifle Specifications
Calibre: .300 WSM
Weight: 8.5 pounds
Barrel length: 24 inches
Total length: 44.25 inches
Rate of twist: 1/10
Length of pull: Adjustable 12.75 to 13.75 inches
Magazine capacity: Two
Drop at comb: Adjustable 
Bushnell Forge 3-18×50 scope
When putting this combo together, Savage and Bushnell were still part of the Vista Outdoor conglomerate, so I decided to keep the whole assembly in-house. Bearing in mind price and my intention to push the long-range capability of this rifle, I opted for the Forge 3-18×50. Starting with price, the Forge, costing just a tad less than the 110, certainly kept the pair within my affordability ballpark.
Now let's talk about features, of which this scope has plenty. Starting with its optics, while the Forge won't duplicate the image quality of a $2,500 scope, they are darn good. The ED Prime glass offers excellent brightness, resolution and contrast due to Bushnell's HDOS fully multi-coated optics. The lenses are also coated with Bushnell's exclusive EXO Barrier Protection, which is their newest and best protective coating that molecularly bonds to the glass, repelling water, oil, dust, debris and prevents scratches. It incorporates a Revlimiter Zero Stop that will always get you back to zero, side focus parallax, locking turrets, IPX7 waterproof construction, ultra-wide band/anti-reflective coatings for best light transmission, and a throw hammer for quick power changes. It is available with a number of reticle options that are etched in glass and in either a first or second focal plane. The scope package includes a two-inch sun shade, scope caps and is covered by Bushnell's transferable lifetime Ironclad Warranty.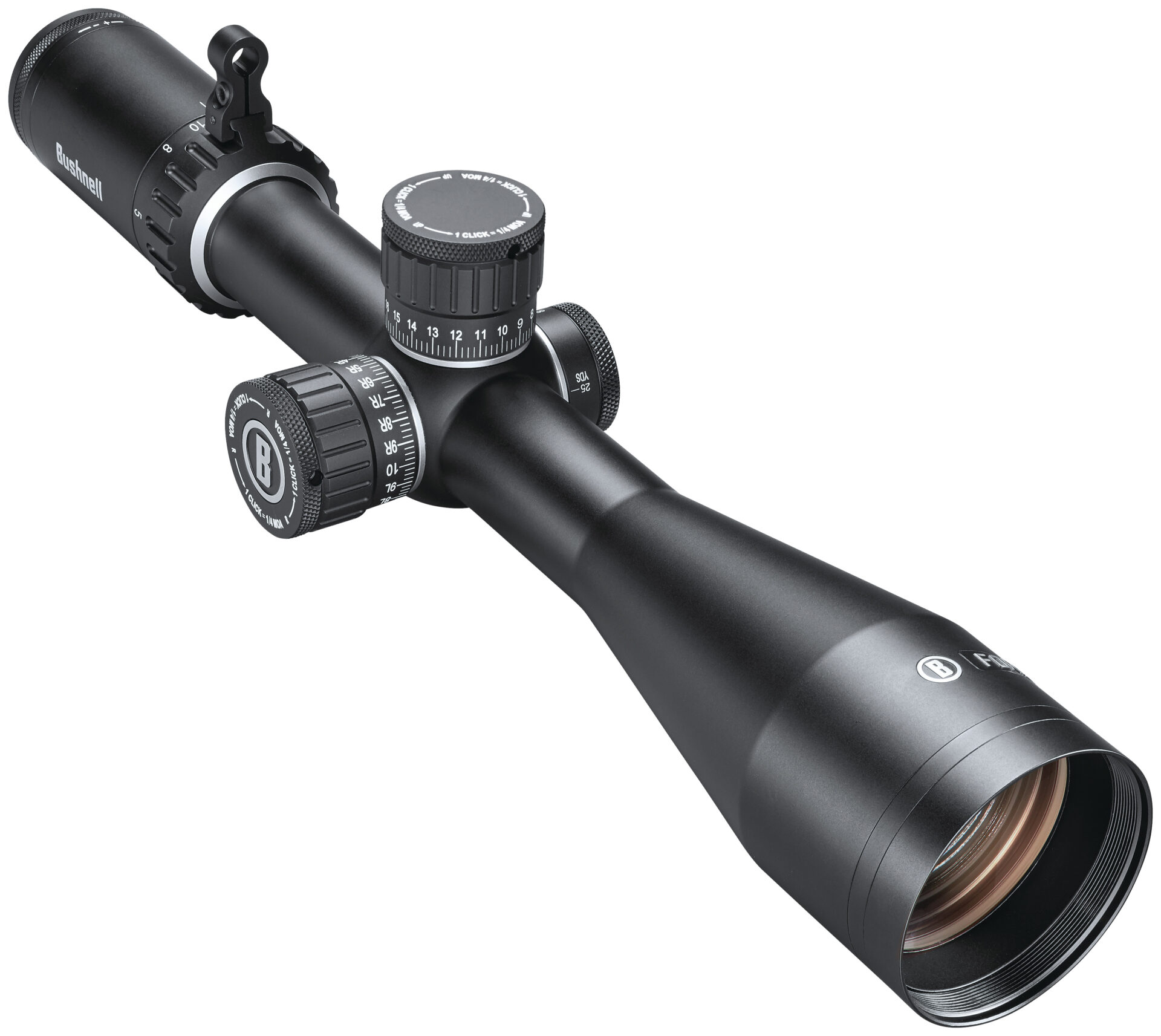 Scope Specifications
Magnification & objective lens: 3-18x50mm
Length: 14.4 inches
Weight: 29.3 oz.
Tube diameter: 30mm
Parallax adjustment: Side 25-yards to infinity
Eye relief: 4.0 inches
Field of view: 35 feet at 3x-6ft. at 18X
Reticle: Deploy MOA second focal plane
Assembly & Test Results
When looking at the various High County chamberings, I opted for the .300 WSM for a number of reasons. It will, in a short case, about duplicate a .300 WM, and my history with this cartridge has been exceedingly rewarding. I also viewed it as a highly efficient long-range cartridge, particularly when looking at all the .30-calibre bullets available for it. The list of quality bullets for this calibre is long and prestigious.
While customization of this rifle's stock may be viewed as a first step, I felt it imperative to have the correct comb height for the mounted Forge, so that was given precedence. Once all the screws were tightened on the Warne bases and Leupold rings, I spent the next half hour refitting both the length of pull and comb height. When finished, I had a custom fit and a perfect eye/scope alignment.
Right out of the box I realized I had to discuss the weight of this rifle. Despite it being labeled High Country, with a dry weight of 8.5 pounds and a combined weight of 10.4 pounds, I didn't see myself packing it up a sheep mountain anytime soon. It may have been more aptly designated Rugged Country. That is not to say that it does not have its place in the hills, where, for example, four-legged horsepower can eliminate those gut-wrenching climbs. And I certainly liked the added weight for the stability it provided when shooting at long range. Insofar as functionality, the trigger was outstanding, with no creep and minimal deviation in pulls weights between two pounds, 3.8 ounces and two pounds, 4.3 ounces. It cycled flawlessly and, with its muzzle brake, the recoil was notably mild. The scope was bright and sharp, and I surely appreciated the precise and auditable elevation/windage adjustments. Which brings me to another Forge user-friendly feature. Target-style turrets, because of their size, can be prone to accidental alteration. The Forge eliminates this problem with turret caps that snap up and down. Pull them up to adjust, but when down, an accidental shift in your setting is history. They are locked in place.
As my conceptual niche for this combo was to put a buck or bull on the ground at extended ranges, I looked for ammunition and bullets designed to do so. As it turned out, all of my handloads and the majority of the factory ammunition tested met that requisite.
In all, I tested 18 loads at 100 yards, including four handloads and 14 factory loads. I then moved out to 300 yards with the four 180-grain or heavier bullet loads that had bettered .600-inch groups.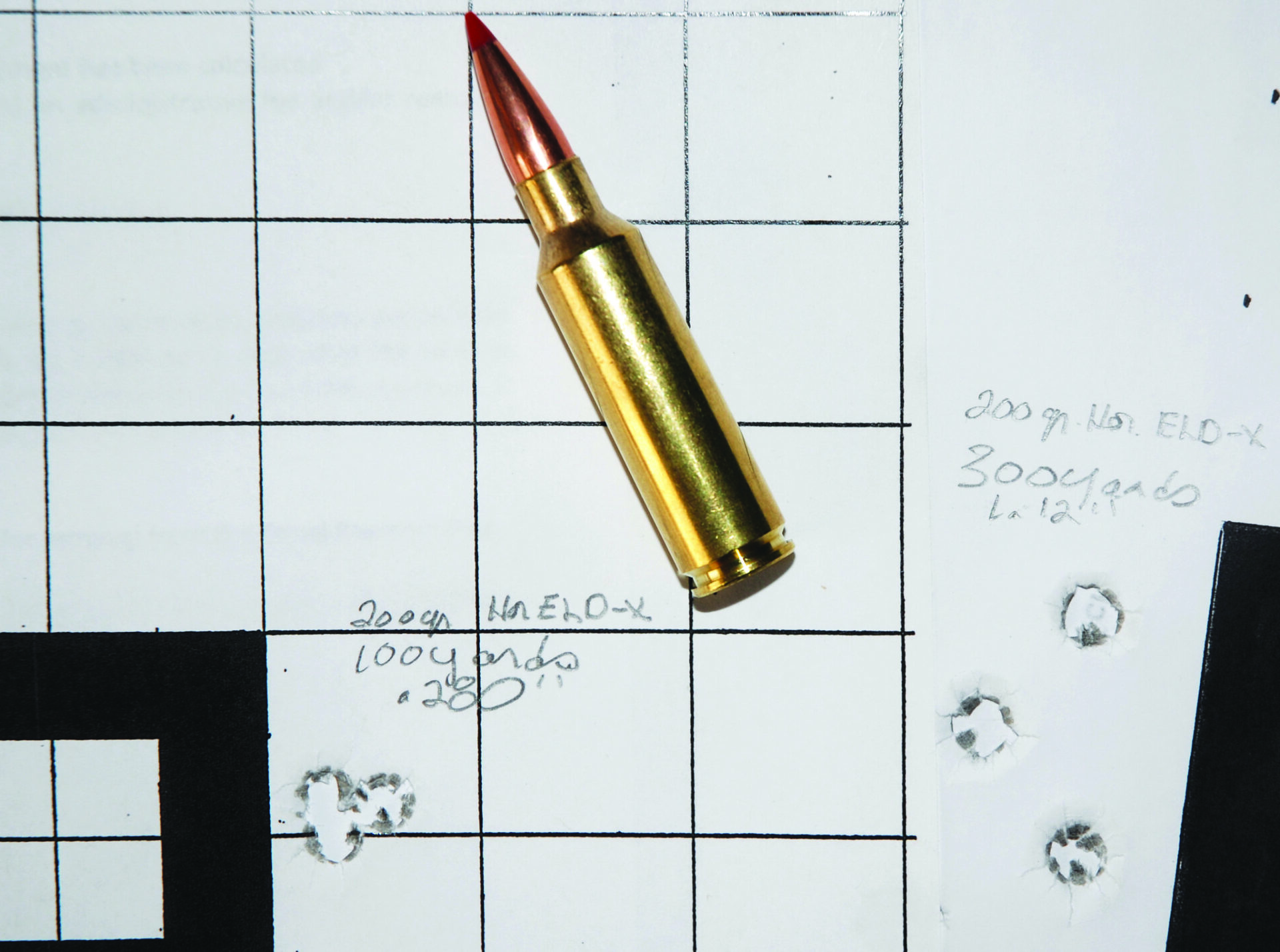 Factory Ammunition:
Brand

 

Bullet
Advertised Velocity
(fps)
Group Size
(in)
Federal Premium Barnes TSX
180 grains
2,980
.750
Federal Premium Berger Hybrid Hunter
180 grains
2,950
.910
Federal Premium Nosler AccuBond
180 grains
2,960
.470
Federal Premium Trophy Copper
185 grains
2,850
1.210
Federal Premium Edge TLR
200 grains
2,810
.550
Fusion
185 grains
2,950
1.410
Hornady Precision Hunter
200-grain ELD-X
2,820
.540
Hornady Outfitter
180-grain GMX
2,900
.640
Hornady American Whitetail
165-grain InterLock
3,150
.680
Browning BXR Rapid Expansion
155 grains
3,260
.550
Browning BXC Controlled Expansion
185 grains
2,885
.740
Barnes VOR-TX
165-grain Tipped TSX
3,130
.590
Winchester AccuBond CT
180 grains
3,010
1.325
Norma Bond Strike
180 grains
3,084
.970
Handloads
Bullet
Powder
Case
Manual
Velocity
(fps)
Group
Size (in)
Hornady 200-grain ELD-X
I 4350
Hornady
2,900
1.320
Hornady 200-grain ELD-X
H 414
Hornady
2,820
.280
Nosler 210-grain AccuBond Long Range
H 414
Hornady
2,827
1.342
Nosler 210-grain AccuBond Long Range
I 4350
Hornady
2,820
.750
Note: Manual velocity refers to the velocity taken from the manufacturer's reloading manual for that bullet and powder charge and are not absolute.
300 Yards Handload:
Bullet
Powder
Case
Manual
Velocity (fps)
Group Size (in)
Hornady 200-grain ELD-X
H 414
Hornady
2,820
1.120 
300 Yards Factory Ammunition:
Brand

 

Bullet
Advertised Velocity

(feet per second)

Group Size

(inches)

Federal Premium Edge TLR
200 grains
2,810
2.330
Hornady Precision Hunter
200 grains
2,820
1.295
Federal Premium Nosler AccuBond
180 grains
2,960
1.690
Last Shot
While I expected this Savage to shoot as well as a number of 110s I had previously shot, the High Country exceeded my expectations. My initial takeaway resulted from tabulation of group averages, which revealed that the .810-inch factory ammunition average bettered my .922-inch handload average. But even more profound was that at 100 yards, 11 out of the 18 loads tested shot into .750 inches or less and that the four 300-yard groups averaged a paltry 1.608 inches. Individually, the handloaded 200-grain Hornady ELD X bullets, driven by H414 powder, provided the best overall performance with groups of .280 and 1.120 inches, at 100 and 300 yards respectively. Just superb accuracy! Insofar as hunting ammunition, the aforementioned Hornady ELD-X handload would be an ideal long-range option for moose and elk-sized game. In reality, this rifle shot the majority of ammunition so well that selection then becomes one of personal preference, depending on the game and distance it is being hunted at. When one considers the cost of specialty long-range rifles these days, this is an accurate, well-designed and ruggedly built rifle that would be money well spent even if priced a few C-notes higher.