If there was any one writer in the last century that popularized the .270 Winchester, it was Jack O'Conner. Throughout his 31 years as the shooting editor for Outdoor Life, he touted its performance as a flat-shooting game getter. I happened to be one of his converts, adding a Husqvarna so chambered to my growing list of rifles. But my affection for the .270 did not end there. The .270 Weatherby Magnum and the .270 Winchester Short Magnum were next. All three lived up to or exceeded my expectations. In 2020 when Nosler announced the addition of the .27 Nosler to their already established list of chamberings, my radar flashed a level five, full alert signal. The outstanding performance of the .28 Nosler I tested a couple of years back no doubt contributed to that realization.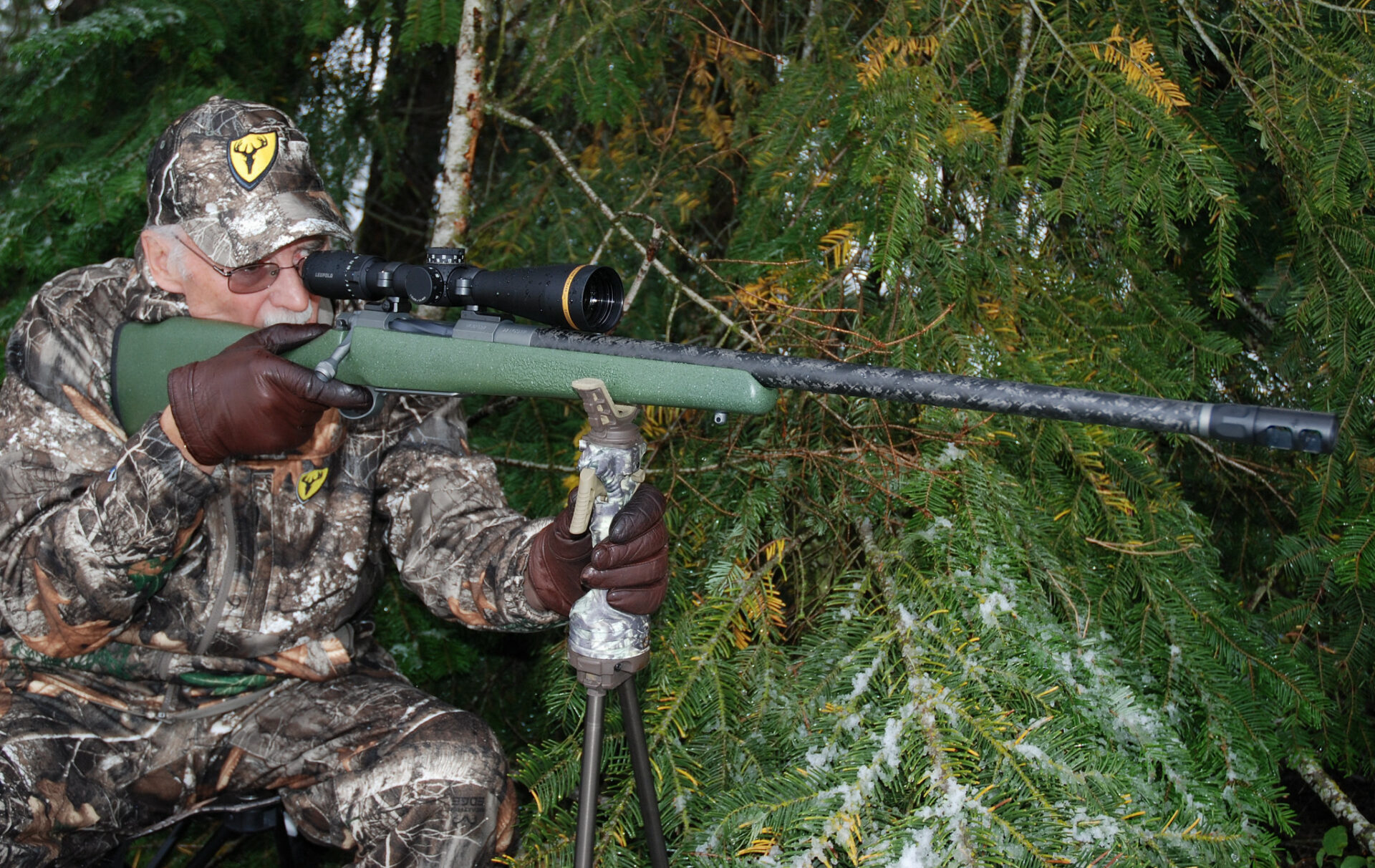 But what separates the .27 Nosler from its counterparts? Let's start with the case. Based on the .404 Jeffery case, its capacity exceeds the .270 Winchester by 42 per cent, the .270 WSM by 25 per cent and the .270 Weatherby Magnum by 12.5 per cent. And, generally speaking, more powder capacity equates to both increased velocity and energy. When assessing Nosler's web data, the .27 is said to outperform its three competitors in both feet per second (fps) and foot-pounds of energy (fpe). Their comparative analysis also suggests that with certain loads, the .27 Nosler can upscale the .300 Winchester Magnum in both feet per second and foot-pounds of energy. That speaks volumes about this cartridge's knock-'em-flat, down-range potential. Initially, Nosler introduced the .27 in two new Model 48s, the Long Range Carbon and the Mountain Carbon.
Nosler Model 48 Mountain Carbon

Carbon fiber-wrapped barrels are changing the way manufacturers are building rifles these days. This design alteration is in response to hunters seeking lighter rifles that shoot better than the pencil-thin barrels so often associated with light mountain rifles. These new barrels offer the rigidity and harmonics of heavier-weight, contoured barrels, but at the reduced weight of lightweight, contoured barrels. To build a rifle of this design, Nosler sought out experts in both ballistics and engineering. The Nosler Model 48 Mountain Carbon is a result of this collaboration and sports a 24-inch Light Sendero Contour carbon fiber-wrapped barrel made by Proof Research, a leader in the manufacture of carbon fiber-wrapped barrels. It is match grade, cut rifled, hand lapped, muzzle threaded and capable of sub-MOA accuracy. They then mated this barrel with the Nosler Model 48 action and a 100 per cent carbon fiber Granite Green Mountain Hunter stock for an overall weight of just six pounds. The carbon fiber stock is reinforced with aramid, a close relative of Kevlar, and is specially made for the 48 action. It features both a textured forend and pistol grip palm swell for improved cold/wet weather handling and includes a rubber recoil pad.
The M48 barreled action is then precisely glass and aluminum pillar bedded into the carbon fiber stock. As finishing touches, Nosler spiral fluted the bolt, included the renowned Timney trigger with a two-position safety and coated all metal surfaces with a tungsten grey Cerakote for superior weather/impact/rust protection. And, last, the 1-8 twist rate in the .27 Nosler will stabilize longer and heavier bullets, making it a very viable elk and moose cartridge.
Rifle Specifications
Calibre: .27 Nosler
Barrel length: 24 inches
Overall length: 45 inches
Weight: 6 pounds
Barrel twist & contour: 1-8 Sendero Light
Length of pull: 13.5 inches
Drop at comb: .38 inches
Drop at heel: 1.27 inches
Magazine capacity: 3
Leupold VX-6HD 3-18x44mm CDS ZL2 Scope FireDot Reticle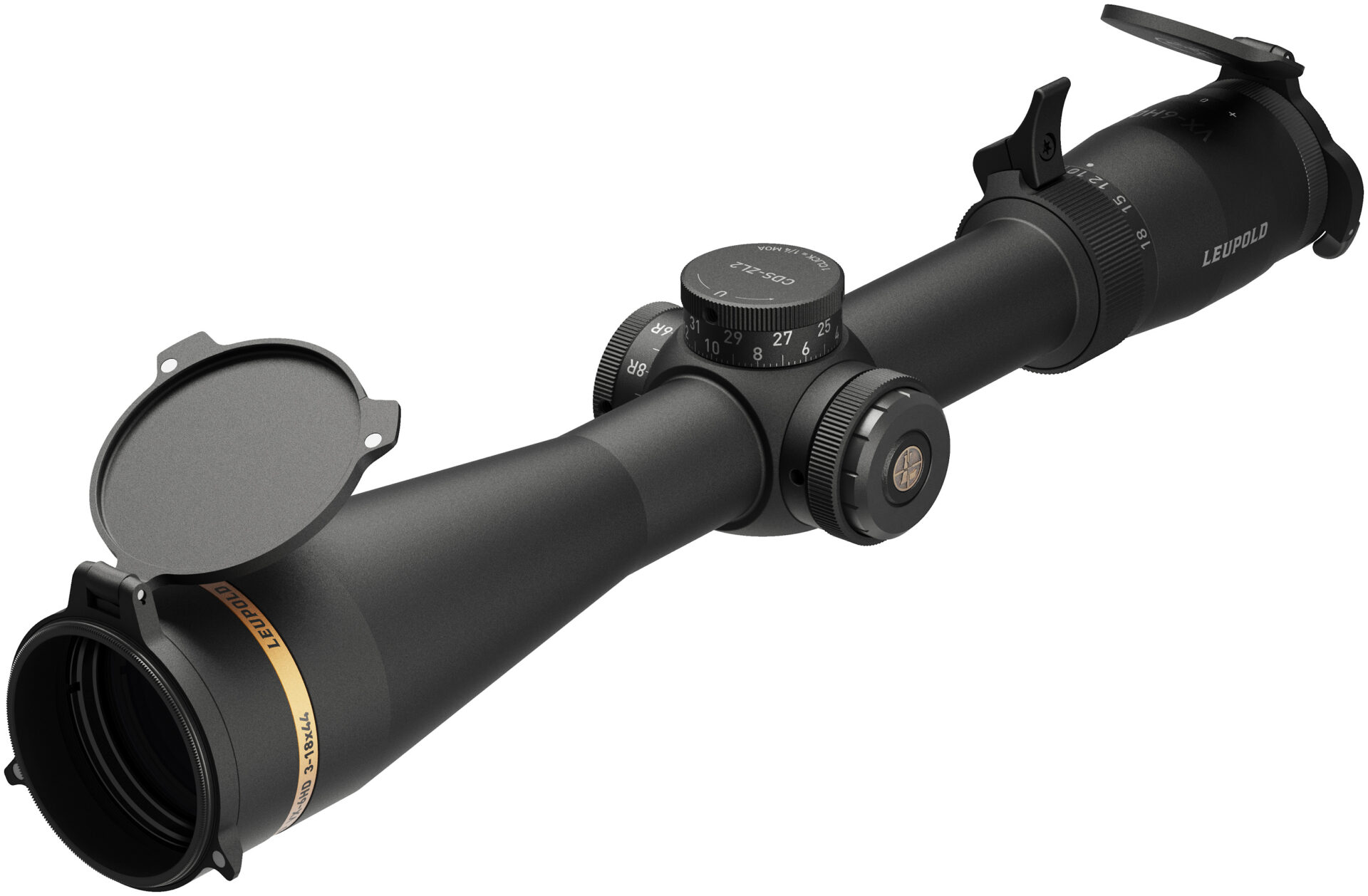 I spent considerable time ruminating over which scope to match with this rifle. The Leupold VX-6HD 3-18x44mm CDS ZL2 FireDot landed on every requisite I had in mind. They are as follows:
Optical quality: A high-definition system delivers crystal clear images from edge to edge and the DiamondCoat 2 coating on all external surfaces protects the optics from scratches, as well as enhances image quality.
Magnification range: The 6:1 zoom range provides 3-18x adjustability for shots in all types of terrain.
Weight and size: At a length of just 13.6 inches and constructed out of ultra-durable and lightweight 6061 T6 aluminum alloy, it weighs a mere 21.3 ounces.
Toughness: Each scope design receives extensive impact testing. It is water/fog proof and the Guard-Ion hydrophobic optical coating helps prevent finger stains and repels water drops, dust and dirt from optical surfaces.
Calibrated elevation turret: The Custom Dial System ZeroLock 2 elevation and windage dial lock in place so they can't accidently be rotated off zero, and offer spot it, range it, dial it and shoot performance. And Leupold will provide you with a free Custom Elevation dial matched to your rifle's ballistics.
Low-light performance: A Twilight-Max Light Management System enhances low-light performance. It empathizes reds and blues, providing hunters the ability to see deep into shadows at twilight, adding 30 extra minutes of shooting light.
Lighted reticle: The FireDot illuminated Duplex reticle has eight levels of intensity and includes MST (Motion Sensor Technology) that will automatically switch to a stand-by mode after five minutes of inactivity and will reactivate as soon as the rifle is moved.
Easy access parallax adjustment: The side focus parallax adjustment provides fast focus from any shooting position.
Easy focus eye piece, large eye box and ample eye relief: The fast focus eye piece offers 3.8 inches of eye relief and a generous eye box.
The scope also comes with a lifetime warranty, reversable throw lever for quick magnification adjustments, aluminum flip-back lens covers and incorporates an electronic reticle level.
Scope Specifications
Magnification: 3-18x
Tube size: 30 millimetres
Weight: 21.3 ounces
Length: 13.6 inches
Eye relief: Low 3.7 inches High: 3.8 inches
Field of view (feet at 100 yards): Low 38.00, high 7.00
Elevation/windage adjustment: (MOA): 75
Test & Analysis
Mounting the VX6 was a bit more complex than I had originally thought. Wanting to stick with a two-piece base approach, the short 5.4 inches of mounting space on this scope proved to be a bit of a challenge when dealing with the Mountain's long action. After a couple of missteps, reversing the front base on a Leupold 700 RVF two-piece base provided the answer.
While the Mountain Carbon barrel has a threaded muzzle, it does not include a muzzle brake. However, a lightweight, two-ounce titanium brake can be purchased from Nosler for less than $200 US, an investment well worth the bucks if you are looking to reduce the recoil and muzzle jump on this light rifle.
The total package weighed in at seven pounds, nine ounces, right about what I expected it to be. The trigger was superb, with five pull weights varying minimally between three pounds, 7.1 ounces and three pounds, 8.6 ounces with absolutely no creep. Both the rifle and scope are top tier, performed flawlessly and are aesthetically pleasing. For a lightweight rifle, the combo fit and balanced well. And no rattly action or hollow stock to sound off when bumped. This is one well-built rifle.
As my test rifle came equipped with a capped threaded muzzle, I installed one of my muzzle brakes for all of my testing, as the Nosler brake was on backorder. But I eventually replaced it with their lightweight titanium brake. It not only weighed 40 per cent less, but it looked considerably more pleasing than my test brake. Meanwhile, all the bullets, brass and factory ammunition were supplied by Nosler. The only variance was powder, primers and RCBS reloading dies. My only other comments regarding this rifle relate to the development of my handloads. The first of these is its short throat. Nosler loading data suggests a maximum OACL of 3.340 inches, but I found this length too long for all my handloads so I used the length of their factory 150-grain AccuBond ammunition as a max for all my loads. And last, the suggested max loads for Nosler 150-grain Long Range AccuBond bullets and H1000 powder showed incipient pressure signs, so that load was immediately dropped from my test for a redo. A mid-range load solved the problem.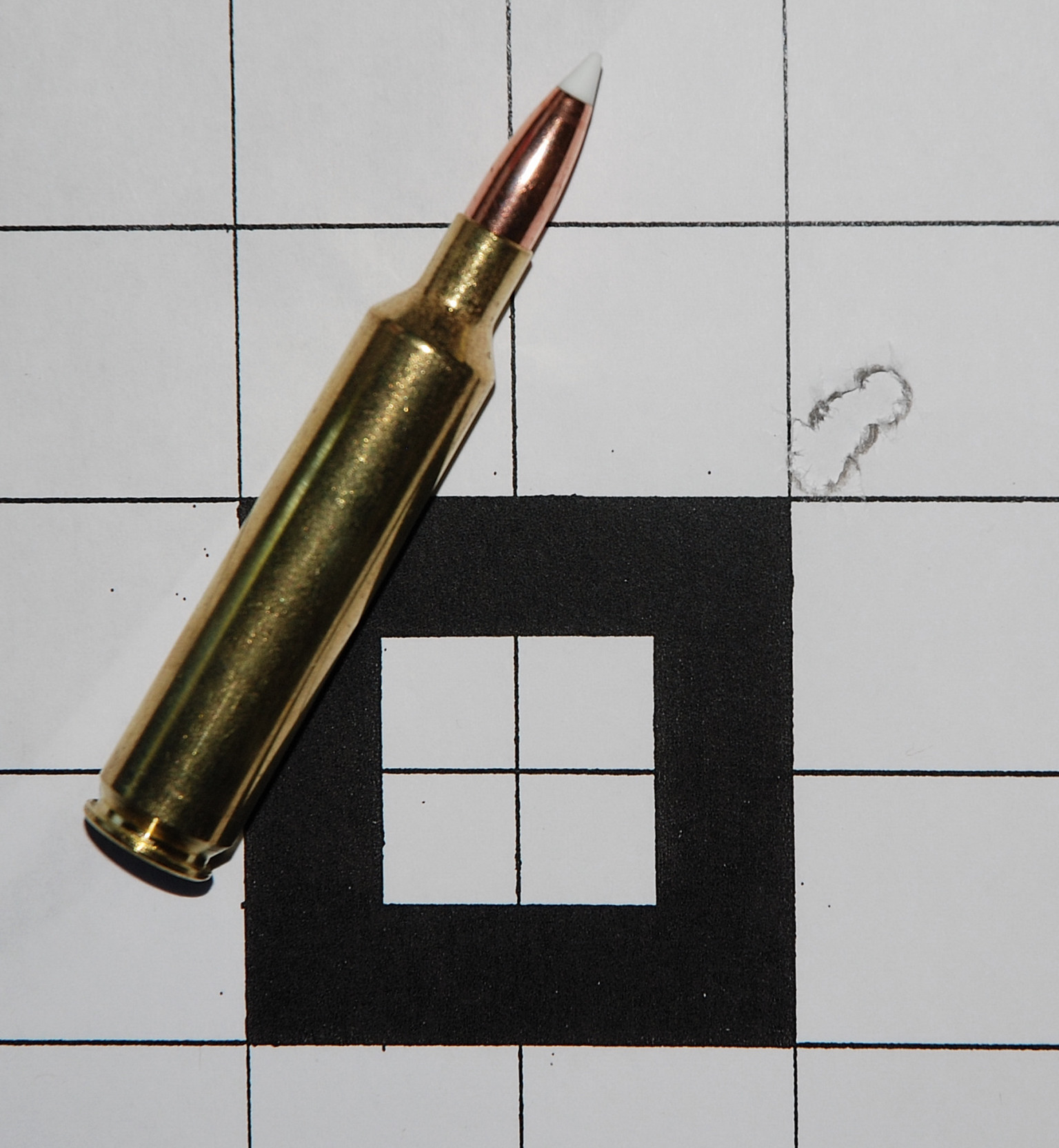 Factory Ammunition
Brand
Bullet
Advertised
Velocity (fps)
Group Size
(in)
Nosler Trophy Grade
150-grain AccuBond
3,250
.963
Nosler Trophy Grade
150-grain AccuBond
3,250
.691
Handloads
| | | | | |
| --- | --- | --- | --- | --- |
| Bullet | Powder | Case | Manual Velocity (fps) | Group Size (in) |
| Nosler 150-grain AccuBond | H1000 | Nosler | 3,200 | .265 |
| Nosler 150-grain Ballistic Tip | H1000 | Nosler | 3,240 | .550 |
| Nosler 140-grain AccuBond | H1000 | Nosler | 3,260 | .885 |
| Nosler 140-grain Ballistic Tip | H1000 | Nosler | 3,290 | .656 |
| Nosler 140-grain AccuBond | IMR 7977 | Nosler | 3,240 | 1.192 |
| Nosler 140-grain Ballistic Tip | Retumbo | Nosler | 3,255 | .766 |
| Nosler 150-grain Long Range AccuBond | Retumbo | Nosler | 3,200 | 1.092 |
| Nosler 150-grain Long Range AccuBond | IMR 7977 | Nosler | 3,200 | .633 |
| Nosler 150-grain Long Range AccuBond | H1000 | Nosler | 3,220 | 1.260 |
| Nosler 150-grain Partition | H1000 | Nosler | 3,220 | .980 |
| Nosler 150-grain Partition | IMR 7977 | Nosler | 3,200 | 1.110 |
Note: Manual velocity refers to the velocity taken from the manufacturer's reloading data for that specific bullet and powder/or similar burn rate powder and all groups are three shots at 100 yards.
Last Shot
This rife is a shooter! The two factory 150-grain AccuBond groups averaged .827, well within Nosler's MOA performance standard for this rifle. The 11 handloads faired about the same, with an average of .853. The standout load, however, belonged to one of my 150-grain AccuBond handloads and H1000 powder. A mere .265 inches, simply superb accuracy! Generally speaking, this rifle seemed to prefer H1000 powder, with five out of the six loads averaging a paltry .667 inches. Either one of these 150s would make outstanding hunting loads. Rams, billies, bucks, bulls and bears beware, this is a fast, accurate and deadly combo.