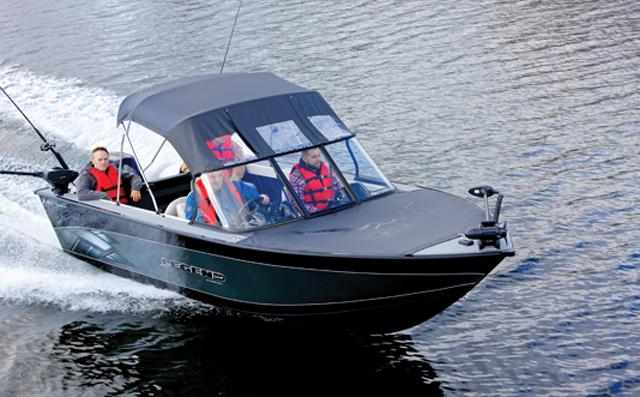 Boat Specs
Length: 19'6"
Beam: 97"
Bottom Width: 76"
Max Horsepower: 175
Base Price: $27,999
Legend Boats began in Whitefish, Ontario, in 1987 and have become well known for a number of industry leading innovations now utilized by other manufacturers. They have a vast line of boats for almost every need and they come with a six-year warranty on the entire boat, stem to stern.
The 20 Xtreme is part of their all-weather fisherman line and comes with everything you need to hit the water, catch fish and get home safely. Standard features include a full, foul-weather, stand-up top, motorguide wireless trolling motor, AM/FM stereo with MP3 port, tilt steering, humminbird fishfinder, sliding drivers seat, deluxe rod holders and more.
The boat is constructed from thick, .100-gauge aluminum with injected foam floatation. Full instrumentation, a large glove-box, drink holders and a 12/24-volt plug can all be found in the console area. The deluxe, reclining, captain's chair takes the grind out of a long day on the water and for the passengers there are two swivel contour-seats as well as two removable jumpseats in the convertible "big water" back end.  Legend Boats is a solid manufacturer and makes buying easy with packages to suit every prospective owner.
Check out www.legendboats.com