Millions of words have been written about the fine art of fishing. Beginning as early as 1496 and Dame Juliana Berners' Treatyse of Fysshinge with an Angle, thousands of experts have expounded on the intricacies of persuading a fish to leave the water and take up refuge in a hot skillet.
It is time, I think, that something was written about the simple, unartistic, unstructured form of recreation that takes place when we bring together – with minimum adult supervision – kids, creeks and good old-fashioned fishing worms.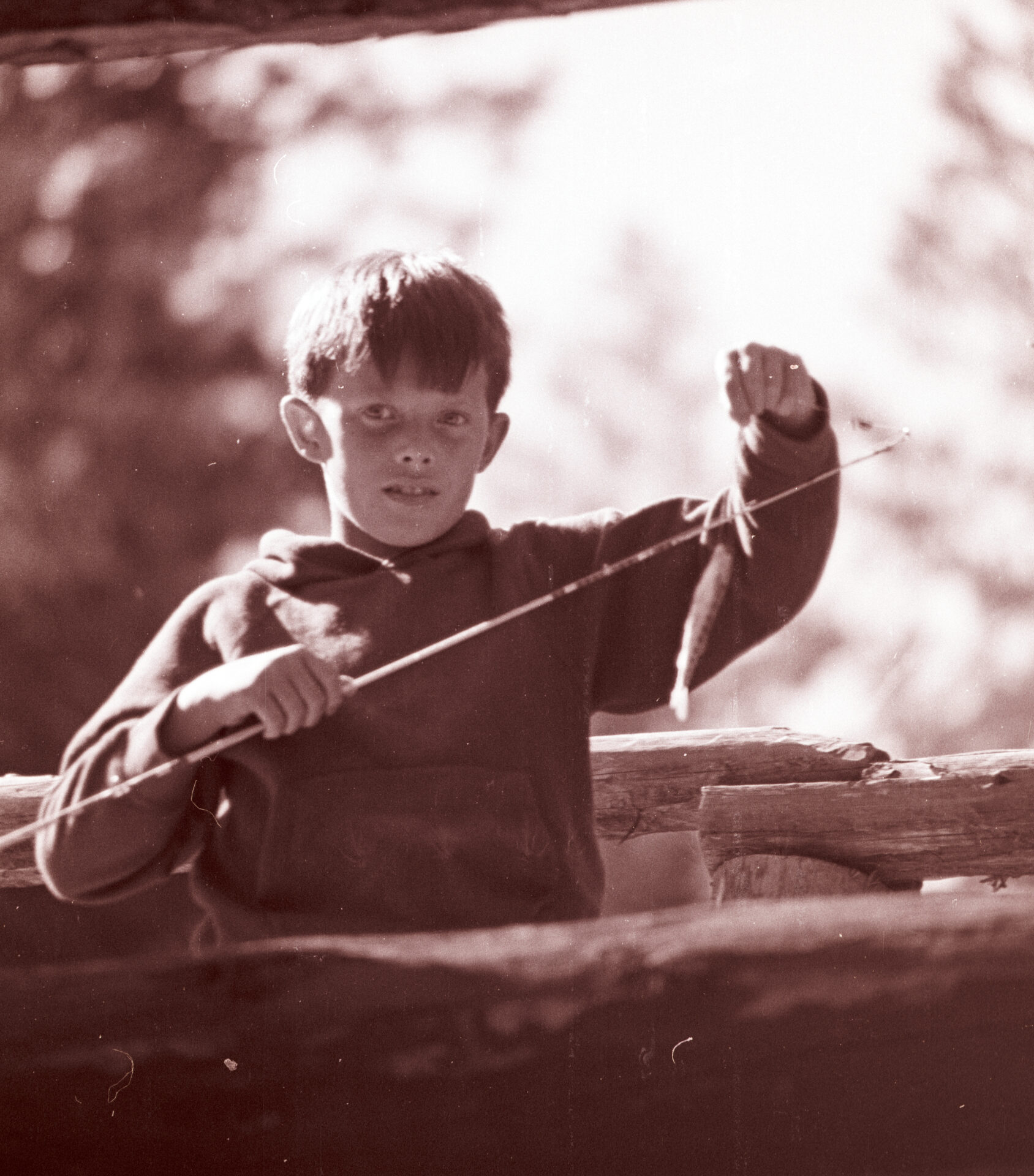 I may not know anything about the latest fly-tying gear, but kid fishing is a topic that I do know something about. Part of my expertise is based on having had kids of various sizes, shapes and colours share my household for some 20 years. Just remaining sane around our home deserved some recognition.
Creeks fascinate me: I have fallen in them during every season of the year, played in them, panned for gold in them, drank from them and fished in them. What more can you possibly do in a creek?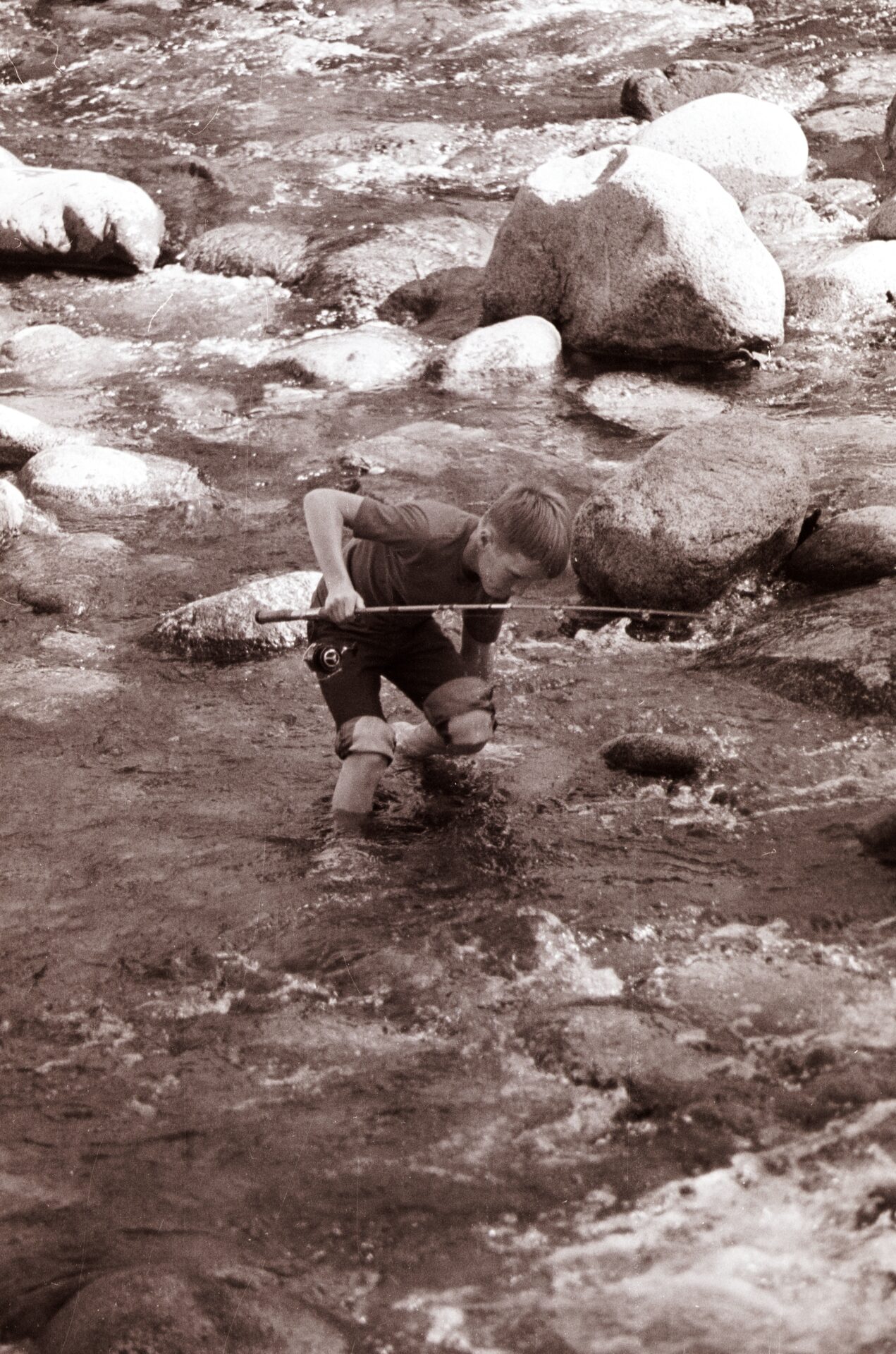 I know all about worms: I have found them in wild raspberries, tame apples, vegetable gardens, under rocks, in the bottom of my sleeping bag and in foam cups – at $2 or more a dozen. I have even managed to put a few worms on fish hooks without becoming permanently attached. I have occasionally succeeded in convincing a fish that the whole mess was edible.
Although this suggests that some fish are less intelligent than I, most kids are not. They know what they enjoy. And they enjoy keeping the art of "fysshinge with an angle" simple and uncomplicated. Kids already know how to spend an exciting day walking down the middle of a clear, cold, gurgling stream. What they want to learn is how to coax a tiny hook and a battered worm into the watery nooks and crannies behind each boulder until a wary trout makes a fatal mistake. What is even more important – bless their souls – is that they don't need to clean out dad's wallet to do it.
Through the years, kids have informed me that special rods, reels and lines are not necessary. After all, fishermen – young and old – enjoyed this magnificent sport for thousands of years before the first sporting goods store opened.
The basic necessities for an unforgettable outdoor adventure for most youngsters is a simple rod, a reel that doesn't tangle too often, a few dozen metres of monofilament line, a dozen #12 hooks and a clean creek.
Huckleberry Finn got away with much less.
For many rural and small-town kids, good fishing streams are within walking distance, but those who live in large cities often aren't so fortunate. Under these conditions, help from a parent, a big brother or sister, or a friendly neighborhood fisherman is needed to get the kids out to a good location and get them properly started.
I discovered that the time and effort spent in providing transportation to a suitable creek, advice and assistance when requested, and packing them home again – complete with wet socks, muddy boots, sunburned noses and possibly a few smelly fish – will be repaid in a great many ways.
I've learned that kids who have an opportunity to spend a little time wandering along a creek bank with a minimum of supervision gain an increased respect for nature and themselves. The plants and insects that inhabit the water's edge environment are fascinating to a curious young child. Watching the slow-moving silhouette of a trout in a quiet pool will be one of the most memorable experiences in his or her lifetime. Just being alone on the water's edge without the feeling of someone peering over his or her shoulder is an important and valuable experience.
This feeling of unity with nature is still one of my favourite memories of creek fishing as a kid. Being there alone, without someone to hurry me along, gave me an opportunity to sit and daydream while the sounds of the tumbling stream drowned out the man-made world and carried me into a natural world governed only by my imagination.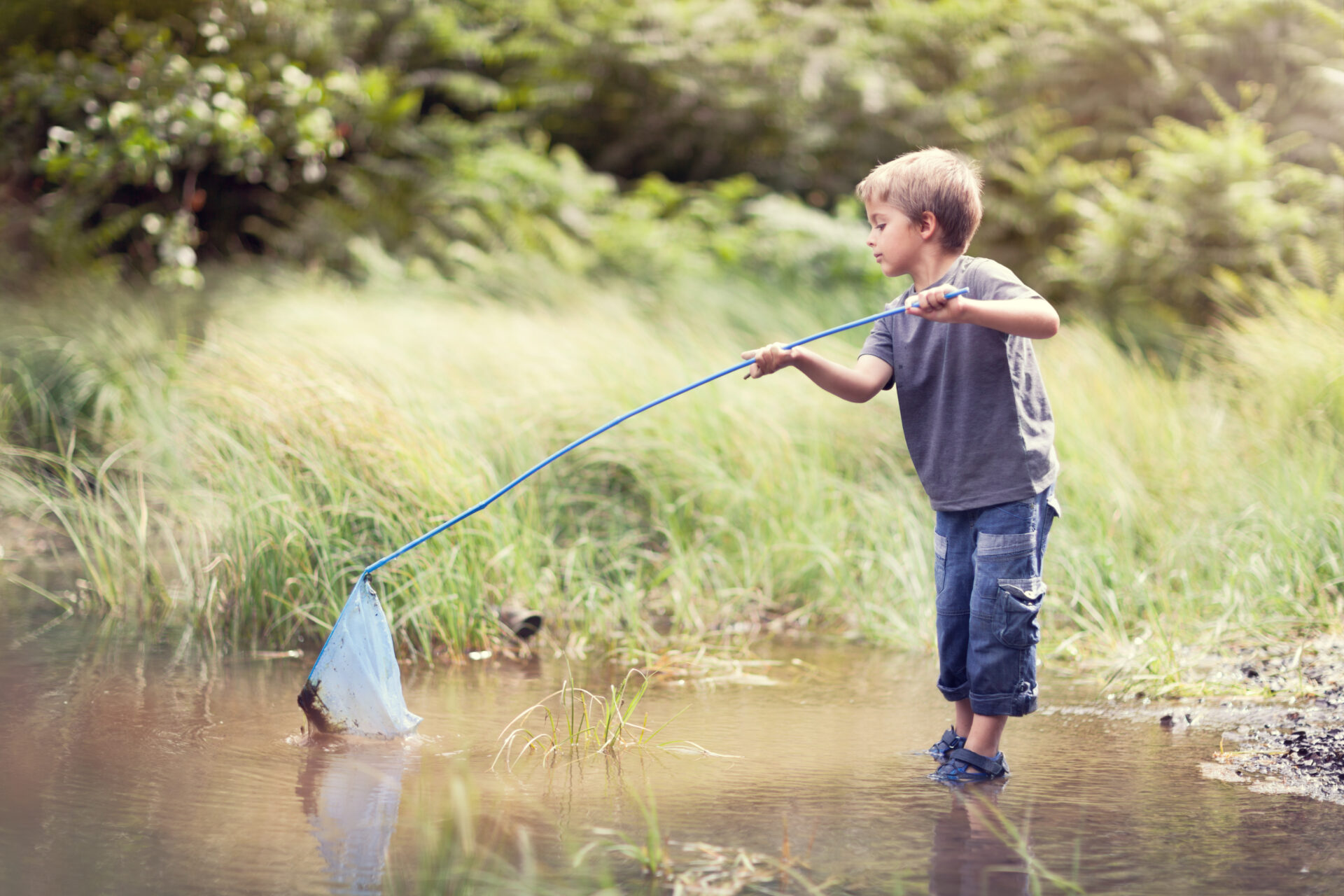 To the kids I know, the opportunity to examine the water life, pocket a shiny pebble, scramble from boulder to boulder across a "frothing torrent" and cope with a snagged hook are as important as catching a fish. With a careful choice of creeks on my part, the risks are limited. An unexpected slip on a mossy boulder that might be disastrous on a lakeshore or river bank, results in little more than wet feet or clothing. The personal confidence gained in being able to test themselves, however, is beyond value.
On one sunny autumn day spent exploring the Ashnola River near Keremeos, BC, only one of my four children was successful in catching any fish, but the others were distracted by too many other things to be disappointed. The discovery of a coyote skull, a lost hunting knife, tasty ripe berries and a rocky bridge to an island were equally important to them.
"I'm glad mommy didn't see me crossing over to the island," said one son as he worked his way back up the embankment, water still running out the top of his rubber boots. "She would've had a heart attack!"
This was an adventure they could tell their peers with pride. They had faced the challenges of the wilds and come back with something to show for it. What is even more important is that they made one more step towards establishing their own identity and strength without expending their energy in a way that was in conflict with society.
Most of us who fish, however infrequently, should realize the long-term value in giving young girls and boys the opportunity to experience the thrill and excitement of the outdoors. To my way of thinking, fishing in a cool, clear stream is the best way to do it.
Kids, creeks and worms are a natural combination.