Enduring cold days afield requires dressing right. For me, outdoor winter comfort starts with a layering system, one that'll let me add layers in the stand or remove layers on the go. Today, I'm checking out several pieces from TrueTimber's late-season hunting line to see how they perform in extreme conditions – a bone-chilling January day.
In the outdoors, every piece of clothing must serve to keep us dry, and in the winter, they also need to trap body heat for warmth. Moisture is the number one enemy, drawing heat through the skin. We can get wet from the inside (sweat) and from the outside (rain and melted snow.) To combat these problems, modern garments block water from getting in and wick moisture away from our skin. Winter outwear must also have sufficient insulation value to hold in precious heat. I judged the clothes using five criteria: warmth, waterproofness, easy on/off, adjustability and extra features.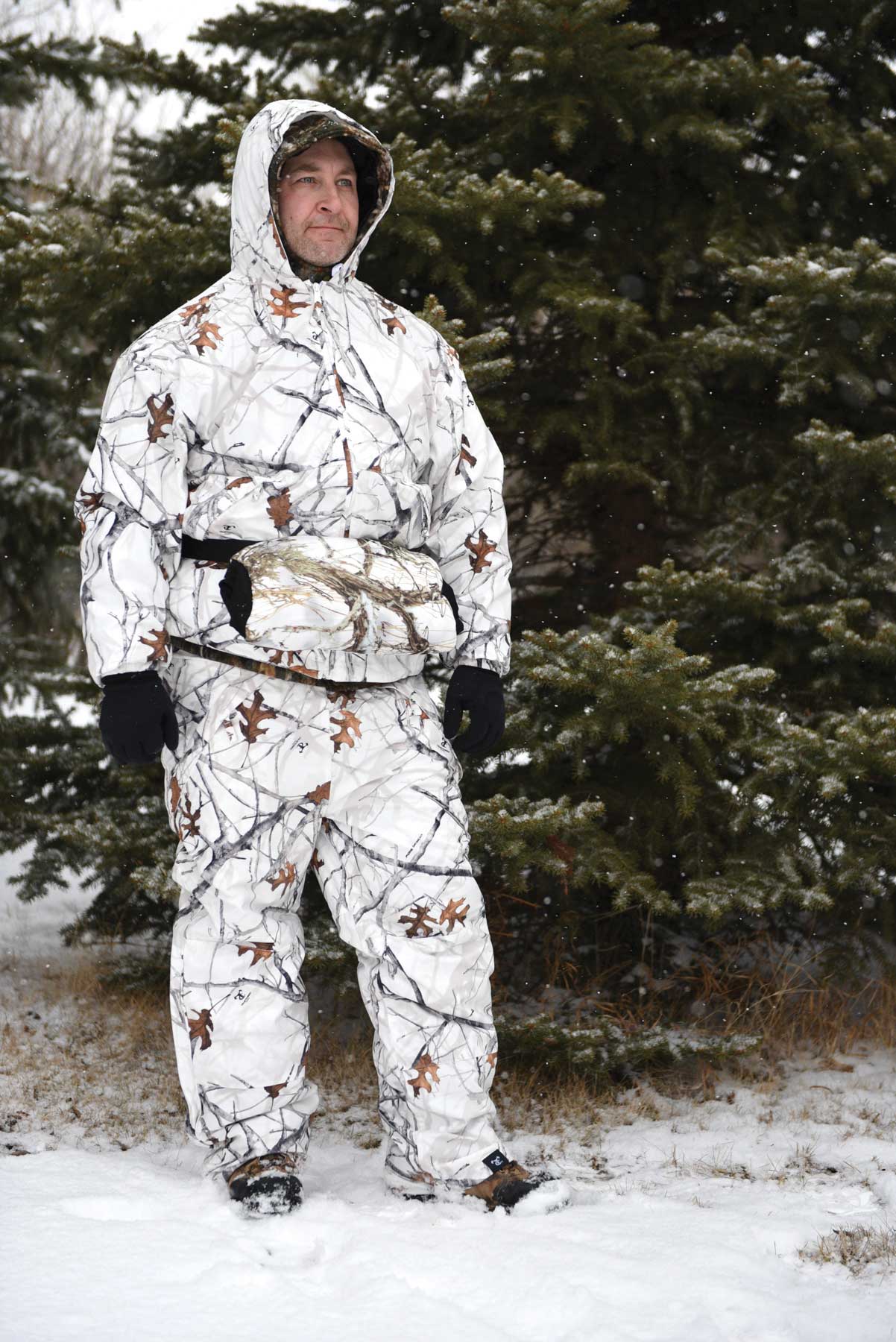 TrueTimber H2O fleece jacket and bibs are made from soft, quiet, breathable, waterproof fleece fabric, and work as either stand-alone outer layers or as a mid-layer on truly frigid days in the field. My test pieces were in the TrueTimber Kanati, a dark camo pattern that blends well in the timber. The bibs feature 20-inch leg zippers, wide enough to slip over heavy winter boots. Storm flaps protect these zippers from moisture. The lining is a smooth, comfortable, quilted fabric. Four roomy pockets – two pleated cargo pockets on the legs and two zippered front pockets – provide plenty of storage. Its wide elastic straps are both comfortable and easily adjustable. The generously sized bibs accommodate bulky underlayers and come in five sizes to fit most people. After long periods of kneeling in the snow, I was pleased that my legs stayed dry and warm.
The matching TrueTimber H2O fleece jacket has 80-gram insulation in the body and 60 grams in the sleeves and hood – sufficiently warm even in a stand-alone piece. The removable hood is both large and adjustable, offering excellent protection from the elements. The jacket body uses a full-length zipper with storm flaps; the sleeves include storm cuffs. Four external pockets with storm flaps and one internal pocket provide ample and secure zippered storage. I like its high collar and fitted hood, which blocked out cold wind but are quickly adjustable to regulate body temperature when on the move. They're a good value at $130 USD for the bibs and $140 USD for the jacket.
It's hard to beat the comfort and warmth of fleece. TrueTimber's H20 fleece line benefits from the best properties of fleece, plus it's waterproof – a shortfall of some fleece products. The outside of the fleece beads most of the water and dries quickly after getting wet. The only downside I found was the H20 fleece's affinity for burrs.
The waterproof snow cover suit parka and pant are waterproof with taped seams. The Conceal Snow camo pattern is suited for snow environments and uses a sparse vegetation overlay to break up a hunter's outline. The outer shell, with a bonded, waterproof membrane, is a brushed tricot fabric which eliminates game-spooking shine. I found the shell material quiet, an essential feature of my hunting clothes. The pants include leg zippers for easy on and off, even with boots. Two front pockets and one rear pocket are zippered for secure storage. A wide elastic waistband and interior drawcord adjust to a range of waist sizes and cinch tight for a comfortable fit. The jacket includes a drawstring hood and waist to batten down in stormy weather, and elastic cuffs to seal the sleeves. The jacket has two deep, zippered outer pockets and an inner pocket for storage. Both pieces are available in four sizes – $60 USD for the bibs and $70 USD for the jacket.
Because they're lightweight and waterproof, the TrueTimber snow cover jacket and pants are outstanding outer layers for hunting. I particularly like how easily they stow into a pack when not in use, yet they are quick to put on over boots and other bulky outerwear in the field. They are designed as a shell, but with other base layers the cover jacket and pants could be worn on warmer winter days as a waterproof, windproof outer layer.
I've noticed more people wearing muffs in the field and wondered why. The TrueTimber MegaMuff in MC2 snow camo is a pleasure to use. I wore a thin glove to protect my hands from metal frostbite when handling my firearm and tucked them inside the warm, protective cocoon between shots. The heavy insulation and soft fleece lining on a muff keeps hands warm while waiting. This model includes a zippered heat pocket, perfect for chemical hand warmers on those extra cold days. After trying it, I now see why hunters love the muff.
If you're looking for a winter camo layering system, TrueTimber has a complete line of late-season garments. These TrueTimber pieces kept me warm and dry, allowing me to layer up or run light, and with contrasting camo patterns, these pieces worked well in a wide variety of environments.
To learn more about the TrueTimber's cold weather camo clothes, visit truetimber.com.