These huckleberry hand pies are the perfect dessert for a New Year's Eve spent around the campfire! These need to be cooled before serving (because who wants to have hot huckleberry filling spilling out onto their hands while eating?) which makes this the perfect make-ahead recipe, so you aren't scrambling at the last minute. There is very little sugar added in this recipe, so the tartness of huckleberries really shines through.
Recipe makes four hand pies.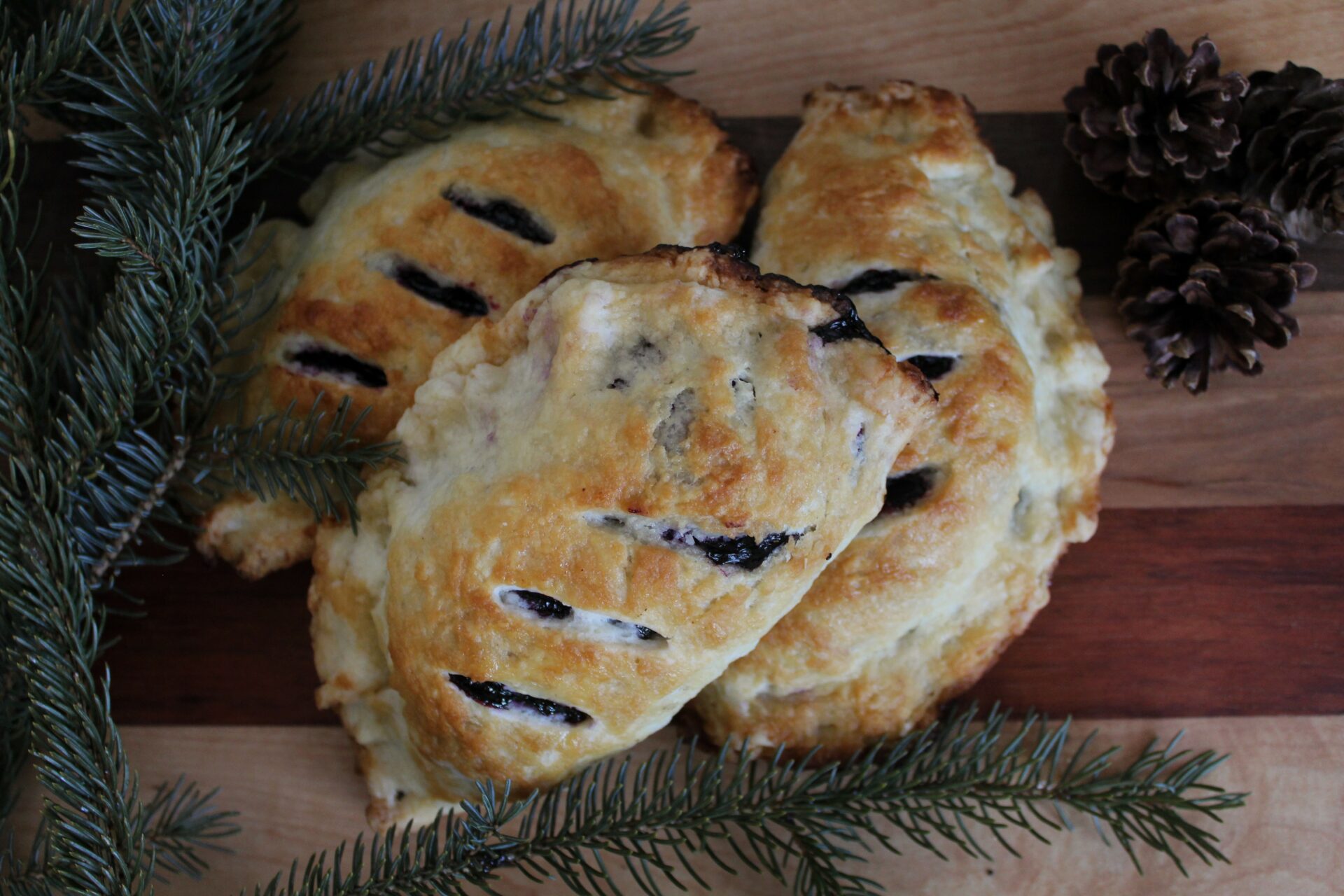 Ingredients
2 tbsp unsalted butter
4 cups frozen huckleberries (thaw before use)
1/3 cup cornstarch
2 tbsp cane sugar
3/4 cup unsalted butter
1/2 cup cold water
1 tsp vinegar
1 3/4 cup flour
2 tbsp corn starch
2 tbsp cane sugar
Pinch of salt
2 tbsp honey
Method
In a saucepan, melt two tablespoons of butter over medium heat. Add in thawed huckleberries, cornstarch and two tablespoons of cane sugar. Let simmer gently for about five minutes. Remove from heat and spread the huckleberry filling onto a plate. Place into the fridge to cool while preparing the dough.
Dice up butter and place into the freezer to chill. Combine cold water and a splash of vinegar in a measuring cup and place into the freezer to chill. Mix dry ingredients in a large bowl. Work chilled butter into the flour mixture with your hands until crumbly. Pour the chilled liquid into the dough and stir together until just combined.
Knead the dough gently on a lightly floured surface. Divide the dough into four equal pieces and form into small discs. Wrap in saran wrap or place in a covered container and tuck into the fridge for approximately an hour to chill the dough.
Remove chilled dough from the fridge. Preheat oven to 400 degrees Fahrenheit. Roll out each disc of dough out to approximately eight inches and scoop 1/3 cup of huckleberry filling onto the middle of it. Fold the top of the circle over the filling, tightly pinching the edges together to seal together. Slice the top of each pie several times to allow steam to escape.
Place the hand pies onto a piece of parchment paper in a baking dish. Brush the tops of the pies with honey. Bake for 35 to 40 minutes or until golden brown. Allow to cool completely before serving.