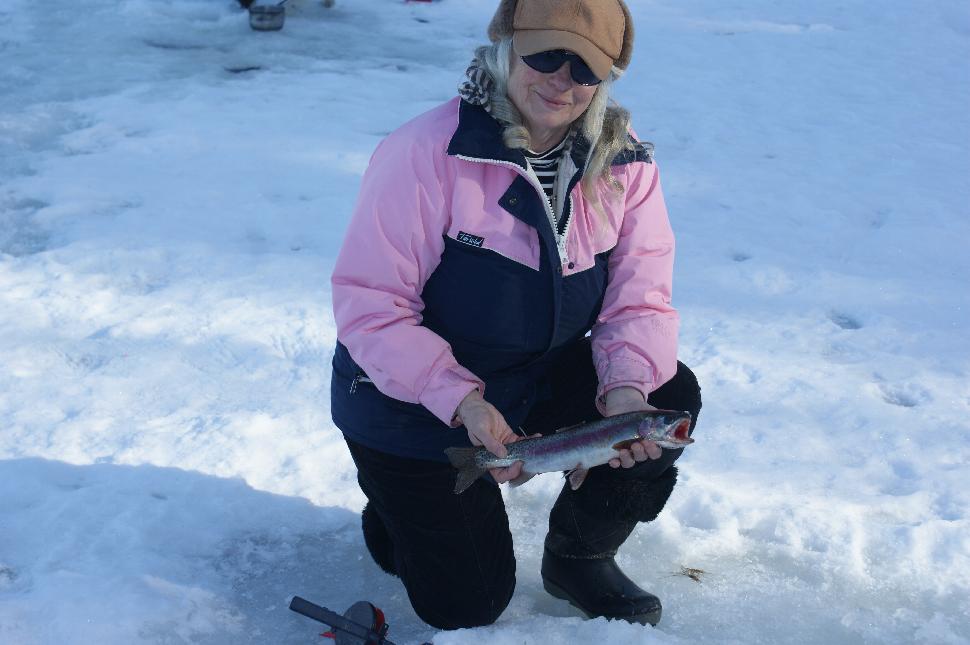 Some Recipes to Prepare For the Coming Winter…
Ice fishing is great fun for the whole family, but nothing puts a damper on the day faster than shivering bodies and chattering teeth which is why a good dependable thermos tops my list as a must-have piece of gear for keeping the chills at bay…
The vacuum bottle was invented in 1892 by a Scottish scientist, Sir James Dewar, which is why in its early day it was known as a "Dewer" flask. The name "Thermos", derived from Greek meaning "therme" or "heat", became a registered trademark in 1904 when vacuum bottles were first manufactured for commercial use in Germany. Today thermal bottles are made all over the world and come in various sizes, shapes and models and are commonly known as "thermoses".
Regardless of what type of thermos you are using, there's a few secrets that'll help maximize heat retention. When it comes to keeping drinks piping hot the best choice is a thermos which has a narrow-mouthed neck as this prevents less steam from escaping upon pouring. Wide-mouthed thermoses, on the other hand, are specially designed for chunky soups, stews and other thick foods that are "spooned" rather than poured.
Pre-heating the thermos by filling it with boiling water, capping and allowing it to stand until ready to be filled is an important step which increases the length of time your drink will stay hot. Another trick is to heat drink or food to the boiling point before filling the thermos.
Since contents remain hot longer when the thermos is filled up to the neck rather than only partially filled it is important to choose a size of thermos that best suits your needs. When I'm traveling solo I find a smaller thermos is the best choice but for larger groups nothing beats a family sized jug that holds enough hot stuff to keep everybody happy!
Here are some of my favourite steaming drinks to warm up with on the ice.
Chai Tea
This spicy tea blend from India contains an array of fragrant spices praised as having warming effects on the body. I use homemade blend but you can use a ready-made chai mix, if you'd rather. My recipe makes enough dry tea mix to fill 30 to 40 single-serving teabags (available where tea accessories are sold). Measurements are given loosely and you can up, down, add or omit anything you wish for a personalized blend that suits your own taste to a tee.
Put the following ingredients on a baking sheet–15 green cardamom pods split in half with a knife, 1 cinnamon stick broken into several pieces,1 tablespoon whole black peppercorns, 1 tablespoon fennel seeds, 4 tablespoons whole coriander seeds,1 1/2 teaspoon whole cloves and one half of a nutmeg pod. Toast in 350F oven until spices are fragrant, about 5 minutes. Cool and crush with a mallet or coarsely grind with a spice grinder or pestle and mortar. Empty into a bowl and add 4 tablespoons chopped candied ginger and 1 cup loose black tea leaves, my choice is Ceylon. Mix well and store in a tightly capped container.
Brewing instructions
For each serving, put 1 cup water and 1 teabag into a saucepan, bring to a boil. Turn off heat, cover and steep 5 minutes. Remove teabag. Add 1/2 cup milk per cup of tea. For variety try non-dairy milks such as almond, coconut, rice or soy. Sweeten with honey to suit taste. Reheat to boiling point before filling thermos.
Red Hot Cocoa
Spunky cinnamon and a pinch of cayenne pepper are the secret ingredients in this chill-blaster! Makes 6 cups. Heat 2 cups milk in saucepan until simmering. Whisk in 1/2 cup unsweetened cocoa powder, 1 1/2 teaspoons ground cinnamon and 1 teaspoon cayenne pepper, mix well. Add remaining 4 cups milk and 1/2 cup (or amount to suit taste) of honey. Cook, stirring constantly, until steaming.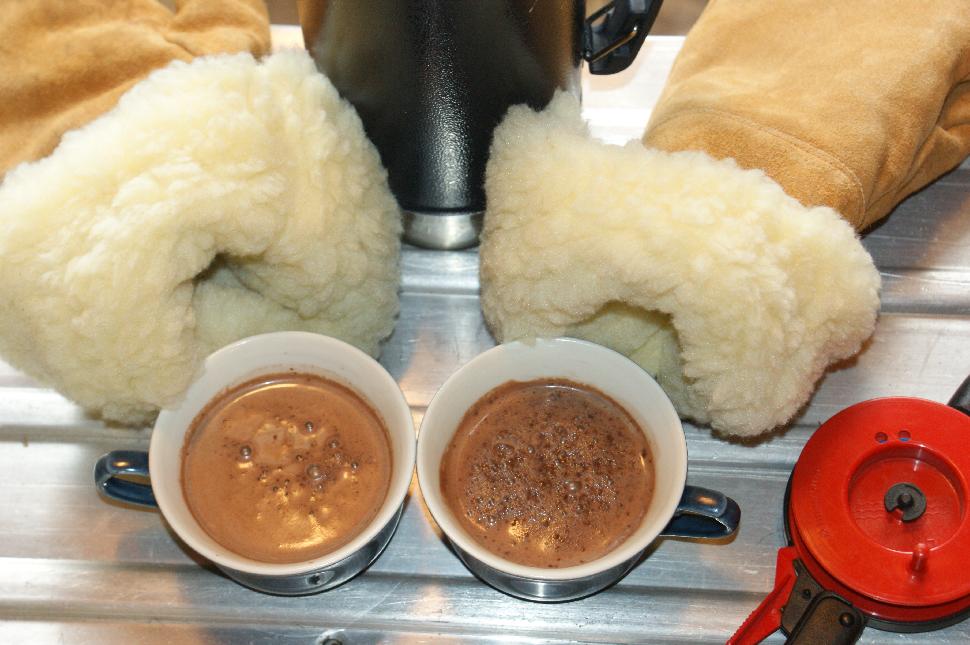 Dad's Fish-hut Cider
Dad always made this out of homemade apple cider but I find any good quality cider or apple juice makes a tasty drink. Makes 6 cups.
Measure 6 cups apple cider into a saucepan. Add 1/4 cup (or to suit taste) birch or maple syrup or honey. Tie 1 broken cinnamon stick, 6 whole cloves, 3 all-spice berries and grated peel of 1 lemon into a square of cheesecloth, drop into the cider. Simmer 5 minutes. Discard spice bag before pouring into thermos.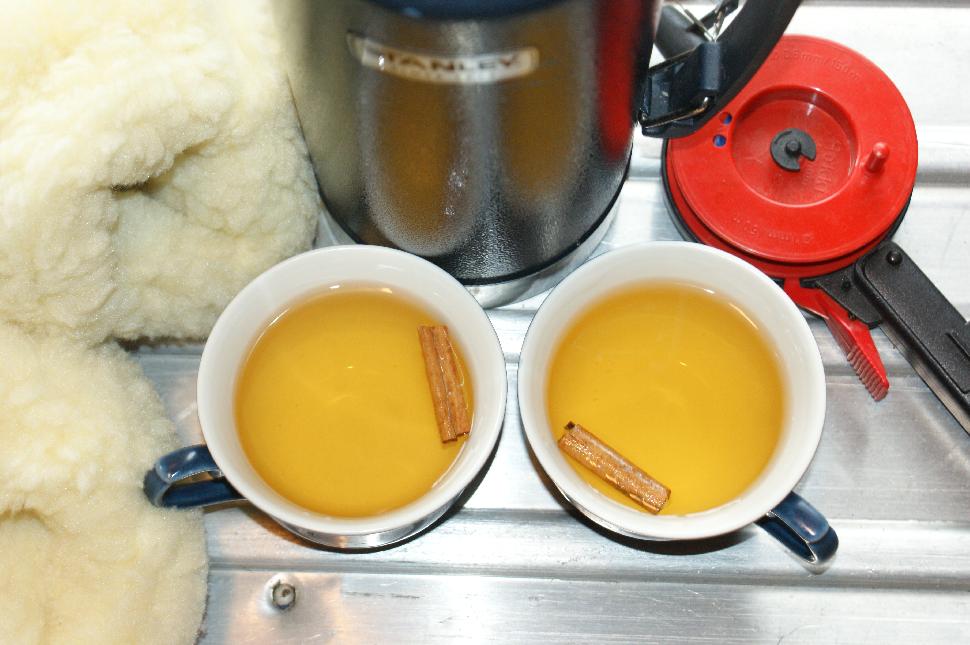 Mug of Miso Broth
Miso, a nourishing paste made from fermented soy beans, makes a satisfying broth that takes the edge of hunger. Makes about 6 cups
Put 6 cups water into a saucepan, blend in 2 tablespoons miso paste (available in larger supermarkets or health food stores). Add 1 tablespoon soy sauce, 1 teaspoon sesame oil and 1 teaspoon chilli oil. Break 2 dried shittake mushrooms into small pieces, add to the pot along with pinch each of celery salt, black pepper and dehydrated onion flakes. Simmer 5 minutes or until mushroom is soft. You can strain but I don't!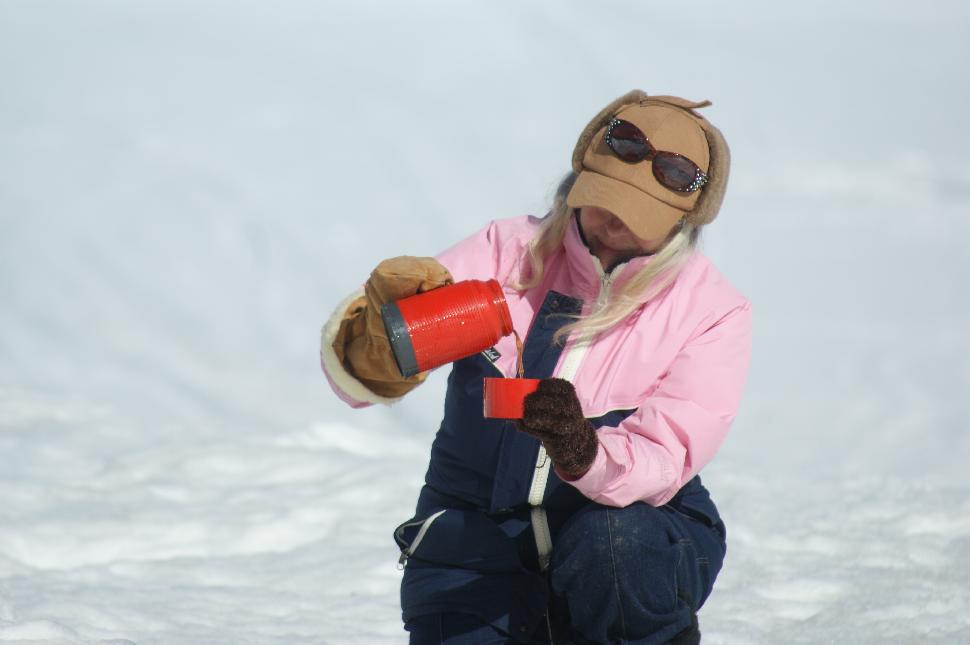 Lentil Puree
When it's too cold to take your mitts off to eat, here's a tasty solution–a drinkable lunch! I always make this the night before and fill the thermos in the morning before leaving the house. You can use any colour of lentil you like–red, brown, yellow or dried split yellow or green peas. Makes about 6 to 8 cups, depending on desired thickness.
Put 3/4 cup washed lentils of choice in soup pot and add 6 cups water (or vegetable stock) for richer flavour. Add 1 chopped carrot and 1 minced onion. Season with salt, pepper and pinch each of ground coriander and cumin. Simmer until lentils are soft. Working in batches, puree in blender. Return to pot and reheat before filling thermos, adding additional liquid to achieve desired "pourable" consistency.