A massive amount of offshore produced stand-up paddle boards (SUP) have flooded the market, offered as complete kits. I first bought a set of two (10 feet, six inches and 11 feet, six inches) complete board kits last winter. I chose inflatables, as these would pack down nice and fit into smaller vehicles and RVs if needed. As well, the boards fold down small enough that these could be easily checked in as luggage on international travel. Bonefish anyone? By saying a complete board kit, I mean a board, pump, paddles, fins and a travel bag.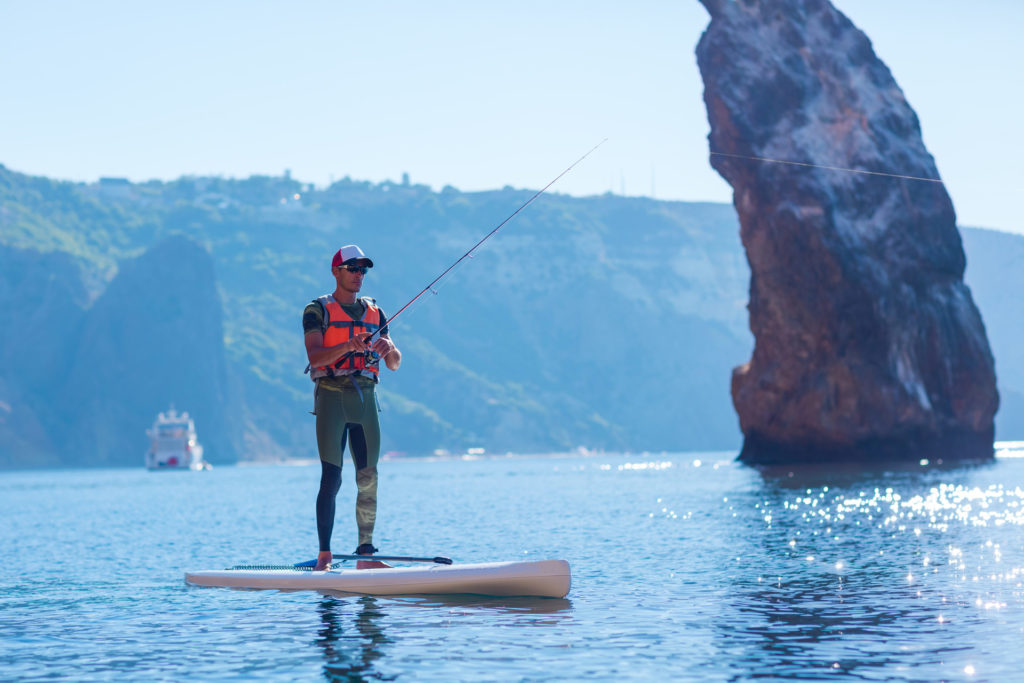 I purchased F2 models. The big decision to make is whether you want a hard paddle board or inflatable. I've used and fished out of both. I would say the hard paddle boards hold themselves better in a slight chop over the inflatables. The inflatable's PSI must be cranked right up to perform well in chop. With this being said, no SUP is fun in the wind. It's a calm water sport for sure. I'm still content with the purchase of an inflatable, as it's stored nicely away awaiting the spring season, it's easy to pack and hike in with.
I bought these boards for fly fishing stillwaters for trout, and also for good core exercise. There are numerous high-end, fishing-designed boards that start resembling angling kayaks and platform-based watercraft, for of course over double the price and more. I wanted to use something that was very minimal and easy to set up and transport. After a few outings with both boards, I noticed that I gravitated to the longer board (11 feet, six inches) and I would recommend the lengths of 11 feet and longer. Even for shorter people, the longer boards are more stable. Stability is the first challenge to perfect on a SUP.
I was content with the plastic, break down and adjustable paddles that came with the set. Of course, for hundreds and hundreds of dollars more, there are carbon fibre paddles. For now, the factory paddles have delivered the requirements from what I expected. They're light and easy to pack as well.
In concerns to fly fishing or spin casting from a SUP, it's best to get some practice ­­– at least two outings on your board – before you head out with valuables. That's my opinion, but it does come from experience. It's very, very easy to fall off of a SUP at first, so getting some paddling and balance under your belt is a wise approach. A tool that is absolutely required for fishing from a SUP is an anchor system. There are enough D-rings and cargo straps on these boards to figure to where to tie an anchor off, so getting a five to 10-pound anchor (preferably 10) with some thinner rope or chord is key. I also take along a folding dry sac to hold my flies, reels, lunch and camera. These dry sacs can keep your gear dry and floating. An anchor and a dry sac are must haves to enjoy a safe day fishing off of a SUP.
What I will note is that a SUP should not be purchased or considered as a primary personal watercraft, or your only boat for fishing. Just casting and catching a fish is a supreme challenge on a regular SUP. On windy days, SUPs are almost unusable and, as well, on a cold day in cold water conditions I doubt that I would be using mine. It's clearly a summer, warm weather activity for me and most others.
Here is a Youtube link of an entire day dedicated to fly fishing for large rainbow trout on my SUP: https://youtu.be/gPWf60Se9hY.
Prices for the F2 models range from $400 to $600 Canadian.
Check out this video of the author SUP fly fishing for large trout at https://youtu.be/gPWf60Se9hY.