Whether you are an "eat the tenderloin right after the hunt" kind of person, or if you fall into the "I'm going to save this for a nice meal later in the season" camp, we can all agree that tenderloin is a cut worth doing justice to when cooking. This herb butter glazed tenderloin is good even as leftovers the following day – but everyone will be back for seconds with this recipe.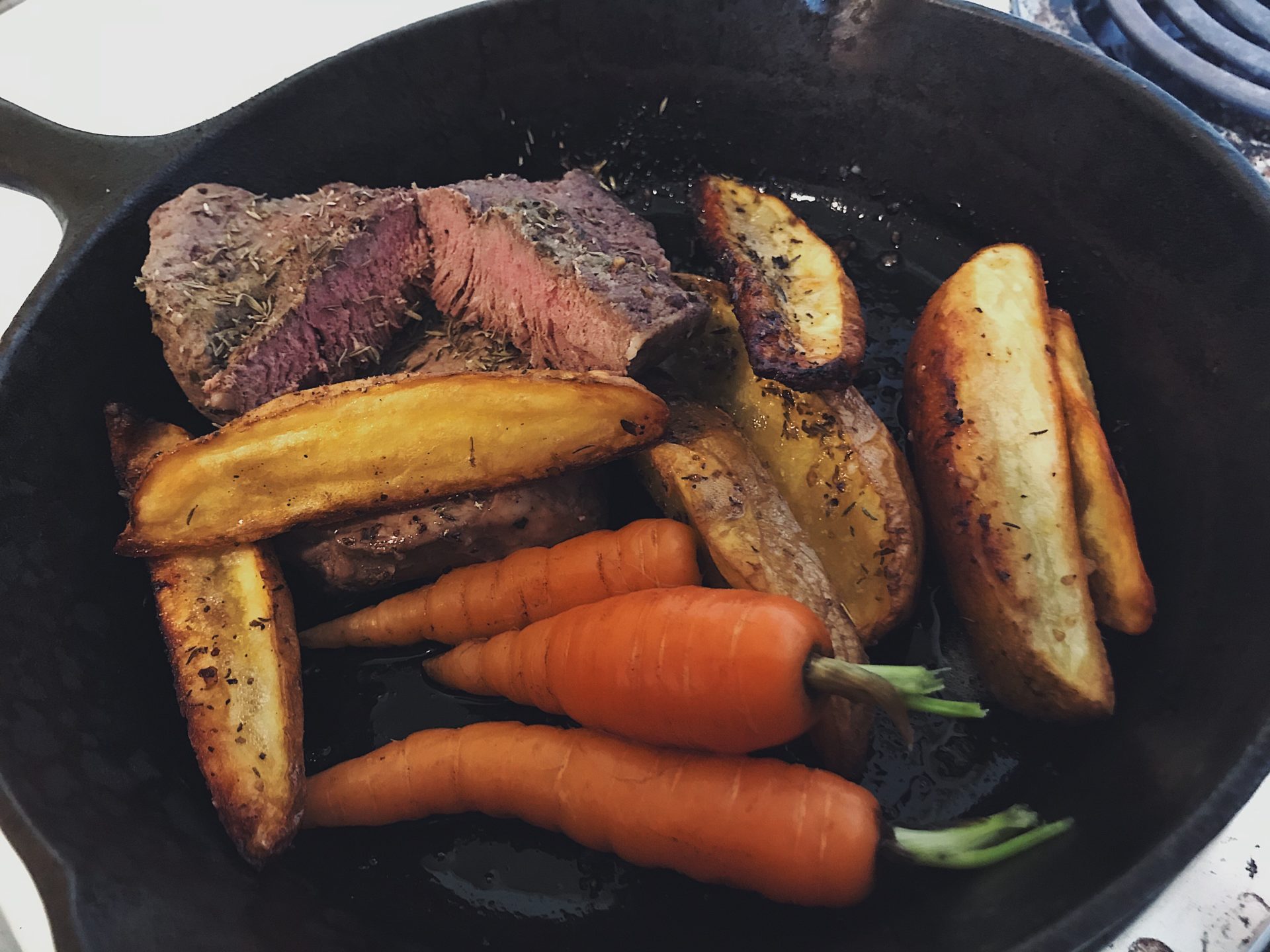 Ingredients
1 moose (or beef) tenderloin
Salt and pepper
2 tbsp olive oil
1/2 cup unsalted butter, room temperature
6 cloves of garlic, minced
3 tbsp fresh rosemary, chopped
1 1/2 tbsp dried thyme
1/2 tbsp dried oregano
1/2 tsp cayenne powder
1/2 tsp ground sage
2 tsp coarse sea salt
1 tsp ground black pepper
Method
An hour before cooking, take your tenderloin out of the fridge and set on the counter. At this time, you can choose to cut the tenderloin into steaks, or keep it whole and tie with butchers' twine. If you don't already have your butter sitting on the counter, this is your reminder to do it now! Having room-temperature butter is important for the following steps.
Preheat the oven to 450 degrees Fahrenheit. Season the tenderloin on all sides with salt and pepper. On the stove, bring a cast iron pan up to temperature on medium high heat and add the olive oil. Once the pan is hot (you can test this by flicking a bit of water onto the pan – if it sizzles, it's ready to go) place the tenderloin into the skillet and sear on both sides for two to three minutes, and on the edges for one minute.
To make your herb butter, combine the butter, garlic, rosemary, thyme, oregano, cayenne powder, sage, coarse sea salt and pepper. Use a spoon to blend the herbs thoroughly through the butter. Reserve half the butter in the small dish to use after the tenderloin has been cooked.
After searing the tenderloin, rub half of the herb butter on all sides of it. Place back in the cast iron pan and then set in the pre-heated oven on the middle rack. If you have chosen to cut your tenderloin into steaks, it will only need to be in the oven for five to eight minutes. If the tenderloin is still in roast form, it will need around 20 to 25 minutes in the oven. For a more accurate medium-rare cook, use a meat thermometer to check that the meat is between 135 degrees Fahrenheit to 140 degrees Fahrenheit.
Remove the tenderloin from oven and smear the remaining herb butter on top, cover, and let rest for five to ten minutes before serving. Serve with horseradish sauce, roast potatoes, and root veggies.