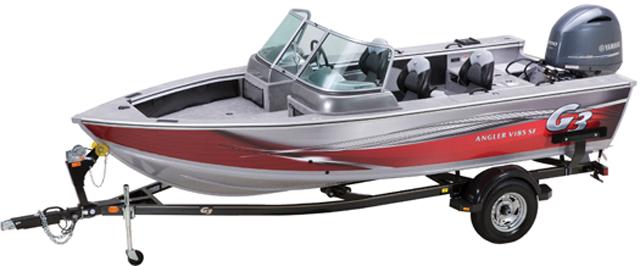 Boat Specs
Length: 18'6"
Beam: 96"
Bottom Width: 82"
Transom Height: 25"
Max Horsepower: 200
Base Price: $42,795
As part of the Yamaha Marine division, you know you can depend on G3 boats to have a very high standard of on-the-water performance and ruggedness second to none. All G3 boats are NNMA certified using ABYC standards. The V185 SF is a versatile craft that combines the best of a sport fisher with a fully-capable family sport boat.
The V185 SF has a three-piece riveted hull with a fully-riveted keel and double-plated bow and bottom. Injected close-cell foam and 18-ounce marine-grade carpet keep things quiet while the Alpine stereo makes sure things don't get too quiet. Fishing is made easier with bow and aft electric motor receptacles and the boat is pre-wired for a 24-volt trolling motor. Waterproof connectors on the pumps, a 12-volt accessory outlet, an automatic bilge pump and a built-in, dual-pro, two-bank battery charger help make the electrical system bulletproof.
Six positions for the pedestal seats, a wrap around cockpit, large center-bow rod storage and lockable rod storage in the gunnel top combine for a useful and tidy interior. Instrumentation includes speedometer, tachometer, trim gauge and fuel gauge and tilt hydraulic steering that will keep you headed in the right direction.
You can't go wrong with a G3 boat, pick yours at www.g3boats.com