I have lots of secluded fishing holes scattered throughout the north but one of my top destinations for rainbow is so big, bountiful and easy to access that there's no need to worry about keeping it under wraps because the pristine waters of beautiful Francois Lake, our province's second-largest natural lake, dishes up enough excellent fishing opportunities for all!
One of the reasons I fancy this huge lake so much is because it caters to every mode of sport fishing and houses the friskiest rainbow I've yet to tackle. Whether spending an action-packed day trolling or a more leisurely-paced afternoon of shore fishing, the motto of every enthusiastic Francois Lake trout fisherman is "you can almost always bank on catching your supper…" and I almost always do!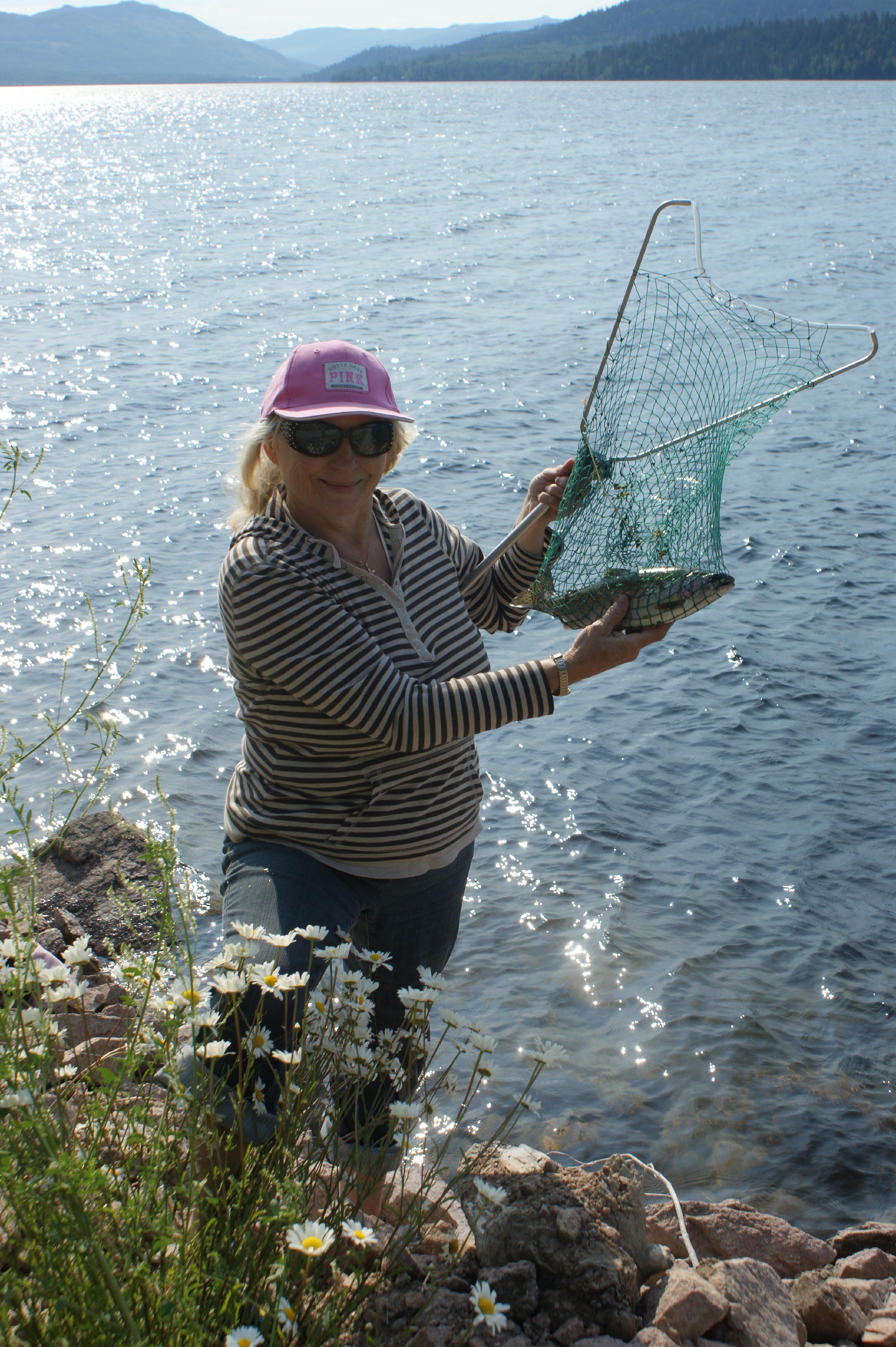 Rainbow caught from this deep, cold lake have delectable, firm, salmon-coloured flesh which makes a memorable meal, especially when served with a sweet, tangy topping of wild gooseberries picked from the scenic shorelines surrounded by mountains, cottages, resorts and miles of untouched landscape.
If you're looking for a thrilling day of trout fishing and a fantastic feast to follow, head for Francois! There are proven hot spots all over the lake for rainbow, but if you want to find the best gooseberry patches look no further than along the rocky eastern shores where they grow in abundance from mid-June through August, with their prime season being July.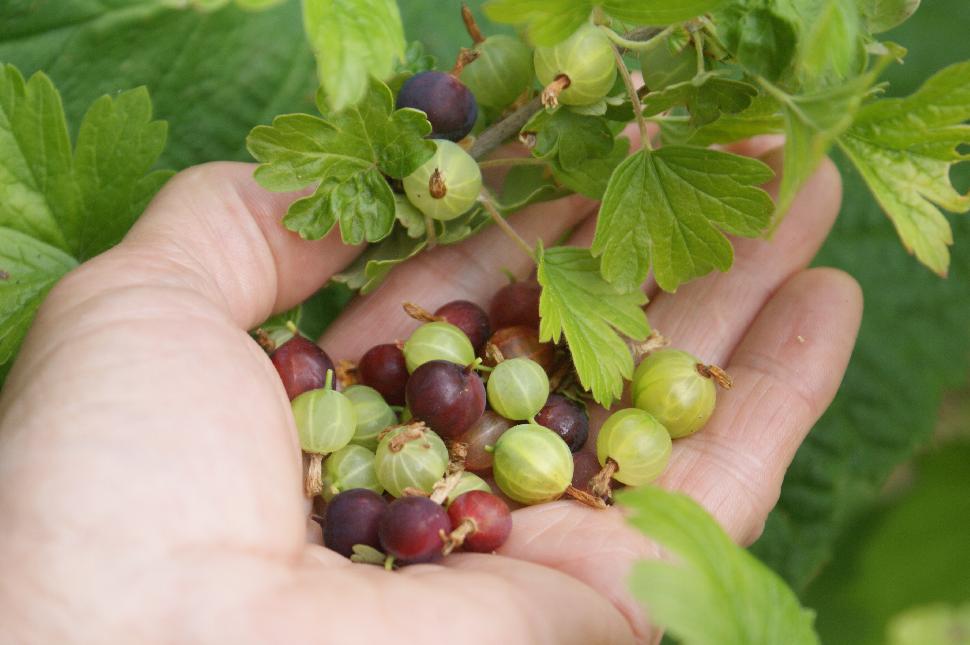 Gooseberries belong to the ribes family and are easy to identify, closely resembling their cultivated kin. There are various species in BC, with the coastal black gooseberry being the largest, sweetest and most scarce member, growing only on Vancouver Island. The common pick in the northern parts is the Northern Gooseberry, as its name implies.
The brushes reach up to six-feet tall, have maple-shaped leaves and thorny branches, so a pair of fish fillet or other gloves come in handy for protecting the fingers while picking. The berries are firm and sour when green and turn translucent deep purple, soft and sweet upon ripening. I like to toss a few green berries in with the ripe ones because they contain more pectin, helping the sauce to gel while adding extra tartness.
Boat fishermen will find a number of private resorts with cabins, camping, boat rentals and boat launches, and for those who enjoy a more rustic setting, the Francois Lake Provincial Park, on the east end of the lake, has a gravel boat launch at Sawmill Point and wilderness campgrounds as well as day use areas so there's no shortage of boat access to the water.
The main Francois Lake highway, hugging the northern shoreline, allows easy access to the water for shore fishing and there's a handy day-use park located on the right hand side of the road between Nithi-on-the-Lake and Birch Bay resorts. This well-groomed park overlooking the lake has ample parking, grated fire-pits, firewood and picnic tables making it a perfect place to plan a cook-out after reeling in supper.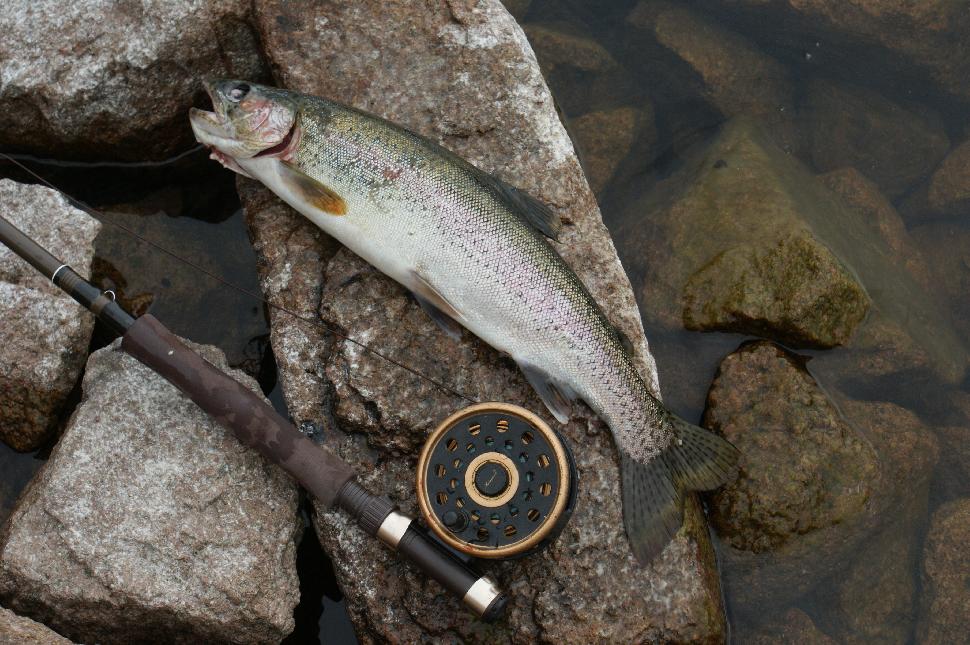 Once the keeper is caught and the gooseberries gathered, you're ready to prepare the ultimate fisherman's feast! The question is, to fillet or not to fillet? Since the average rainbow from Francois weighs in at around two pounds, they are well-suited for filleting–producing two hefty portions of fish that'll fit nicely into a large skillet. That's the average catch but it is not uncommon to land trout weighing over the norm so I find cutting the larger catch into steaks is the better choice because it allows more room in the pan to cook the whole fish in one shot.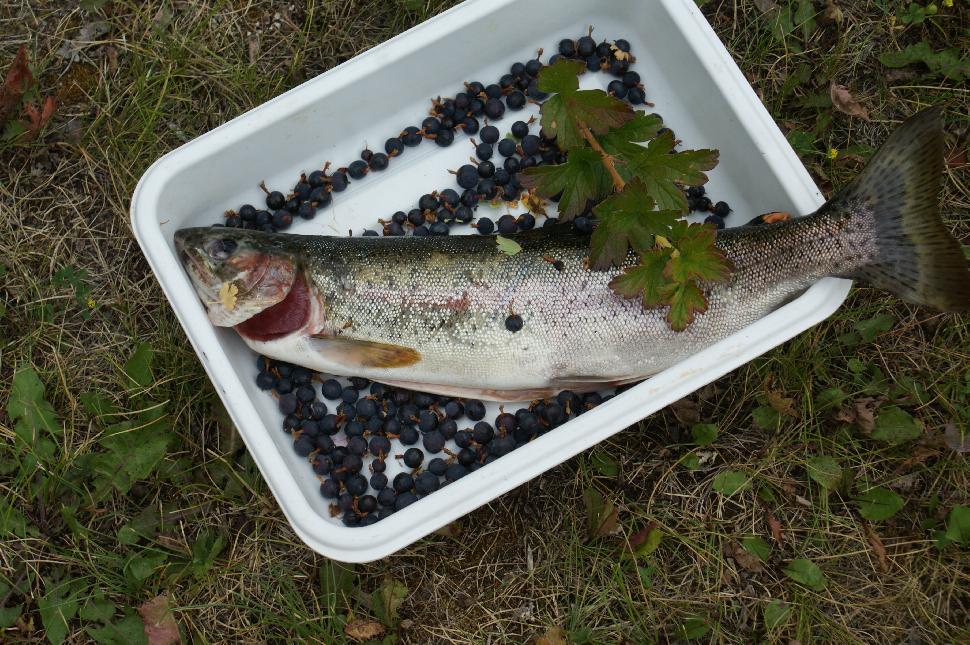 Before leaving home, I combine flour and seasonings together in a large zip-lock bag, ready to drop the fish in for coating. There's no need to be exact with measures– simply mix a couple cups of all-purpose flour with enough dried parsley, savoury, marjoram, ground celery seed, onion salt, pepper, dried ground lemon rind and a pinch of paprika to suit taste.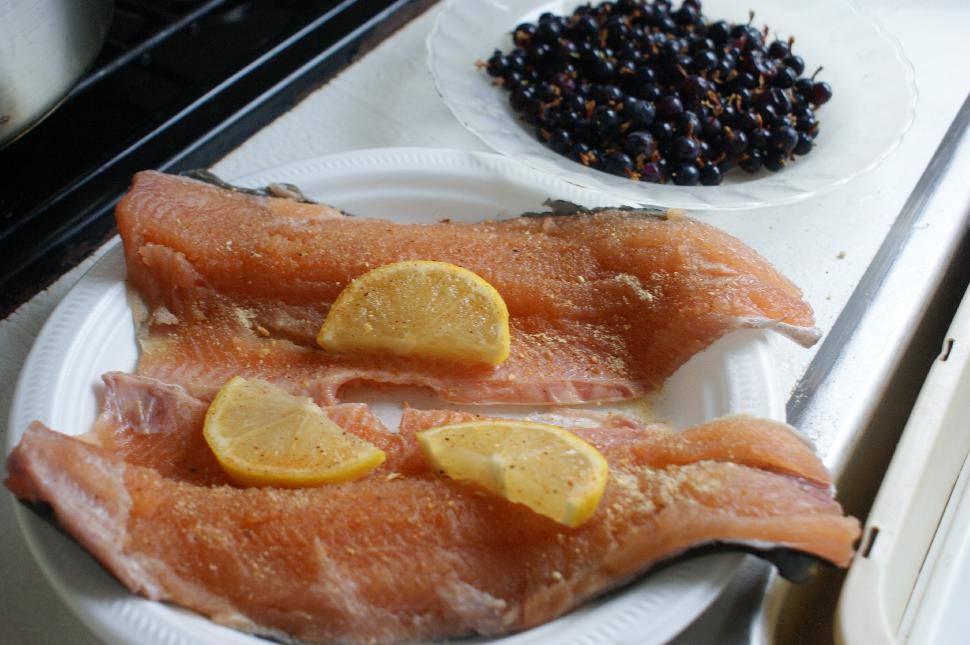 Moisten the fillets or steaks with lemon juice, drop into seasoned flour and shake until coated. Heat two tablespoons butter and three tablespoons vegetable oil in a cast iron or heavy steel skillet until sizzling and fry fish until golden on both sides. Remove from pan and hold hot while making sauce.
Empty excess grease from the pan. Put a couple cups of gooseberries (some folks pinch off the tails–the flower remnants from the berries but I never bother fussing with them unless I'm going formal) into the hot pan along with a couple slices of lemon, 1/4 cup water and enough maple syrup or honey to sweeten. Cook until water is evaporated and berries are on the verge of bursting! Drizzle over the fish and dig in.