When the lactic acid has cleared from my thighs and the burning in my lungs has subsided, spending a peaceful evening on the shore of an alpine lake is one of my favourite things to do. There's something special about schlepping your gear into a remote spot, having the lake to yourself, and having that lake provide the sustenance to fuel the trip back down the trail. In the peak of summer, my wife and I had the chance to hike through the Forbidden Plateau, on Vancouver Island, to do just that.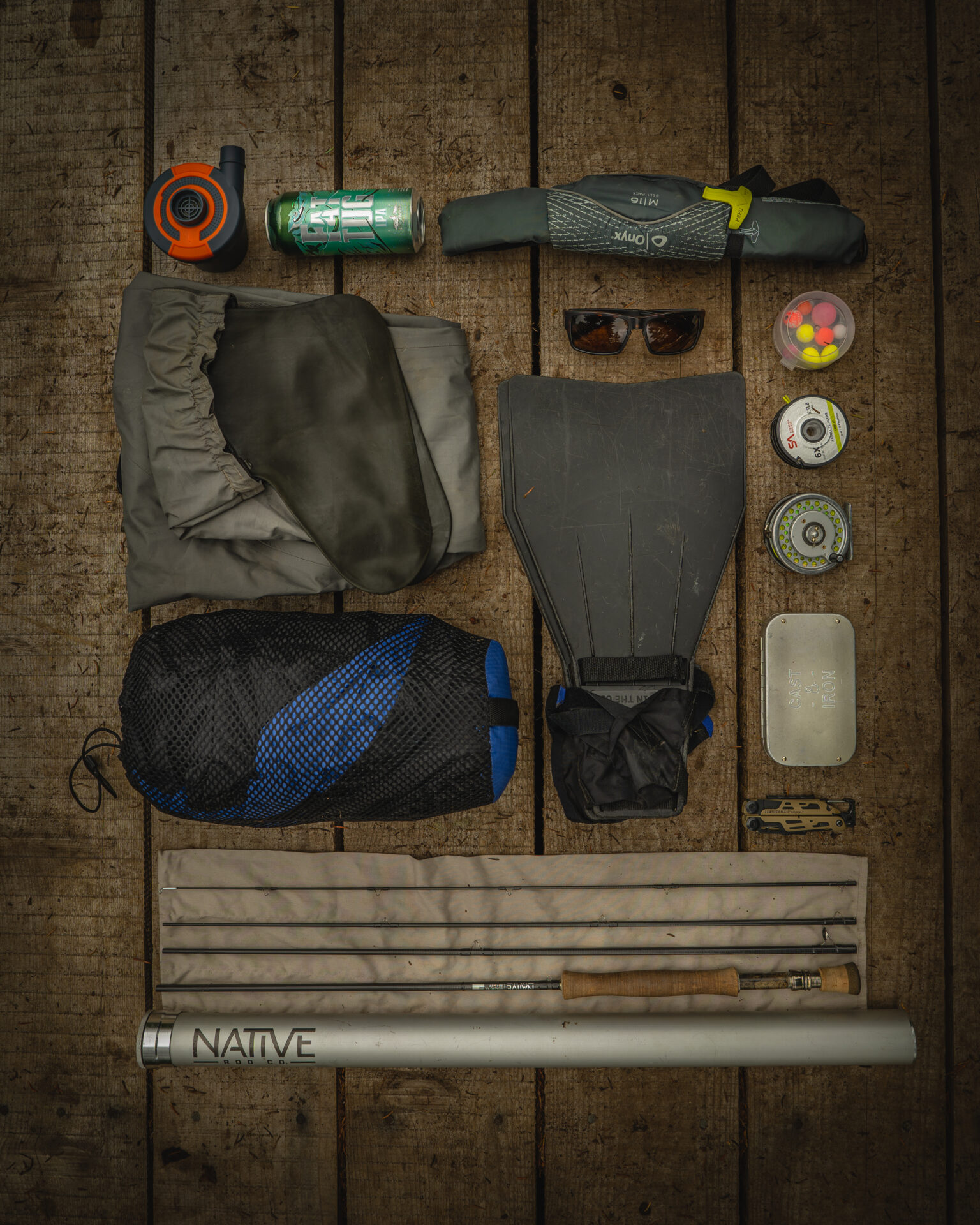 I've always viewed hiking as a means to an end, but when hiking through spots like the Forbidden Plateau, it's hard not to appreciate hiking for the sake of hiking. Nestled between Mount Albert Edward and Mount Washington, you gain a good bit of elevation just getting to the parking lot and the hike itself is actually quite cruisey, enabling the ambitious hiker (or inefficient packer) to bring plenty of gear. I am a big proponent of filling my 80-litre pack to the gills with items that make the journey worthwhile and that facilitate an enjoyable time at the destination. In this case, I'd brought my full hike-in fly fishing setup and some ingredients for a Thai-inspired pesto and a cocktail.
Before we left our cozy AirBnB, I'd laid out and double checked my fishing kit and meal prep. I generally bring my trusty nine-foot six weight, a Hardy Marquis Multiplier with floating line, intermediate full sink and fast full sink lines, tippet, indicators and a selection of stillwater flies to do the finding of the fish, but if possible I will bring my float tube rig as well. I've weighed it out and with my lightweight float tube, flippers, packable waders and a small, rechargeable pump, it comes in at just shy of seven pounds. And, when the lake presents virtually zero possibility for a backcast, getting out to the fish makes all the difference. Also, if you're not sipping a cold beverage while on the water, are you really fishing? On this trip, I'd brought my favourite offering from Victoria's Driftwood Brewing: Fat Tug.
The hike itself is a stunning trip, starting out on a labyrinth of boardwalks before heading up through a chain of stunningly beautiful lakes. Being the opportunistic fisherman I am, I took a peek at the lakes as we hiked to our camping spot, so we could hit some likely spots on the journey home. In a stroke of uncharacteristically good weather, we actually managed to avoid getting rained on for the whole trip, but we were bracing for a soggy one, which any PNW hiker should be prepared for.
Once we made it up to the campsite, we found a peaceful little tent pad nestled in the woods where we could relax before heading out in search of dinner. One of my small pleasures after a big hike is to have an actual chair with a proper back in which to sit. The Helinox Zero weighs in at about a pound, but it's worth its weight in gold, in my opinion.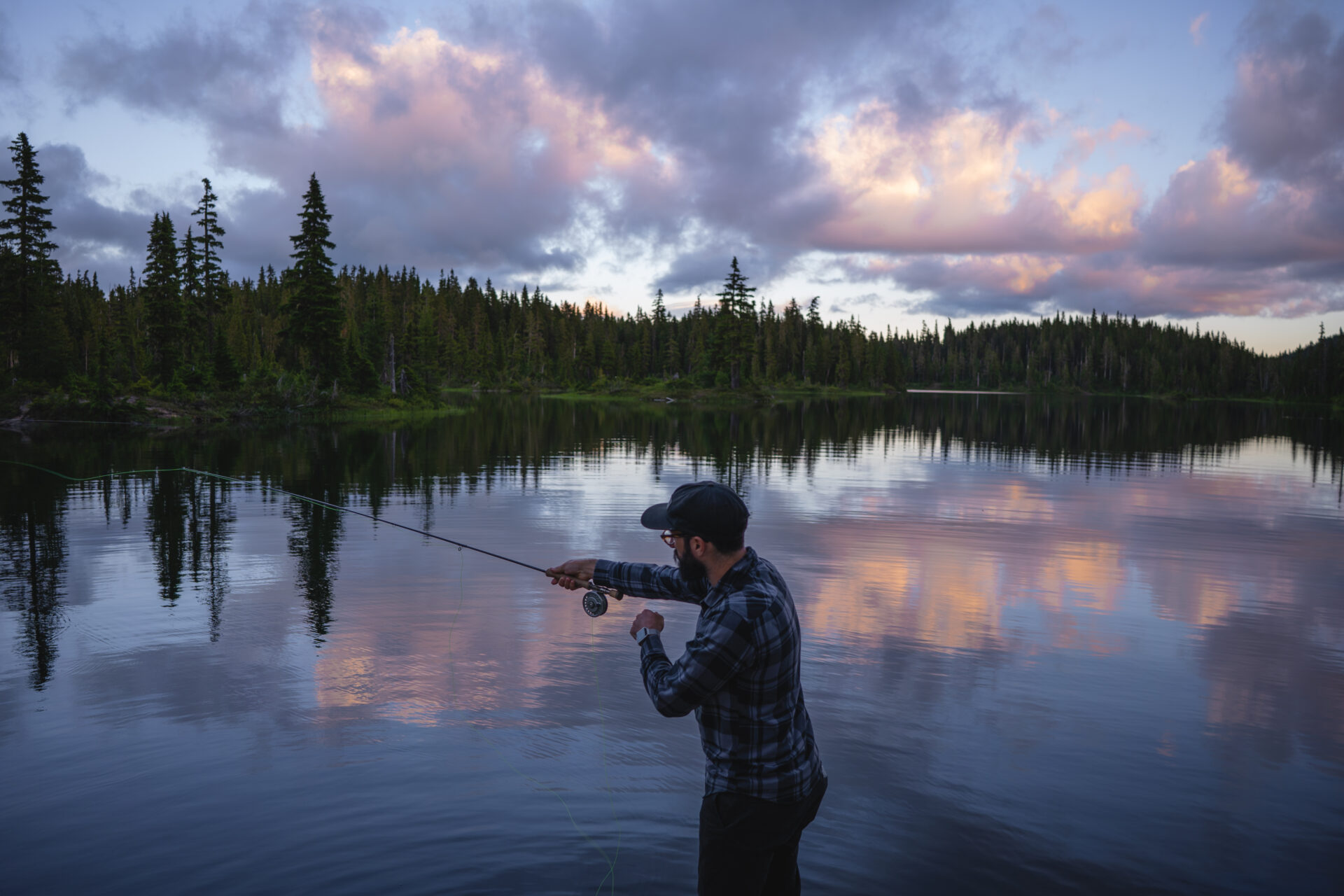 As we set up our weathered, decades old MSR Hubba Hubba tent, I fired up my small, electric pump to inflate the float tube. Admittedly, the hum of an air pump breaks the serenity of an idyllic lake, but it also is a huge time saver. I really don't like blowing up Thermarests and the float tube is an absolute chore, and this device deals with both. So, that's a sacrifice I'm willing to make. Once we'd set up camp, my wife picked up a good book and I donned my packable waders and set off for the lake. I could see fish rising, so I was very confident there were fish and reasonably confident I'd end up with one of them in the skillet.
Being a below-average fly tier, any time I tie on a fly of my own creation, I'm rolling the dice. That being said, I'm also aware that I'm trying to outsmart something with a brain the size of a pea, which always makes me feel better. Throwing caution to the wind and an olive bugger on my line, it wasn't long before I was on the fish. The mobility afforded by a lightweight float tube cannot be understated, as I would have needed to make some impossibly long casts from shore to get my fly to the fish had I not had the float tube.
Once I was confident that I was going to have a fish for dinner, I could pick one that was of a suitable size. If I'm going to kill a fish, I generally want to take one that is genetically unremarkable; I don't want to remove the best genes from the gene pool. Before long, I had an eating-sized trout dispatched, bled and ready to be incorporated into dinner.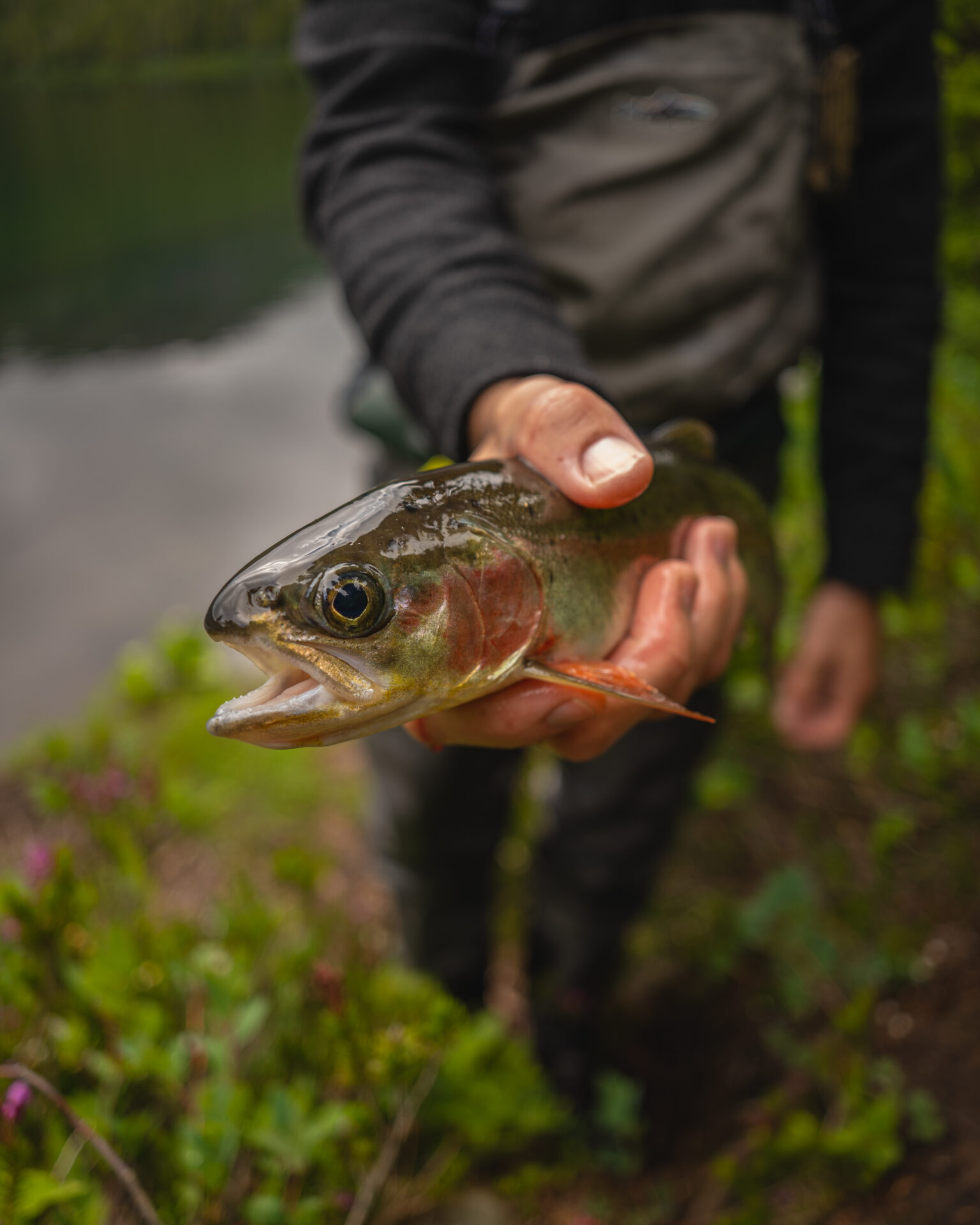 Once back at camp, it was already cocktail hour. Before we left for the hike in the morning, I'd packed a High Mountain flask filled with St. Germain (an elderflower liqueur), Hendricks gin, simple syrup and a few sprigs of Thai basil. As I made my way up the trail, the flask bounced around, infusing the liqueur with the Thai basil, accomplishing the same task as a bartender shaking a drink. Squeezing some fresh lime into a cup, mixing with the liqueur, and garnishing with some Thai basil and lime, we had some absolutely delicious Thai-inspired gin gimlets. On to the main course.
If equipment and ingredients can do double duty, that is a big W for hike-in trips. In this case, there were a number of ingredients that accomplished a few objectives: the Thai basil was part of the cocktail and the main; and the peanuts were a great snack on the way up and a key part of the main course. On a canoeing trip a few years back with some fantastic camp cooks, a Thai-inspired pesto left a lasting impression on me by replacing some of the classic Italian ingredients with those from Thailand. Specifically, instead of pine nuts, use peanuts; olive oil is replaced by coconut oil; sweet basil replaced by Thai basil; and egg pasta replaced by rice noodles. I toasted the peanuts in a skillet before crushing them up with the tent peg hammer on my Leatherman Signal. Roughly chopping the basil, I added the peanuts, a few healthy dollops of peanut butter, and coconut oil to combine. I boiled a pot of water, added the rice noodles and set aside. While the noodles rehydrated, I quickly fried bite-sized chunks of the fish in some coconut oil. At this point, the only thing left to do was to combine the noodles with the pesto, add the fish and eat. This was a meal to remember, particularly with a cocktail to boot.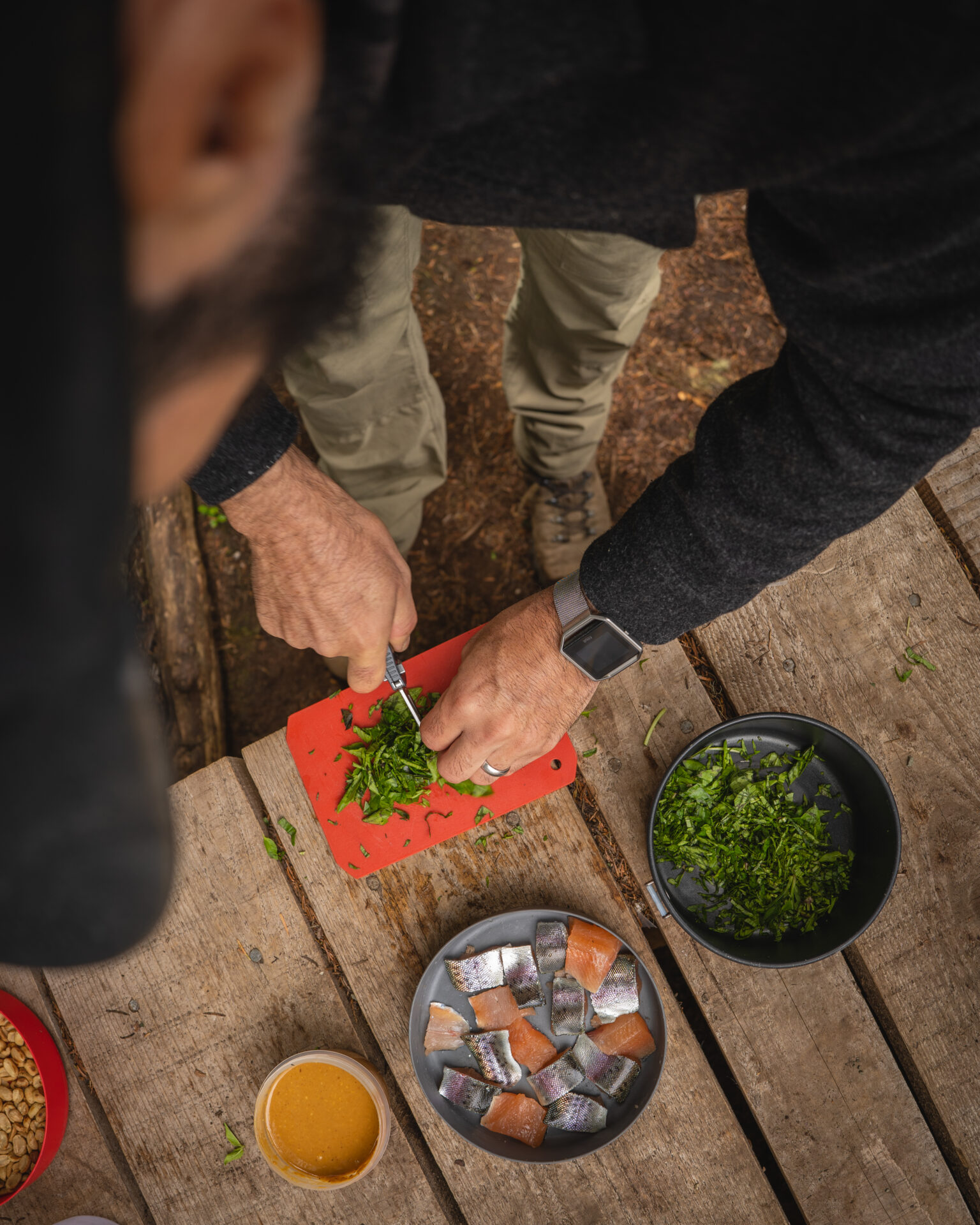 Unsurprisingly, I slept like a baby after a hard day of hiking and a hearty meal, adequately preparing me for the hike out the following day. After some coffee and oats for breakfast, we set off to make our way back down to the trailhead. The hike out was as stunning as the way in, which gave us the opportunity to have a leisurely hike out. We stopped for snacks at several of the lakes and I managed to convince a few willing trout to sip on a few dries, which was a real treat. Sight fishing in clear water on a hot summer day is tough to beat. After we'd made our way back to the trailhead with boots aching to be taken off, we were left with a host of great memories and plans to replicate our Thai-inspired pesto and cocktail with friends on our next hike-in trip.