Here's a tasty fish creation reminiscent in flavour to the renowned Jewish dish known as gefilte fish. The big difference is that these savory fish dumplings are served piping hot in a colourful vegetable-studded stock rather than in the authentic gefilte manner in which the dumplings are fished out of the pot and served chilled on a platter with just a little cooking liquid or sauce drizzled over top.
The original recipe calls for any type of skinless, boneless white-fleshed fish fillets. Over the years I've found bass, walleye, pike, burbot and halibut trims make traditional light-coloured dumplings; I must admit though that salmon, trout and other more red fleshed catch work wonderfully as well, producing more deeply coloured dumplings. You can also mix different kinds of fish, which is a thrifty way to put tidbits from the freezer to good use. When a fish dumpling craving strikes I use whatever catch I have available and the fish I choose dictates the colour of the day's dumplings.
There are a couple options for making a flavourful broth for this soup but the biggest secret to success is to use a rich, highly seasoned broth. When I have a stash of saved fish trims in the freezer like heads, bones, skin and other trims I make fish stock to cook the dumplings in. However, store-bought fish or even chicken stock can be used with good results especially if you spike it, like I do with a pinch of extra herbs and some white wine, as I find many store-bought brands need a little something extra.
To make a simple fish stock, put a couple pounds of fish trims into a stock pot and cover with water and 1 cup of white wine. Add chopped onion, cloves of minced garlic, sliced root-end of leek, chopped celery (I use the tough celery bottoms as well as the leaves for stock making), minced parsley, a sprig of rosemary, a bay leaf, a few peppercorns, a pinch of dried chili flakes and salt and pepper to taste. Bring it to a boil, skimming several times, cover, reduce heat and simmer about one hour. Remove from heat, strain broth through a sieve and discard the spent dregs. Taste and adjust seasoning.
Ingredients: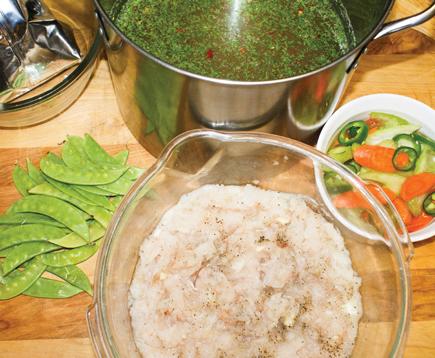 2 pounds fresh or thawed skinless, boneless fish fillets (I have used white fleshed catch this time as shown in photo)
1 large onion
1 egg
2 tablespoons cold water
Garlic powder, salt and pepper to taste
2 or more cups matzo meal (you can use Japanese bread crumbs known commercially as Panko or ordinary bread crumbs but I find matzo meal has great binding power and also lends the fish dumplings more authentic
gefilte-like fish flavour)
Instructions
Grind fish and onion in a meat grinder or run through a food processor or blender to mince it. Transfer fish to a bowl and add remaining ingredients, working in as much of the matzo meal or crumbs as needed to make a firm, workable dough then form into ping-pong sized balls with your hands and place on waxed paper. Makes about 2 dozen, depending on size.
Preparing the Broth
Put 8 cups of fish (or chicken) stock into a soup pot, sprinkle generously with parsley and bring to a boil. Add a handful or two of whole snow peas, some thin slices of diagonally cut carrot and celery, a sliced jalapeno (optional) and the fish dumplings. Reduce heat, cover and simmer 40 minutes or until vegetables are barely tender, at which time dumplings will be done. Transfer to a soup tureen and garnish with thinly sliced green onions upon serving. Serves 6.
Special Treat
If you have leftover fish dumplings remove them from the broth, pat dry with paper towels and chill on a platter. Spear with toothpicks, sprinkle with minced parsley or dill, drizzle sweet and sour sauce over top and serve as an appetizer.