Mini Crispy Fish Bowls
Ingredients:
24 wonton wrappers
Vegetable oil for brushing
1 cup flaked leftover cooked fish (any kind of red or white fleshed fish works great)
1/4 cup skinless, boneless minced smoked fish (salmon, trout, other)
3/4 cup softened cream cheese
2 tablespoons heavy cream
1 egg
1 teaspoon fresh minced dill
1 teaspoon Tabasco
3 minced green onions
3 tablespoons minced sweet red pepper
Freshly grated parmesan cheese
Grease mini tartlet pans with vegetable oil. Brush wonton wrappers with oil, place oil side up in prepared tins to create fluted "bowls". Bake in a 350F oven for five minutes. Meantime, put remaining ingredients, except Parmesan, in a bowl and beat with a fork until mixed. Spoon filling into shells, sprinkle with Parmesan and bake 10 minutes or until filling is set.
Salmon Cocktail Balls
I adapted this recipe from mom's old recipe for salmon cakes–only difference is that I form the mixture into bite-sized balls instead of patties and serve them on toothpicks with dipping sauce. Makes two to three dozen, depending on size of balls.
Ingredients:
16 ounce jar (or 1 large can) salmon
1 cup cold mashed potatoes
1 egg
1 minced onion
2 cloves minced garlic
1/4 cup minced red peppers
1 cup (more of less) breadcrumbs
Salt and pepper to taste
Flour for dredging
Drain salmon, flake. Mix all ingredients in a large bowl, adding enough breadcrumbs to bind mixture together. Chill 1 hour. Using hands, form mixture into bite-sized balls and place on waxed paper. When all are formed, dredge in flour. Heat a frying depth of vegetable oil in skillet and fry, shaking pan often, until golden on all sides, working in batches if you must. Using a slotted spoon, remove balls and drain on absorbent paper. Serve warm with dipping sauce: mix 1/4 cup liquid honey with 1 tablespoon soy sauce, 3 tablespoons sweet chili sauce and a clove or two of mashed garlic.
Smoked Fish Cheese Ball
What I love about this recipe is, there are no exact measurements–you can add more, less, omit or toss in anything that tickles your fancy from capers to dill pickle relish! Put an 8 ounce package of cream cheese into a bowl along with 1 cup grated cheddar cheese and 1 cup (more or less) of minced smoked salmon, trout or other smoked fish. Add some minced sweet onions, sweet red and green peppers (this gives festive colour) in amounts to suit taste and a couple spoons of finely chopped pimento-stuffed olives. Sprinkle in a pinch of lemon pepper. Blend well and form into a ball. Roll in fresh minced dill. Chill several hours before serving with crispy crackers.
Variation–for a little extra bite, crumble a handful of blue cheese into the mixture.
Oriental Salmon Potstickers
Watch your guests tackle these tasty bites! Enough filling for about 20 potstickers.
Ingredients:
20 wonton wrappers
1 lightly beaten egg
Filling:
1 serving-sized fillet of boneless skinless salmon, chopped fine
1 teaspoon grated ginger
2 cloves minced garlic
1 minced jalapeño or other small hot pepper
1 teaspoon soy sauce
1 teaspoon mirin (rice wine or Sake)
4 finely sliced green onions
Mix filling ingredients, chill for an hour in order for flavours to mellow. Lay wonton wrappers on counter and place about a teaspoonful of filling in the center of each wrap. Brush edges of wonton with lightly beaten egg, fold dumpling over the filling, pressing to remove air bubbles and to seal the seam of the dumpling. When dumplings are all made they can be covered with damp cloth and chilled until cooking time. Dumplings can be steamed 3 to 4 minutes or dropped in boiling water and cooked until they all rise to the top. Drain, sprinkle with toasted sesame seeds if desired, and serve with pickled ginger and a dipping sauce such as the one above used for the fish cocktail balls.
Variation–these tasty dumplings can be deep-fried in vegetable oil until crispy and golden.
Smoked Salmon Tartlets
Ingredients:
3 dozen ready-made mini tartlet shells
1 cup grated mozzarella cheese
1 cup minced smoked salmon
3/4 cup cream
2 beaten eggs
3 tablespoons grated parmesan cheese
1/4 cup sliced green onions
Salt and pepper to taste
Divided grated cheese in bottoms of tart shells. Mix remaining ingredients, spoon into shells over cheese. Bake in preheated 350F oven for 15 minutes or until shells are golden and filling is set. Serve warm or cold.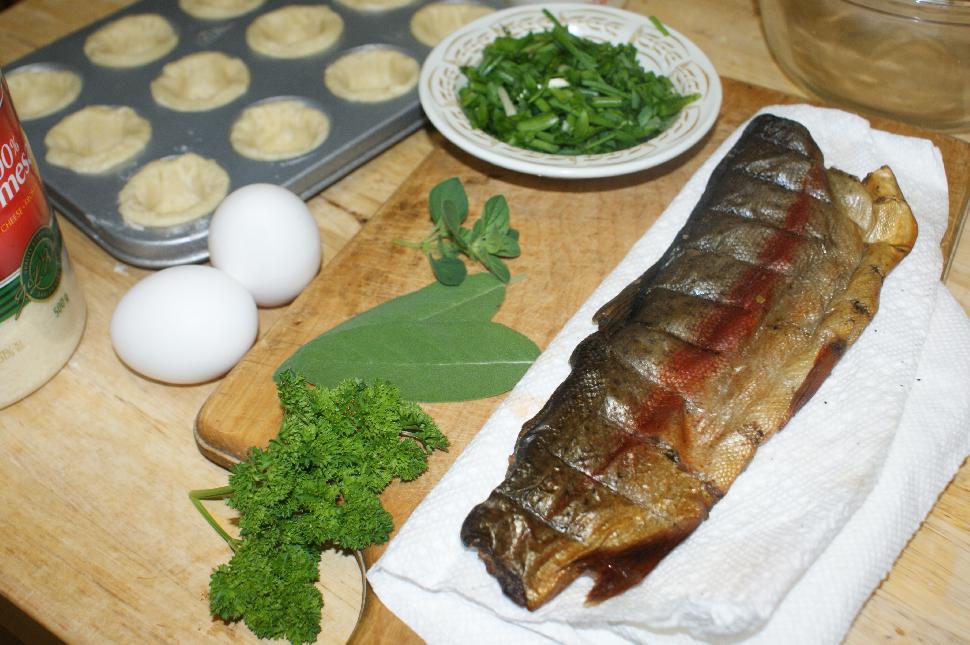 Fastest Ever Fish Appy's
Scrub 6 small whole potatoes, microwave on high until tender. Cool. Cut in half, scoop out centers with spoon. Add 2 tablespoons sour cream, 2 finely sliced green onions, 3 tablespoons flaked smoked fish (salmon, trout, other) and salt and pepper to taste to the centers and mash. Spoon filling into potatoes, top with grated cheese and bake until hot and bubbly. Makes 12.