Whether you are looking for an easy snack to whip up during the busy holiday season or you want to share with friends and family as an appetizer, this is the recipe for you. Making homemade sausage rolls can be labour intensive, but this easy spin on them makes them a breeze to bake up. Bonus points as they can be frozen and reheated in no time.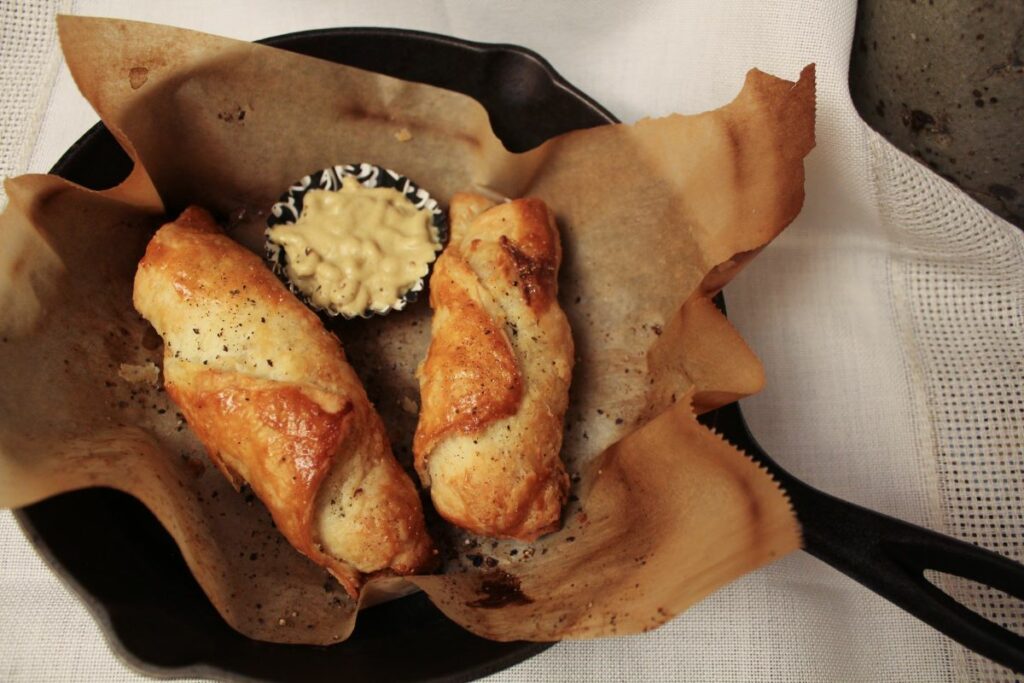 To make these sausage rolls, you will need:
1 package store-bought puff pastry (or use your favourite homemade recipe, if you have time)
Six sausages (pick your favourite type! Bear sausage is my go-to)
Dijon mustard
1 egg, lightly beaten
Directions:
Important: If the sausages you have chosen to use are not precooked or ready to eat, make sure to cook them thoroughly beforehand.
Preheat the oven to 375 degrees Fahrenheit. On a well-floured surface, roll the puff pastry dough out into a large circle, making the dough as thin as possible (you may have to flour the pastry dough lightly to keep it from sticking to the rolling pin.) Divide into six wedges. Spread a thin layer of Dijon mustard on each wedge, set a sausage on top and then roll the pastry up. Use a pastry brush to cover each roll with egg and place on a parchment lined baking sheet.
Bake in oven for approximately 35 minutes. Serve with your favourite dipping sauce on the side.
To reheat after freezing: Thaw in the fridge and then reheat in a 350-degree-Fahrenheit oven for 10 minutes or until warm all the way through.