The combination of the melting snow and recent rains had turned any part of the trail that wasn't a boulder into a mudslide. I quickly called into question every ounce of gear I had stuffed in my 90-litre pack. Juxtaposed against my soggy boots, the blazing sun quickly crisped up my face as we slowly gained the 900 metres in elevation necessary to access the banks of a remote lake in BC's lower mainland, where we'd spend the next few days. Scrambling over the last boulder field, the landscape opened up into myriad facets of blue, teal and turquoise as the sun glistened off the lake. Every drop of sweat had been worth it.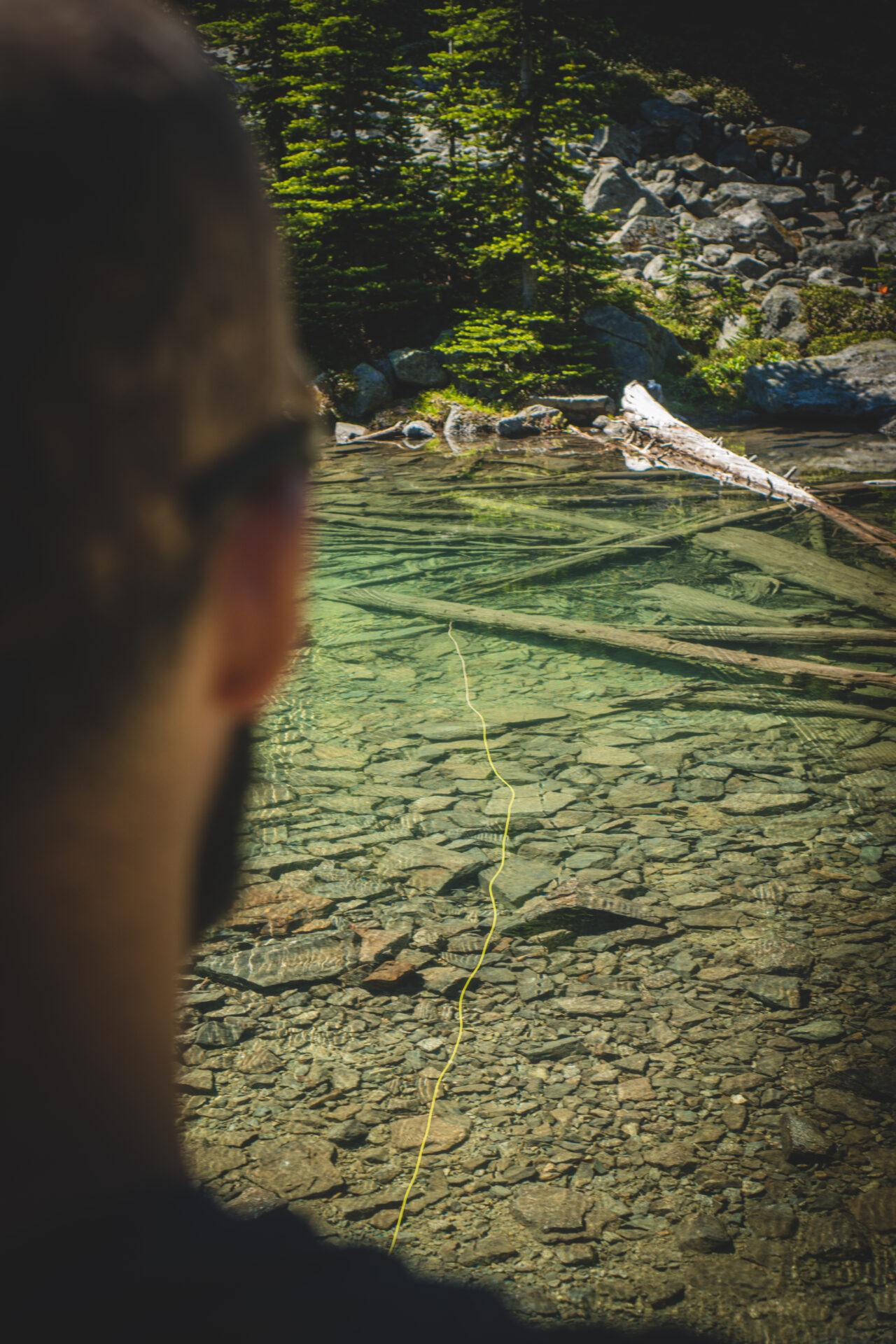 I would describe myself as a pretty medium fly fisherman and an enthusiastic home cook, having zero professional experience in either realm. That said, I've been cleaning, catching and cooking up fish in some capacity since my parents gave me a pocketknife at the tender age of four. As kids, my two brothers and I were voracious fishermen, taking any opportunity we had to get out on the water, always with the intent to eat our catch. Under the watchful eye of my parents, we were frying up fish in cast iron skillets before we could read or write. As a result, the smell of fresh fish frying brings back many of these fond memories, making this experience one that I enjoy to this day.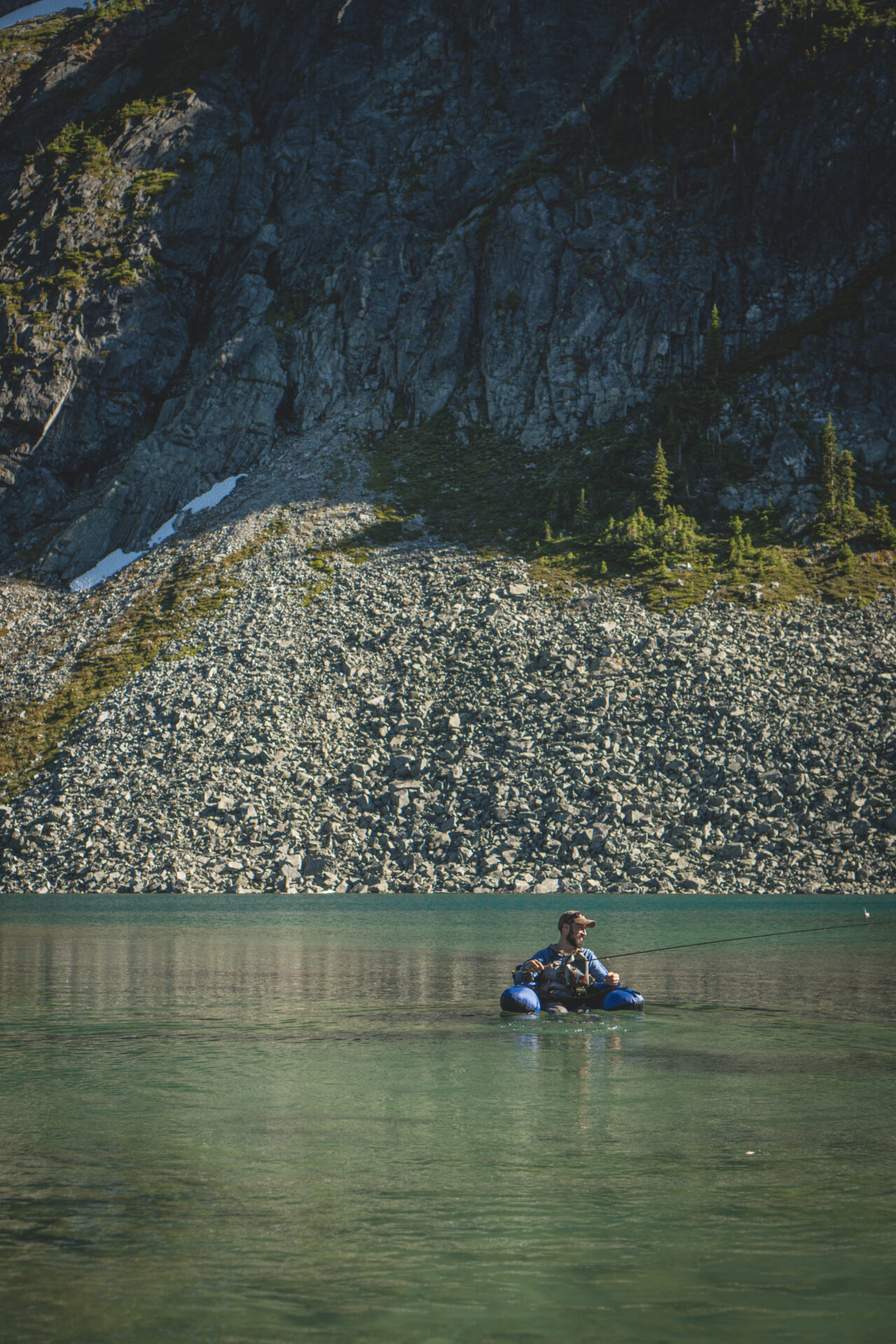 On this particular trip, we had set ourselves some pretty ambitious goals: hiking two days' worth of food and gear into a remote lake, catching fish in a lake we'd never seen and bringing together a meal for four people. Prepping for the journey, I hedged my bets about what sorts of conditions I might experience on the water. I knew we'd be in the treeline, which often means a roll-cast-only situation, so I packed my float tube. Some might think this is a bit over-the-top, but all in, my float tube, air pump, flippers and waders come out to just shy of seven pounds. This sounds like a lot, but in my experience it can be the difference between losing a box of flies in the trees while catching nothing, and putting fish in the pan.
I had my trusty Native Rod Co. six-weight, paired with a vintage Hardy Marquis 6 Multiplier and three separate spools: floating, type 3 sinking and type 6 sinking lines. This is my go-to setup for alpine lakes, as there's enough backbone in the rod to handle anything that's going to be in these lakes while still enjoying catching fish. Also, the line selection covers virtually all parts of the water column. In my fly box, I carry a variety of stillwater presentations, such as damselfly nymphs, scuds, etc., but I generally rely heavily on bread-and-butter patterns, notably leeches in a variety of colours and sizes. That said, I'll always have a good selection of attractors, such as Doc Spratleys, for when desperation starts setting in and I'll try anything in the box.
In my opinion, there is no better way to pay respect to an ingredient than to serve it fresh, using only a few ingredients, and to share it with friends. In preparing for a catch-and-cook trip, I know that the best way to ensure that I won't catch anything is to bring ingredients that don't work without fish. Packing in only fish batter and oil is an excellent example of sealing your fate with the fish gods. So, for this trip I'd planned out a dish that would be good as a vegetarian entree and great with the addition of some fresh fish: a rustic walnut pesto pasta.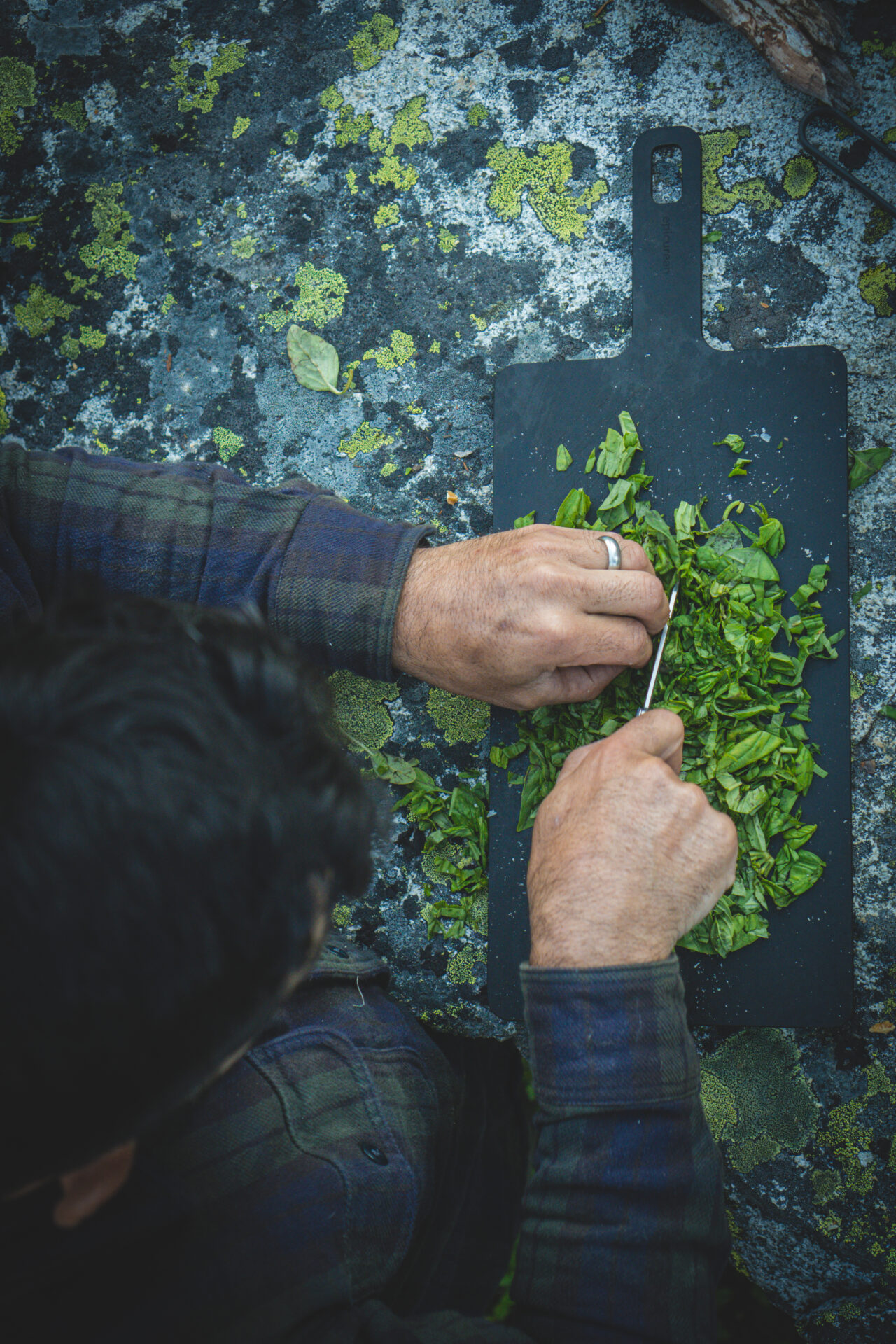 High up on the hill, overlooking the lake, we set up camp with a 360-degree view of the mountain range and enough protection not to get battered by the wind. Once we'd pitched our tents, I was keen to scout out the lake to see if I could find the one missing ingredient for tonight's dinner: rainbow trout. Glassing the lake from camp, I could see a small outflow creek that looked promising, but the rest of the lake looked deep with very little shoal. One of the many challenges of fishing alpine lakes is that the rocky banks often do not support much vegetation, which in turn does not make for a very favourable habitat for fish. That said, there's only one way to find out if there are fish there.
After a long hike in the beating sun, there's nothing quite like paddling around in a float tube with sore knees submerged in the icy waters. Despite being a scorching hot day, the lake water was not something you'd dive into without immediately hyperventilating, so I was thankful I'd hiked up a pair of packable waders. Armed with polarized sunglasses, I surveyed the water for any fish sign, be it a rising fish, insect life or spots that looked particularly fishy. For a good hour I fought the wind, paddling around the lake dragging a leech pattern trying to get an idea of what the score was, but to no avail. The shores were largely lifeless boulders that went down more than 30 feet deep within 10 feet of the bank. Remembering the outflow creek, I headed toward this last spot to see if my luck would change. Posting up just before the creek, I took a few casts, stripping in the leech with a variety of presentations, and my luck paid off. In a flash, my six-weight was bent over under the strain of a feisty rainbow. With limited gear, notably the absence of a net, wrestling a fish onto a float tube can be a bit tricky. Thankfully, the rainbow was cooperative and after a quick rap on the head with my Leatherman, I cut the gills to bleed him out. I'm a big proponent of bleeding fish out, regardless of their size; I find that the meat makes much better table fare and it also makes the filleting process much cleaner.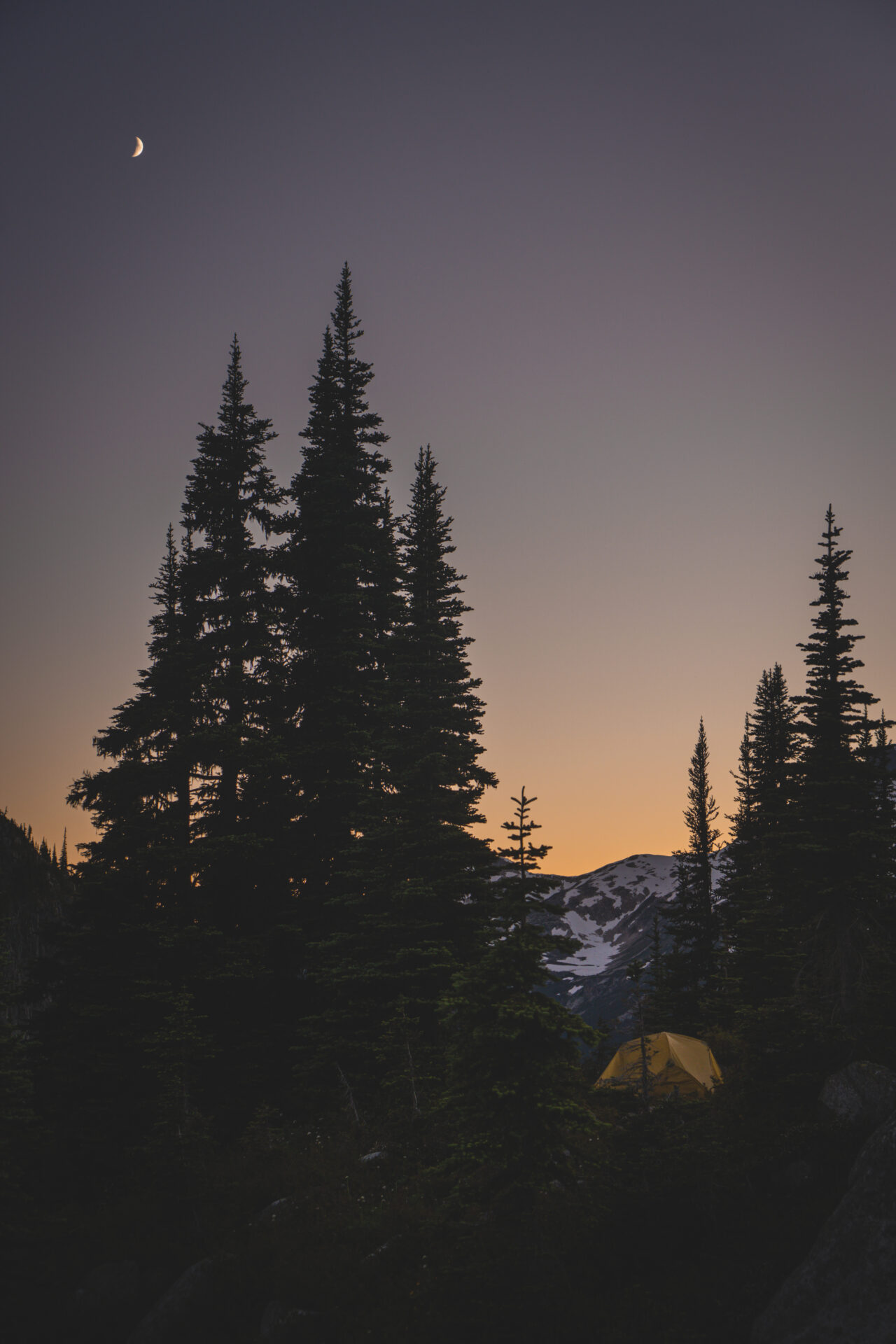 With a fresh trout in hand, it was time to find a spot to prepare for the evening's feast. If I'm in bear country — which is virtually everywhere in BC — I generally abide by the theory that you should sleep more than 100 metres from where you keep your food cached, which should also be 100 metres from where you cook your food. I like a certain degree of comfort and organization when I'm cooking; a flat spot at about waist height to lay out all my ingredients and set up a camp stove is an excellent place to start. Thankfully, we found a big, flat boulder that allowed for all four of us to set up camp chairs, have an adult beverage and cook up dinner.
Packing up your cooking gear requires making some tough decisions about what is, and is not, necessary. Regardless of whether I'm truck camping with 40 pounds of cast iron or on a week-long backpacking trip, two items that I always have with me are a lighter and a Leatherman. My favourite Leatherman for cooking meals that involve a lot of chopping is the K2, which has a locking 3.3-inch blade alongside a host of other handy tools. In terms of camp stoves, I am partial to the JetBoil HalfGen, which has the ability to cook at a range of temperatures and comes with a handy non-stick pan. In addition to these tools, I like to have a cutting board, folding spatula and a lightweight pot and pan.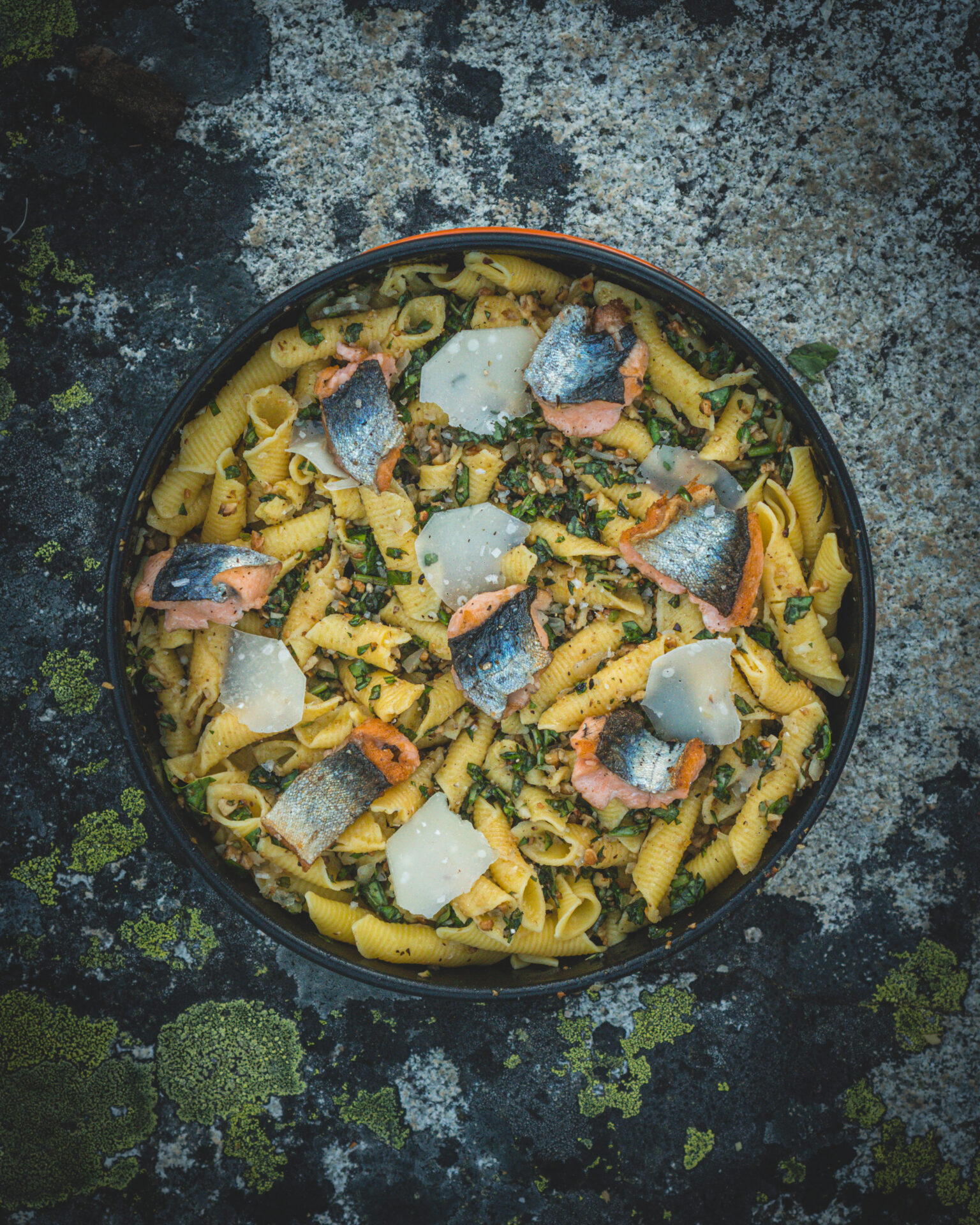 Some of my favourite meals are ones that use just a few ingredients, and this dish was no different: dried pasta, walnuts, basil, garlic, parmesan, olive oil, salt, pepper and fresh fish. The bulk of the prep time involved chopping up the ingredients for the pesto. I was thankful that I'd brought the Leatherman K2, as the bigger blade made quick work of the walnuts, basil, parmesan and garlic. Usually pesto is blended smooth, but I thought a more rustic, rough chop would be appropriate given the setting, and not wanting to spend the whole evening chopping.
I boiled a pot of salted water and cooked the pasta as per the instructions on the bag. After draining the pasta water, I took the pot off the heat and toasted up the walnuts in the pan. Once the walnuts became fragrant, I added in the basil, parmesan and garlic, mixing thoroughly with a healthy dose of olive oil, then adding the pesto mixture into the pot with the cooked pasta.
To prepare the fish, I filleted and portioned out the trout into about three chunks per fillet. In a hot pan, I seared the trout skin side down, flipping once the skin had crisped up. These small trout take a surprisingly short amount of time to cook; once they're opaque, they're done. To finish the meal, I added the fish to the pasta, garnishing with fresh oregano and shaved parmesan.
As the sun set on the lake, we enjoyed an absolutely stunning alpenglow alongside a hearty meal. One of the advantages of hike-in camp cooking is the addition of the secret ingredient: hunger. After an exhausting day of hiking, everyone thoroughly enjoyed the meal, cleaning their plates, and sharing some very kind words with the chef. Moments like these are much larger than just finishing a hike, or catching a fish, or preparing and sharing a meal: they are the combination of some of my favourite things, where the whole is greater than the sum of its parts. For me, this is why catch and cook is so great — it encapsulates a range of experiences that brings me closer to nature, to where my food comes from and to the people with whom I choose to spend my time.