I love grouse hunting and one of my favourite campfire suppers after a successful day in the upland woods is fried grouse drizzled with tangy rosehip sauce, freshly made from plump hips harvested from the same woodlands my bird was bagged in. What could be better than that!
There are six types of North American grouse and the four members of the family found in BC are ruffed grouse, which is one of the most abundant in my particular hunting region, spruce, blue and sharp-tails.
Up until the 1900s, sage grouse were also on the list, but they were totally wiped out of our province and today these endangered birds only occupy about seven per cent of their historical range throughout Canada, found now in scant numbers in southwestern Saskatchewan and southeastern Alberta where a few sparse patches of native sagebrush (from which they were named) still grows. Thankfully, sage grouse are protected by law and it's a valuable lesson to us all to cherish our game and protect their habitat.
Deciduous stands of mixed trees, such as birch and poplar, willowy scrublands, burned and logged areas that are rich in new seedy growth, edges of forests, rims of meadowlands where clovers grow and anywhere there are wild hazelnut brushes and patches of woodland blueberries, bunchberries and other wild berries carpeting the forest floor are all prospective places to flush out grouse.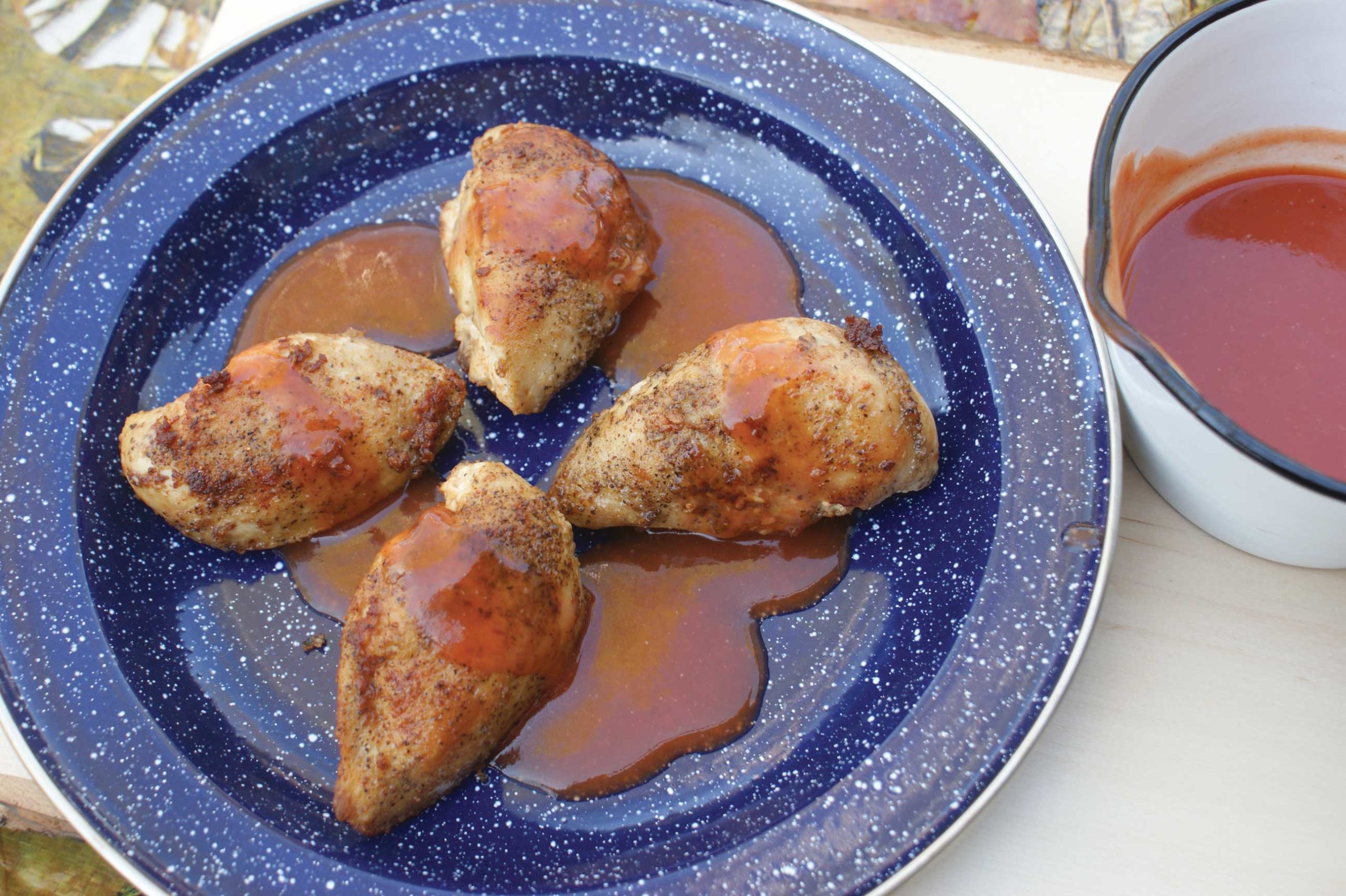 When I'm banking on a bird supper, one of my favourite grouse-hunting trails runs along an old logging trail that is heavily hedged in wild rose bushes. I've bagged my fair share of grouse with their berry bags or crops, if you will, bursting with rosehips, especially in later parts of the hunting season when the flesh hips are heavy and hanging close to the ground within their easy reach.
Of course, after the bird is bagged I always gather a cap full of rose hips to take back to camp for simmering into a sauce that makes a mouthwatering drizzle for fried grouse, and it's also delicious spooned over fried rabbit and game steaks, well worth remembering for other successful hunts that carry you through the bramble bushes.
Next time you are preparing a grouse supper in camp, give this recipe a try.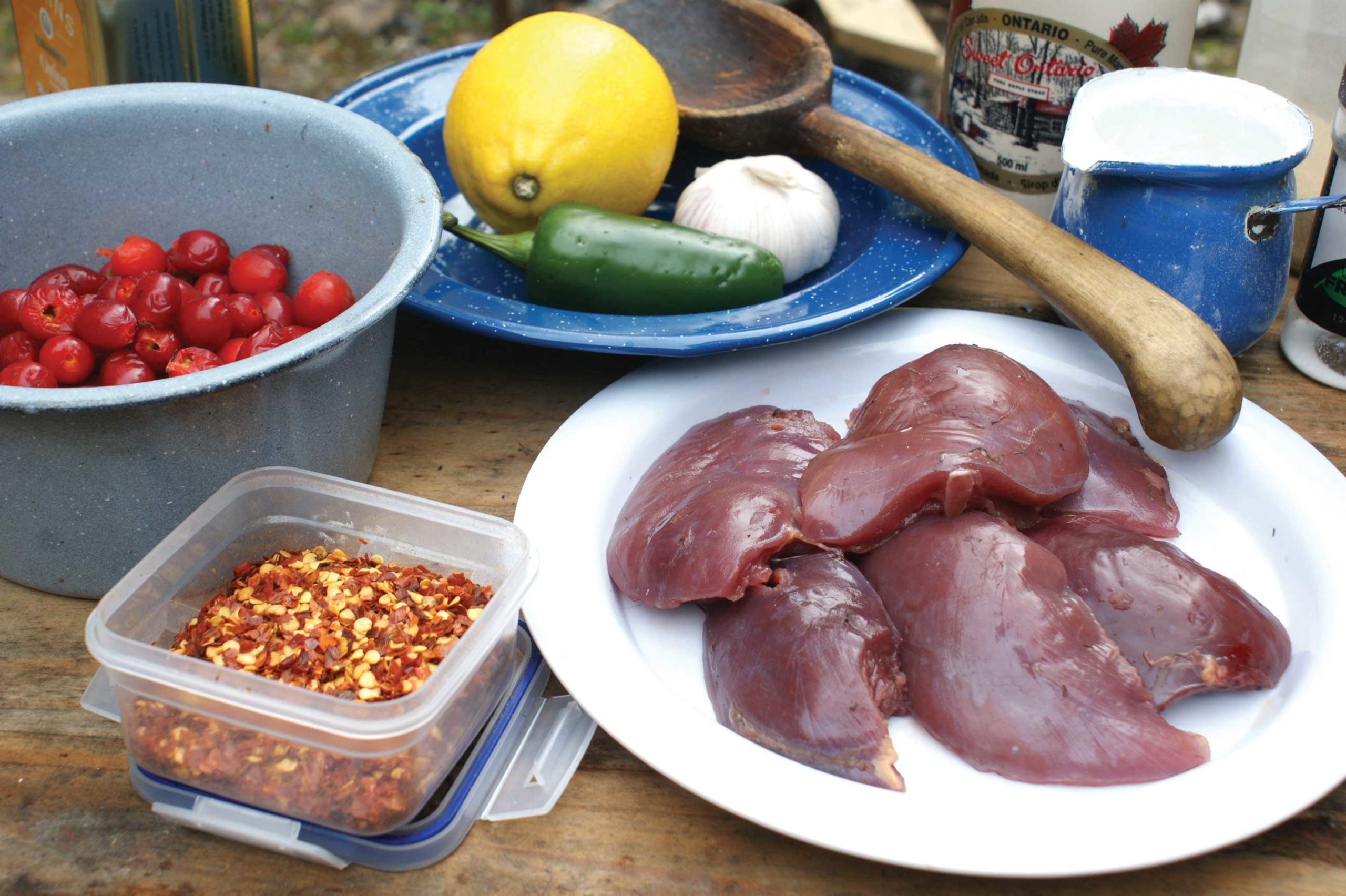 Ingredients
Two or three whole grouse, breasts removed from the bone. I field dress grouse in the whole bird fashion and often add the legs to the pan for extra nibbling, but if you practice the "breasting" method of dressing grouse, then you will not have the legs to your avail.
Salt and pepper
Pinch of cayenne pepper
6 tablespoons vegetable oil
Heat the oil in a cast iron or heavy skillet over coals. Season grouse and slide into the hot oil and fry until golden on the bottom. Flip over and continue frying until cooked through, about eight minutes. Transfer to a plate and drizzle the rosehip sauce over top.
Rosehip Sauce
If you wish to make this sauce in camp, be sure to tuck a strainer into your cooking gear box before leaving home.
1 quart of rosehips, stems removed
2 cups water
3 cloves chopped garlic
1 minced onion (or 2 tablespoons dehydrated onion)
1 minced jalapeno pepper
1 tablespoon lemon juice
1/2 teaspoon grated or chopped lemon zest
1/2 cup brown sugar
1/2 teaspoon crushed chili pepper flakes (optional but adds a little extra spunk)
1 tablespoon butter
Salt and pepper to taste
Put all ingredients, except butter, into a saucepan and bring to a boil over the fire. Cook until the hips are mushy, about 15 minutes, adding more water as needed to keep from going too thick, as this sauce should be just a little thinner than ketchup. In fact, if you simmer it down into ketchup consistency, it makes a really good ketchup substitute should your camp bottle be running low. Strain through a sieve, pressing with the back of a spoon. Discard the pulp. Return to the saucepan and stir in the butter, salt and pepper. Drizzle the sauce over the fried grouse upon serving.