The venerable .22 rimfire rife has been with us for over a century. Most every hunter or shooter has one or has shot one. They offer limitless opportunities, from fun plinking to serious competition shooting. They are inexpensive to shoot, can be a great training aid, are ideal for keeping your shooting skills alive and offer the hunter a super small game rifle. Worldwide, millions of rounds are sold each year.
My interest in this diminutive rifle cartridge began well over a half century ago. During that cavalcade of years, I have shot thousands of rounds with an array of rifles, from my first, a Cooey single shot, to various high-end Anschutz target rifles. Initially, most were wood-stocked rifles, but a trend began to evolve where low-end synthetic stocks replaced wood on value-priced rifles. While these synthetic stocks are cost effective to produce, they do not replicate the feel of most centerfire rifles, particularly for those of us who want an all-season practice and small game rifle.
Savage BNS-SR .22 LR
Savage's new BNS-SR model caught my eye primarily because of its stock, a timber hardwood laminate stock, to be exact. And here I will diverge a bit to discuss the advantages of a laminate stock over either a traditional one-piece wood stock or a synthetic stock. A laminate stock has the feel of wood because it is wood. It won't warp, and it's stronger than wood. One test I reviewed sank a treated laminate stock in a swimming pool for five days, after which it showed no measurable warpage. As far as synthetic goes, particularly a low-end product, laminate will leave a synthetic stock in the dust when it comes to feel and balance. In other words, wood laminate affords all the advantages of wood, with the all-weather performance of synthetic. Meanwhile, Savage's attractive BNS-SR laminate wood stock offers a modernized, ergonomic design that includes a higher comb and a vertical pistol grip, which allows the shooter to hold the rifle in a more natural position for less stress on the wrist.
Moving on to the mechanics, the BNS-SR includes a button-rifled, matte carbon steel barrel, user-adjustable AccuTrigger (1.5 to five pounds), 10-round rotary magazine, two-piece Weaver-style bases and, for optimum accuracy, thread-in zero tolerance headspacing that is similar to Savage's centerfire rifles. The barrel is also threaded half-inch by 28 with a cap.

Rifle Specifications
Calibre: .22LR
Length of barrel: 18 inches
Overall length: 36 inches
Weight: 6.6 pounds
Rate of twist: 1/16
Length of pull: 13.6 inches
Vortex Crossfire II 4-12×40 Scope
With the concept of a do-it-all rifle pervading my thinking, I set about finding a scope that resembled a centrefire rifle scope in dimensions, weight, optics, magnification, parallax adjustment for rimfire ranges and was modestly priced. The Crossfire II met every one of these requirements. So, let's take a look at each of these factors independently.
Scope dimensions: The Crossfire II is actually a centrefire scope, for which I saw a broader use. Its length and weight match many other centrefire scopes.
Optics: It has multi-coated lenses that offer increased light transmission and its 40-millimetre objective lens provides better light transmission than many smaller objective lensed rimfire scopes.
Magnification: With a zoom range of 4-12x, it covers most prospective hunting and shooting scenarios for a rimfire rifle.
Parallax adjustment: The Crossfire's parallax adjustability is the primary reason I chose this scope. It is adjustable from 10 yards to infinity, perfect for every conceivable rimfire shooting application. This range of adjustability is not often found on centrefire scopes.
Modestly priced: At the budget friendly MSRP of $359, this scope provides many of the benefits frequently associated with a centrefire scope, but at a rimfire scope price.
Additional features include long eye relief, resettable MOA turrets, hard anodized single-piece aircraft-grade aluminum tube, is nitrogen purged and O-ring sealed for waterproof and fogproof integrity, shockproof and includes a second focal plane Dead-Hold BDC MOA reticle.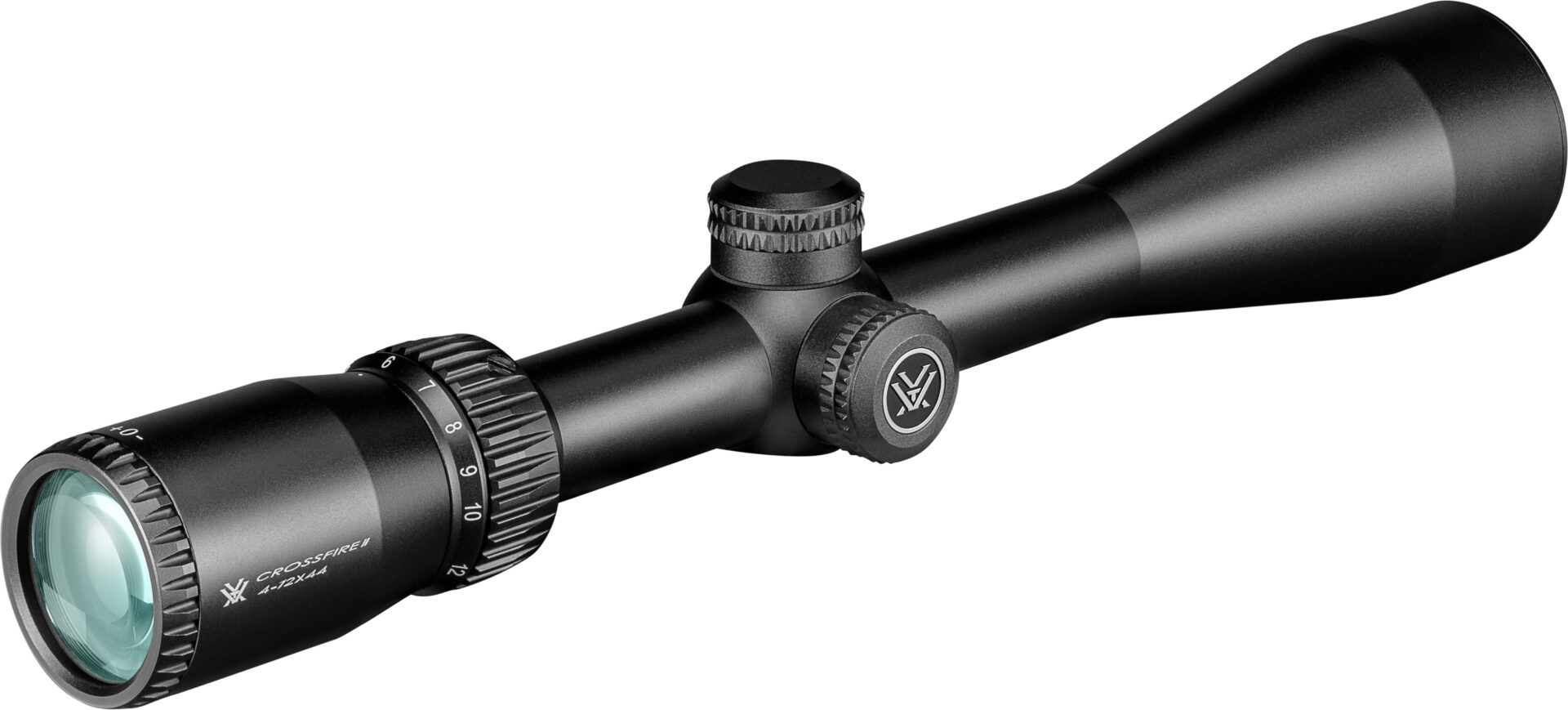 Scope Specifications
Magnification: 4-12x
Tube size: One inch
Objective lens diametre: 40 millimetres
Length: 13.6 inches
Weight: 19.2 ounces
Eye relief: 3.9 inches
Parallax: 10 yards to infinity
Field of view: 24.7 to 8.4 feet/100 yards
Windage & elevation adjustment: 50 MOA
Test Results
The rifle and scope weighed seven pounds, 12 ounces, which was within an ounce or two of the weight I was seeking. Not too heavy, not too light. At that weight, it would even fly under the NRA eight-and-a-half-pound maximum weight for a silhouette smallbore hunting rifle.
The trigger was also a pleasant surprise. For a modestly priced rifle, it broke very consistently between two pounds, seven ounces and two pounds, eight ounces with absolutely no creep. Another feature I liked was Savage's 10-round rotary flush-mounted magazine. And here I emphasize the "flush" in mounted, as for a 10-round magazine there was no protruding clip to take away from the clean lines of the rifle. The scope was everything I expected, reasonably bright and sharp, as well as being user friendly with its long eye relief, expansive parallax adjustability and resettable turrets. The concept of subtensions on the Dead-Hold BDC reticle for rimfire applications was also appealing. With a bit of trial and error, you could start with a 25-yard zero and work out from there to ascertain just how far and at what ranges these subtensions would provide reliable holds.
With respect to ammunition, I wanted to include as broad a range as possible, from inexpensive plinking ammunition, to moderately priced practice ammunition, to higher velocity small game ammunition. For my actual range work, I sought out a calm day of moderate temperature to ensure that wind, cold nor heat played a factor in my results.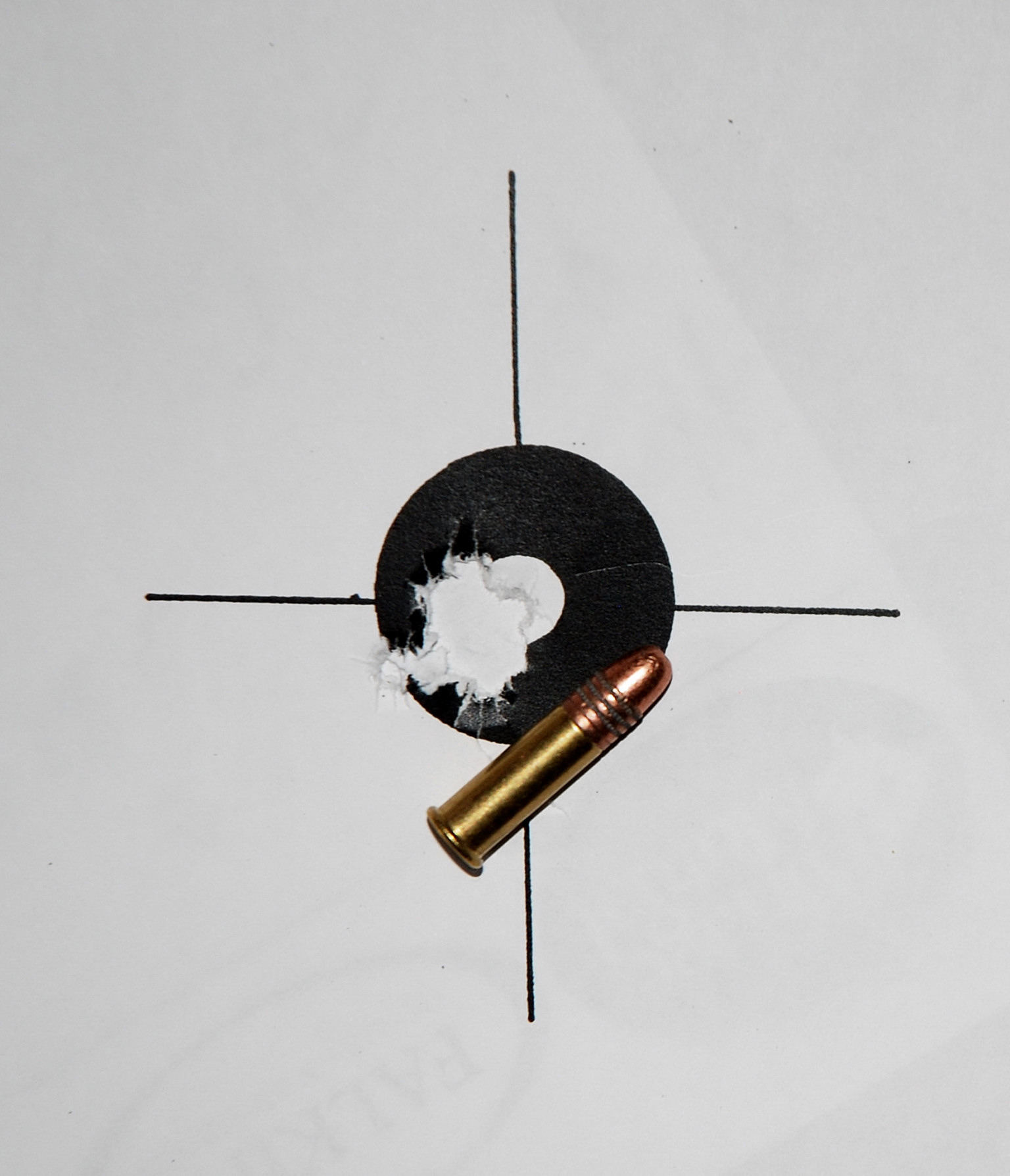 100 Yards (Three-shot Groups)
Factory Ammunition
Brand

 

Advertised Velocity

(fps)

Group Size

(inches)

Eley Club 40-grain
1,085
.762
Eley Action 40-grain
1,090
.773
Eley Sport 40-grain
1,090
.699
Eley Sub Sonic HP 38-grain
1,040
1.053
Eley High Velocity 38-grain
1,250
.935
Eley Edge 40-grain
1,085
.791
Federal Premium Hunter Match 40-grain Match Hollow Point
1,200
1.458
Federal Premium Gold Medal Match 40-grain Solid
1,080
.448
Federal Premium Gold Medal Target 40-grain Solid
1,200
.645
Federal Game Shok 38-grain Copper Plated Hollow Point
1,260
.779
CCI Velocitor 40-grain
1,435
.479
CCI S.G.B. 40-grain
1,235
.732
Winchester T22 Target 40-grain
1,150
.779
Winchester Super X Plated Round Nose 40-grain
1,300
.817
Winchester Super X Plated Hollow Point 37-grain
1,330
1.545
Winchester Wildcat HP 40-grain
1,255
.258
Remington Eley Target 40-grain
1,085
.480
Remington 22 Cyclone 36-grain Lead Round Nose
1,280
.856
Remington Golden Bullet 40-grain
1,085
1.098
Remington Subsonic 38-grain
1,050
1.152
All groups were five shots at 50 yards with an air temperature of 15 degrees.
Last Shot
My most compelling group was shot with Winchester Wildcat HP ammunition that delivered the most accurate five-shot group of the lot. And this by a considerable margin, a .258-inch group that bettered the next closest group by .190 inches. For inexpensive ammunition, this was impressive! Three other brands bettered a half inch: Federal Gold Medal Match, Remington (Ely) Target and CCI Velocitor, ultimately offering three very accurate ammunition choices for plinking, target shooting and small game hunting. But when looking at the totality of these test results, there are plenty of choices that provided fine accuracy of less than an inch. No question, this combination, with plenty of ammunition choices, will meet the demands of any hunter looking for that do-it-all .22 rimfire.